As we covered initially that a lead is a person who has expressed his/her interest in your company's product or service. Now, let's talk about the ways through which someone can actually show that interest.
Essentially, a sales lead is generated through information collection. For example, the information could come as the result of a job seeker showing interest in a position by completing an application form, an online shopper sharing contact information in exchange for a coupon, or a person filling out basic details form to download an educational piece of content.
Below are just a few ways in which you could qualify someone as a lead. Each example shows that the amount of collected information used to qualify a lead, as well as their level of interest, can vary.
These three general examples highlight how lead generation differs from company to company, and from person to person. You'll need to collect enough information to determine whether someone has a true, valid interest in your product or service and everything will vary depending on the business.
Let's look at this example. In below web content report page and right-side form, it collects six pieces of information from prospective leads. Let's explore each one in detail…
Lead scoring is a way using which you can qualify leads quantitatively. In this technique, leads are assigned a numerical value (or score) to determine where they fall on the scale likewise, from "interested" to "ready for a sale". The criteria for these actions is completely up to you, but it must be uniform across your marketing and sales department so that everyone can work on the same scale.
A lead's score is based on the actions they've taken, the information they've provided, their level of engagement with your brand, or other criteria that your sales team defines. For instance, you may score someone higher if they regularly engage with you on social media or if their demographic information matches your target audience.
After seeing the above examples, you might give a lead a higher score if they used one of your coupons – an action that would signify this person is interested in your product.
The higher a lead's score, the chances are high to becoming it as a sales-qualified lead (SQL), which is just a step away from becoming a customer. The score and criteria are something you may need to tweak along the way until you find the formula that works, but once you do that you'll transform your lead generation into customer generation.
Making your prospects feel like they have an Exclusive Membership in a club makes lead generation positive customer experience. – Eric Bower
Lead Generation Strategies
Online lead generation comprises a wide range of tactics, campaigns, and strategies depending on the platforms on which you wish to capture leads. We talked about lead capture best practices once you have a visitor on your site, but how can you get them there in the first place?
Let's take a deep dive into the lead generation strategies for a few popular platforms.
Facebook Lead Generation
Facebook has been a method for lead generation since its inception. Originally, companies could use outbound links in their posts and information in their bios to attract strangers to their websites. However, when Facebook Ads was launched in 2007, and with that, the algorithm started favouring accounts that used paid advertising, there was a major shift in how businesses used the platform to capture leads. Facebook created Lead Ads type for this purpose. Facebook also has a feature that lets you put a simple call-to-action button at the top of your Facebook Page, through which you send Facebook followers directly to your website.
Twitter Lead Generation
Twitter has Twitter Lead Gen Cards, which help you generate leads directly within a tweet without having to leave the site. How? Simple, a user's name, email address, and Twitter username are automatically pulled into the card, and all they have to do is click "Submit" to become a lead.
LinkedIn Lead Generation
LinkedIn has been increasing its stake in the advertising space since its early days. When it comes B2B/B2C lead generation, LinkedIn created Lead Gen Forms, which auto-populate with the data for users profile when they click a CTA, making it easy to capture information.
PPC Lead Generation
When we say pay-per-click (PPC), we're referring to ads on search engine result pages (SERPs). Google gets 3.5 billion searches a day, making it prime real estate for any ad campaign, especially lead gen. The effectiveness of your PPC campaign relies heavily on seamless user flow, as well as your budget, target keywords, and a few other factors.
B2B Lead Generation
B2B is a particular Business Model that requires a particular approach to lead generation. HubSpot found that SEO is the top resource for capturing business leads, and after that email marketing and social media.
Tips for Lead Generation Campaigns
In any lead generation campaign, there can be a lot of uncertain parts. It can be difficult to guess which parts of your campaign are working and which need some fine-tuning. Here are a few tips to follow for building lead generation campaigns.
Use Right Lead Generation Tools
The successful marketing teams use a formal system to organize and store the leads. That's where lead generation tools and lead generation software come into play.
How much do you know about the visitors on your website? Do you have the names or their email addresses? How about the pages they visited, how they're interacting around, and what they do before and after filling out a lead conversion form?
If you don't know the answers to all these questions, chances are high that you may face a hard time connecting with the people who are visiting your site. These are questions you should be able to answer.
There are a few different tools and templates that'll help you create different lead generation assets to use on your website:
CTA Templates: 50+ free, customizable call-to-action (CTA) templates in PowerPoint that you can use to create clickable CTA buttons on your blogs, landing pages, and anywhere on your website.
Lead Generation Software Tools: This free tool from HubSpot includes the features of lead capture and contact insights, which will scrape any pre-existing forms you have on your website and add those contacts to your existing contact database. It also lets you create pop-ups, hello bars, or slide-ins – called "lead flows" – that'll help you turn website visitors into leads immediately.
Visitor Tracking: Hotjar has a heatmap tool – a virtual tool which creates a colour-coded representation of how a user navigates your site – that helps you understand what users want, care about, and do on your site. It records visitors and tells you where they spend the most time on your site. You can use it to gather information on your lead generation forms, feedback forms and surveys, and more.
Form-Scraping Tool: A form scraping tool that collects submissions on your website's existing forms helps you automatically consolidate all your leads into your contact database, regardless of which form visitors submitted on your website. HubSpot customers can create and embed forms using HubSpot, which automatically populate into your CMS. Non-HubSpot customers can use a form creation tool like Contact Form 7, JetPack, or Google Forms, and then use HubSpot's free collected forms feature to automatically capture form submissions and input them to a contact database.
Create Amazing Offers For All Different Stages of the Buying Cycle
Not all of your site visitors are ready to talk to your sales team or see a demo of your product at first. Someone at the beginning of the buyer's journey might be interested in an informational piece like an ebook or a guide, whereas someone who's more familiar with your company and near the bottom of the journey might be more interested in a free trial or demo.
Make sure you're creating offers for each phase and offering CTAs for these offers throughout your site.
Yes, it takes time to create valuable content that teaches and nurtures your leads down the funnel, but if you don't offer anything for visitors who aren't ready to buy, then they may never come back to your website.
If you want to take personalization a step further – which will help boost your conversion rate – try using Smart CTAs. Smart CTAs detect where a person is in the buyer's journey, whether they're a new visitor, a lead, or a customer, and display CTAs accordingly. Personalized CTAs convert a whopping 42% more visitors than basic CTAs.
Be Consistent in Messaging and Promised Delivery
The highest-converting lead generation campaigns are the ones that deliver on what they commit and create a seamless transition from ad copy to the deliverable itself. Make sure that you're presenting a consistent message throughout the process and providing value to everyone that engages with your lead capture.
The aspects of lead generation campaign should mirror everything else on your website, on your blog, and within the product that you will eventually try to sell. If not, you'll have a difficult time getting your lead to the next lifecycle stage. Your campaign should not be about just obtaining an email address but it should be about developing a new long-time customer.
Link Your CTA to a Dedicated Landing Page
This may seem obvious to you, but you'd be surprised how many marketers don't create dedicated landing pages for their offers. CTAs are meant to send visitors to a landing page where they can receive a specific offer.
Don't use CTAs to drive people to your homepage, for instance. Even if your CTA is about your brand or product (and perhaps not an offer like a download), you should still be sending them to a targeted landing page that's relevant to what they are looking for and includes an opt-in form. If you have the opportunity to use a CTA, send them to a page that will convert them into a lead.
Get Your Sales Team Involved
Remember, we talked about Lead Scoring in the above part. Well, this lead scoring can not be performed without any help from the sales team's input. How will you know what qualifies a lead for sales without knowing if your defined SQLs are successfully sold? Your marketing and sales teams need to be aligned on the definitions and the process of moving a lead from MQL to SQL to opportunity before you even begin to capture leads.
Also, be open to evolving your relationship with sales and how you guide leads along your funnel. Your definitions will likely need to be refined over time; just make sure to keep everyone involved up-to-date.
Use Social Media Strategically
While marketers typically think of social media as best for top-of-the-funnel (TOFU) marketing, it can still be a helpful and low-cost source for lead generation as shared above in the lead generation strategies. The key is using social media platforms strategically for lead generation.
Start by adding links directly to the landing pages of high-performing exciting offers within your Facebook, Twitter, LinkedIn, and other social media posts. Tell visitors that you're sending them to a landing page.
You can also do a lead generation analysis of your blog to figure out which posts generate the most leads, and then make a point of regularly linking social media posts to them.
Another way to generate leads from social media is to run funny and informational contests. Contests are the most engaging activities and inspire your followers, and they can also teach you a ton about your audience. It creates win-win situations.
Remain Flexible and Constantly Iterate.
Your Lead Generation Strategy should be dynamic as per your targeted audience. Day by day trends change, behaviours shift, opinions morph so as per that your lead generation marketing should change. Use A/B testing and monitor what CTAs perform best, which landing pages convert better, and which copy helps to capture your target audience. Just go on experimenting with layout changes, design, UX factors, content, and advertising channels until you find what works.
Sales success comes after you stretch yourself past your limits on a daily basis. — Omar Periu
Lead Generation Trends & Benchmarks
So… you're getting online traffic and generating leads. But have you compared with other companies in your industry? How many leads should you really be generating?
It's tough to determine if your lead generation strategy is working if you aren't looking at the competition in the industry.
Did you know that 74% of companies that weren't exceeding revenue goals didn't know their visitor, lead, MQL, or sales opportunities numbers? How about that over 70% of companies not achieving their revenue goals generate fewer than 100 leads per month, and only 5% generate more than 2,500 leads per month? These are just a few examples of what you'll find in the report.
Cost per Lead, by Industry
The media and publishing industries report the lowest cost per lead at $11 to $25. Software, information technology and services, marketing agencies, and financial services companies all report the highest average cost per lead at $51 to $100. See the below costs of industry-wise leads.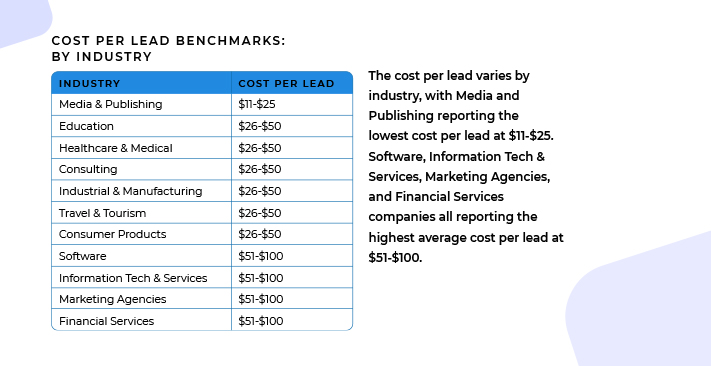 Leads Generated per Month, by Annual Revenue
The company has more revenue then definitely, it would generate more leads. The differences are most drastic at the highest and lowest end of the spectrum: 82% of companies with $250,000 or less in annual revenue report generating less than 100 leads per month, whereas only 8% of companies generating $1 billion in annual revenue report less than 100 leads per month.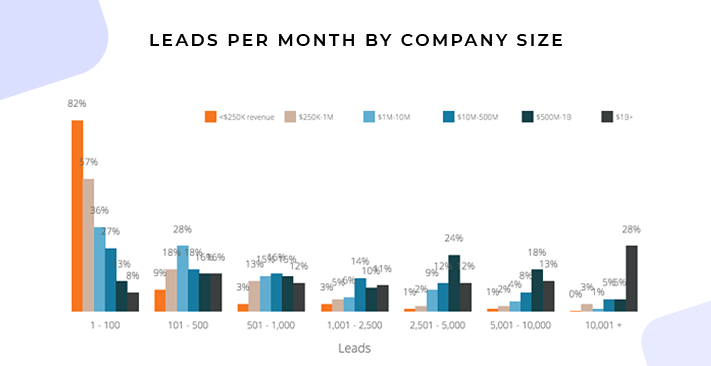 Leads per Month
We found 58% of companies generated 500 leads per month or fewer, and 71% generated 1,000 or fewer. Yes, they do! However, as we noticed previously, the companies having the most success are also the ones generating more and more leads.
Here's how the data broke down by company size: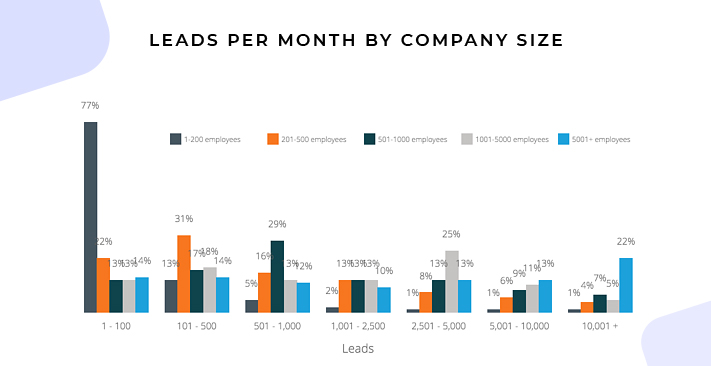 Lead Generation Software
Based on our experience, we found that successful marketers use a formal system to organize and store leads: 46% of them use Google Docs, 41% use marketing automation software, and 37% use CRM software.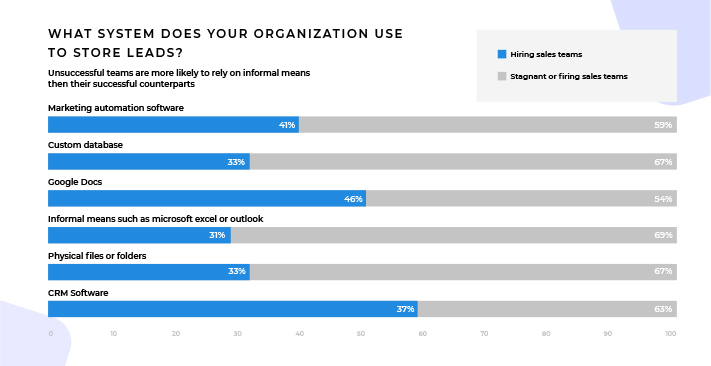 Any Business Can Grow Better With Lead Generation
So wrapping up here. You learned about how to generate leads for your business. Just keep creating great offers, CTAs, landing pages, and forms – and promote them in multiple channels. Get associated with your sales team to make sure you're handing off high-quality leads on a regular basis. Last but not least, never ever stop testing. The more you tweak and test every step of your inbound lead generation process, the more you'll improve lead quality and increase your business revenue.
If your business revenue got stuck at some certain level, feel free to reach our Lead Generation Experts to boost your revenue…