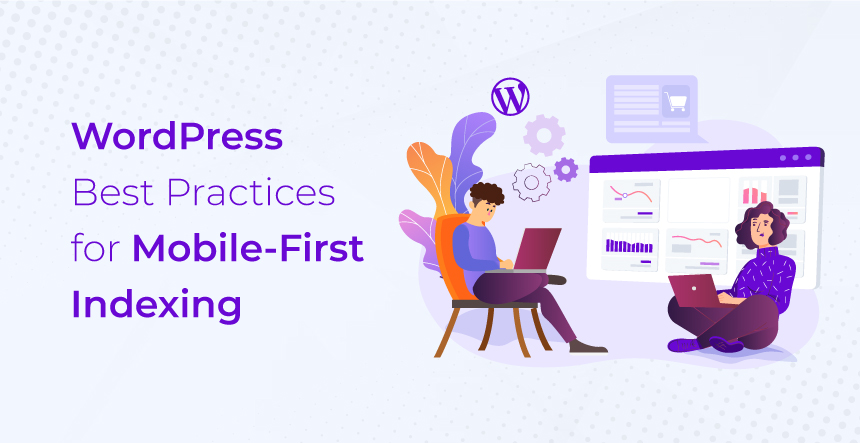 Google mobile-first indexing, is a very important aspect that every website owner must know about. Basically, the process involves crawling mobile versions of websites prior to their desktop versions and indexing mobile pages first.
This means, "Google has prioritized the Mobile version of your website over the Desktop version of your website for a reason".
Reason: Modern-day fact is that users today are searching more through their smartphones than their desktops. Google search is accessed more through smartphones, and mobile traffic is playing a huge role in the web commerce world.
If Google delivers results of desktop sites over mobile versions, then it's delaying the experience of the user. For this reason, Google mobile-first indexing was considered in 2016, the year in which mobile traffic surpassed desktop traffic over the internet. At that time, Google decided to implement indexing of mobile sites over desktop sites, but the project and processes are vast, so Google took considerable time to make it happen. 26th March 2018 was when Google began implementing the process. There were many loopholes and practical hassles in the process so, the search engine giant decided to roll it over gradually.
Having said that, it does not mean that every desktop site owner will suffer due to loss of site indexing. The fact of the matter is if there is a mobile-friendly site then it would serve as a reference or guiding point for the desktop site. Google will first crawl the mobile version and then the desktop version. The biggest learning, in this case, is that every website owner should have a mobile version of the site ready to attract the Google crawl bots. This will increase their chances of getting their site indexed by Google. This will increase traffic and eventually the business by a huge margin.
Although it began in 2016, Google declared that it would delay the process of Google mobile-first indexing till March 2021. There were practical issues and concerns like lazy loading, mobile images etc. Due to all these actual hassles, Google had said, "we currently don't have a specific final date for the move to mobile-first indexing and want to be thoughtful about the remaining bigger steps in that direction". A word of advice to website owners is that they must create a mobile version of the site to be indexed by Google. Because the biggest search engine in the world has prioritized the mobile version of all the websites for crawling – indexing. If you want more traffic and revenue through the web, then you have only one option – a mobile-friendly website up and running.
How Your Website is Considered for Google Mobile-First Indexing
As per Google, any site that was built after 1st July 2019 is automatically switched to a mobile-first indexing process. For sites older than this date, the company will inform them through Google Search Console.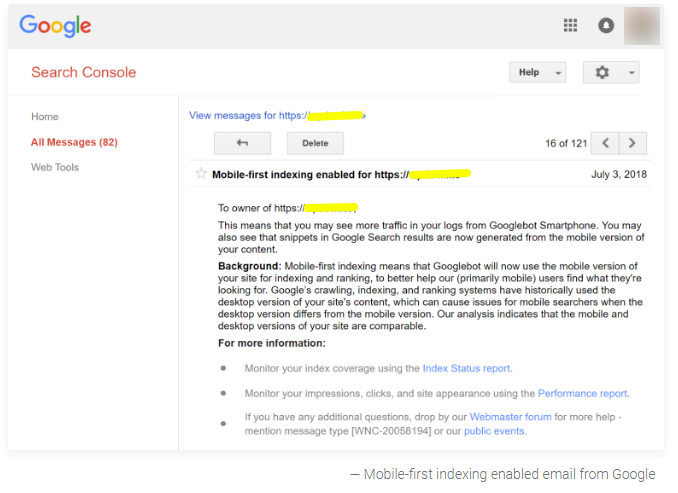 image-source: kinsta.com
With Google working at its best, it is the responsibility of website owners to create mobile-friendly sites at the earliest. A mobile responsive site, with dynamic content updates between mobile and desktop versions, is good to go. If you have such a site, then regular SEO optimization is enough. Site owners can check if their site is mobile-friendly or not by using Google's Mobile-Friendly Test Tool. Or, they can even use the Responsive Design Tool.
Tips to Build Mobile-First Indexing Websites
We are listing down a few tips for sites that fit in the mobile-first indexing category and those that still need to be switched into that zone.
Focus on Giving the Same Experience on Both Versions
Google expects the companies to offer the same experience on both versions of the site. This accepts the fact that there could be little difference in the design structure. The use of the same meta robot tags will help Google bots to crawl through both versions. For this, a mobile responsive site would work wonders as it would work on all devices irrespective of the screen size.
Create Versions with the Same Content
The mobile site pages and content should be identical to the desktop site. If the pages in the mobile-friendly version are fewer, then crawlers would not be able to grab the same information as that in the desktop version. So, make sure there is the same number of pages with adequate content as per the design and styling of the site.
Proper Headings would Help
Crawler bots would grab headings that are clearly defined and easy to understand, so, ask your SEO team to work on that part.
Choose a Mobile Friendly WordPress Theme
Most WordPress themes are responsive so, your site will become mobile-friendly from the start. In case, you have an old site, then there are slim chances of it being optimized or responsive. In this case, it is better to switch to a new theme that is responsive and gets updated on regular basis. With this, you will have a WordPress mobile-first indexing site that will be easily crawled by Google bots, and you will have great chances of receiving huge traffic.
Improve the Website Loading Speed
Slow-loading websites are a big put-off for web users. Whether it's mobile or desktop, a website that is lazy to load loses a huge amount of traffic. Imagine, people, waiting for the web page to be visible and switching to a competitor site. That is certainly the key to losing business and lacking customer retention. Following are the ways to reduce lazy loading in WordPress sites:
Regular website caching through plugins
Image optimization
Only using adequate plugins
Choosing Content Delivery Network that gives quick content
Mobile-First Indexing Best Practices for WordPress Websites
Focus on Identical Metadata
Both versions of the site should be optimized by using the same meta title, meta description, header tags and other SEO tags.
Cut Down on the Troublesome Ads
Ads on the sites should not bother the visitor or user. Otherwise, it would fall under the bad experience category and bots would not prefer such sites.
Image Optimization
To create WordPress mobile-first indexing sites, ensure that you put only high-quality, original images with the same Alt text on both versions.
Video Content should be Optimized
Make sure that videos on both versions have the same structured data and rule out any inconsistent video URLs.
Choose Some Robots.txt Directives for Both Versions
This gives the crawlers a clear direction on which parts of the site to crawl. Therefore, the same directives for both versions would help.
In a nutshell, it is high time to build a mobile-friendly and mobile-responsive site. If you don't have one, then you cannot rank high on SERP pages of popular search engines like Google. This results in a loss of visitors, business and revenue. So, experts suggest building WordPress Mobile-First Indexing Sites at the earliest.
If you have a WordPress website that needs responsive or mobile-friendly design or revamping, then KrishaWeb is the one-stop solution for your WordPress Website Development needs. In case, you want to create a fresh new site with an approach for Google mobile-first indexing, then feel free to contact us. We are experts at mobile-friendly website design and development. Feel free to connect with us for more.