Boost your revenue and growth with Drupal Commerce
Hire a seasoned agency to utilize the power of customized Drupal solutions to gain new market share and retain a loyal consumer base.
Trusted By Companies All Over The World.
Bridging the gap with Drupal Commerce cohesive experiences
Digital businesses need flexibility and scalability across multiple channels. Drupal enables businesses to innovate and quickly implement ideas. Drupal Commerce Development future-proofs builds, powers multiple devices, and delivers content quickly using built-in caching and rendering technology. Our consultants are available to provide advice on Drupal Commerce, from business processes to technology architecture.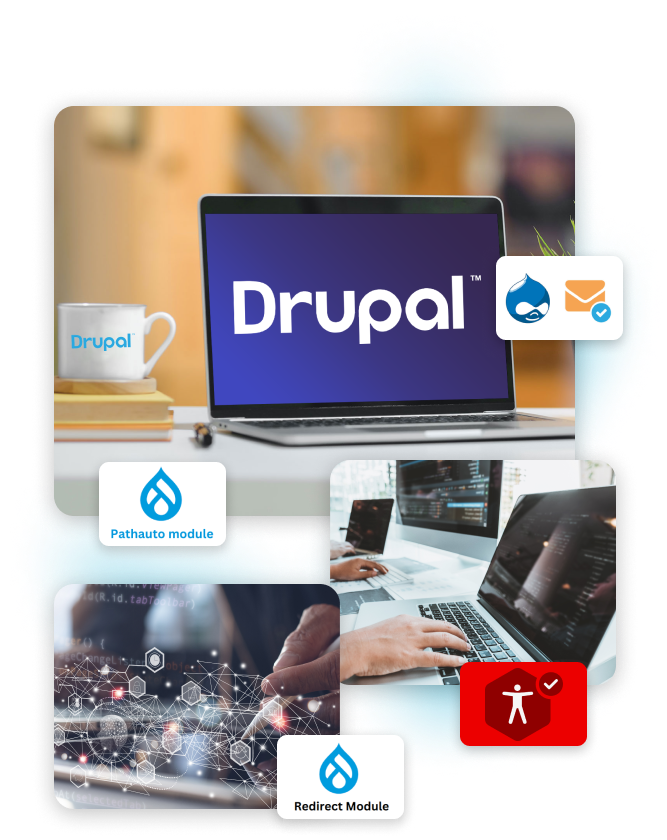 Scalable, Secure, and Accessible Drupal Commerce Solutions
Scalable, secure, and accessible eCommerce solutions across web and mobile platforms.
At KrishaWeb, our Drupal professionals understand your requirements and objectives. Ensure a custom, scalable, and improved user experience from design to deployment with our Drupal engineers!

If you are seeking to improve your sales revenue, Drupal Commerce store design and customization is your solution. Under our Drupal expert assistance enable your store with custom and advanced features such as content management, shopping cart improvements, and third-party integrations.

Automation and third-party integration tools are at their peak to advance your e-commerce store. Our Drupal experts will help you with the required module setup and integrations to enable automated yet customized store routines.

Drupal engineers at KrishaWeb, ensure a seamless mobile commerce experience that enables you with an exceptional user experience, improved performance, and swift transaction processes!
Put an end to your abandoned carts, caching issues, and poor loading time with our Drupal engineers. Our experts will help you monitor your store performance and optimize on a regular basis swift and iterative outcomes!

Our Drupal experts will migrate your eCommerce store from legacy to the upgraded version. Building a new store with all the fixed errors, data transfer, and required functionalities. Upgrade your store with the most secure and safe migration solutions!

KrishaWeb understands the cost of halts in the efforts of achieving your business objectives. Our Drupal professionals have the expertise to keep up your store with the competitive pace and ensure its full potential 24*7!
Implement a seamless store with the power of Drupal Commerce!
Drupal is versatile for e-commerce development. It serves as a foundation for product information management systems to create B2B and B2C platforms.
Flexible and Customizable

Drupal eCommerce Development allows businesses to tailor online stores to unique needs, offering versatile design options and adaptable features.

Modular Architecture

With Drupal's modular structure, businesses can easily add, remove, or modify functionalities to align with evolving requirements.
Managing Multiple Stores

Drupal Commerce empowers businesses to efficiently manage multiple stores or websites from a single platform, streamlining operations.

Advanced Product Management

Easily handle vast product catalogs, organize variations, and implement pricing rules for a seamless shopping experience.
SEO-friendly Architecture

Drupal offers multilingual support for multinational websites. Best for websites accessible worldwide by diverse people.

Headless Commerce Capabilities

Employ headless architecture to deliver consistent shopping experiences across various channels and devices.
Reliable and Highly Secure

Drupal eCommerce Development prioritizes security, providing robust protection against potential threats, and safeguarding customer data.

Multilingual and International Support

Being open source, Drupal has far greater accessibility than its contemporaries and helps to build all kinds of applications.
Advanced Analytics and Reporting

Gain valuable insights into customer behavior, sales, and performance through comprehensive analytics and reporting tools.

Easy Content Authoring and Publishing

Effortlessly create and publish content, enabling businesses to engage customers with relevant and compelling information.
Accelerate your eCommerce store with KrishaWeb Drupal experts
A seasoned, skilled, efficient, and dedicated team of developers and project managers.
Custom-built solutions to successfully target your industry and audience.
Seamless integration with third-party tools to streamline and automate your operations.
Responsive and functional design themes for superior user experience and engagement.
Streamlined client communication with regular reporting upon completion of each milestone.
Advance Quality Assurance process to work in compliance.
Ongoing support and maintenance for secure and update eCommerce portal.
Client Feedback
Delve into the feedback from our valued customers!
"They provide excellent quality of work, and their services are both time and cost-efficient."
Elizabeth
CEO, Boutique Creative Agency
"We are extremely satisfied with the web application developed by KrishaWeb and would highly recommend their services."
Ibrahim
CEO, Advertising Agency
"First and foremost, I appreciate KrishaWeb's commitment to delivering items on time."
Matthew
Co-Founder, TGA Web Agency
"Everyone we worked with at KrishaWeb was exceptionally friendly and very knowledgeable."
Karissa
Business Analyst, Financial Services Company
FAQs
We hope these questions and answers help you find the best Drupal commerce partner for your business.
Our Drupal Commerce services' successful execution lies in its robust product management tools. Stocking up on the right products facilitates dependable meeting of customer expectations. The user experience has been prioritized with our straightforward shopping cart design. This feature grants customers the ability to swiftly combine items in their basket and straightforwardly settle the bill. Generating a flexible eCommerce platform is our priority scalability and customization options tailored to your business requirements. For businesses initiating their online presence or upgrading their current eCommerce platform, Drupal Commerce emerges as an outstanding selection, fostering exponential growth and accelerating revenue gains.

The extraordinary eCommerce tool, Ubercart Development, has been developed upon the reliable Drupal architecture. This interface provides an array of resources to streamline product management, enabling users to easily incorporate, update, or eliminate items without difficulty. Furthermore, its shopping cart system allows for customization to match your specific business requirements.

This robust platform serves as the foundation upon which many websites are constructed. Unlike Drupal Commerce's rival, it includes a wider variety of elements for managing digital commerce. The innate modularity of these platforms allows them to be easily molded and combined with external systems, fostered by their roots in PHP and MySQL.

The open-source architecture of these systems is quite remarkable. People are able to acquire and customize materials catered to their individual requirements. The dynamic developer base constantly injects fresh capabilities and refinements, preserving the platforms' competitive edge.

Collaboration between these two platforms enables you to craft a thorough online identity catering uniquely to your specifications. These tools allow you to explore diverse functionalities, streamlining your operations and fostering exponential growth. In summary, these two platforms constitute an unrivaled pairing of adaptability and capabilities. 

If you require assistance with your Drupal eCommerce project it might be worth considering the option of hiring a Drupal eCommerce developer or agency. However it's important to bear in mind that the cost associated with engaging a Drupal eCommerce developer or agency can vary depending on factors. These factors include the scope and complexity of the work required as the hourly rate charged by the developer or agency. 

Typically, hourly rates for Drupal eCommerce developers or agencies range from $50 to $150. To ensure cost estimates it is advisable to obtain quotes from developers or agencies. This will enable you to compare prices and find a match for your budget and project requirements. Additionally, clear communication of your needs and expectations with the chosen developer or agency is crucial, in ensuring alignment and satisfactory completion of your project.

As Drupal consultants, DrupalPartners can certainly help you. We can offer practical advice to enhance your digital commerce operations. Count on DrupalPartners to provide sound advice regarding website improvement or UX enhancement. Their guidance will enable you to utilize cutting-edge techniques, thereby amplifying your online commercial achievements. Our team will collaborate with you to establish an effective online commerce platform.

We look forward to hearing from you. Through joint effort, we can craft a digital platform that will contribute to the flourishing of your organization.
What makes us your ideal partner?
We believe that you deserve a web design agency that is experienced and versatile. At KrishaWeb, our prominent design experts know the trends and the best practices outperforming the market. Designing websites that increase your interactions and lead to sales growth on your website.

We are here, if you still have any questions!