ECommerce solutions that are secure, scalable, and top-performing
Our experienced experts leverage custom eCommerce solutions with exceptional store experience driving unmatched results!
Trusted By Companies All Over The World.
Enterprise Ecommerce Consulting and Development Solutions
KrishaWeb understands your business needs and offers tailored solutions for your eCommerce store with attractive visual design, feature-rich functionalities, and rivalry customer experience. Build your store in diverse technologies like Magento, WooCommerce, and Shopify maximizing desired outcomes.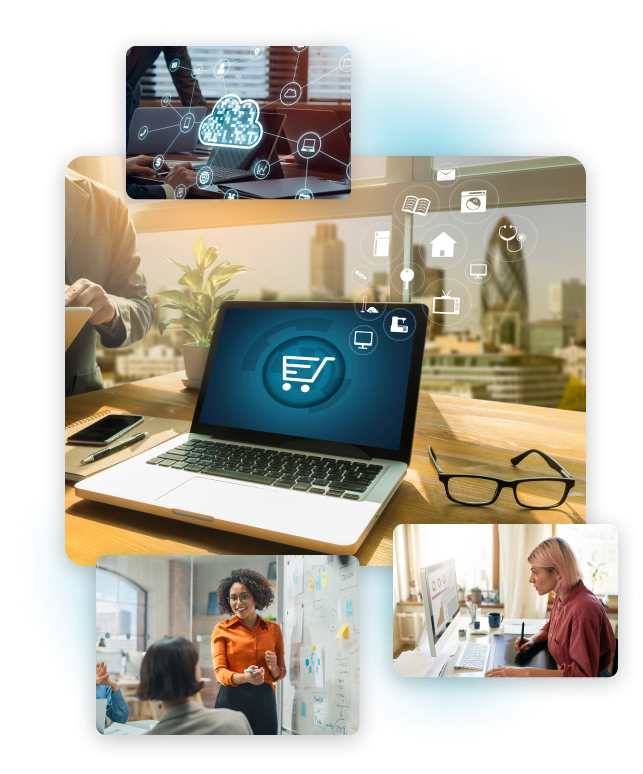 Empowering your eCommerce business
Transform your business in this evolving technological landscape by procuring our full range of eCommerce Development solutions. Revolutionize the way your users recognize your brand!
KrishaWeb offers eCommerce design considering all the aspects of UI and UX delivering a website that is result-driven. Our experienced team ensures the best practices of market research, trend analysis, competitor research, and usability to cater you with the best outcome.

Our skilled eCommerce experts are swift to adapt to new technologies switching from rigid architectures to flexibility. KrishaWeb team is committed to implementing advanced techs like 3D or voice recognition to ensure your brand stands out in the market.

You can opt for the best platforms like Magento, Shopify, Drupal, and WooCommerce to build your e-commerce for entering the market. Our innovative team works on Adobe Commerce to deliver exceptional, scalable, and future-ready solutions that meet your business goals.

Today, the majority of your buyers prefer to shop from a mobile app. Ensure your buyers have an easy and elevated shopping experience by taking your web store to mobile with user-centric mobile eCommerce app development.

Make your eCommerce store modern and in line with the market trends. Our eCommerce specialists ensure proven programming languages like CSS, JavasScript, and HTML along with diverse frameworks such as ReactJS, AngularJS, Vue.js, and Ember.js. 
Our skilled experts offer custom and robust back-end management written in PHP, Python, Rails, Node JS, CodeIgniter, and Laravel that meets your business goals for building an eCommerce app. 

Team at KrishaWeb has an experience of 14+ years in developing, improving, and expanding custom plugins, modules, and extensions. Meet your business objectives on multiple ecommerce platforms with bespoke development. 

Enable API integration solutions with our ecommerce specialists by connecting separate systems and automating data interchange.

Are you struggling with rigidity and non-flexibility in your current ecommerce store? Our skilled developers help you migrate your website/store to a better flexible and scalable architecture with easy data transfer.

Our team has your back in performing troubleshooting work with persistent cooperation. Empower your ecommerce app through consistent monitoring and efficiency.

If you are looking to expand your skilled resources or have an advanced project that needs to meet deadlines? No matter what challenge you face for your eCommerce projects, hire our eCommerce developers for custom, results-driven, and converting stores.
Elevating your business with our area of expertise
Experienced ecommerce specialists having expertise in custom e-commerce development that enables businesses with more than just an ecommerce platform/store.
B2C eCommerce

KrishaWeb team undertakes an in-depth analysis of your business requirements and builds your B2C stores. Get your hands on highly appealing stores that are personalized, bespoke, scalable, and converting.

B2B eCommerce

Our eCommerce experts build stores considering your coherent B2B buyers in a user-centric way driving businesses to make swift buying decisions.
Online Marketplace

You need to get the right product in the right hands. You want the best price, so you must use multiple marketplaces simultaneously. We feel your pain and will help you find success! Creating a marketplace that is convenient, transparent, and trustworthy with our years of expertise and experience.

Microservices-based eCommerce

Every ecommerce business today is a microservices-based architecture. Delivering solutions that are scalable, secure, and easy to maintain. Our team will help you build a tailored microservices architecture that ensures flexibility and transparency in your business needs.
Headless Commerce

Looking for a way to seamlessly connect eCommerce with marketing and other business solutions? Headless commerce makes it easier to integrate products into your digital brand. Guiding you to create the eCommerce site of your dreams with this headless approach.

PWA

Your e-store should be ready for any device and any screen size. Stable, fast, and affordable. KrishaWeb advocates PWA as a way to have one app for web and mobile audiences serving optimized styling and layout depending. Enabling your customers to have a seamless shopping experience.
Online Multistore

Multistore systems configurations can be complex and messy things. Offering a number of solutions to manage multi store in-store and to provide new opportunities for your business. Localization, configuring, additional payments systems… we have it all covered when it comes to your multilanguage online store.

Web Portals

You need a customized solution that works seamlessly with your enterprise and allows your employees to work more efficiently. Helping you find the right web portal for your business needs. Build a portal that's tailored specifically to the needs of your business.
Maximize your eCommerce potential with KrishaWeb
Extensive expertise in multiple platforms enabling CMS selection and customization as per your business needs.
Tailored CMS platform that aligns with your brand identity with custom plugins enhancing your website's functionality.
Catering responsive and mobile-friendly design with guaranteed optimal functionality across all devices.
Enabling the utmost security and safety of your website against prevalent threats.
Consistent maintenance and support services ensure seamless functioning and updates of your website.
A cost-effective alternative for your business seeking CMS-based website development.
Technologies We Serve
Empowering your business with the latest technologies we use!
Industry Expertise
Putting forth our more than 14 years of expertise to transform businesses digitally regardless of the industry. We believe your unique perspective will be an add-on to our valuable industry insights delivering beneficial solutions.
Client Feedback
Delve into the feedback from our valued customers!
"They provide excellent quality of work, and their services are both time and cost-efficient."
Elizabeth
CEO, Boutique Creative Agency
"We are extremely satisfied with the web application developed by KrishaWeb and would highly recommend their services."
Ibrahim
CEO, Advertising Agency
"First and foremost, I appreciate KrishaWeb's commitment to delivering items on time."
Matthew
Co-Founder, TGA Web Agency
"Everyone we worked with at KrishaWeb was exceptionally friendly and very knowledgeable."
Karissa
Business Analyst, Financial Services Company
FAQs
We hope these questions and answers help you find the best eCommerce Development partner for your business.
A process of building an internet-based store or website that allows companies to offer their goods or services to customers is known as eCommerce development.

Advantages of eCommerce development comprise broader reach, augmented sales, enhanced customer experience, decreased expenses, and amplified flexibility and scalability.

Some of the core features of an eCommerce website include an easy-to-use interface, safe payment processing, search and filter options for products, shopping cart and checkout capabilities, order administration, and customer assistance.

Tailored eCommerce development is the process of constructing a personalized eCommerce solution from the ground up, while platform-based eCommerce development involves utilizing an established eCommerce platform, such as Magento or Shopify, to create an internet-based store.

Magento, Shopify, WooCommerce, Shopify, and Bigcommerce are among the most favored eCommerce platforms.

To engage customers on mobile devices, mobile eCommerce development encompasses crafting a version of an eCommerce website that is optimized for mobile or developing a dedicated mobile app for an online store.

Search engine optimization (SEO), which enhances visibility and boosts traffic to an online store by improving search engine rankings, is crucial in eCommerce development.

The process of integrating an eCommerce store with other platforms or systems, such as a CRM or inventory management system, to facilitate the smooth transfer of data and streamline business processes, is known as eCommerce integration.

To enhance functionality, scalability, or performance, eCommerce migration involves relocating an existing online store from one platform to another.

To guarantee the security of an eCommerce website, companies must utilize SSL encryption, secure payment gateways, frequent software and plugin updates, and monitor for any dubious activity.
What makes us your ideal partner?
We believe that you deserve a digital web agency that is experienced and versatile. At KrishaWeb, our prominent IT experts know the trends and the best practices outperforming the market.

We are here, if you still have any questions!