Connecting you with the right tech talent with IT Staff Augmentation
KrishaWeb, with a talented pool of highly-skilled tech engineers, works closely with your internal staff to fulfill your tight project deadlines and bridge the skill requirements!
Trusted By Companies All Over The World.
Bridge the skills gap with KrishaWeb Staff Augmentation services
Our talented IT architects can help your internal team to deliver your complex projects swiftly and more efficiently. KrishaWeb professionals are here to support you with 14+ years of expertise in the technologies and niche. Work closely with our team and fill up the skill gaps that fulfill your goals!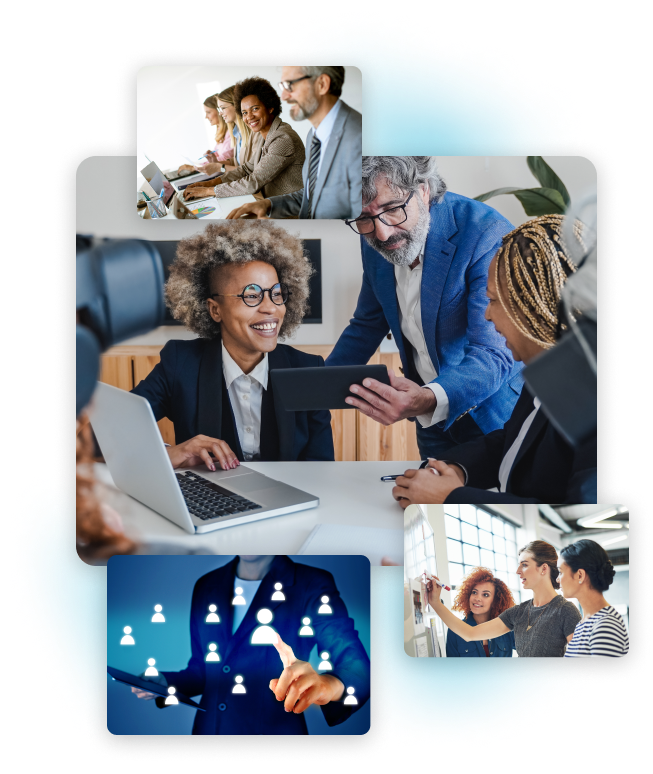 Choose your perfect fit for a staff augmentation solution
We develop holistic solutions that meet your growth needs.
When workloads are at their peak and key personnel are unavailable, team augmentation helps prevent projects from failing by quickly delivering qualified resources to team members who need help. Team Augmentation gives clients the flexibility and speed needed to keep critical initiatives on track and deliver results.

With this service model, you receive a team of professionals exclusively dedicated to working solely for a single client. The team typically consists of proficient individuals who possess a high level of skill sets and work unitedly to successfully execute your set of tasks.

With an extended team model, you can access a talented team who are capable of delivering technology solutions swiftly and efficiently. When your project evolves and needs specific skills or domain expertise, you can opt for an extended team of experts. This flexibility ensures seamless integration of additional resources.

Project-based outsourcing is where you can hire skilled professionals for a particular project outside of your core expertise or when your team is busy with other projects.
You can collaborate and partner with a service provider to co-create a product or service together. Leverage the expertise and strengths of your partner companies enabling enhanced innovation and efficiency. It is a perfect model if you want to swiftly achieve your business goals and at the same time want to build strong partnerships for future projects.

With IT-managed services, you can trust our proficient team to oversee IT projects, receive access to external resources, and provide real-time support. Empower your business with professional IT-managed services that enable you to cost reduce, and stay focused on your core business priorities.

If your company is looking for an approach where you want to save finance whilst receiving high-quality work done, this service fulfills your needs. Consider outsourcing a team or department to a third-party service provider.

Ever in need of more skilled staff but you are not willing to hire a full-time employee? KrishaWeb provides access to a pool of highly proficient professionals who can be engaged on your project basis. Pay only for the expertise you are in need of and scale up or down as needed.
Expand your capabilities with our comprehensive pool of talents!
A global agency who has a pool of talented and highly professional IT enterprise experts who can be used to augment your team while providing the expertise you need.
Access to on-demand skills

Your enterprise projects may be complex and difficult to tackle. Imagine working with a service provider that can help you expand your company by augmenting your existing team with highly skilled professionals. This can help your business grow and allows you to add to your existing skill set.

Adaptable and Scalable

Your company may experience fluctuations in demand or you get unprecedented project deadlines. Augment your team with experienced contractors who can shift your operations in high gear, or provide temporary and professional resources when your organization's workforce needs an upgrade.
Cost efficient

You are at ease with hiring new full-time employees with Staff Augmentation solutions. Our expert tech architects help you avoid those pitfalls with their subject matter expertise. Aiming to provide you with the tools and resources you need, so that your projects run smoothly with minimal overhead costs.

Accelerate deployment

Maximize your resources with leaders in the industry. Let's face it—every project contains its share of unknowns. Whether the deadline is tight or the scope is large, team augmentation can help you quickly bring on new resources to ensure a successful outcome and swiftly deploy.
Manage and mitigate risk

Seeking the right person for a critical role in your big-ticket project? Without the right people, your projects can lag and teams can become unstable, increasing costs and risk. Augmenting our subject matter specialists, you can manage and mitigate risk and take over large projects with ease.

Enhance productivity

Your business depends on the productivity of your team. When your employees can focus on their core tasks, you'll see a difference in performance. As a service provider, KrishaWeb understands exactly how our client's business works, enabling you with assistance to achieve greater success by providing our top global pool of experts.
Experience the power of Staff Augmentation partnering with KrishaWeb
You get access to a wide range of skilled professionals in addition to specialized expertise
You can quickly identify and get screen qualified candidates which speed up the hiring process and avoid time-consuming recruiting
You enable flexible engagement models allowing you to hire professionals for short-term or long-term projects
You get trained professionals ensuring they are up-to-date with the latest technologies and industry trends
You get a cost-effective solution that eliminates the overhead costs associated with hiring full-time employees
You reduce the workload of the internal team of your company allowing you to focus more on core business activities
Technologies We Serve
Empowering your business with the latest technologies we use!
Latest Projects
Check out our projects where we made our clients win in the real world.
Client Feedback
Delve into the feedback from our valued customers!
"They provide excellent quality of work, and their services are both time and cost-efficient."
Elizabeth
CEO, Boutique Creative Agency
"We are extremely satisfied with the web application developed by KrishaWeb and would highly recommend their services."
Ibrahim
CEO, Advertising Agency
"First and foremost, I appreciate KrishaWeb's commitment to delivering items on time."
Matthew
Co-Founder, TGA Web Agency
"Everyone we worked with at KrishaWeb was exceptionally friendly and very knowledgeable."
Karissa
Business Analyst, Financial Services Company
FAQs
We hope these questions and answers help you find the best digital transformation partner for your business.
Staff augmentation is a service that involves hiring temporary professionals to supplement an existing team for a specific project or requirement. It provides skilled personnel for a set period of time, which allows companies to efficiently manage their workforce and ensure that they have the necessary expertise to complete the project successfully.

Staff augmentation services offer a wide range of skilled professionals, such as software developers, designers, project managers, data analysts, marketing specialists, and more.

The duration of a staff augmentation engagement is flexible and dependent on the customer's requirements. The engagement may last for several weeks or months for some projects, while others may require services for a year or more. The duration of the engagement is determined by the complexity of the project and the customer's specific needs.

Staff augmentation professionals are managed by the customer's internal team, with support from the service provider, ensuring effective collaboration and better project outcomes.

Staff augmentation service providers select professionals through a rigorous process that includes skills assessments, interviews, and reference checks. Ongoing training and support may also be provided to ensure that professionals meet customer expectations.

Staff augmentation pricing is typically based on the professional's type, experience level, and the duration of the engagement. Service providers may offer pricing models that are either hourly or project-based

Yes, Staff augmentation professionals can work remotely, and many engagements are fully remote, providing access to a global talent pool for customers.

Staff augmentation adds temporary staff to an existing team, while outsourcing transfers functions or projects to a third-party provider.

Adding skilled professionals to an existing team through staff augmentation can help businesses speed up project timelines, leverage specialized expertise, and manage costs more efficiently by avoiding overhead costs associated with hiring full-time employees.
What makes us your ideal partner?
We believe that you deserve a web design agency that is experienced and versatile. At KrishaWeb, our prominent design experts know the trends and the best practices outperforming the market. Designing websites that increase your interactions and lead to sales growth on your website.

We are here, if you still have any questions!