Node.js development that power your business sites and apps
KrishaWeb is a top Node.js development company that specializes in creating fast, scalable, and real-time applications.
Build faster and scalable real-time applications with Node.js
We bring the benefits and capabilities of Node.js for your business purposes. For this, we break your goals in clean, well-defined, reusable components. The discovery process provides a detailed roadmap of costs, time requirements, and implementation. Our Node.js developers create server-side dynamic applications making the apps and website reliable and fast. KrishaWeb offers interactive Node.js app development, plug-in development, web APIs, shopping cart, eCommerce development, chat real-time apps, web heavy load apps, and custom app development. We do Node.js development with NoSQL/SQL databases.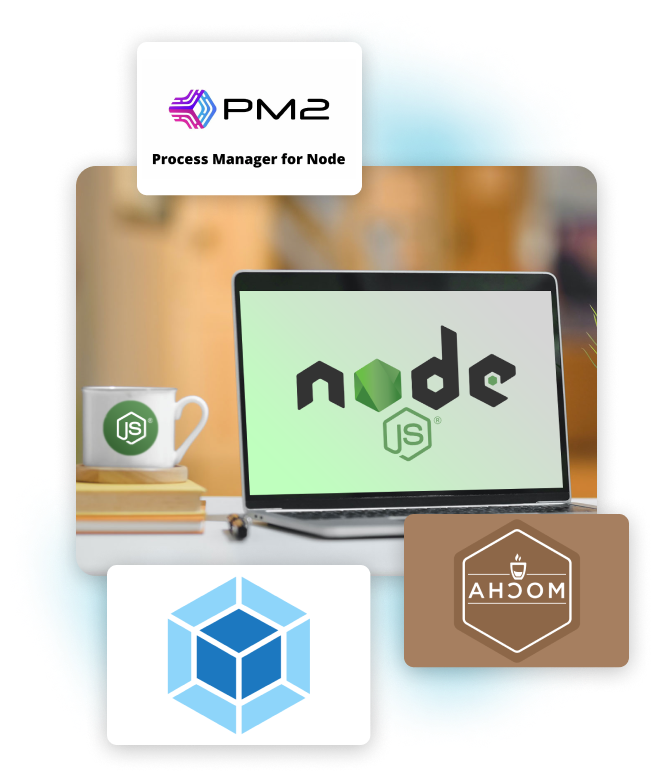 We are your one-stop Node.js solutions providers
We develop holistic solutions that meet your growth needs.
Experienced Node.js developers create server-side dynamic and custom applications that make apps reliable and fast.

We help you evaluate the requirements by breaking goals in reusable, well-defined components.

We provide ongoing, consulting, development, and support of web systems.
Bad projects should not make you swear off Node.js. Allow us to rescue the project for you.

We integrate Node.js in programming environments with full compliance to project needs.

Dedicated to technology we understand the project core aspects and adhere to common practices of development.
Beyond enough in Node.js development from KrishaWeb
Increased Team Productivity

Due to the availability of different NPM modules, the productivity of the developer team increases perceptibly.

Reduced Development Cost

This is highly scalable requiring few resources for handling the big loads compared to the other technologies.
Quick Time-to-Market

Node JS is very fast, this increases the development process speed and speed of the framework used with this.

Sustainability

This framework facilitates the building of great apps capable of handling numerous client apps and works faultlessly still.
Efficiency

The use of JavaScript facilitates the use of the same language for both the front end and back end.

Server-Side Development

Event-driven, non-blocking nature of Node JS is ideal for developing real-time apps having push capacity.
Client Feedback
Hear from our clients what sets us apart to deliver REAL results & experiences!
"They provide excellent quality of work, and their services are both time and cost-efficient."
Elizabeth
CEO, Boutique Creative Agency
"We are extremely satisfied with the web application developed by KrishaWeb and would highly recommend their services."
Ibrahim
CEO, Advertising Agency
"First and foremost, I appreciate KrishaWeb's commitment to delivering items on time."
Matthew
Co-Founder, TGA Web Agency
"Everyone we worked with at KrishaWeb was exceptionally friendly and very knowledgeable."
Karissa
Business Analyst, Financial Services Company
We are here, if you still have any questions!