Enhance Your Website Experience Easily with Webflow Development
Webflow is a user-friendly CMS tool that offers simplicity and control over website design with zero or minimal coding. KrishaWeb offers top-notch Webflow development services that will ultimately upscale your brand.
Trusted By Companies All Over The World.
Partner with the leading Webflow development agency
KrishaWeb empowers your website to achieve maximum visibility and an expanded client base through our Webflow development solutions. Our certified Webflow team has a proven track record of delivering small business to enterprise-level Webflow websites. We are dedicated to fostering creativity, innovation, and responsiveness in web design.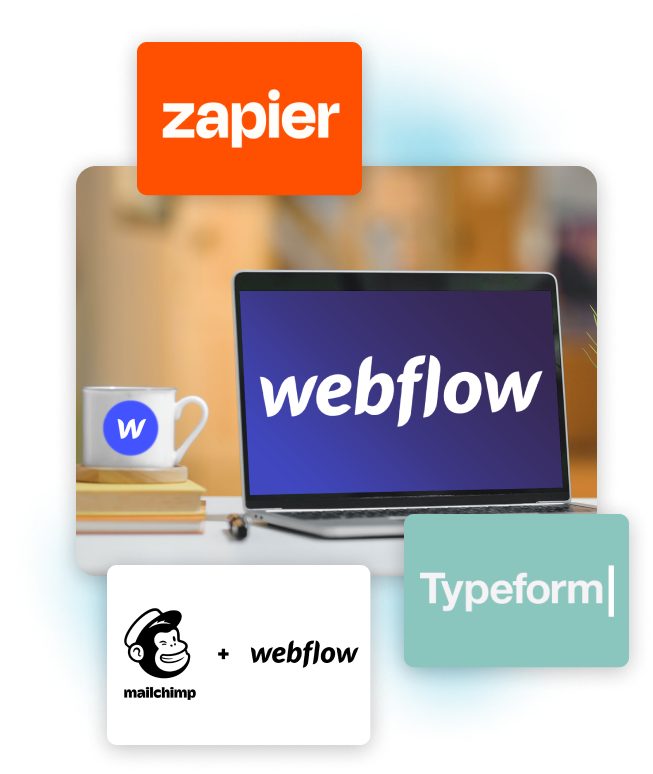 Explore our Webflow solutions
Build a user-friendly, responsive, and outstanding user-experience website with KrishaWeb!
Are you having trouble driving the right results from your website? With custom Webflow development, our skilled developers help you build a website that enhances performance and is scalable.

In terms of Webflow design and development, our Webflow development company has the required knowledge to provide you with specialized CMS Design and development services.

Expand your online e-commerce store with multiple functionalities. Our experienced Webflow developers help you build a fully customized shopping cart and e-commerce portal that drives more revenue and growth.

Is your current website not performing well and generating revenue? Want to migrate your current WordPress website to Webflow? Our experts are committed to making your experience as swift and hassle-free as possible.
We provide robust interfaces for your Webflow website. Our Webflow team members are experts at utilizing diverse automation technologies and tools.

Whether you want to change the designs, add new ones, or even want to update the content – we can help you out. For comprehensive assistance and maintenance, we can serve as your third hand.

You require the highly skilled and experienced developers to elevate your Webflow project. Hire our expert developers to help you craft dynamic and visually stunning websites, tailored to your specific needs.

Our team helps you fine-tune your website performance, ensuring fast loading speeds and a seamless browsing experience for your users. Drive user engagement and conversions with Webflow website optimization.
Unleash your business potential with Webflow development
Unlock the full potential of your business with Webflow Development, a powerful platform that enables you to create and manage your websites.
No Coding Required

Zero Coding Required to build responsive websites with perfection.

Powerful CMS

Comprehensive and Powerful CMS enable a user-friendly interface, scalable and flexible platform.
Customization and Design Control

Empower Design and Customization through this feature-rich platform.

SEO Optimization

Using Webflow platform, optimize your SEO using built-in tools and features
E-commerce Functionality

Empowered with custom eCommerce functionality and secure online shopping experience

Integrations and Third-party Services

Seamless Integrations and Third-Party Services that enhance your website performance
Webflow Community and Support

Webflow Community and expert customer assistance when required.

Future-proof and Scalable

Align your website with Adaptable and Growth Oriented Webflow solutions.
Discover the potential of Webflow by partnering with KrishaWeb
Your website is in the capable hands of top-notch and highly experienced Webflow developers.
With a firm commitment to your deadline, we'll deliver your project within the specified timeframe.
We are your Webflow tech partner helping you comprehend the requirements and then progress toward your objectives.
Our team understand your concern about your website and so we provide you with 24/7 support and maintenance.
We focus on the client's needs and their feedback, emphasizing the flexibility and transparency of our workflows.
You get expert Webflow development services without breaking your budget.
You get a website assured of quality and free of bugs with the KrishaWeb team.
Client Feedback
Delve into the feedback from our valued customers!
"They provide excellent quality of work, and their services are both time and cost-efficient."
Elizabeth
CEO, Boutique Creative Agency
"We are extremely satisfied with the web application developed by KrishaWeb and would highly recommend their services."
Ibrahim
CEO, Advertising Agency
"First and foremost, I appreciate KrishaWeb's commitment to delivering items on time."
Matthew
Co-Founder, TGA Web Agency
"Everyone we worked with at KrishaWeb was exceptionally friendly and very knowledgeable."
Karissa
Business Analyst, Financial Services Company
FAQs
We hope these questions and answers help you find the best Webflow partner for your business.
Webflow is one of the popular CMS platforms which does not require hand-coded or minimal or zero coding to build a website. It is a drag-and-drop functionality to craft visually attractive and interactive websites. You have the control over the design with Webflow technology.

Webflow is a website builder that offers a number of advantages over WordPress. One of the main benefits of Webflow is its powerful design control. With Webflow, you can create custom designs using a drag-and-drop interface, without needing to know how to code. 

Another advantage of Webflow is its speed and performance. Webflow sites are optimized for performance which can result in faster load times and better SEO rankings. In contrast, WordPress can be slower by default, but it can be optimized with caching and other techniques.

Webflow also offers an easier and more streamlined maintenance experience. It takes care of all the technical maintenance and updates for you. However, WordPress requires regular maintenance and updates to ensure that your site is secure and up-to-date.

Webflow also has built-in e-commerce functionality, allowing you to set up an online store without needing to install additional plugins or extensions. While WordPress also has e-commerce plugins, they can be difficult to set up and maintain.

Webflow enables us to create stunning and feature-rich e-commerce websites. With customizable layouts, carts, checkouts, and seamless third-party integrations, we  build SEO-optimized online stores that propel your business forward.

WordPress plugins boost features, but they also add extra code, which in the end makes your website load slower. Webflow restricts all of that, which lets you fuel your website with HTML, CSS, and JavaScript that is as clear and beneficial as you can make it. It all boils down to what you require, specifically. 

Webflow is, surely, the best option for customers who need web design and/or want a fully customizable site. Therefore, Webflow is far superior to WordPress in the end. Webflow is faster than WordPress because it has superior performance optimization and includes everything a web designer needs to build an interactive site.

Webflow development time ranges from 2-4 weeks, while complex projects may take up to 8 weeks. Webflow offers faster development compared to other platforms, and expedited options are available for urgent cases with added costs.

The cost of developing a Webflow website depends on the scope and requirements of the finished website. The scope of the job and the services you select will determine how much it costs.

According to estimates, the typical hourly rate is between $100 and $200, which means that the cost of a complete website design (which includes roughly 5 to 10 pages) could range from $10k to $25k, based on the rates charged by the freelancer or agency.

You can request a quote for an accurate estimate, and our staff will get back to you after learning about your requirements and scope of work.

The cost of maintaining a Webflow website varies based on specific needs such as the maintenance company, user volume, integrations, Webflow plan, and hosting. Typically, annual costs range from $150 to $450, with additional expenses possible depending on individual requirements. 
What makes us your ideal partner?
We believe that you deserve a digital web agency that is experienced and versatile. At KrishaWeb, our prominent IT experts know the trends and the best practices outperforming the market.

We are here, if you still have any questions!