Top Laravel Development agency providing end-to-end solutions
We offer the best in the business, custom web development services by leveraging Laravel – the most popular PHP framework.
Trusted By Companies All Over The World.
Partner with the best Laravel development agency
We are a world-class Laravel Development company that offers tailor-made web solutions to our clients. Whether you are stuck up with a website concept or want an AI-integrated application or a fully-fledged enterprise Laravel application, we can help you. With decades of experience, we offer optimized web solutions that increase traffic and bring in better ROI.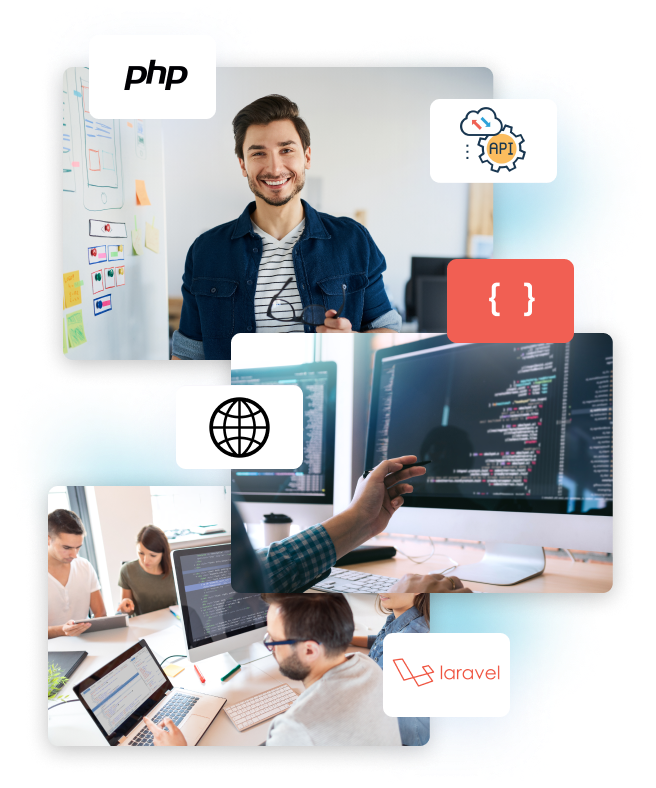 KrishaWeb's most renowned Laravel services are as follows:
We have the best pool of Laravel developers who can convert any business idea into a website. We are pro at support and maintenance as well.
Are you struggling to build the best enterprise application or web solution? Do you need a solid backend framework like Laravel to boost your site performance? We can help with LAMP, Laravel Livewire, and PHP development services.

Are you concerned about the customer data and security of your eCommerce store? If you want the best eCommerce store with a secure payment gateway, high-performing design, and an interactive dashboard, we can do that for you. 

Do you want performance-boosting APIs for your website? Our team can develop an API generator package to create flawless communication between the application and its mobile users. We can integrate relevant APIs as well.

Is your site missing exclusive features and extensions? Does it need refurbishing? Adding features with custom Laravel extensions is the best way to boost site performance. We can help you with this. 
Does your site need migration from one version of Laravel to another? Is it missing regular PHP updates? If you want to migrate to a higher version of Laravel or want to upgrade to an existing site, we can be your best tech partner. 

Do you feel your site is lacking adequate support and maintenance? Depending on the client's requirements, we offer support and maintenance services for all our Laravel development projects. 

Want a Laravel site, but still unclear about how to move forward? Confused about the website idea or innovative concept? Bring it to us and we can help you figure out the best way to monetize it with technology. 

Need the help of Laravel experts to boost your website performance? Is your tech team looking for input from Laravel developers? Choose from our experienced Laravel team that can convert any concept into a functional application. 
Why opt for Laravel?
Discovery the benefits of using Laravel for Web App Development
Rapid Application Development

The tools, libraries, and templates of the framework offer rapid application development so that you can launch the site without any delays.

Highly Secure

Security is the biggest advantage of the Laravel framework so, enterprise websites are saved from malware or cyber threats.
Robust Performance

The in-built libraries of Laravel allow the building and implementation of robust performing applications.

Easy Integration

Laravel offers ease of integrating modules and features into the application. It is best for enterprise application development.
Scalability

When you want a scalable, futuristic site, Laravel is an ideal framework with large applications that may expand in the future.

Active Community

Being an open source, Laravel gets huge support from its developer community so your site is in safe hands.
Built-in Testing

The Laravel framework offers a built-in testing mechanism to rule out any issues in the site or application.

Cost-Effective

The open-source framework proves cost-effective for all kinds of web and enterprise solution development.
Easy Maintenance

Laravel applications are much easier to maintain and manage in the long run.

Flexible

It helps build flexible applications through MVC architecture and assures high performance.
Why choose KrishaWeb for Laravel development?
We have a dedicated team of Laravel developers to work solely on your project.
We are experts at LAMP architecture, PHP web development, OOPs, Migrations, extension development, API integration, and more.
Our quote estimation approach is customer friendly so, we offer affordable web and enterprise solutions.
We provide a complimentary project management service. A project manager will look after your entire project.
We offer flexible engagement models to choose from. Select as per your project requirement and budget.
Regular reporting with daily/weekly/monthly updates, as decided during consultation.
We leave no communication gap as our team keeps the client in the loop at every stage of development.
Latest Projects
Check out our projects where we made our clients win in the real world.
Client Feedback
Delve into the feedback from our valued customers!
"They provide excellent quality of work, and their services are both time and cost-efficient."
Elizabeth
CEO, Boutique Creative Agency
"We are extremely satisfied with the web application developed by KrishaWeb and would highly recommend their services."
Ibrahim
CEO, Advertising Agency
"First and foremost, I appreciate KrishaWeb's commitment to delivering items on time."
Matthew
Co-Founder, TGA Web Agency
"Everyone we worked with at KrishaWeb was exceptionally friendly and very knowledgeable."
Karissa
Business Analyst, Financial Services Company
FAQs
We hope these questions and answers help you find the best Laravel development partner for your business.
It depends on the project requirements and may take six weeks, three to six months, or more. 

We offer diverse hiring models, which may vary depending on the complexity of your project. Check them and choose accordingly. 

Yes, they are offered on-demand so, discuss and fix them during the initial consultation. 

We provide an affordable quote during the initial consultation so, please feel free to connect with us. 

Yes, we do. Feel free to give us a shout-out for anything related to Laravel development. 
What makes us your ideal partner?
We believe that you deserve a web design agency that is experienced and versatile. At KrishaWeb, our prominent design experts know the trends and the best practices outperforming the market. Designing websites that increase your interactions and lead to sales growth on your website.

We are here, if you still have any questions!