Top-Rated Magento development services by experienced developers
We are a reputed Magento development agency that provides customized eCommerce solutions that boost sales and revenue, for Startups, mid-level, and enterprise-level businesses.
Trusted By Companies All Over The World.
Why choose Magento for your business?
Magento is a comprehensive, secure, scalable, flexible, and robust eCommerce platform. It supports the integration of third-party extensions, applications, and plugins to create feature-rich, high-performing, technologically-rich eCommerce websites, of all scales. With many automation, optimization, and management tools, Magento development proves ideal for eCommerce stores.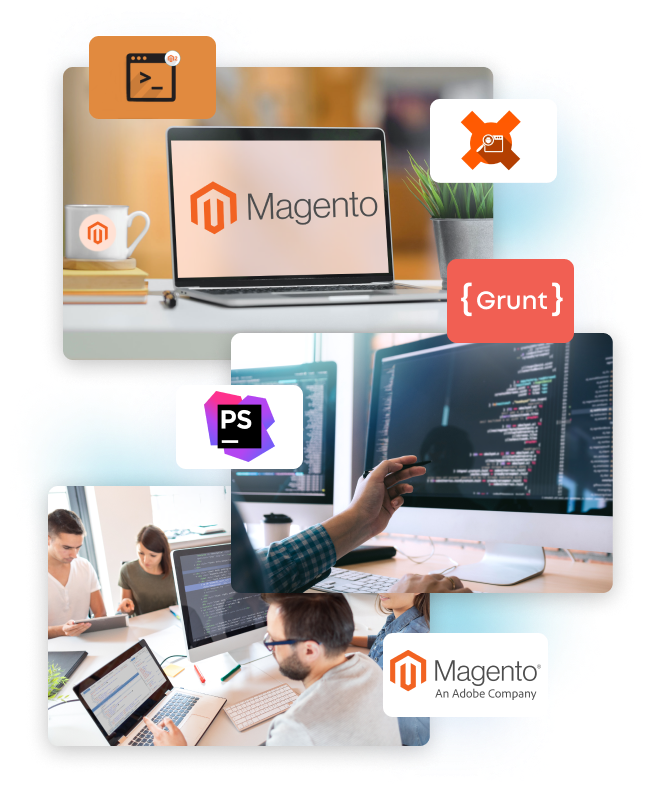 We are your one-stop Magento development solutions providers
Offering the following Magento development services for our global clientele:
Are you lacking resources to pull off a wide-scale, tailor-made Magento store for you? Unable to manage Magento development projects? Is it getting tough to figure out the best features for your store? Let us help you to create a precise, customized Magento eCommerce website for B2B and B2C businesses. 


Does your store lack a striking design element? Want to replace a dull-looking online store with a stunning store? Our UI/UX team can help you create designs that represent the brand and display product pages with attention to detail. 


Is your current eCommerce store lacking new-age features? Want to add new functionality, but do not have the right technology team for it? Let us guide you forward to create Magento plugins, extensions, and third-party integrations. 

Concerned about losing data during Magento migration? Do not worry! We can help you switch from platforms like BigCommerce, WooCommerce, Adobe, PrestaShop, WordPress, and Shopify to Magento. If you want to move from Magento to Magento2, then also we do it without losing any data. 


Feel like your store is missing out on features that drive more traffic? Need to create a technically sound Magento store? We can help you integrate Magento Rest API, payment gateways, third-party extensions, custom plugins, and software systems. 
Are you facing the challenges of a slow-loading eCommerce store? Does your store need a boost in terms of performance and speed? Team up with us for top-rated Magento store performance optimization services. 


Are you struggling with seamless navigation for your eCommerce store? Want a qualified team to create a smooth site flow? We can help you by converting PSD files into Magento designs, layouts, and navigational flow. 


If you are facing difficulties with the existing Shopify store and need to redesign it with a Magento theme? We can help you make a swift switch by customizing Magento themes. Your Shopify store can easily be converted into a Magento eCommerce site. 


Always puzzled about dealing with backups, downtimes, and low-speed product pages? Is your team overwhelmed with maintaining the existing Magento store? We offer the best maintenance and support services for all kinds of Magento websites. 


Are you lacking a pro team for building or revamping the Magento eCommerce store? We have expert Magento developers who can build matchless Magento stores with complete dedication. Check our hiring models to choose a team from our resources. 
If you don't have the right technical team for Magento Development, then partner with us to get the best Magento developers. We have an experienced team that builds Magento stores that deliver exceptional customer experience.
Magento development for your business
Why should you choose Magento for your online store development?
Robust and Scalable Platform

The Magento architecture makes it possible for offering adequate services and expand existing stores for future requirements. With a single dashboard, you can manage multiple stores.

Customization and Flexibility

Magento has hundreds of themes that can be altered to design tailor-made eCommerce sites. Its flexible APIs allow seamless communication between web services and the Magento development system to create excellent online stores.
Rich Feature Set

With excellent features like inventory management, warehouse management, Magento ERP solutions, payment options, optimization tools, and more, Magento allows feature-rich eCommerce design and development.

Multi-Store Capability

With Magento, you can manage multiple storefronts with a single dashboard and backend system. This facilitates the admin to control activities and promotional campaigns from a single dashboard.
International Expansion

With Magento, you can afford custom multilingual store designs. It allows web pages to be displayed in multiple languages and payment in diverse currencies. It allows store owners to expand their business globally by giving a native feel to each site.

SEO Optimization

Magento has built-in advanced SEO features that can be leveraged to create a high-ranking, high-performing eCommerce store that grabs the attention of customers. It pushes sales and generates higher revenue.
Mobile-Optimized Experience

Magento can be configured for a superlative mobile eCommerce store. This will help to gain customers that buy products from their smartphones. And it's a big number! So, leverage the mobile-optimized Magento store to boost sales.

Integration Capabilities

Your eCommerce store can be made functionally rich by integrating third-party extensions and software systems. Magento has a flexible architecture that facilitates integration without any hassles.
Community Support

With a huge open-source community, Magento developers come up with new themes, plugins, and extensions. This helps to build stronger, multifaceted eCommerce stores that deliver smashing end-user experiences.

Analytics and Reporting

Advanced SEO and analytics tools allow you to monitor your eCommerce store and fine-tune it periodically. It generates precise reports to keep an eye on the performance of campaigns and the store in general.
Why choose KrishaWeb for Magento development services?
Best resource pool of Magento Developers
Many hiring models that suit any business
High success ratio of Magento development
All kinds of Magento development services
Affordable Magento solutions for Startups, mid-level, and enterprises
Dedicated Magento developers with quick reporting
On-demand support and maintenance services
Client Feedback
Delve into the feedback from our valued customers!
"They provide excellent quality of work, and their services are both time and cost-efficient."
Elizabeth
CEO, Boutique Creative Agency
"We are extremely satisfied with the web application developed by KrishaWeb and would highly recommend their services."
Ibrahim
CEO, Advertising Agency
"First and foremost, I appreciate KrishaWeb's commitment to delivering items on time."
Matthew
Co-Founder, TGA Web Agency
"Everyone we worked with at KrishaWeb was exceptionally friendly and very knowledgeable."
Karissa
Business Analyst, Financial Services Company
FAQs
We hope these questions and answers help you find the best Magento Development partner for your business.
We decide this during the consultation as it depends on multiple factors, especially client requirements. However, it can take anywhere from one to three months. 

Yes, our Magento developers can modify an existing store with plugins and extensions without any hassles to its flow and operations. 

Yes, we offer migration within the technology and even cross-platform migration i.e. from other platforms to Magento. 

Starting from $5000 to more, depending on the complexity, features, third-party tools, and more. However, it's better to discuss in person and decide. 

Upgrades of all kinds include software, modules, plugins, themes, and more! We focus on instant bug fixing to prevent downtime.
What makes us your ideal partner?
We believe that you deserve a digital web agency that is experienced and versatile. At KrishaWeb, our prominent IT experts know the trends and the best practices outperforming the market.

We are here, if you still have any questions!