Reduce operational costs efficiently with custom ERP solutions
We build custom ERP solutions for all-sized businesses and industries that seamlessly operate across web and mobile platforms.
Trusted By Companies All Over The World.
Gain competitive edge with scalable and dynamic ERP solutions
We build custom ERP solutions for businesses to improve the efficiency of workflows, lower operational risks, and optimize costs. With a team of experienced and qualified ERP developers, QA engineers, project managers and other professionals, we can create a dynamic ERP software system that enables you to easily track and monitor the business processes.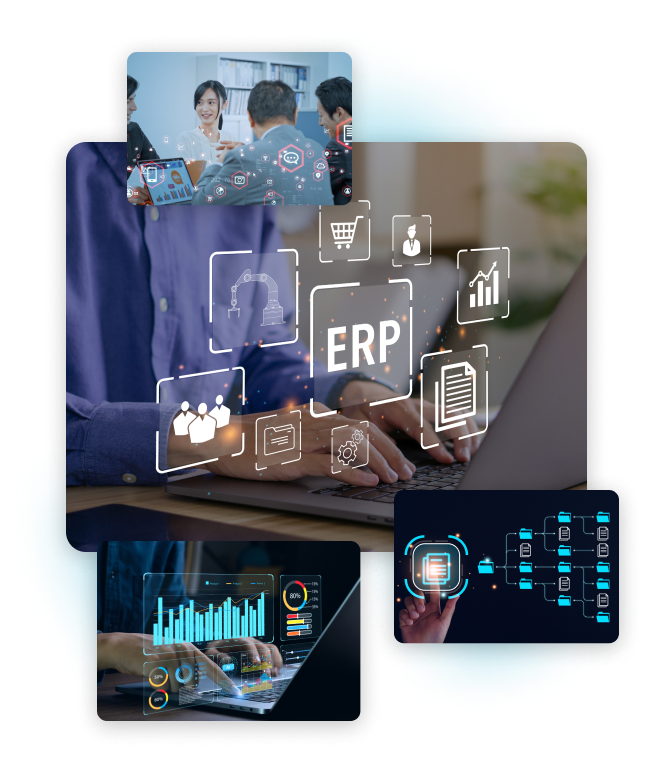 Hire our experts for tailored ERP development solutions
We analyze our client's current business environment to understand the challenges and business requirements to customize an ERP system that ensures the desired outcome.
We build custom ERP systems to let you have valuable data insights across both mobile and web platforms and to avoid complications related to data migration or integration with existing systems.

Our web experts use the industry's best programming languages and the latest technologies to build scalable ERP applications for all platforms – web, mobile, SaaS, or multi-tenant.

With a qualified team of web experts, we ensure that the ERP system has been properly implemented which is essential for the successful outcome of an ERP development project.

To maintain the accuracy and consistency of data, we can update the data infrastructure, seamlessly integrate the systems, efficiently transfer the legacy data and combine the data silos.
To add more features, functionalities, and modules to a custom ERP system, we can design, build, and implement several extensions and plugins that seamlessly connect to an ERP system.

We analyze your current business environment to understand your business objectives and the outcome desired by you to develop and deploy an ERP system fit for your business.

Do you want to build the ERP system in-house? Through our ERP staff augmentation service, you can hire experienced and qualified professionals and move forward with the project.

We continue to offer support and maintenance services to our clients after deploying the ERP system. We make necessary adjustments to the system and upgrade the features whenever necessary.
Types of ERP modules we develop
Custom ERP solutions developed by KrishaWeb automates your business processes and serve as a shared database for all operational and financial information of your company.
Human Resources

Streamline your HR operations with our comprehensive HR modules that facilitate seamless recruitment and onboarding, efficient salary processing, accurate attendance tracking, effective employee training and development, as well as prompt handling of employee requests.

Supply Chain Management

Optimize your inventory management with our advanced module, empowering you to efficiently track inventory, supervise vendors, and automate sourcing and procurement processes for enhanced productivity and cost-effectiveness.
Customer Relationship Management

Elevate your customer experience by leveraging our powerful solution that enables you to comprehensively analyze and enhance customer interactions throughout the customer lifecycle. Boost customer retention, drive sales growth, and deliver exceptional customer service with confidence.

Service Operations Management

Streamline your service-related workflows with our robust solution, empowering you to effectively plan, control, and optimize service operations. Seamlessly manage service level agreements, while leveraging the power of polls and e-voting to gather valuable insights and ideas for continuous service improvement.
Chatbots and Virtual Assistants for Users

Enhance user experience and productivity with our intelligent chatbots, adept at seamlessly guiding users through the ERP system, such as streamlining employee onboarding. Unleash the power of virtual assistants to automate repetitive tasks, like updating customer information, freeing up valuable time for your company's core operations.

Sales & Marketing

Effortlessly manage customer orders, streamline communication with customers, strategically plan marketing campaigns, and stay up-to-date on ever-changing sales dynamics with our comprehensive solution. Empower your business to thrive in the competitive market while delivering exceptional customer experiences.
Finance and Accounting

Take full control of your financial operations with our integrated solution, enabling you to efficiently supervise payable and receivable accounts, perform comprehensive financial planning and analysis, automate billing operations, and effectively manage your general ledger. Streamline your financial processes and make informed decisions for sustainable growth and success.

Production Management

This module can be used for planning/scheduling/controlling production. It may be built with sub-modules for quality assurance or to manage products' lifecycles.
Project Management

Empower your team to succeed with our project management solution, offering the ability to efficiently plan and monitor projects, assign and track tasks, and foster seamless collaboration through integrated tools like shared file space and instant messaging. Achieve project success through streamlined workflows and enhanced team collaboration.

Inventory Management

Transform your business operations with our innovative module, designed to automate the movement of products within storage locations and expedite online transactions, enabling you to maximize efficiency and enhance customer satisfaction. Embrace automation for seamless product management and streamlined online experiences.
Automate your operations with KrishaWeb ERP software solutions
We can accurately estimate the cost of completing and time to deliver a project.
We have built ERP systems (basic or enterprise level) for businesses of all sizes and industries.
We maintain transparency with consistent reporting at all stages of a project and record all our operations.
We take care of everything such as designing/developing/implementing ERP systems and post-deployment assistance.
With API integration service, we can enhance the capabilities of an ERP system.
We can reduce the financial risks associated with ERP implementation.
Technologies We Serve
Empowering your business with the latest technologies we use!
Industry Expertise
Putting forth our more than 14 years of expertise to transform businesses digitally regardless of the industry. We believe your unique perspective will be an add-on to our valuable industry insights delivering beneficial solutions.
Client Feedback
Delve into the feedback from our valued customers!
"They provide excellent quality of work, and their services are both time and cost-efficient."
Elizabeth
CEO, Boutique Creative Agency
"We are extremely satisfied with the web application developed by KrishaWeb and would highly recommend their services."
Ibrahim
CEO, Advertising Agency
"First and foremost, I appreciate KrishaWeb's commitment to delivering items on time."
Matthew
Co-Founder, TGA Web Agency
"Everyone we worked with at KrishaWeb was exceptionally friendly and very knowledgeable."
Karissa
Business Analyst, Financial Services Company
FAQs
We hope these questions and answers help you find the best digital transformation partner for your business.
First, our ERP consultants enquire about the reason behind customizing an ERP system. We can align an ERP system with your business objectives after finding out what you want to achieve from it.

The cost of developing a custom ERP system depends upon –

Size/type of the software Number of platforms on which the ERP system is supported Features and functionalities Need for integrating with other software solutions Supporting infrastructural needs

Yes. We can update an ERP system to satisfy your present-day needs. We can provide you with an accurate estimate for the project once we find out what type of modernization is required.

We have the expertise to offer a range of ERP software services, such as

Custom ERP solution development, ERP implementation services ERP application development Staff augmentation,  Support and maintenance

You notice the following benefits after implementing an AI-oriented ERP system.

Improved efficiency and increase in productivity

Reduction in costs

Better decision-making & data accuracy

Streamlined operations with automated workflows

We can streamline your business process through forms and workflow customization, UX/UI customization, automation, and functionality extensions.
What makes us your ideal partner?
We believe that you deserve a digital web agency that is experienced and versatile. At KrishaWeb, our prominent IT experts know the trends and the best practices outperforming the market.

We are here, if you still have any questions!