ReactJS Development for Startups, Medium Businesses, and Enterprises
Leverage ReactJS development services from a reputed company with years of experience in building world-class applications.
ReactJS Web Application Development for Startups, Medium Businesses, and Enterprises
KrishaWeb offers outstanding ReactJS development services to build cross-platform, responsive, single-page applications with exceptional user interfaces. This open-source front-end Java library can be customized to offer an appealing front-end for mobile and web solutions. We offer custom ReactJS development to generate exceptional end-user experiences.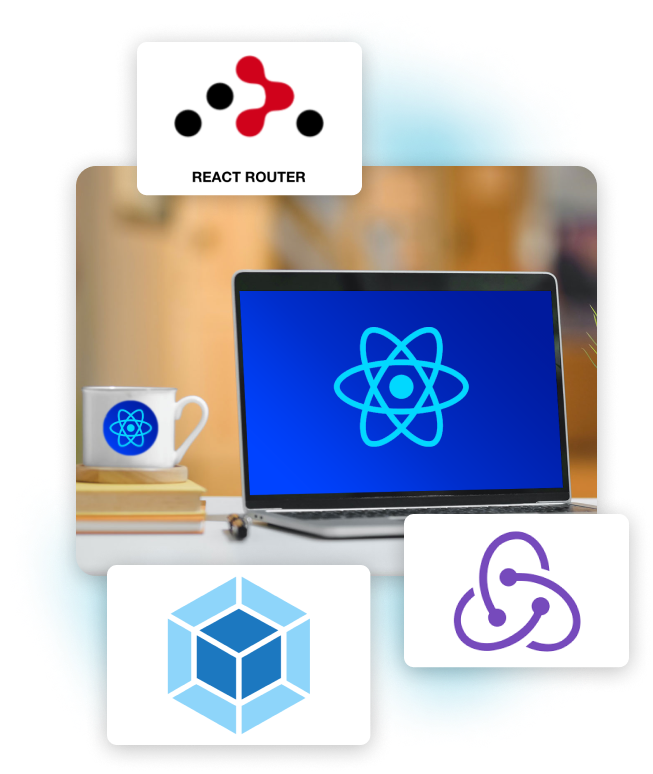 Streamline your business with our cutting-edge ReactJS Development Services
We offer business-driven, client-centric, responsive, mobile, and web applications using ReactJS. Our team of front-end developers assures world-class apps that serve business goals without any hassles.
Are you facing trouble in ReactJS plugin development, third-party integrations, or migration services? Let our team help build custom ReactJS applications that serve your business goals.

Is your site lacking an interactive front end? Is it not engaging enough to attract customers? Choose our expertise in ReactJS UI/UX design to get dynamic mobile and web apps.

Are you facing challenges with rendering cross-platform applications? Let our team build reusable components that can be integrated to form a seamless interface for your website.

Having a dull, lifeless UI that repels customers? Join hands with us to get a feature-rich, high-quality ReactJS frontend that delivers exceptional user experience across devices.
Is your site missing out on the dynamic aspect and suffers from poor performance? Our ReactJS developers can fine-tune the JS framework and library to build interactive web pages. 

Facing delayed decisions due to inefficient workflow? Choose our ReactJS web portal development services to optimize business workflow and streamline activities to boost employee productivity. 

Is your web application susceptible to security threats and lacks efficiency? ReactJS maintenance and support services can help to fix bugs and optimize application performance. 

Are you in dearth of a technical team that provides engaging UI/UX? You can hire dedicated ReactJS developers to bring transformation to your business through business-centric web and mobile applications.
How ReactJS development can transform any business?
ReactJS offers ultra-responsive UI, smooth migration, user-friendly design, custom plugins, and responsive web development. Rely on it for building feature-rich, interactive apps with superior user experience.
Component-based architecture

ReactJS allows you to divide UI into smaller, reusable components that can be assembled to serve the requirements of a dynamic user interface.

Efficient user interface rendering

ReactJS streamlines front-end development through a user-friendly interface rendering. It builds interactive, engaging, and responsive UI that satisfies the end user.
Enhanced developer productivity

One-way binging, virtual DOM, and component-based design are some unique features of ReactJS that help developers to build high-performing, scalable mobile and web apps.

Unidirectional data flow

Pair ReactJS with Flux to create a unidirectional data flow for flexible web and mobile apps. It supports ease of debugging and offers better control over the application.
A rich ecosystem and community support

Being open source, ReactJS enjoys support from a huge community of developers who fix bugs and come up with custom plugins and components.

Cross-platform compatibility

The write-once-and-run-anywhere mechanism helps ReactJS build applications that are compatible with any platform.
SEO-friendliness

ReactJS offers the development of premium, SEO-friendly applications with Next.js and Gatsby. SEO can be induced through pre-rendering and isomorphic React applications.

Performance optimization

With the ease of migration, plugin integration, and quick debugging facilities, ReactJS optimizes the performance of any application without any hassles.
Why choose KrishaWeb for ReactJS development services?
Best ReactJS developers team
Diverse hiring models for affordable ReactJS solutions
Flawless plugin updates and migration services
Expertise in various ReactJS tools & technologies
Timely delivery of custom ReactJS development solutions
On-demand support and maintenance services
Client Feedback
Delve into the feedback from our valued customers!
"They provide excellent quality of work, and their services are both time and cost-efficient."
Elizabeth
CEO, Boutique Creative Agency
"We are extremely satisfied with the web application developed by KrishaWeb and would highly recommend their services."
Ibrahim
CEO, Advertising Agency
"First and foremost, I appreciate KrishaWeb's commitment to delivering items on time."
Matthew
Co-Founder, TGA Web Agency
"Everyone we worked with at KrishaWeb was exceptionally friendly and very knowledgeable."
Karissa
Business Analyst, Financial Services Company
FAQs
We hope these questions and answers help you find the best development partner for your business.
Being a JavaScript library, React offers rapid application development with a dynamic front end and interactive user interface. With features like virtual DOM, reusable components, and one-way data binding, it delivers engaging, secure and scalable UI. 

It depends on client requirements, the complexity of the project, the time limit, the hiring model, and many other factors. We can discuss these in detail during the technical consultation and then come up with a cost-effective quote.

HTML, CSS, Typescript, Next.JS, JSX, Redux, etc. are some of the tools and technologies used in combination for first-grade React Development.

Normally, it takes around three months, but it may vary depending on the project requirements. 

Yes, we do. We will discuss all details during the consultation and project assessment phase to remove any confusion in the future.
What makes us your ideal partner?
We believe that you deserve a digital web agency that is experienced and versatile. At KrishaWeb, our prominent IT experts know the trends and the best practices outperforming the market.

We are here, if you still have any questions!