Shopify development agency that offers client-dentric eCommerce solutions
We are trusted for designing and developing innovative, secure, scalable, Shopify stores that drive huge traffic and convert them into long-term customers, to boost sales and revenue.
Trusted By Companies All Over The World.
Strategic Shopify development that converts visitors into customers
With nearly one-third of the eCommerce market to its credit, the Shopify platform offers easy-to-customize themes, scalable architecture, secure payment gateways, easy setup, responsive design, SEO features, and more, to build the best online store possible. Rely on us when you want a solid team of Shopify developers that converts product shopping into a fantastic user experience.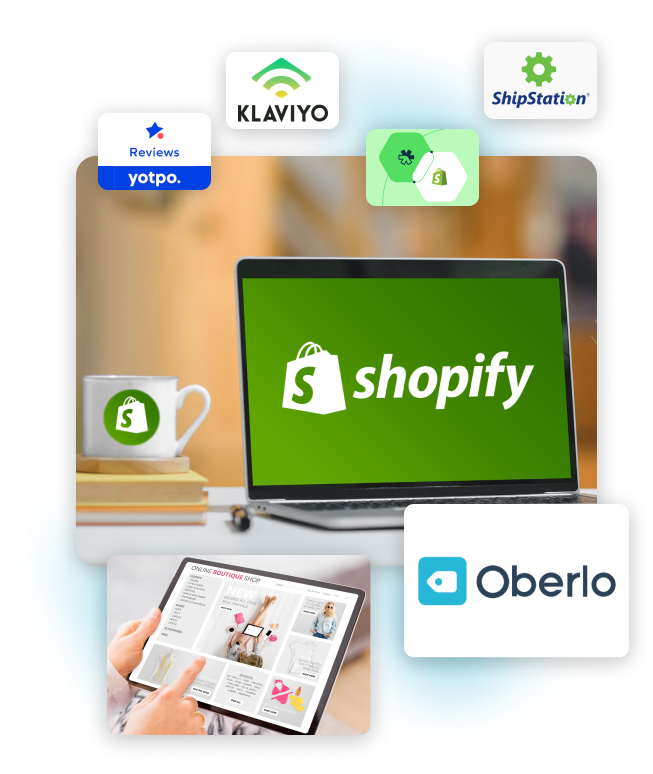 KrishaWeb help you with the following Shopify development solutions
We develop holistic solutions that meet your growth needs.
Are you facing technical glitches in building an eCommerce store with brand-specific features and functionality? Is your eCommerce site not matching your brand image? Allow us to resolve things by offering our experienced team of Shopify developers.

Facing difficulty in designing an attractive user interface for your eCommerce store? Want to redesign an existing store, but don't find the right design team? Let us assist you by offering the finest level of Shopify theme customization. 

Unable to find the right team for developing an enterprise-level, big-scale eCommerce website? Facing trouble with managing a giant online store? Let our Shopify developers help you create a stunning, highly automated, and high-traffic volume-oriented solution. 

Do you lack a mobile customer base? Is your online store missing out on an audience that does max shopping through their smartphones? Let us help by offering our most experienced team that specializes in setting up mobile commerce. 

Scared of losing data and rankings during Shopify migration? Need a team that offers seamless migration services without any harm to the current store? KrishaWeb has experts for migrating content, images, and data from any platform to Shopify. 
Facing challenges in converting a regular store into a high-tech eCommerce site with third-party integrations and more features? Well, let KrishaWeb offer its professional services to blend third-party systems and applications in your store. 

Need assistance revamping a basic online store into a sales-driven eCommerce website? KrishaWeb can help as we have successfully accomplished many such projects. We convert a mundane store into a high-tech, stylish, customer-pulling site. 

Unable to utilize all the elements of Shopify SEO and boost sales? Do you still have an eCommerce store that falls flat on the sales pitch? We can help by strategizing things through our result-oriented digital marketing services. 

Does your site deal with regular downtimes? Are you scared of losing customers because of a poorly performing eCommerce website? Shake hands with us for constant Shopify support and maintenance services. 

Is your team lacking the technical expertise required to set up, configure and build an online store? Stressed about cherry-picking the best Shopify resources? Allow us to offer our experienced team with diverse hiring models. 
Shopify is one of the most revered eCommerce platforms and there are plenty of reasons for it. Around one-third of the world relies on it for building robust eCommerce stores.
Why choose Shopify development for your business?
Simple to Install and Use

A very flexible, user-friendly eCommerce development platform to create tailor-made online stores.

All-in-One Service

Easy to install, configure, and set up, Shopify is an all-in-one platform that delivers high performance and speed.
Mobile-Optimized

Offers outstanding user experience through mobile-friendly and responsive design that works on all browsers.

Trustworthy and safe

Suitable to build large online stores and enterprise-level eCommerce websites that face huge volumes of traffic.
A Large App Store

Shopify offers hundreds of free and paid themes to create stunning user interfaces, product page layouts, and site designs.

Payment Gateway Options

Plenty of payment gateway options to ensure safe monetary transactions when you have global customers.
Round-the-clock Customer Service

You get 24×7 maintenance and support services

A Strong Community with Ample Resources

It has a strong community of developers that keep coming up with advanced features
Benefits of hiring KrishaWeb for Shopify development
Renowned Shopify development agency with a proven track record of successful projects.
We maintain high standards of eCommerce development and build premium eCommerce websites
Experts at creating mobile-friendly online stores that tap into huge traffic and convert them into customers.
Our design team assures engaging UI with strategically placed Call to Action buttons to increase sales
We develop high-performing, quick-loading, easy-to-navigate, eye-pleasing eCommerce sites
We are a single-stop destination for Shopify development – be it design, customization, support, or maintenance.
We offer affordable Shopify solutions for Startups, mid-scale businesses, and large enterprises.
Client Feedback
Delve into the feedback from our valued customers!
"They provide excellent quality of work, and their services are both time and cost-efficient."
Elizabeth
CEO, Boutique Creative Agency
"We are extremely satisfied with the web application developed by KrishaWeb and would highly recommend their services."
Ibrahim
CEO, Advertising Agency
"First and foremost, I appreciate KrishaWeb's commitment to delivering items on time."
Matthew
Co-Founder, TGA Web Agency
"Everyone we worked with at KrishaWeb was exceptionally friendly and very knowledgeable."
Karissa
Business Analyst, Financial Services Company
FAQs
We hope these questions and answers help you find the best Shopify partner for your business.
Shopify is a comprehensive eCommerce development platform with the flexibility of third-party integrations, built-in SEO, customizable themes, and other features that deliver a competent eCommerce site. 

It depends on the scale of the website and the features that need to be incorporated. On average, we consider six weeks to three months or even more, from consultation to deployment.

Shopify supports all kinds of payment options to facilitate customers with the convenience of choosing a payment mode to buy their favorite products. 

It depends on the requirement of the client. We discuss everything during the initial consultation phase so; as to offer the best to our clients.

We have a transparent business process and a client-centric vision that believes in offering more to the clients. We deliver technical expertise and a complete value for money through cutting-edge eCommerce stores with advanced technical features. We have different hiring models to help customers choose the best resources from our team and that too within their budget. Overall, we thrive for long-term clients and work on mutually profitable relations.
What makes us your ideal partner?
We believe that you deserve a web design agency that is experienced and versatile. At KrishaWeb, our prominent design experts know the trends and the best practices outperforming the market. Designing websites that increase your interactions and lead to sales growth on your website.

We are here, if you still have any questions!