IT Solutions for Health Care Industry
Improve your healthcare services with our IT solutions, focusing on top-notch security, efficiency, and compliance in patient care.
Trusted By Companies All Over The World.
Healthcare IT consulting and technology solutions
With increasing expectations from patients and medical practitioners, security threats, and ever-changing compliance, healthcare industry must transform their care delivery models to provide better patient care and experience. Consequently, technological innovation empowers healthcare professionals to deliver cost-effective medical services, enhanced provider-patient interactions, and secure financial transactions.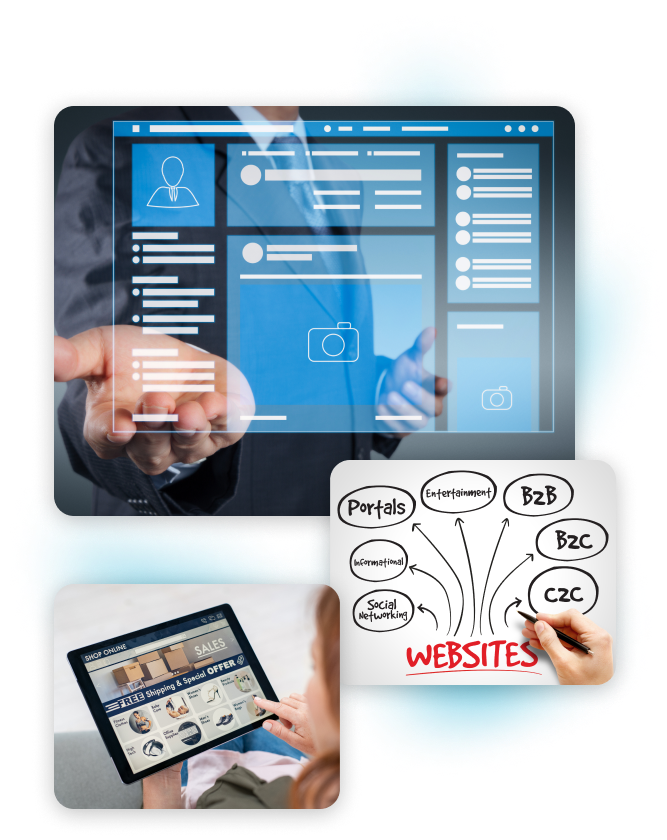 Solutions we offer to the Health Care Industry
For delivering enhanced healthcare solutions and patient care, use the power of custom application development, analytics, and mobility.
We build custom, scalable, and easy-to-navigate UI for delivering enhanced UX to both patients and medical staff.

We specialize in custom development, integration, and improvement of healthcare software solutions to help medical professionals deliver high value and patient experience.

Our smart health applications enable patients to manage their health, book appointments, and allow medical staff to remotely monitor treatments and intervene for better patient care.

Our smart web applications enable medical staff to deliver enhanced patient care through streamlined and automated processes for records management, staff management, billing & invoice.

We build secure and scalable pharmacy management software to help pharmaceutical companies accelerate their sales and revenue.
We build customized, scalable, and secure CRM software to automate medical operations for efficiently managing the patient's journey from appointment and treatments to billing.

We build customized software for automating and streamlining internal processes for improving patient care & treatments, insurance claims management, better equipment monitoring, and healthcare supply chain management.

We provide consulting services for your existing IT infrastructure or deploying new solutions to improve patient care and experience.  

We build SaaS solutions to modernize your IT infrastructure for improving data security, effortlessly managing patients, easy collaboration between medical staff, and hassle-free billing and insurance. 

We build IoT-based healthcare web and mobile software for secure storage and quick access of patients' records for medical staff to gain valuable insights and intervene timely.
Benefits of Digital Transformation in Healthcare
We provide comprehensive healthcare IT solutions to empower medical professionals, hospitals, and digital health startups to provide improved patient care & experience.
Information management

Hospital Management System enables you to easily access, manage and generate patient records based on your requirements – age, gender, location.

Enhance Patient Care

Patient Monitoring solutions using wearable IoT-driven devices enable healthcare professionals to remotely monitor patients' health and provide timely interventions.
Easy Communication and Collaboration

Custom Electronic Health & Medical Record software offers seamless patient experience for monitoring their treatments or booking an appointment/ online consultation.

Patient Engagement and Empowerment

Enable your patients to manage their health by easily communicating with the medical staff, scheduling appointments, and participating in treatments.
Improve Workflow and Efficiency

Deliver improved better patient care and experience through automated and streamlined processes for managing healthcare documents, billing & invoice, booking consultation/appointments.

Telemedicine and Remote Care

Use the power of feature-rich telemedicine software to provide contactless treatment and enable medical practitioners to treat patients through video calling/chat.
Data Analytics and Health Management

Deliver value-based patient care by using HL7/FHIR integrated analytics solutions that collects data from sources and stores in data repositories for use. It empowers medical professionals to make educated decisions on patient treatment and care.

Regulatory Compliance and Security

Our cloud-based SaaS solutions and products are HIPAA compliant to help you maintain and share critical patient records in a highly secured environment.
Automate Billing Processes

Improve reimbursement efficiency and optimize revenue through automated and streamlined billing and invoice processing.

Innovation and Future Growth

Automate Medicare process, deliver personalized and efficient patient care and experience, and easily collaborate among medical staff with custom, scalable, and regulatory compliant Healthcare IT Solutions.
Why choose KrishaWeb for Health Care IT solutions?
Customized & comprehensive healthcare software development services & solutions.
Enhanced UI and UX design for quick and efficient navigation for patients and medical staff.
Secure and scalable healthcare solutions for web and mobile.
Software development focused on healthcare interoperability protocols – FHIR & HL7.
Secure PHI data storage compatible with existing data centers.
Use DevOps, Agile & Lean methodologies to build robust healthcare solutions.
Industry compliant – HIPPA & GDPR.
Project delivery in 3–4 months*.
Technologies We Serve
Empowering your business with the latest technologies we use!
Awards and Recognition
Making a difference through these legacies of excellence!
Client Feedback
Delve into the feedback from our valued customers!
"They provide excellent quality of work, and their services are both time and cost-efficient."
Elizabeth
CEO, Boutique Creative Agency
"We are extremely satisfied with the web application developed by KrishaWeb and would highly recommend their services."
Ibrahim
CEO, Advertising Agency
"First and foremost, I appreciate KrishaWeb's commitment to delivering items on time."
Matthew
Co-Founder, TGA Web Agency
"Everyone we worked with at KrishaWeb was exceptionally friendly and very knowledgeable."
Karissa
Business Analyst, Financial Services Company
FAQs
We hope these questions and answers help you find the best digital transformation partner for your business.
Healthcare IT Solutions includes the utilization of analytics, workflow management for electronic medical records systems, telemedicine applications, patient records, billing, doctor appointments & consultation to provide a safe and quality healthcare ecosystem services.

For operating a successful healthcare organization, Healthcare IT solution is the pillar. With increased use of smart devices and innovative technology, businesses processes are streamlined, offering better patient care and service. Thus, investing in a robust health IT solution is a wise investment you can make to help your hospital or practice grow.

Reduced treatment costs, reduced need for staff for routine tasks, and increased availability of staff and resources for core tasks are the benefits for hospitals and clinics. For the patients, hassle-free appointment booking, purchasing medicines, online doctor consultation/appointments, and managing their health with a patient care information system on the go. 

To build custom solutions a team of business analysts, designers, web developers, and project managers is involved.  

Database is the backbone of storing critical patient records from their health reports to their billing & invoices. Thus, database implementation, design, and management is a critical part of developing Healthcare IT solutions. However, the solution must be HIPAA-compliant that offers superior security against cybercrimes.

Yes, we have a dedicated and experienced development team that focuses on developing custom healthcare technology solutions for web and mobile devices. Our offerings include health care management solutions, fitness, and wellness applications. If you need assistance in deciding on the suitable solution, we can help you. 
What makes us your ideal partner?
We believe that you deserve a digital web agency that is experienced and versatile. At KrishaWeb, our prominent IT experts know the trends and the best practices outperforming the market.

We are here, if you still have any questions!