Designing UI UX Designs, apps, and brands that people love
Our experts improve your digital product's user experience, leading to satisfied customers and revenue growth.
Trusted By Companies All Over The World.
Increases Conversion Rate
You deserve a systematic and unique approach for your UI/UX design needs.
Brands come to us when they are struggling with:
Lack of skilled in-house team to complete a project
Have limited resources to meet project deadlines
Not working around the clock or incomplete work
Your team is unable to manage work as per your requirements
Your resources are unable to deliver high-quality work
Failing to ensure that projects are completed to a high standard
In-house employees cost you more than your project or workload
Inefficient time management and communication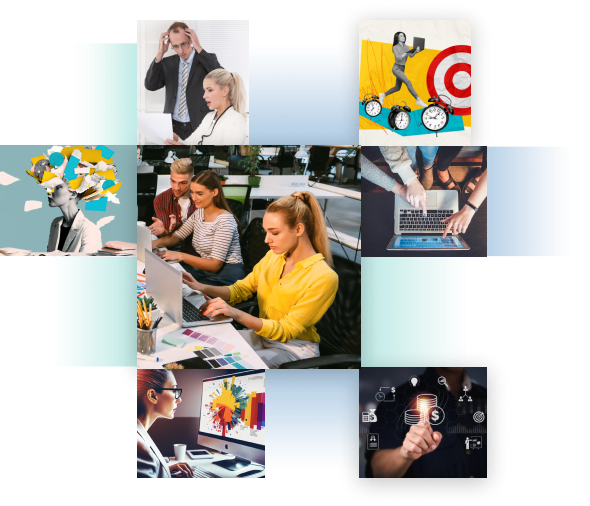 How we can help you!
We develop holistic solutions that meet your growth needs.
Ensuring to understand your business, your users, how they interact with your product, observing their behavior and needs. Further, understanding their pain points and finding out how your product or services resolve their problems. This research phase is the start of our design process.

Gathering inputs from the market and human elements, we learn and extract desired outcomes to build a practical UX strategy. With our expert assistance, enhance engagement, raise customer loyalty, and grow your business.

Our consulting services provide you with a comprehensive approach to ensuring your business objectives meet your user experience. KrishaWeb professionals help you analyze your current designs and suggest you best practices for developing new UI UX designs.

To determine areas for improvement, your website's or app's UX needs to be evaluated. Usability testing, data analytics, and user surveys are part of the method, which combines qualitative and quantitative research techniques. The experts at KrishaWeb will assist you in optimising your website or app to improve customer satisfaction and engagement.

Helping businesses turn their ideas into reality. They offer support in areas like user research, design, prototyping, and manufacturing so that businesses can create and launch successful new products. Through product design, you can tap into specialized expertise and bring innovative products to market with ease. 
Create more intuitive, organic experiences with user interface design. Our team helps create seamless digital products and services that are beautiful, simple to use, and delightful to interact with.

Your users hate when they get stuck on a website and can't find the information they need. That's why UX audits are crucial. Evaluating a site's usability, accessibility, user flow, and overall design will help you identify issues, and opportunities for improvement, and stay competitive.

It's no secret that IA is an essential step in creating a well-organized and effective website. But it can be difficult to create a site structure that works for everyone.

When it comes to creating an engaging and memorable user experience, interactive design is key. With Interactive Design solutions, helping you build great products by creating memorable UX and UI.

The mobile app design service involves designing interfaces for mobile devices considering the unique constraints and opportunities presented by these platforms.
Unlock your business's full potential with KrishaWeb
Thoughtful and experienced professionals with a deep understanding of UX design.
A collaborative approach to understanding the needs of our clients.
Data-driven design that ensures effective, engaging, and user-friendly outcomes.
Dedicated to consistently delivering innovative designs to drive business results.
Meticulous attention to every aspect of our design solutions.
Enabling prompt and efficient results while remaining adaptable to flexible needs.
Unwavering commitment to our client's success ensures an exceptional experience.
Prioritizing open and transparent communication and incorporating their feedback.
Prioritizing to create inclusive and accessible designs that cater to every user's need.
Successful track record of high-quality UX design solutions with satisfied outcomes.
Latest Projects
Check out our projects where we made our clients win in the real world.
Client Feedback
Hear from our clients what sets us apart to deliver REAL results & experiences!
"They provide excellent quality of work, and their services are both time and cost-efficient."
Elizabeth
CEO, Boutique Creative Agency
"We are extremely satisfied with the web application developed by KrishaWeb and would highly recommend their services."
Ibrahim
CEO, Advertising Agency
"First and foremost, I appreciate KrishaWeb's commitment to delivering items on time."
Matthew
Co-Founder, TGA Web Agency
"Everyone we worked with at KrishaWeb was exceptionally friendly and very knowledgeable."
Karissa
Business Analyst, Financial Services Company
What makes us your ideal partner?
We believe that you deserve a web design agency that is experienced and versatile. At KrishaWeb, our prominent design experts know the trends and the best practices outperforming the market. Designing websites that increase your interactions and lead to sales growth on your website.

We are here, if you still have any questions!