Build a custom digital platform for scalability, engagement, and branding!
As a leading web portal development company, we can build a user-friendly and secure digital platform for your business to serve to your partners, vendors, and business buyers.
Trusted By Companies All Over The World.
Achieve your business goals with custom web portal development solutions!
Through our custom web portal development service, we can build a digital portal that brings to life all UX elements and functions that you thought of having. We use a modular architecture to build a web portal from functional blocks so that the digital portal can be easily modified and upgraded in the future based on your business's changing needs.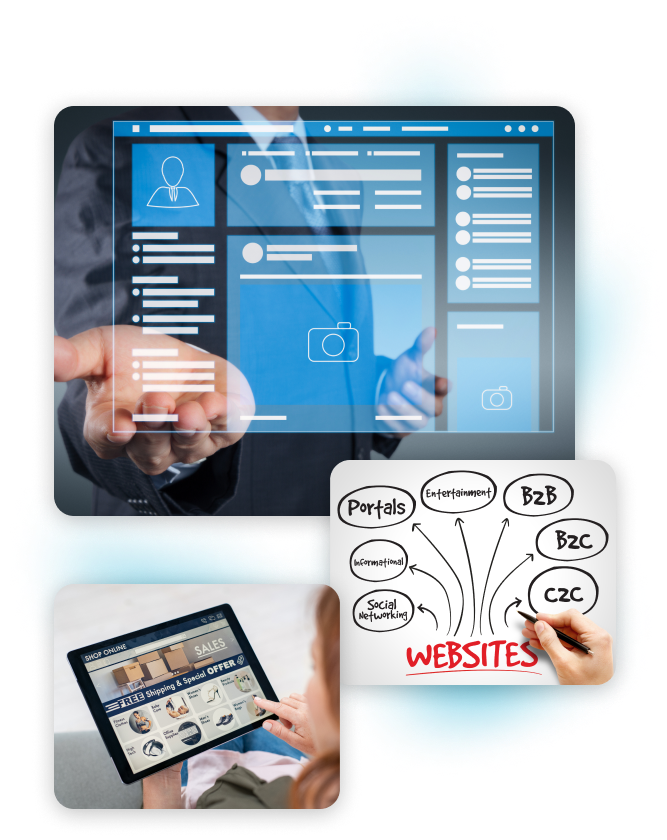 We can help you with below Web Portal development solutions
Whether you want a custom web-portal, platform-based web portal, or web-portal modernization/redesigning/migration service, our qualified developers are ready to take on your project.
To ensure that your web portal is responsive and built for an engaging user experience, our UI/UX design experts can build a responsive and pixel-perfect design for a modern web portal.

We will select the right digital architecture based on your business needs, develop a responsive and custom web portal, and integrate it seamlessly into your business process and infrastructure.

An outdated web portal that is not integrated with advanced features will prevent your business from growing. We can build an enterprise web portal that is secure, scalable, and bring more revenue to the business.
At KrishaWeb, we can transfer your existing web portal from an old technology to a new one while maintaining data integrity.

Once you contact our web-portal consultants and inform us about your requirements, we can prepare a detailed description of the digital product that is tailored to your business niche.

With a qualified and dedicated team of web-portal developers, we can offer support and maintenance service at your request as fast as possible for the smooth functioning of your web portal.
Types of Web Portal we develop
We can build a web portal for your business to ensure that you can efficiently perform multiple tasks without making mistakes.
eLearning Portal Development

We can build a multipurpose online space for eLearning professionals and students that serves as a collaboration platform and a single point to access all learning materials alongside working as a knowledge hub.

eCommerce Portal Development

We build eCommerce solutions with useful and innovative features for businesses, such as trade portals, multi-vendor marketplaces, platforms for auction/bidding, and multiple other custom solutions.
B2B Web Portal Development

By using modern tools and the latest technologies, we can build a feature-rich B2B web portal that enables you to easily connect to your business partners, other businesses, or vendors around the world.

B2C Web Portal Development

We build a B2C web portal with modern navigational functionalities for a problem-free shopping experience. When you have satisfied customers, you notice a sharp rise in sales and profit.
Customer Portal Development

We can build a digital space where your customers can easily access the products of their choice, place orders, submit requests for maintenance or other tasks, subscribe for services, and share their experiences.

Vendor Portal Development

We can build a vendor portal that can be used to collaborate with suppliers, simplify the process related to accounting and financial processes and easily access all vendor-related information.
Employee Portal Development

We can build a secure web portal where employees can access the corporate data, stay updated with corporate events, collaborate, or submit and manage requests for services related to HR/IT/facility.

News Portal Development

We can build a responsive news portal with customized sections or categories based on our client's requests, such as technology, business, fashion, sports, and others.
Benefits of hiring KrishaWeb for Web Portal development
You can choose from a large team of web experts with 4-5 years of experience or more.
Web portals built by us can be scaled according to the changing needs of your business.
We build web portals that smoothly run on all devices, browsers, and platforms.
We always appoint a dedicated technical head to supervise a project.
We have flexible engagement models (hourly basis or full-time) for our client's convenience.
We sign an NDA with our clients to ensure no loss or breach of data.
We maintain complete transparency at all stages of a project starting from preparing estimates to delivery.
Technologies We Serve
Empowering your business with the latest technologies we use!
Industry Expertise
Putting forth our more than 14 years of expertise to transform businesses digitally regardless of the industry. We believe your unique perspective will be an add-on to our valuable industry insights delivering beneficial solutions.
Client Feedback
Delve into the feedback from our valued customers!
"They provide excellent quality of work, and their services are both time and cost-efficient."
Elizabeth
CEO, Boutique Creative Agency
"We are extremely satisfied with the web application developed by KrishaWeb and would highly recommend their services."
Ibrahim
CEO, Advertising Agency
"First and foremost, I appreciate KrishaWeb's commitment to delivering items on time."
Matthew
Co-Founder, TGA Web Agency
"Everyone we worked with at KrishaWeb was exceptionally friendly and very knowledgeable."
Karissa
Business Analyst, Financial Services Company
FAQs
We hope these questions and answers help you find the best digital transformation partner for your business.
Yes, we follow agile practice when developing a web portal and the development process takes the following route.

Analysis of requirement

Wire-framing and designing

Web-portal development

Quality testing

Deployment of portal

Maintenance and support

The cost of developing a web portal differs from one project to another. It depends upon the type of web portal, the complexity of the project, number or experience of web-portal developers.

Please contact us to receive an accurate estimate for your project.

Yes, you can manage the team alongside conducting meetings, assigning regular tasks, and receiving daily reports.

You have 100% ownership of the source code when you hire our web experts to build a web portal for your business.

At KrishaWeb, you will receive daily/weekly/monthly updates from us based on your request and availability. You can also contact the technical head of the project for updates at your convenient time.

At KrishaWeb, we always sign NDA before starting any project to avoid any problems during the developmental phase. There will be no breach or loss of data when you hire us for web portal development or any other project.

We use the latest IT technologies to build scalable as well as cross-browser and multi-device compatible web portals. The tools used for each project depend upon the budget and other factors. We keep our clients informed about the tools and technologies being used for their projects.
What makes us your ideal partner?
We believe that you deserve a digital web agency that is experienced and versatile. At KrishaWeb, our prominent IT experts know the trends and the best practices outperforming the market.

We are here, if you still have any questions!