Drive prospective customers through Inbound Marketing
Avoid getting lost in the noise of your industry. Let inbound marketing help you attract qualified leads and cut through the clutter.
Trusted By Companies All Over The World.
Establish Customer Loyalty
Taking you to your target audience in an Inbound way!
Brands reach us when they are overwhelmed with struggles below:
Your business lacks a strong online presence

You are facing challenges to generate qualified leads

Your team is struggling to build a targeted content strategy 

Your website is performing poorly leading to low conversion rates

Your business is facing issues with communicating efficiently to build a brand

Your team is unable to automate and streamline marketing efforts 

Your resources are facing issues to track and measure your analytics

Your sales and marketing teams are not aligned effectively 

Your business is lacking expertise and team strength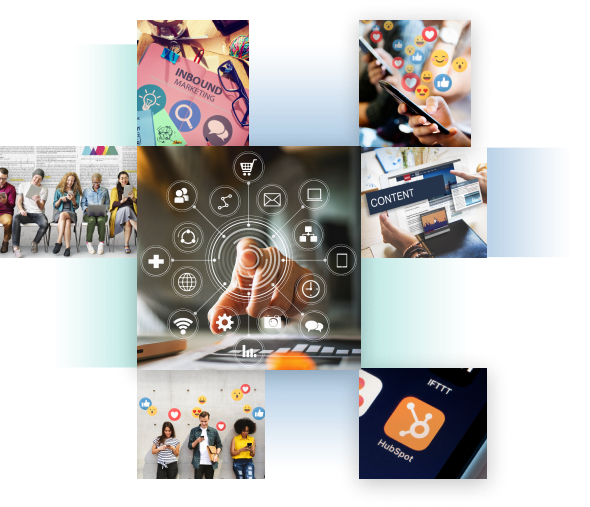 If your goal is to drive targeted customers and convert them into loyal clients, it is essential to have your Inbound Marketing strategy aligns with the dynamism of your business. At KrishaWeb, we craft personalized inbound marketing strategies that should reflect your business goals. Our aim is to deliver you tangible return on investment while simultaneously building brand loyalty for your business.
Inbound Marketing in Action
The inbound marketing flywheel is the newest way of conceptualizing how inbound marketing works as a methodology.
The approach to generating leads ensures consistent value delivery to each segment of the target audience for our clients.

After attracting visitors to the website, our inbound experts work on enhancing visitor focus and outbound communication.

Strategies that focus on attracting and converting target customers by researching the market and developing buyer personas.
Unlock your business potential, and discover how we help you:
We develop holistic solutions that meet your growth needs.
One of the key components of Inbound is a well-defined website strategy. Helping your business to build a result-driven Inbound strategy that engages visitors at every stage of the buyer's journey and ultimately leads to a positive ROI.  Building a website strategy that builds customer trust and drives long-term growth and success.

Lifting businesses with custom content marketing to educate, entertain and inspire your customers providing them with information to make purchasing decisions. From B2C to B2B, we can create a customized content marketing plan for your business. Encouraging crisp and interactive content to attract prospective clients. 

At KrishaWeb, we have been providing effective SEO strategies for over 14 years to help brands improve their online visibility. Our team of marketing experts works tirelessly to establish a strong online presence for your brand.

Our inbound specialists help you maximize recognition bringing your brand to focus via effective social media strategies. Enable yourself with better quality insights into your audience and enhance customer engagement with improved social presence.
Strategically invest in paid advertising campaigns for wider audience reach, brand visibility, and driving traffic for your business. Our experts help you target the desired audience with a result-driven approach that increases the chances of lead generation.

Having a custom landing page can significantly improve the results. A well-crafted landing page with compelling copy and design, optimized for paid campaigns, can help your business attract and convert the right visitors to your site. We can help you create a landing page that effectively represents your business and drives conversions.

Our inbound experts help you build personalized automated workflows through HubSpot Automation tools. Through these automated tools, KrishaWeb enables your users get the right content and maintain email campaigns persistently driving maximum qualified leads. 

Our team of experts develops suitable sales content that enables your business to close maximum deals. KrishaWeb Inbound professionals help you capture, streamline, and enhance the sales process at each stage to improve overall results.
Transform your online presence with KrishaWeb
Experience the benefits of Inbound Marketing
Enhance Your Website Performance

It's time to give your site performance a boost with inbound marketing. Targeted traffic from relevant sources to help you increase sales. With KrishaWeb, make sure you're in front of the RIGHT customers.

Establish Customer Trust

Are you struggling with building trust with your customers? Inbound Marketing is a powerful strategy that helps you build trust with customers. Helping you convert leads into customers by creating conversion-focused content for websites and social media.
Accelerate Your Sales Growth

Your marketing should be working hard for you, driving qualified leads and increasing your sales revenue. But what if it's not? Inbound marketing can help. Our marketers will work with you to identify the best strategies to get your business noticed.

Maximize Your ROI

Making it easy for you to attract leads and customers using inbound techniques. Switch to inbound marketing strategies and let us take care of your business growth. Optimize your sales funnel and boost your ROI.
Boost your brand and drive conversions with KrishaWeb Inbound expertise
Access to a specialized team of skilled inbound marketing experts.
Increase your efficiency and save time by streamlining and optimizing your marketing efforts.
Adopting a data-driven approach and helping you make informed decisions that lead to better ROI.
Ability to enhance your marketing efforts and enable superior results.
Aiding you with adaptable solutions that support growth and changing needs over time.
Stay informed and implement the latest trends and best practices ensuring relevancy and effectiveness.
Real-time tracking and measuring the success of marketing campaigns delivering valuable insights and ROI.
FAQs
We hope these questions and answers help you find the best Inbound Marketing partner for your business.
Inbound Marketing is a tactic that aims to attract customers by creating interesting content, which is delivered through a channel that the customers discovered you on originally.

Inbound marketing is all about driving prospective customers and the services included are blogging, digital advertising, search engine optimization, social media marketing, CRM integration, and more. The services can differ depending on the type of your business.

If your business is seeking to generate maximum leads and sales, Inbound marketing is a real game changer. With unique and informative content creation, you can attract the prospective target audience who are interested in your product or service and convert them into customers.

KrishaWeb absolutely understands the curiosity of seeing results. To achieve meaningful and significant results from Inbound marketing, it may take several months but long-term benefits can be substantial.

The cost of inbound marketing may vary depending on the agency you choose. Few agencies offer package services, while others provide customized plans ensuring your specific needs and budget.

Selecting an inbound marketing agency can be a daunting process. While choosing an inbound marketing agency, it is essential to consider a few important factors such as agency's reputation, its track record with satisfied clients, process transparency, and case studies.

Inbound marketing combines content creation, social media management, and data analysis. So, it can be quite tricky and a daunting task to do on your own without the required knowledge, skills, and resources.

Working with an inbound agency can cater you with actionable insights. Using these insights, the proficient team builds a custom strategy to help you achieve your marketing goals.

Inbound marketing is an approach by which you build relationships with your customers over time catering them with high value experience. On the other hand, outbound marketing is all about presenting people with ads or forms of messaging that is focused on short term sales. 

Inbound marketing tactics like content marketing and social media can help drive traffic to your website and improve your domain authority, which could boost your SEO performance.

Measuring ROI of Inbound efforts can be complex and challenging, especially if your business is a startup. But when you are working with an experienced inbound agency can help you set and achieve desired targets and goals.

Your target audience's preference and needs keep evolving with the market trends, it's essential to assess your strategy constantly and make necessary amendments. This practice can be done every quarterly to drive maximum performance.
What makes us your ideal partner?
We believe that you deserve a digital web agency that is experienced and versatile. At KrishaWeb, our prominent IT experts know the trends and the best practices outperforming the market.

We are here, if you still have any questions!