Empower your business with Enterprise WordPress VIP solutions
Your enterprise should have a secure, reliable and scalable website to grow online. Our custom WordPress solutions convert innovative concepts into fully-fledged, scalable, secure web solutions for Startups, Mid-Size Businesses & Enterprises.
Trusted By Companies All Over The World.
Scale up your business with peerless Enterprise WordPress VIP solutions
Enterprises are struggling due to a lack of organic content, scalable architecture, secure websites, and the capacity to withstand huge traffic. Most do not have the layered information architecture required for a global business website. WordPress VIP offers all the features to create multifaceted, safe, high-performing, flexible, plugin-rich, business-centric websites. We have an experienced team of WordPress developers to create enterprise solutions for businesses ranging from Startups to multisite companies.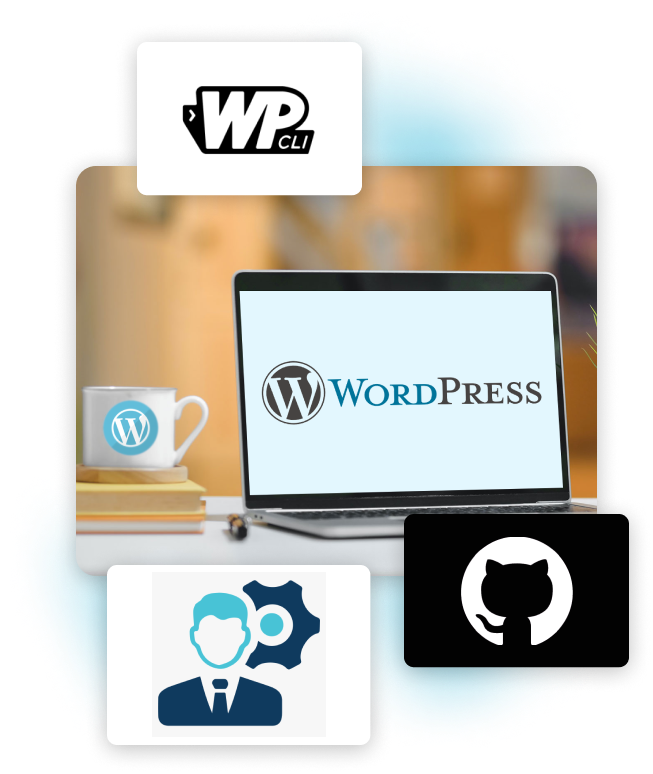 Why WordPress for enterprise?
WordPress empowers more than 40% of websites on the planet today. From Startups to Enterprises, every kind of business chooses WordPress for their business development. Talking about Enterprise solutions, the scale, flexibility, and security of WordPress are the key benefits. Slow-loading websites with low levels of security and outdated architecture are sure to doom your business. We utilize the best features of WordPress VIP to create high-performing, secure and scalable enterprise websites.
Government and big business houses need websites that are scalable, collaborative, engaging, and growing with every passing day. We use enhanced WordPress VIP architecture to create futuristic, easy-to-manage, and uncomplicated enterprise websites.

Enterprise solutions cannot afford to be vulnerable or bear the slightest of risk of security. With a secure code base and constant support from the community, we create robust enterprise websites.

Slow-loading enterprise websites create a bad reputation and are the easiest way to lose clients. KrishaWeb offers full-scale enterprise websites plugged with WordPress VIP features to create high-performing websites.
Array of Enterprise WordPress Development services
We offer a full spectrum of Enterprise WordPress development solutions starting from custom websites to support. KrishaWeb can be your best technology partner for the following:
Custom WordPress Development We understand your business is different and so is to your website. That is why we suggest building a custom website in WordPress. Drive more leads and increase sales from your website with our custom WordPress development service.

Your website should convert your visitors into leads. Over 10+ years of experience in UI/UX design, we help you to design your enterprise website that turns into a lead machine.

The increase of your website traffic should not affect the performance of your website. We will develop your enterprise website using WordPress as a headless CMS which will improve performance and security of your website.

Your store should keep up with the new trends and quickly respond to the shifting technology in e-commerce. Our professionals will help to build your store that easily meets your modern-day consumer demands through Headless Commerce.

Unwrapping the true motivations, behaviors, and modern-day audience needs is crucial to build a winning digital strategy. Our experts provide you with a custom online strategy that enables you to produce data-driven and positive results.

Your business website should be multilingual and multisite to create a personalized experience whilst presence globally. Our tech experts build your website in a way that is culturally diverse and delivers contextual perspectives of your business.

If your WordPress website lacks timely updates, consistent maintenance, troubleshooting, and a hosting environment, it may harm the performance and customer experience of the site. Our professionals have your back to keep your website updated, save ample time, secure, and be user-friendly.
We believe your website or platform should be secure from hackers and malware. Our experts have the potential, reliability, and years of experience in the WordPress segment to make your website safe from any vulnerabilities.

Your WordPress website should have a custom plugin to meet modern-day customer needs and enable them to drive business success. Our experts will aid you to develop enterprise-level custom plugins that will extend your existing web applications to meet your customer needs.

Overcome/ reduce your frustration to integrate multiple technologies in your store to align with the digital age. And so, our expert minds advise building an e-commerce store that covers a 360-degree, seamless & personalized platform for a better shopping experience.

Lacking a secure browser experience and deficient maintenance can hurt your overall website performance. We enforce a process and ensure your website is lags-free, secure, and devoid of any vulnerabilities delivering an improved website performance.

We realize the importance of communication or link between your application and platform. Our professionals have years of proficiency in API integrations that eliminate those manual steps, save time, and easily transfer data.

To reinvent the entire business process, you should upgrade with the advanced technologies in the market. Our technology experts assist you with the best solutions to identify the most productive tools focusing on automation and workflow optimization.

We believe being resource sufficient is crucial to meet the increasing demand of your deliverables. With staff augmentation, our subject-matter skilled leaders are capable of enabling and maintaining control on your big-ticket project.
Benefits of hiring KrishaWeb for Enterprise WordPress Development
As a trusted WordPress development agency, we have extensive custom WordPress websites for global clients
We follow the best practices of WordPress design and development for all sectors.
We offer affordable WordPress enterprise solutions for Startups and medium-scale companies.
Our website development involves high-level quality testing and assurance methods.
We have a dedicated Project Management approach to estimate deadlines, move up resources, and more.
On-time project delivery is our prime concern and we meet deadlines at the dot hour.
We have a team of experienced WordPress developers with a fat portfolio of success stories.
We maintain regular reporting and updating practices to keep the client informed during all stages of development.
Client Feedback
Delve into the feedback from our valued customers!
"They provide excellent quality of work, and their services are both time and cost-efficient."
Elizabeth
CEO, Boutique Creative Agency
"We are extremely satisfied with the web application developed by KrishaWeb and would highly recommend their services."
Ibrahim
CEO, Advertising Agency
"First and foremost, I appreciate KrishaWeb's commitment to delivering items on time."
Matthew
Co-Founder, TGA Web Agency
"Everyone we worked with at KrishaWeb was exceptionally friendly and very knowledgeable."
Karissa
Business Analyst, Financial Services Company
FAQs
We hope these questions and answers help you find the best digital transformation partner for your business.
Enterprise websites are large-scale sites designed with the utmost security and scalability to handle huge volumes of traffic and operate on a global scale. WordPress for enterprises offers a solid CMS that delivers high-performing outcomes to a flood of traffic. WordPress provides security against any threats, builds interactive websites, and offers innovative digital experiences. It is therefore preferred as the most used platform for building websites.

With many merits to its credit, WordPress offers an open-source development environment for building enterprise solutions. It is backward compatible, highly scalable, and has full community support for innovative website development. It offers numerous themes and plugins to boost the performance of any enterprise website. Everything is customizable to incorporate business logic and deliver exceptional results at every vertical and to every customer. It offers excellent security to sustain heavy traffic.

The cost of development depends solely on the requirements of the customer and the level of customization involved in it. Hosting platforms have a major role to play in costing. WordPress VIP is best for building enterprise applications and the package can start from $2,000 per month to $25,000 per month. Along with this, charges to set up a website could be as high as $5,000.

Depending on the structure, scale, layout, design, functionality, features, and technology, an enterprise website may take 6 weeks to 3 months and even more. This involves revisions as well. Therefore, the larger the scope of the site, the more it will take to develop.

Choosing dedicated resources for WordPress development is a task. Find the best WordPress development company and then figure out the team that works best in accordance with the scope of your project. The experience and level of complexity of the projects undertaken by the team should be checked. Communication skills, reporting preference, adherence to deadlines, and value for money are the key criteria to select members for your team.

Most definitely yes. Whether you want to add a new feature or optimize an existing one, we do it all.

Yes, we offer all types of eCommerce development with the help of our experienced WooCommerce developers.
What makes us your ideal partner?
We believe that you deserve a web design agency that is experienced and versatile. At KrishaWeb, our prominent design experts know the trends and the best practices outperforming the market. Designing websites that increase your interactions and lead to sales growth on your website.

We are here, if you still have any questions!