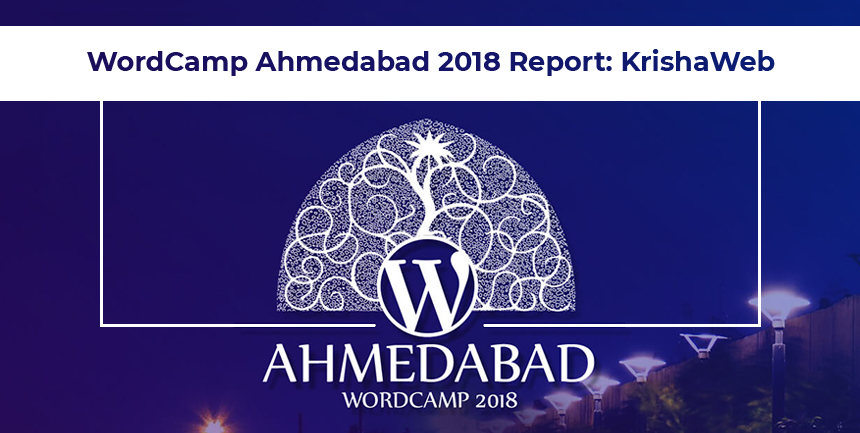 It's been a WordCamp week. We are just done with the WordCamp Ahmedabad and one of the biggest WordCamps, WordCamp US is knocking the doors. WordCamp Ahmedabad was held over the first weekend of December 2018. It was a really great experience of being a part of such a wonderful event.
It was the second edition of the WordCamp Ahmedabad this year. The event was scheduled on 1st December 2018 at Pandit Dindayal Upadhyay auditorium, Ahmedabad. 2nd December was the contributor's day. It was a well-organized and super fun event as expected by everyone. There were more than 550 attendees, 16 expert speakers and 38 different sponsors for the event. The team of 10 organizers and approximately 35 volunteers has worked really well to pull out a great event.
KrishaWeb is proud to be a part of the WordCamp Ahmedabad 2018 as a Kankaria Lake (Silver) Sponsor. We got a chance to meet lots of new people, interact with industry experts and learn new things about WordPress technology.
We have designed a special contest for the WordCamp attendees only. We were expecting a huge participation of the attendees and a great response. That is what actually happened. More than 250 attendees have participated in the KrishaWeb WordPress Quicker Challenge to get the cool KWTSwags and win a Google Home Mini. It was a simple 10 multiple-choice questions that the participant has to answer in minimum time. Prince Kumar won the challenge by giving all right answers in just 00:35:91 seconds. He got the bumper prize as Google Home Mini from KrishaWeb.
It was really a wonderful experience for the whole KrishaWeb team to attend and experience the WordCamp Ahmedabad 2018. Such events are all about learning new things, meeting people, making new friends and creating lifetime memories. We are really glad to be the part of it.
Last but not the least, kudos to the whole WordCamp Ahmedabad 2018 organizing team to pull out such an amazing event at this scale. We are looking forward to seeing you again next year.
Check out the glimpses of  Team KrishaWeb at WordCamp Ahmedabad 2018.