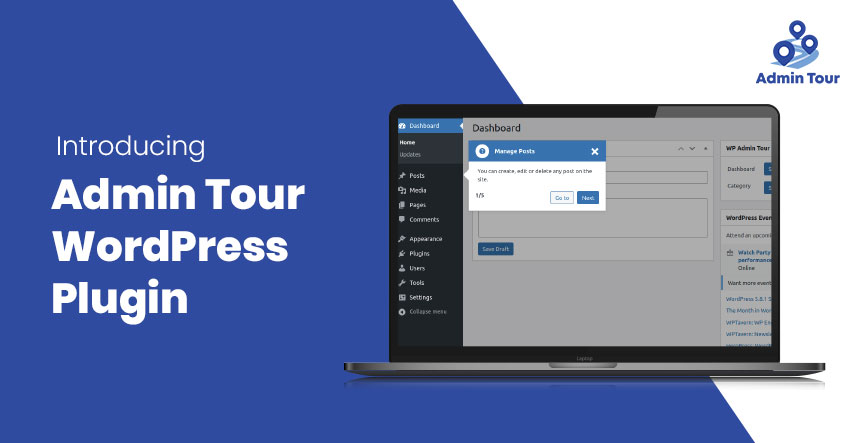 Admin Tour Plugin has been created for providing an idea to the non-technical admin user. These individuals do not have enough knowledge on operating the admin panel even after being provided with a comprehensive demo by the developer. When the admin next logs in the panel, they often find the panel difficult for operating. With the help of Admin Tour, they can feel comfortable and also navigate easily.
Admin Tour Plugin Features
Admin Tour was created for helping the non-technical admin users. The non-technical admin users do not possess ideas on operating the admin panel. The developer might have provided them with the detailed demo but still, they might not be so comfortable with it. When they log in to the panel, they find it confusing and difficult. With the help of the Admin Tour, things will be easy for them.
This plugin has more advantages for the developers. There are hooks present that can be used for adding steps in the tour as per customization done in the admin panel. The wp-admin bar helps in starting a manual tour. The Dashboard widget consists of the list of tours and one can start any tour by clicking a button. As a default, whenever the admin will log in to this admin panel after a month, the tour will start immediately. One can change this by using a filter.
The features are…
Shows default steps like pages, posts, users, media, and category
Easy to install
Free support provided
Multi-lingual support
How to Install?
In this section, we will discuss how to install the plugin and make it work.
The first step involves installing the plugin by using WordPress. You can also download or upload the plugin to the wp-content/plugins/.
Next, the user has to activate this plugin by going to the Plugins menu in their WordPress account.
You can download this Plugin here:- Admin Tour. Also, find here more plugins from KrishaWeb.
Plugin FAQs
Is Admin Tour an open-source software?
Yes, it is open-source software.
Can a new step be included in the course of the admin tour?
Yes, a user can add a new step in the admin tour with the help of a filter. One can keep the screen info array used for the dashboard widget. They can keep any text in that place.

Is there a way to change the default login interval?
A user can make changes to the default login interval. One needs to use a filter for this purpose. You just need to add them to the function file.
Is Admin Tour WordPress Plugin easy to use?
Yes, it is very easy to use. This has been devised keeping in mind the need of the non-technical users. Hence, you can very well understand that this is a simple plugin meant for all kinds of users.

Conclusion
With the help of the Admin Tour WordPress Plugin, non-technical users can confidently navigate to the admin panel.