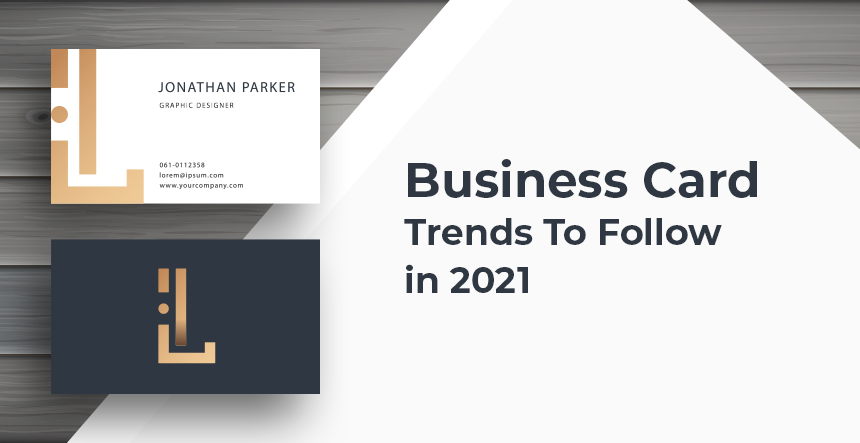 Ever since COVID-19 hit, it has been business unusual, and everyone has seen the importance of adapting to current business trends to survive.
For example, if you consider business cards, they are essential marketing materials, but you can't use the same design from the past.
Traditional Cards are No-Longer Appealing…
Regardless of type, though, the right business card design can open up doors that change your career forever. Therefore, if you are not good at making them, it is better to hire the services of a professional graphic designer so that you get a unique business card layout that stands out.
But which are the latest business card trends to follow? We will look at this in a minute, so read on!
Why Use Business Cards?
Business cards are not a new concept, but they remain relevant to date. Why is this so?
Simply put, they represent you. Whether it is a personal card or for your brand/business, the card will be the first impression potential employers, partners, or customers will have of you.
According to Forbes, the cards serve as a physical reminder of someone and are perfect for in-person networking.
Additionally, experts agree that they are more personal than digital contacts like emails or LinkedIn invitations, but only well-designed business cards get retained and shared, leading to more connections.
In short, the quality of your card corresponds to the quality of your business, so whomever you are targeting, you must follow the latest business card design trends to make yours stand out.
What to Include on a Business Card?
If you are not sure what to put on the card, you can follow the example of most business owners, who include at least the following:
Company logo (branding elements) and name
Your name
Job title
Contact details (phone, email)
Website (if you have one)
Business cards go a long way in boosting employer and employee branding, but they must portray the information easily and quickly to be effective.
The Business Card Trends We're Digging This Year
How do you stand out from the competition?
As explained earlier, having a well-designed and trendy business card shows your business is of good quality and increases the chances of it getting shared.
But which are these trends in business cards? If you want something that stands out, you're in the right place. Here are some of the options you should consider.
1) Interactive Cards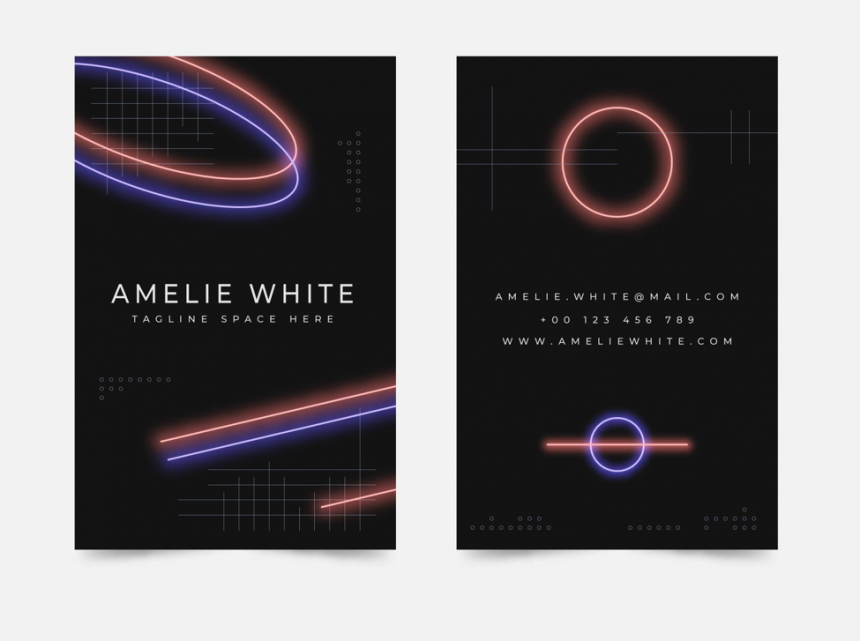 Traditional business cards are usually static pieces of thick paper. But what if you make them functional? Interactive cards bring in a new aspect of giving the recipient something extra to do with it.
Some double up as tools, such as bottle openers, while others fold and unfold to form new shapes (fidgeting toys).
If your business deals with baking or cooking, try making edible business cards. Even though they are an expensive option, they will give your clients a taste of what you have to offer there and then.
Keep in mind that these edible business cards and your contact details will disappear once eaten. So, you better have something extra like a regular card to hand out after the edible one.
There are various types of interactive cards, and it is best to match them with what you are advertising. For instance, if you run a gym, try making an elastic card that displays the contacts when stretched out. If you run an electronic shop/store, make cards that illuminate to show your details.
2) Natural Style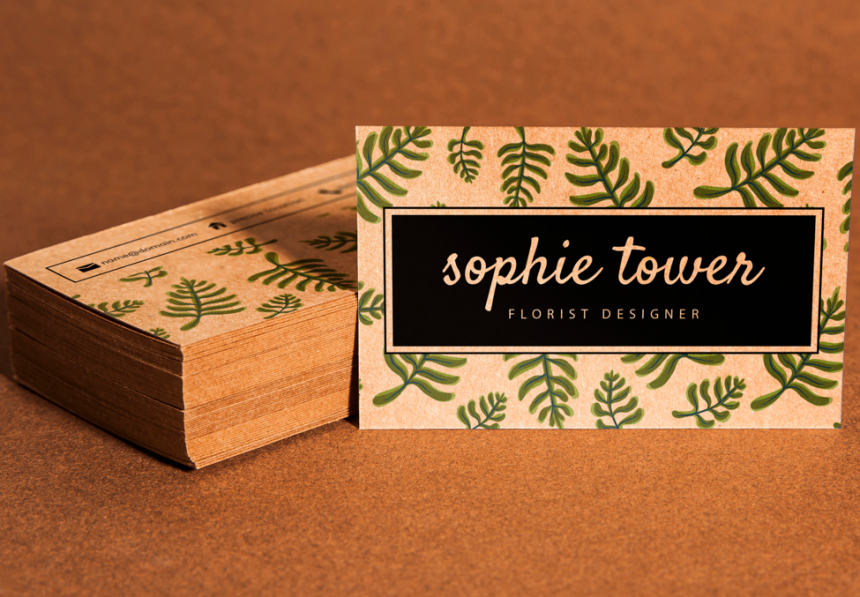 We can all agree that nature is beautiful and offers the best designs, from mountains to waterfalls, plants, etc. What if you incorporate all this beauty into your business cards? Will it work?
The result is the natural style card, and it comes in handy for professionals in nature-related fields. For instance, a well-designed business card for a florist should have a floral design showcasing the natural colour palette of roses, tulips, carnations, and other types of flowers.
Nature patterns are also a big thing because they provide balance and harmony in life, and you can incorporate these into your business cards.
Think of wood grain patterns (for carpenters)
Leaf veins (for massage therapists)

Feather patterns

(for designers)
Just make sure to pick something that aligns with your profession and let nature do the marketing.
3) Translucent Cards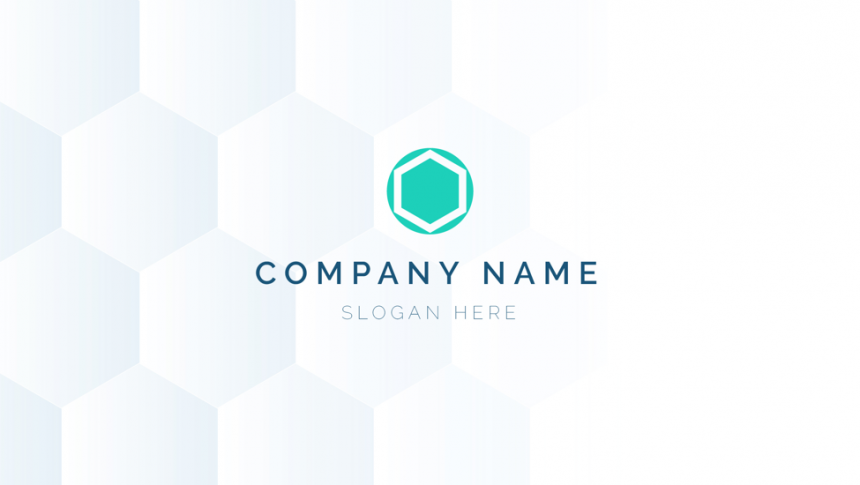 As one of the most high-tech business card design trends, translucent cards seem very futuristic. They almost look like displays that you can use to open a door or activate a module in a spaceship.
There are variations of this card, with some not being fully translucent. They have opaque sections with different colors and translucency values to highlight the text or logo.
Others have a cloudy or frosted appearance with a slightly textured surface. Whichever the design, these cards are visually intriguing and will have most people, including yourself, looking through them most of the time.
Since they are plastic-made, the cards are also highly durable because the material is water and tear-resistant. Out of all the others listed here, translucent cards easily stand out among the traditional paper business cards, and the recipients will most likely be excited to have them.
4. Maximalist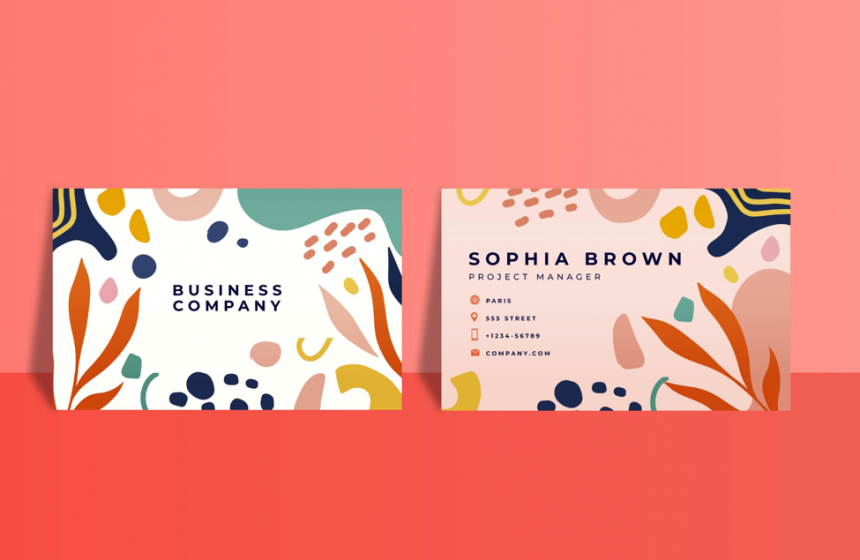 Maximalism is a loud style that takes the aesthetic of excess with the philosophy of more is more. It is the opposite of minimalism, where less is more.
When it comes to business cards, maximalism involves using saturated colours, mixed patterns, and bright designs that pop out. The idea is to be loud and make a bold statement.
Such are characteristics of the creative and fashion industry, so such cards are perfect for people doing:
Interior design
Graphic design
Craftwork
Computer games
Fashion design
However, maximalism is not an excuse to skimp on legibility. Strike a balance between a loud, eye-catching design and text clarity so that the card is not overwhelming.
5) Extra Thick Cardstock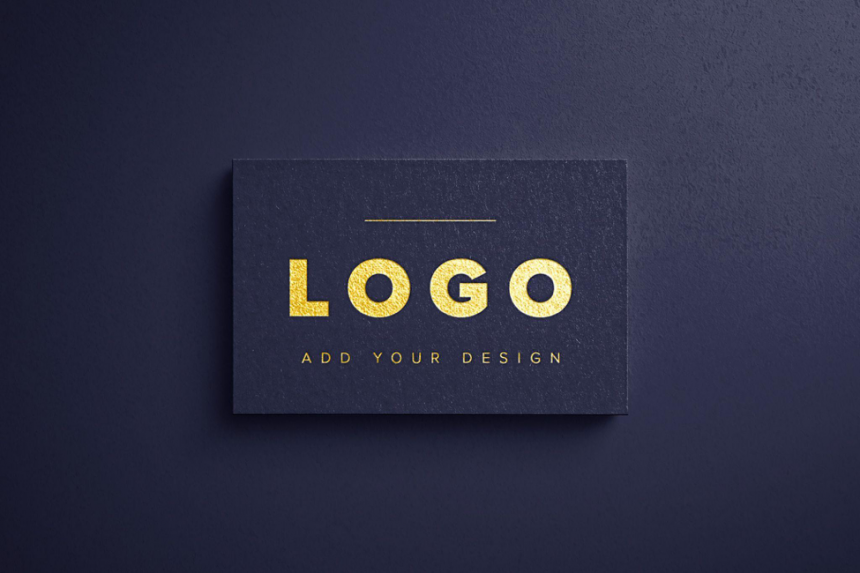 Compared to regular cardstock paper, extra-thick cardstock is, as the name suggests, thicker. It makes the business car feel more solid, and without adding any other extras, such as creative designs or bright colours, this thickness in itself is a unique selling point that shows clients you are different.
Additionally, the thick structure adds the element of durability, which means the potential customers or employers will not lose your details that easily.
Like cardstock cards, the surface of these extra thick business cards can be smooth, glossy, textured, or metallic on one or both sides.
It is important to note that if making such cards, you will require a specific printer. The regular type cannot handle this paper due to its thickness.
6) Extra Large Text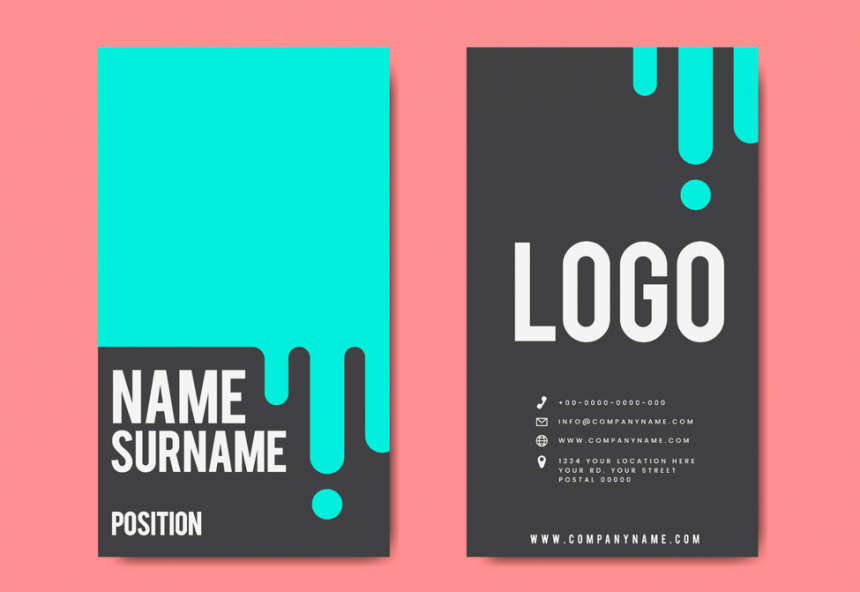 Extra-large text business cards borrow a leaf from maximalist designs because they are bold. The large text leaves a big impression.
At the same time, they incorporate one element found in minimalist designs, which is simplicity. Even though the text is large, it usually gets straight to the point, making things clear and easy to understand.
However, this type of card does have its unique characteristics, key among them being little white space. The large font text placed at the front centre of the card stretches from end to end, leaving a small unused area.
Additionally, it is similar to wordmark logos, which only contain text with no symbols or badges.
The main advantage of such cards is that they go straight to the point, so your potential client will not have to read a lot to know what you are offering. You can add more details on the other side if need be.
7) Minimalist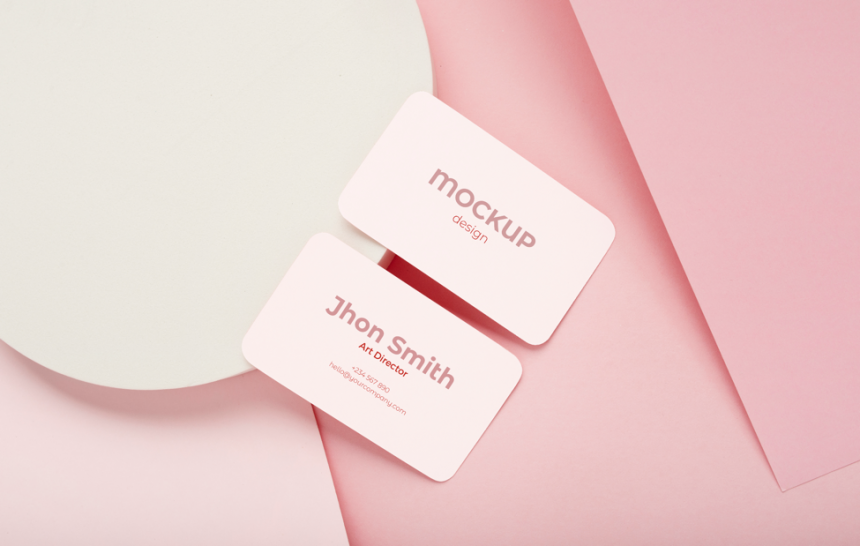 Compared to maximalism, minimalism in business cards refers to keeping things as simple as possible and the text easy to read.
A clean grid design might turn out to be the best solution. Not only does it look neat, but it also gives an impression of having an organized business. Potential clients will anticipate getting a smooth, clean experience as they assume your brand knows how to accomplish the task precisely.
The question is, how do you create a minimalist design?
When it comes to colour, you can never go wrong with black and white. However, you can experiment with others, preferably two complementary colours like yellow and purple, black and gold, orange and blue, etc.
Next, find a simple font like Sans Serif, Arial, and the like to type in only your essential details. You can also use a QR code instead of text. It consumes very little space but links to much more information than what can fit on the card.
Align these left, right, or centre, then leave the rest as white space. The space plays a crucial role in minimalist business cards because it makes the text easily readable and enhances the simplicity of the style
8) Eco-Friendly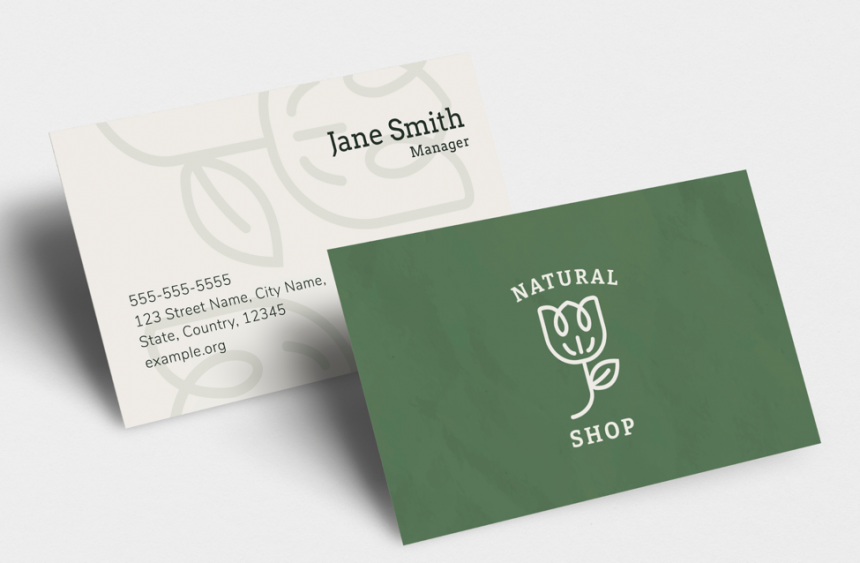 Most business cards are biodegradable but do they come from virgin or recycled material? In a world where everyone is talking about going green, conservation, and minimizing pollution, eco-friendliness is one of the key trends in business cards.
Some of the most popular environmentally friendly options are:
Recycled cardboard
Plantable

Compostable
The average American requires seven trees annually in paper and other wood products, which amounts to two billion trees per year for all citizens.
Recycled business cards can help to reduce these numbers and save the planet. They are particularly ideal for professionals working in the environmental conservation sector.
9) Colored Edges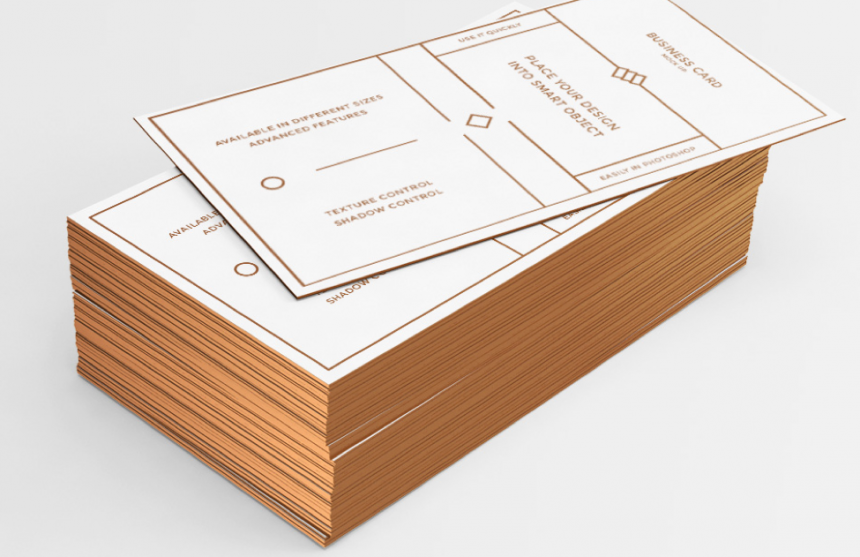 Coloured edge business cards show your brand's fun and stylish side without compromising on professionalism. The effect becomes more dramatic the thicker the paper is because the edge will be more profound.
To achieve this, graphic designers usually apply ink to the sides of thick cards, then laminate them to form a sturdier design with a striking edge. You can use 32pt cardstock, but make sure your printer can handle such thick paper.
Ideally, the edge-colouring should complement the solid card background colour, and it should be brighter but not distracting. You can try black with a red edge as the two colours compliment each other very well.
If done well, your clients will most certainly appreciate the heft and take a second glance to see the mystery around the card's third dimension.
10) Fabric Cards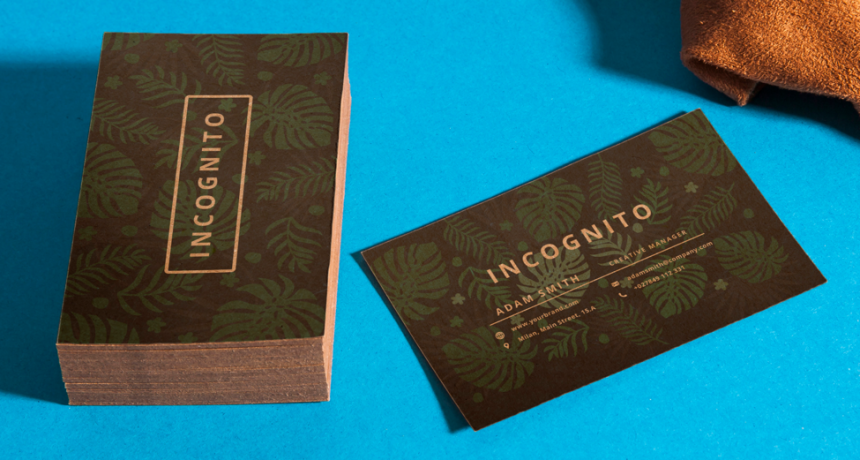 Made using cloth material, the main difference between this type of business card and the other paper or plastic types is the texture. Their uniqueness makes them suitable for a few specific professionals, like fashion and interior designers, as they can use the material to show their quality and expertise.
Such professions require a lot of creativity, so whatever you cut and stitch is up to you. However, it should be professional and show the product you make.
Whether your niche is in bridal dresses, suit making, denim, etc., the card should reflect this by having a similar fabric or be in the form of a miniature version of what you build.
Time to Create Your Own Business Card… Are You Ready!!!
So now that you have the trendy ideas, it is time to get down to work. It is easier to employ the services of business card designers, but this can be an expensive affair. Doing it on your own is the cheaper alternative, although this might require some time and learning.
If you decide to go with the second option, you will need to look for business card templates, then use tools like Adobe InDesign, Spark, or Illustrator. Aside from the Adobe suite, try out Vectornator or Canva, which are free, unlike the Adobe software.
Instead of using a template, you can create custom business cards from scratch. Remember, the design must correspond with your business, so you cannot use a fabric card as an IT professional.
Try a guide to help streamline the business card design and look for tips to make it stand out.