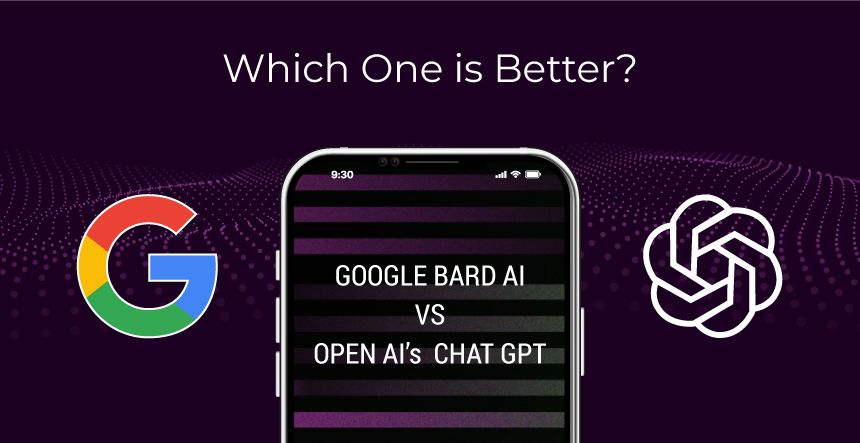 We all know that the Artificial Intelligence (AI) market is booming nowadays. The adaption of AI is becoming huge day by day everywhere in automation and data intelligence, which is not limited to any specific industry.
As per the report,
The global artificial intelligence market size was estimated at US$ 119.78 billion in 2022, and it is expected to hit US$ 1,597.1 billion by 2030 with a registered CAGR of 38.1% from 2022 to 2030. – Precedence Research
There are plenty of AI tools and technologies used in many ways to get certain outcomes, but from them nowadays, ChatGPT and Google's Bard have caught the attention of techies.
It's a must for us to take a drive for understanding what is ChatGPT and Google Bard. How do they differ from each other? Before that, let's get to know where it all started…
Basically, ChatGPT is a smart Chatbot from OpenAI which is backed by Microsoft launched in November 2022 with its launch, it became an internet sensation because of its extended search engine-like answering capabilities. When OpenAI launched ChatGPT, people just started to get AI-generated content for their profession, research, academics and other personal intentions. However, AI experts warned that the information can not be 100% accurate, pulled from incorrect data sources. Because generative content has its own pros and cons.
Even Microsoft has announced that they will integrate the capabilities of ChatGPT with their own search engine – Bing. In response to that, the other side, the Tech-Giant Google also announced its own AI Chatbot named Google Bard, an AI chatbot that uses a Language Model for Dialogue Applications (LaMDA).
Now, with these 2 AI chatbot players, there arose a comparative question! Yes, Which is the best and more convenient with the most accurate information? ChatGPT or Google's Bard?
Let's understand…
What is ChatGPT?
ChatGPT is an AI chatbot that uses Machine Learning to answer users' queries in a conversational manner. OpenAI released ChatGPT on the 30th of November 2022. 5 million people accessed ChatGPT within 5 days of its launch. It became an internet sensation in the world of Technology.
It uses GPT-3 language model to answer queries. Furthermore, it is trained from human-created text on the internet. Below are the AI-generated response types included:
well written code
product descriptions
blog posts
email draft samples
summaries of transcripts, meetings and podcasts
explanations of complex topics
a brief explanation of Laws
translations
jokes, memes or entertaining material, and
social media posts
Due to the wake of ChatGPT, the academic environment became worried about ChatGPT's answering capabilities in the form of convincing essays. Because of using this feature, it will be hard to prevent the students from cheating. To avoid such circumstances, OpenAI introduced a new AI text classifier later in January 2023.
What is Bard?
Bard answers users' queries from the internet, specifically using Google's data, and uses Google's Language Model for Dialogue Applications (LaMDA). With the usage of this language model, Bard will provide more detailed responses to users' queries than typical Google Search results.
The main goal of Bard is to retrieve information in a simple answer versus a search engine results page, like digital assistants such as Alexa and Siri, but with links for users to collect more information.
Let's Understand the Main Differences: ChatGPT vs Google Bard
Integrations
OpenAI, Microsoft and Google, all of them want their AI-powered Chatbots integrated with their respective ecosystem as fast as they can. Even ChatGPT is integrated within 3 Microsoft products – Bing, Edge, and Teams. Not just Microsoft, but the ChatGPT will also be integrated into the Opera Web Browser. Though there, we don't have more details on the timeline for rolling out this integration. But it is said that it will offer the same browser experience as the new Bing will provide on the Edge browser.
On the other side, Google's Bard will also be integrating into the search mechanism, though in this case Google SEARCH. Like Bing, Google will also allow users to search by querying the AI-powered Chatbot. Even, Google has also rolled out AI-based integrated tools into Lens and Maps, though they are not Google Bard specific integrations.
Google announced that it will allow third-party developers to use Bard for integration. Similarly, OpenAI also allows certain companies to access ChatGPT features, though only Microsoft has access to source code outside of OpenAI.
Features
We can say that both the AI-powered chatbot share the same features and processes to access them. Yes, they both need input in the form of a question or request from the users to initiate. You can then continue based on your purposeful chat and hold a conversation with it.
Though the ChatGPT was successfully launched, earlier than Bard, it has a wide range of use cases. Undoubtedly, both chatbots are capable enough to interact with humans based on their capacity of fetching data from the Internet. But if we talk about Bard over ChatGPT it seems that Bard can dominate the future of AI.
Which One Provides Accurate Information?
AI Chatbots make mistakes, a lot! Not every time, but they are not enough smart to understand the authenticity of the details fetched in Language Models. They just fetch the information and answer the associated output with your input.
For Ex: Google's Bard gave incorrect information in its very first demo. The same can happen with ChatGPT.
Both AI Chatbots utilize language models (GPT-3.5 for ChatGPT and LaMDA for Google Bard) and these language models need a vast amount of information which is fetched from the Internet including generative content. And information on the internet can be incorrect. Not just Bard, there are scenarios available of ChatGPT's mistakes, too. So, we need to be aware and be sure not to share or consume any risk of information.
BTW, if we talk about the accuracy level of these three AI Chatbots – Microsft's Bing version ChatGPT (Microsoft announced it as a New Bing) and Google's Bard are equally accurate and the latest as they consume more real-time updated information from search engines (Bing and Google relatively), while OpenAI's ChatGPT version (Language Model GPT-3.5) is only having the data till 2021 (which we can't say it as a FRESH and UPDATED!). So, overall, we should be careful and double-verify the information we consume from AI Chatbots.
Most Important! Prices and Availability
OpenAI's ChatGPT is free research preview on its site. Though, there is one paid subscription model available now called – "ChatGPT Plus". For this subscription, users have to pay $20 for Priority access and faster speeds. ChatGPT Plus is limited to those who are approved by OpenAI and to get approved you will have to sign up on a waiting list to access it.
While Google, Bard is still playing behind the curtains (not publicly accessible). Google has stated that it will announce about "public access to Bard" in the coming weeks. Not a certain timeline. Though, we've all the possible details for you about Bard.
At the moment, Bard has only a free model and to access it you'll have to be a trusted tester.
Summarizing
We know, both AI Chatbots are new and still figuring out their best use cases. As they are impressive in their own way, they make mistakes too. But still, the technology is incredibly impressive, and in the case of Bard or the GPT-powered version of Microsoft's new Bing, could revolutionize how we search for information on the internet. And as we discussed above, both Chatbots are available with limited access to the public and approved users, we can say we are going to experience something new in the coming weeks or months.