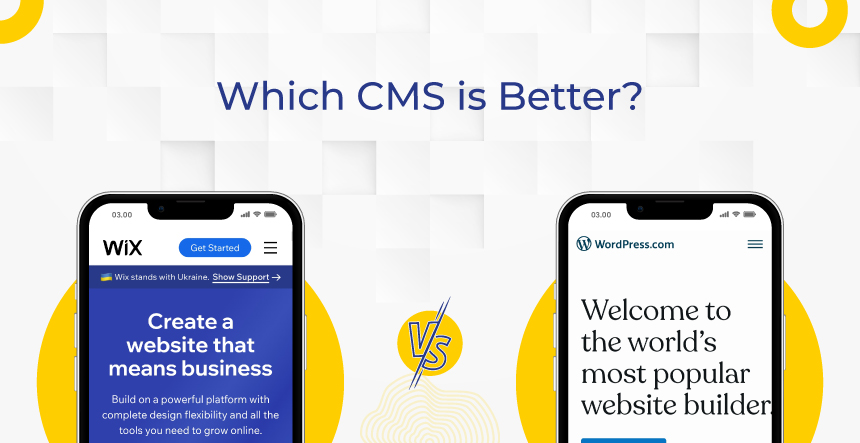 Wix vs WordPress is a common comparison done by companies that want to build quick websites. While WordPress is the most widely used CMS with a 64.2% market share, Wix is fast gaining popularity for its cloud-based website builder reputation. Statistically, WordPress aces the game with 43.1% of global websites to its credit, and Wix is sneaking behind with 200 million registered users worldwide. This clearly suggests that both platforms are used for building websites, and comparing them helps individuals and businesses choose the most suitable one for them.
Let us glance through the pros and cons of each so, that you can make an upfront decision.
Let's Take a Drive to World's Popular CMS [Wix and WordPress]
What is Wix?
The best way to describe Wix is that it is a cloud-based website builder that also combines web hosting and design services. Very easy to use by beginners, it offers simple drag-and-drop functionality to create website design at a rapid pace. It has 500+ ready-made templates to accelerate the design process.
The first step is to sign up and then choose the kind of website you want. On selection, it offers the templates available for that particular category. After selecting the template, you straight away walk into the Wix Editor, which helps to change the text, images, and other design elements. Once you pick, drag and place choose the desired elements, just hit the 'Publish' button and you are ready with a live website. It's as simple as that!
Wix is, therefore, an excellent website builder for beginners who need more basic coding skills. There is no technicality involved and so, it proves to be the fastest website builder vs WordPress, which demands knowledge of primary coding skills and web technologies. In short, Wix facilitates the design and hosting of websites in no time.
What is WordPress?
We must put focus on the process of website development when comparing Wix and WordPress CMSs. Well, WordPress is an open-source, free, web development platform, but you need to purchase the domain and web hosting service. That step takes just 5–10 minutes, and you are ready to explore plenty of themes and plugins offered by it.
There are a huge number of free and paid themes, you can select as per the requirement. You can choose the theme, edit the content and the site is ready. Even a non-developer can create a good-looking website with WordPress themes and plugins.
Although creating a website on WordPress is not as easy as that in Wix, it still is a simple, time-saving process. Most importantly, the open source platform helps you get handy support from the WordPress developer community, which helps to troubleshoot issues without any hassles. With many features and plugins on its side, WordPress is the most popular website development platform as of now.
Detailed Comparison – [WordPress vs Wix]
Let us break down a few characteristic features of both these platforms. While both have their merits and demerits, an elaborate compare and contrast method will bring forth the distinguishing features. This will help you decide which platform is better as per the requirements.
Ease of Use
In the game of speed, Wix definitely has an edge over WordPress. All it needs is a sign-up and create a design through the online editor. Additional features can be added through the App Market, which makes adding features a matter of just a few clicks. Wix is easier to use, especially for beginners who want to create sites in a time-crunching situation. It is the most user-friendly website builder of the current times.
WordPress takes more time but definitely lets you create a fully functional, feature-rich website that delivers long-lasting results. It is an ideal platform for big, intricate websites. You can add free and paid plugins to add more features to the WordPress website. Unlike Wix, it demands few technical skills, if not all of them. The bugs need to be solved by a developer and the downtime need to be handled by the hosting company. When we compare Wix vs WordPress in terms of user-friendliness, it is Wix that wins the race.
Design and Flexibility
Well, Wix is best for effortless website design. It offers around 800+ templates that are categorized based on sectors like restaurants, hospitals, blogs, etc. Just choose the template that suits your service and create a site in minutes. It also provides a mobile version; you just need to reshuffle the design elements to make things fit into the sleek interface of the mobile version.
On the contrary, WordPress offers 9000+ free themes, which can be customized through web technologies. A few design manipulations here and there, and you create an exclusive site. It provides numerous responsive themes for making mobile-friendly websites. They may cost you a bit, but responsive sites are the call of the moment. Due to intricate customization, WordPress definitely offers more flexibility in design compared to Wix.
Ecommerce-Friendly Sites
Wix is suitable for small eCommerce stores and tends to slow down with heavy content-loaded pages. This pushes down the SEO rankings and disturbs the customer experience. It supports 17 languages, so; you can build a multilingual eCommerce site. However, the site owner does not have full control over the URL, which is not an ideal situation. With poor site navigation capabilities, Wix is not suitable for large eCommerce stores.
WordPress suffices all the needs of an elaborate, content-rich eCommerce store. It works wonders for large online stores and global web stores with numerous products. You can add features through WordPress's own or third-party plugins and create a full-scale online selling solution. It is the best platform for ambitious companies with a wide product range and a huge number of product pages to its credit. Therefore, WordPress is a clear winner in the race of Wix vs WordPress for eCommerce.
SEO – Rankings Matter
When we compare Wix SEO vs WordPress SEO, the second one truly wins. While Wix offers basic SEO features from the dashboard, it does not level up to the advanced SEO elements of WordPress. You can actually create an SEO-friendly design structure through WordPress and gain high rankings on search engines. Moreover, there are plenty of SEO plugins offered by WordPress, which gives a competitive edge to the website rankings.
Data Ownership
The biggest issue with Wix is that you don't have control over your data. It is hosted on Wix servers and cannot be transferred to other destinations. You need the help of third-party tools to create even a workaround solution. This could be frustrating! On the other hand, WordPress gives you complete control over your data. You can download, copy, and transfer data from your site to other destinations. So, when you want ownership of your data, choose WordPress.
Site Maintenance and Support
Well, Wix creates and maintains the site for you. It takes care of everything including security, backups, and more. You are just relieved of tedious site maintenance tasks. That's not the case with WordPress. You need to keep an eye on security, software updates, data backups, etc. You can do so by using security plugins, hiring WordPress maintenance services, and managing WordPress hosting services.
WordPress vs Wix Blog
It is a well-known fact that WordPress was initially created as a blogging platform. Over the years, it has evolved as the best blogging platform of all time. It offers very many features to create a bespoke blog site. Talking about Wix vs WordPress for blogging, Wix is good for blogging but lacks advanced features like backdating, commenting systems, block editor, etc. You may need third-party tools and commenting systems for your blog to make it fully functional on Wix. WordPress offers a native commenting system and offers flexible block editor. So, WordPress is a champ when it's about Wix blog vs WordPress blog.
Third-Party Plugins and Apps
Data claims that there are 200+ free tools on Wix App Market. These can be used to refine the basic template and convert it into a finer website. WordPress offers, 59000+ free plugins for adding diverse features to the site. It can transform a normal site into a full-blown website, rich with features of all kinds. So, here also WordPress is ahead in the race for Third-Party Plugins and Apps!
WordPress vs Wix Cost/Pricing Plans
With Wix, there are free plans available, and its premium plans start at $11/month. Combo plans are available at $16/per month and so on. WordPress being open source has free core software and hosting services starting at a cheap rate of $4/month for small sites. Charges like $14+/month for high-quality managed to host services. So, when compared on a long-term basis, WordPress is cheaper compared to Wix.
Customer Support – Wix vs WordPress
Wix has a 24×7 customer support team available on telephones and Wix Help Center. It also has a Forum community where queries are answered. On the contrary, WordPress hosting services offer customer support. Regarding, support from the developer community, WordPress has an army of developers who help troubleshoot bugs and issues on global platforms and forums. In both cases, queries will be answered.
User Stories
Plenty of user stories suggest the merits and demerits of both platforms. While beginners choose Wix over the complexity of WordPress, seasoned developers vouch for the calibre of WordPress. Wix suffices the needs of individual sites made for small and medium businesses, and WordPress does that for end-to-end web solutions.
One such example is Bamidele who used both platforms and stated that "I have used both Wix and WordPress and there is no comparison between the two. If you need a flexible and scalable platform, then WordPress is the platform. With tons of free plugins and themes in the WordPress repository, you will be able to make your website look the way you want." Bamidele shared her experience on wpbeginner.com.
Likewise, there are many skilled entrepreneurs, beginners, and enterprises that choose WordPress for its all-encompassing nature.
Which One is Right for You?
Well, it depends totally on the requirements. While Wix is excellent for small, basic sites that showcase small and medium-level businesses, WordPress offers websites for everyone, including Startups to enterprise web solutions. You cannot substitute one for another.
However, people choose WordPress over other platforms for the following reasons:
Even beginners can make WordPress websites with themes and custom plugins.
WordPress community offers support to sort out issues. Forums and the web are the best places to find a helping hand for it.
WordPress plugins are the best way to add new, custom functionalities, and many of them are free. You don't have to format the whole site, just install a plugin and the site is up and running with a new feature.
WordPress offers complete data ownership and does not bind users with any compulsion.
WordPress even wins when we talk about WordPress SEO vs Wix SEO. So, you don't just get an appealing website, but also climb the search engine ladder rapidly.
When you have a fully equipped website, it liberates you from revamping the site for new features. Website building is a one-time investment, and WordPress offers higher returns on your investment than any other Web development platform.
We hope that with this elaborate analysis, you will be able to zero down on the best web development platform for your site. Remember, the choice of website builder could be a game changer, so, decide wisely. You can share your views, and experiences with any or both platforms with us.
A pro-tip is to check with the service providers of both platforms. Discuss the requirements against the benefits and odds before making the final choice.
Frequently Asked Questions [Wix vs WordPress]
Which one is better – Wix or WordPress?
WordPress works for all kinds of website development requirements. Wix does the same for small and medium-scale sites. WordPress customization helps to create the site of your dreams, piece by piece, frame by frame. This is not possible with Wix as you customize standard, limited templates. Still, it depends on the user specifications and details needed for the website.
Is Wix easier to use than WordPress?
Yes, it is the easiest tool for beginners with no experience in design and coding. WordPress is also easy to grasp but may need primary-level knowledge of HMTL and CSS.
Is Wix cheaper than WordPress?
The monthly plans of Wix seem cheaper than WordPress, but when the price is stretched across years, WordPress proves to be cheaper. Wix offers free plans, monthly paid plans starting from $11/month, and higher plans for more money. You get a clear idea about the monthly expenses with this platform.
The WordPress platform is free; you only need to pay for hosting services. There are plenty of free themes and plugins to add to the site. It starts from $2.75/month and may stretch up to thousands for enterprise-level, scalable sites. When you consider long-term investment, WordPress is cheaper than other platforms.
How is WordPress.com different from WordPress.org?
WordPress.com is a self-hosted blogging service that offers a custom WordPress version to customers. They can start creating blogs without installations and use all available blogging features. The blog site can be customized as well. It offers free and paid plans. Again, it gives the liberty to create websites without being bothered about installation and hosting providers.
WordPress.org is basically a core website that allows you to download the WordPress CMS. Users need to buy a hosting plan and domain name from a hosting provider. It supports the building of complex websites through the use of CMS and is very popular for all sized businesses – small, medium, and large.
Can I switch from Wix to WordPress?
It is highly unlikely, as you cannot transfer your data from the Wix server. However, some workaround solution is possible with the help of an experienced WordPress development service provider.
Which one is better for SEO: Wix vs WordPress?
While both support SEO, WordPress offers advanced-level SEO in the design and structure of the site. WordPress sites get higher ranks due to high-tech SEO plugins and tools. It facilitates advanced XML sitemaps, SEO analysis tools, and more, to create an SEO-friendly website.
Which platform offers more storage and bandwidth?
Wix offers limited storage depending on the plan selected. WordPress hosting providers offer unlimited storage and bandwidth to their customers.
Can I transfer my domain away from Wix?
Yes, domain transfer is possible. However, data and content transfer can be hindered as Wix stores data files on its server, and you don't have ownership of the data.
To sum it all up, it's important to weigh the pros and cons of Wix vs WordPress and come to a conclusion that suits your requirement, budget, and time. If you need any professional CMS Web Development help, KrishaWeb is at your service. We provide CMS web development services to our global clientele.
Let's schedule a facetime to discuss your next CMS development project…