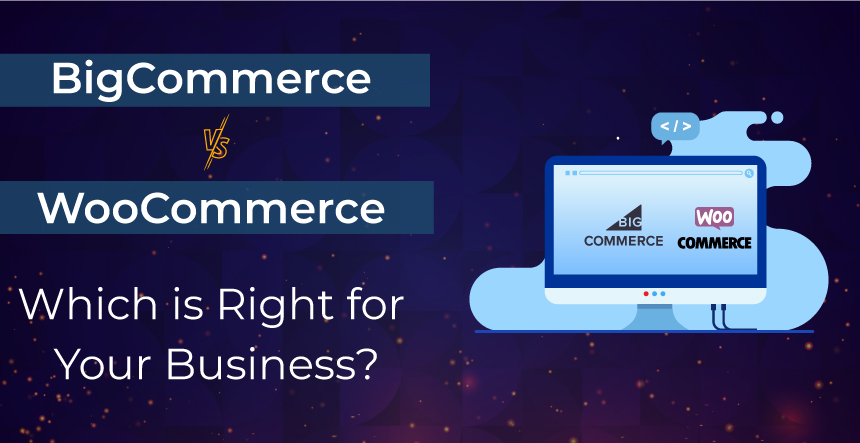 Although creating your own online store may not seem simple, it can actually be relatively easy. There are plenty of platforms out there designed to help you create an ecommerce website. Two of those products are BigCommerce and WooCommerce, but they differ significantly from one another.   
But are you undecided between BigCommerce and WooCommerce?
If so, you're not alone.
Two of the most well-known eCommerce platforms on the market are WooCommerce and BigCommerce. Although there is fierce competition, each has advantages and disadvantages of its own.
BigCommerce is a website builder for ecommerce that has assisted nearly 100,000 people in creating their own online stores. WooCommerce is a well-known open-source WordPress plugin that powers a wide range of online shops.
In this article, we will compare BigCommerce vs WooCommerce and demonstrate the variations between them so that you can select the best framework for your requirements.
Complete overview – BigCommerce V/s WooCommerce!
BigCommerce 
BigCommerce is a full-featured eCommerce platform with all the functionalities needed to build an ecommerce website, such as hosting, layout, content, SEO, payouts, and advertising.
With a lot of its built-in features, analysis tools, and other features, it is known to have effectively hosted many rapidly expanding businesses. 
You can build and personalize your online store using this all-in-one framework, sell through a number of channels, and handle payments, orders, shipping, and more. BigCommerce is frequently praised for its user-friendliness, clear templates, and comprehensive feature set.
With three basic plans and an enterprise option, BigCommerce provides its service on a subscription basis.
WooCommerce 
WooCommerce is a WordPress shopping cart plugin that is open-source and free.
With WooCommerce, you can build a highly functional online store with a variety of features, including the ability to sell your products, accept payments, manage orders, and ship them. 
The fact that WooCommerce is open-source, however, means that you can install, modify, and change the code however you like, which is another significant difference.
WooCommerce is primarily known for its personalization, functionality, and free price — bearing in mind that it should be used with a current WordPress website. WooCommerce is open-source, which effectively gives you a greater degree of personalization.
It can assist you in quickly converting a current WordPress website into an effective webstore. The platform is deemed as the ideal choice for businesses of all sizes, from modest retailers to significant corporations.
What's the Difference Between BigCommerce and WooCommerce?
Ease of use! 
BigCommerce 
BigCommerce is relatively easy to use, and you can seamlessly register for a trial version with BigCommerce. You can launch your shop from there in a few simple steps.
Within a few minutes, you can put in place your BigCommerce store and access your BigCommerce monitor. Here, you can speedily visualize your shop, add products, and edit the layout and settings of your online store.
The onboarding procedure for BigCommerce is open and detailed. You get a quick tour of where to discover particular aspects and where/how to personalize particular aspects as a process phase.
WooCommerce
WooCommerce is a little bit trickier to use than BigCommerce. Given that it's a more technical platform, this makes sense. You must get your own web domain and hosting company in order to use WooCommerce.
You can start the WooCommerce setup wizard after installing the WooCommerce plugin. Within a few minutes, you can take care of all the fundamentals, including creating documents, setting up your payment configurations, currency, shipments, taxes, etc.
The final verdict! 
After comparing the two platforms, it seems that BigCommerce is more user-friendly than WooCommerce, despite having a steeper learning curve at first.
Design friendliness 
BigCommerce 
BigCommerce provides 12 free themes, and more than 50 are available for a one-time fee of between $150 and $300. Even though it gets expensive, what you're doing is demonstrating to your clients who you are as a company.
According to studies, returning customers can spend up to 300% more than brand-new ones. Make the most of your one chance to leave an excellent first impression.
The themes offered by BigCommerce are less flexible, but customization is much easier. With BigCommerce, you can edit things like font size and font, page layouts and navigational placement, and advertising banners.
WooCommerce 
WooCommerce includes twenty themes in total, including 14 storefront themes. Three themes are free, and the rest range in price from $39 to $129 each.
Themes for WooCommerce are straightforward, cross-industry, and simple. WooCommerce shop fronts are more configurable and less expensive than premium BigCommerce themes. It's important to note that this is the area in which technical knowledge is required.
The final result! 
This one is very close. Both have advantages and disadvantages, but WooCommerce has the upper hand overall.
Payment gateways! 
BigCommerce 
With BigCommerce, you have access to over 65 payment gateways that are already incorporated. Big names like PayPal, Amazon Pay, and Apple Pay are on the list. Even better, BigCommerce doesn't charge a transaction fee when you use third-party payment processors.
You can consciously select payment systems that are appropriate for your store. However, if you ignore setting one up, BigCommerce's clever technology will automatically transfer the payment gateways you can access using the store's nation and currency.
WooCommerce 
If you decide to use WooCommerce, you will have access to more than 100 payment gateways that are offered in the WooCommerce store. The fact that WooCommerce automatically integrates with well-known gateways like PayPal and Stripe is fantastic.
Additionally, WooCommerce offers a dedicated payment gateway made just for WooCommerce shops. This payment plugin is available for free download, with no setup or monthly payments. 
You'll be able to securely accept all popular debit and credit cards with WooCommerce Payments. By enabling customers to continue to the checkout without abandoning your website, it can even assist you in increasing conversions.
The final result! 
WooCommerce wins this one, as it has a diverse range of plugins available for a seamless payment process. 
Customer support! 
BigCommerce 
BigCommerce offers customer support around-the-clock via some channels of communication, including live chat, email, and phone. Additionally, there is a user discussion board and an online help center with hundreds of self-help guides.
If you decide to sign up for BigCommerce's Enterprise plan, your account manager and onboarding advisor will be there to assist you with any issues.
WooCommerce 
WooCommerce is a self-hosted framework, but there are other platforms where you can get assistance for your company.
You should contact the WordPress message board or the official WooCommerce website if you have issues with the core plugin for WooCommerce. In these support centers, you can post your concerns as well as search for previously resolved problems.
You can find a ton of paperwork, tutorial videos, and guidelines on the WooCommerce site's help page to assist you in solving problems on your own.
The final result! 
WooCommerce wins this one as well. When it comes to customer support, WooCommerce is hands down the best option. 
Scalability 
BigCommerce 
Scalability features are crucial because you will require additional resources as your website grows. You don't have to worry about any technical problems, such as storage, backups, shutdowns, upgrades, or safety, because BigCommerce is a fully hosted solution. 
You'll need to update your plan as your business expands, and BigCommerce will take care of the rest. BigCommerce offers you an easy way to expand your business.
WooCommerce 
Due to WooCommerce's self-hosted nature, you are solely in charge of overseeing your website's resources, backup systems, notifications, and safety.
You can generally enhance your hosting plan with the majority of the top WordPress hosting providers to accommodate the demands of your expanding website. In some businesses, the upgrading procedure can have some complicated steps.
To make hosting in WooCommerce more straightforward, you can use another managed WordPress hosting provider.
The final result! 
There are many scalability options available for both BigCommerce and WooCommerce; however, BigCommerce might be a better option for businesses seeking a hassle-free solution.
Pros and Cons of BigCommerce and WooCommerce
It's time to see how these systems compare to each other in our BigCommerce vs WooCommerce comparison after dissecting all of these components—features, pricing, and reviews.
First of all, both platforms are renowned for their usefulness and have a substantial set of features that make it possible for you to launch, run, and expand your e-commerce business successfully.
BigCommerce 
Pros 
The most built-in characteristics of any e-commerce builder can be found in BigCommerce.

This platform makes it possible to seamlessly and efficiently sell on various channels, such as Facebook, Amazon, and Instagram.

There is no need to stress about caching applications or anything similar because BigCommerce shops even have fast loading times.

You don't have to worry about any of the security or compliance measures because Bigcommerce takes care of them for you!

Bigcommerce offers a variety of ready-to-use, responsive templates that are easy to install and customize.
Cons 
You have unrestricted customization options.

BigCommerce places a restriction on the sum of your annual sales.

BigCommerce forbids the use of HTML or CSS editors for theme customization.

BigCommerce's editing interface is somewhat challenging for beginners to learn.
WooCommerce 
Pros 
You'll have the opportunity to obtain WordPress' excellent SEO tools.

WooCommerce is free to download, allowing you to launch your online store on a tight budget.

The number of item lists you can use across various categories is infinite. Additionally, you can sell downloadable, physical, and virtual goods. Your choice is up to you.

Your store can accept any payment method.

BigCommerce simply doesn't offer the same range and collection of extensions or add-ons for you to use as WooCommerce does.

WooCommerce is an open-source plugin with a wide range of personalization options.
Cons 
No tools for recovering abandoned carts.

Additional development or technical expertise may be needed to utilize the plugin's features to their full potential.

Requires you to have a WordPress website, which calls for purchasing your own hosting, domain, security, and other related services.

Not as many features are included, and available extensions can be expensive.
Cost Comparison: BigCommerce vs WooCommerce
Both BigCommerce and WooCommerce are reasonably priced when compared to one another. With WooCommerce, there is a variation in that you have more influence over your ongoing expenses.
BigCommerce pricing 
BigCommerce offers a variety of pricing options, allowing you to select the one that is most suitable for your company.
Daily Fees
Annual plans come with a 10% discount. BigCommerce offers its enterprise plan to more prominent companies. For a personalized price quote, you must speak with BigCommerce directly.
Transaction Charges
In addition to the fees your selected payment gateways pay for processing payments, BigCommerce doesn't cost any transaction costs. Unless you need to buy an add-on to connect your preferred gateway, WooCommerce doesn't charge additional fees for transferring funds.
WooCommerce Pricing 
WordPress and WooCommerce are both free to use. However, you must still consider your hosting expenses and the price of any premium add-ons for particular features.
High-End Add-Ons
WooCommerce offers many top-quality options to add more features, even though many plugins are free. You might need to spend money on several add-ons based on your desired functionalities.
Google Listings and Ads – Free

WordPress Payments: Free 

Product Add-Ons: $49 per year (for product customization)

Product Packages: $49 per year

$199/year for WooCommerce subscriptions

PickPlugins Product Slider: $19 per year or $69 for the life of the site
You can use a variety of WordPress themes with your WooCommerce store, but you might also want to spend money on premium WooCommerce themes.
Hosting
Many web hosts are available that support WooCommerce and WordPress. But not every host is made equal.
Simply going with the cheapest option could result in a slow website without the security you need to manage a profitable company.
Conclusion
We have covered all the information you require to compare BigCommerce and WooCommerce. We hope to have alleviated your concerns about which one would be more appropriate for your company.
Both BigCommerce and WooCommerce are solid platforms for setting up an online store. It comes down to your technical sophistication, anticipated spending, and personal choices since you only have to choose one.
BigCommerce is best for those who have more extensive or quickly expanding businesses, to sum up. Its incredible depth of integrated features and tools will easily support your online store as you grow your company.
On the other hand, WooCommerce is perfect for small companies that already have a WordPress website. WooCommerce is the best option for you if you're confident in launching and maintaining WordPress websites.
We anticipate that this article will help you make a decision between WooCommerce and BigCommerce. Please leave a message in the comment section if you have any experience with either of the two platforms or if you have any queries. Please get in touch with us.