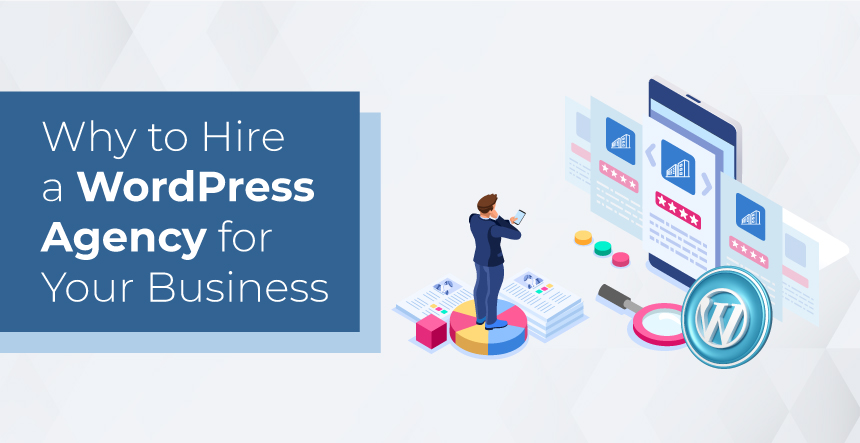 The WordPress development company offers an array of advantages over a single software developer. First of all, WordPress itself occupies the most significant chunk of the total number of websites on the internet. It is the most popular CMS ruling the web development ecosystem. If a company, business entity or individual has a concept, it can be converted into a comprehensive website by incorporating this CMS. There are more than enough reasons to choose a professional and skilled WordPress team for it.
Let us check out a few of them and how they are to the best benefit of the business house. 
10 Reasons Why to Hire a WordPress Development Company
1. For an Ultimate User Experience
WordPress is an all-encompassing CMS that works best in updating and presenting content in an engaging manner. It offers themes, plugins, and templates to create a site from scratch without extra coding efforts. However, companies can give it a personalized touch by customizing its components. A company with a team of experienced WordPress developers can achieve this by creating a unique end-user experience. If you want to generate a never-seen-before, matchless end-user experience, then choose a pro team for it.
2. Rapid Website Design
Professionals with industry-wide experience have the knack to design, code, deploy and deliver websites in the shortest possible time. They know every nook and corner of WordPress development, which results in exceptional websites within the shortest possible time. Any company that wants to create stunning, feature-rich websites in an instant, should invest in a WordPress web development company. 
3. Dedicated Creative Geniuses
The sole idea behind website design is to create an authentic space that represents a brand. It can be easily achieved by hiring the best WordPress development team as they have the right resources available at the right time. You have experts dedicated solely to converting novel ideas into an enthralling website, eCommerce site and portal. 
4. Customized, Futuristic Approach
A specialized team has all the technological as well as logical tools to create websites that stand out in the present and future as well. They build sites with a futuristic approach to leave room for ease of modification and the addition of new components in the future. This is important as your site is not just ready for the moment, but for the future as well. 
5. For High-ranking Websites
A successful WordPress development agency knows the importance of optimized websites and works accordingly. Their design team incorporates On-page and Off-page SEO to create sites that automatically rank high on search engines. 
6) To Hire the Best Resources in the Budget
WordPress development companies offer highly qualified resources like designers, developers, testers, and deployment teams, all in one shot. They are a complete package that works in collaboration to achieve the best results. Moreover, you can hire them separately for specific tasks under flexible contracts. So, you can leverage their collaboration packages at your convenience. 
7) High-Quality in the Least Time
As the whole team works under one roof, the pace of work gets accelerated. They design, build and deploy websites quickly without any hassles or hindrances. When you hire a WordPress development company, it brings with it a pool of the right resources that saves development time and offers the best quality results. 
8) Nails Down User Requirements and Target Audience
The best part about hiring professionals is that they gauge every detail of user requirements to the core. They can build upon the specifics to create something that is never-seen-before. Apart from understanding the requirements and doing justice to them, expert WordPress developers can easily spot the target audience. This helps them to design for this audience, which is key to the success of any business. 
9) Privacy Kept Intact
The fundamental principle of data privacy, the confidentiality of the information and other web development standards are maintained by WordPress development companies. They follow strict guidelines and web development standards so; your customer information is in safe hands. 
10) Competitive Approach for the Best Outcome
Another important part of hiring WordPress website development companies is that they have a competitive attitude. They inherently bring in things, advanced technology and personalization in the websites to give you an edge over the competitors. It is always advisable to hire professionals as they are in tune with the market trends and bring out the best in design and development. 
Additional Point – Provision for Support and Maintenance
A brownie point here is that most WordPress development companies offer support and maintenance post-deployment of the site. This clearly suggests that your website or online store will not have downtime and will keep performing high. It would generate the best end-user experience and form a long-term association with them. 
The Conclusion
There are many merits of choosing a professional WordPress team that works dedicate to your project. Most importantly, you get the website built with reduced development overheads and the same skilful attitude as industry leaders. Choosing a WordPress development company over a freelancer is the best decision for any business house. 
If you are looking for a WordPress development company, then KrishaWeb is the perfect one as a full-service digital agency to partner with. We have years of experience building intricate, layered WordPress websites and eCommerce applications. Even we are WordPress VIP Silver Agency Partner now.
Feel free to connect with us for further details and discussions.