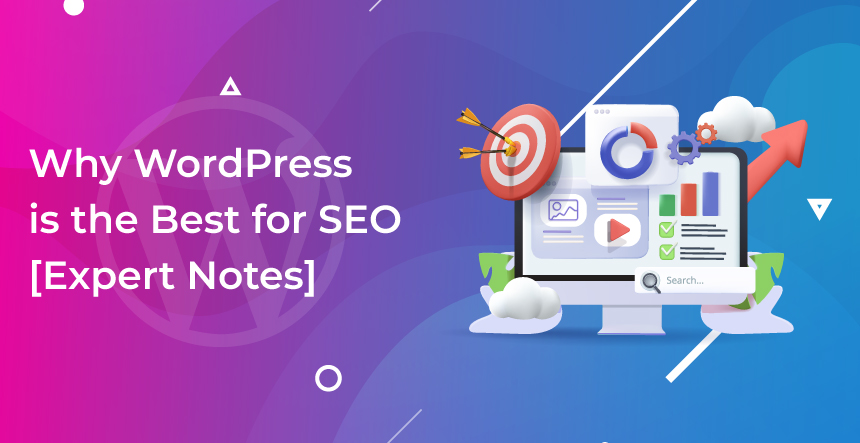 Search engine optimization(SEO) is a consistent and result proof process that can help you rank your website on Google. Every website owner performs SEO practices on their website to generate traffic which targets their specific audience. This, in turn, helps them to get more engagement and higher conversion rates.
Implementing SEO on your website requires people with advanced skills and years of expertise. You might need an expert to get the job done, however finding the best CMS (Content Management System) for your website also contributes significantly to your SEO rankings. 
Although there are various effective strategies, positive feedback and some tried and tested methods to prove that WordPress is one of the best CMS available for your website. 
Still, wondering why?
Don't worry! This blog explains 12 major reasons why you should consider WordPress as your content management system for SEO.

Is WordPress Good for SEO?  
WordPress is not only good for SEO, but it is one of the best practices to optimize your website. Yes, you heard that right! Many famous brands like Microsoft News, BBC America, TechCrunch, and even The Rolling Stones have been actively using WordPress for ages. 
So, what made these famous brands with popular websites choose WordPress over all the other similar platforms? 
Well, the reasons are numerous but a few tops the list. WordPress's amazing CMS platform with flexible, user-friendly, and highly customizable features makes the entire process way easier than expected. 
Some built-in advanced SEO features like SEO plugins and themes are the cherry on top. WordPress allows business owners to make websites that yield significant results and requires little or no effort in their manufacturing.  
12 Reasons Why WordPress is Best for SEO

1. WordPress Focuses on User Experience
WordPress uses various themes and plugins as a way to make your websites look more professional and attractive, which enhances the user experience to a greater extent. 
WordPress believes that a better user experience is bound to give a high engagement score, which boosts sales and revenues drastically.
A high engagement score is a sign that your website is worth visiting and people are impressed by your services. When your engagement rate increases, the overall bounce rate of your site automatically decreases. 
Google has decided to reward the websites that provide a great experience to their users, which makes it the right time for you to invest in SEO and WordPress makes it even easier. 
2. WordPress allows you to create Attractive Permalinks
You must have seen URLs full of not-so-attractive and meaningless words. Those permalinks are hard to understand and many people don't like them. 
What if I tell you that you can easily edit those links to make the URL more appealing and significant? 
Sounds good?
WordPress allows you to create your permalinks. You are free to add keywords to your link because this will make your URL look more informative and help you rank your website higher on google. 
3. WordPress Makes Metadata Easy to Manage
SEO titles and metadata are some of the important terms that are constantly used while developing an SEO-friendly website. 
Metadata can be used for different purposes, but one of its important functions is that developers add keywords to it to help the website rank higher for an enhanced engagement rate. 
WordPress makes managing your metadata quite easy, as it helps search engine crawlers understand the theme or the motive of your website and then generate results accordingly.
Manageable metadata is the representation of a well-established website because it not only describes its work but also highlights the value it is constantly providing to its customers. 
4. Easy Content Creation
Constantly being ranked on google and getting a high engagement rate with an even higher conversion rate signifies that you provide unique and important content to your audience. 
And providing the unique and helpful that add value to your audience is very important and WordPress will help you provide that value effortlessly. 
WordPress launched itself as a blogging platform at first, which is why creating high-quality content is already their expertise which benefits you in so many different ways. 
5. Optimized Images
We know that WordPress adds multimedia like images and videos to your website. But did you know it can optimize your images as well?  
Sounds cool, right! But what does it mean? 
It simply means that the all-rounder WordPress editor can add ALT tags, and brief descriptions, compress the image to boost loading speed and much more for your images to give them a more professional look. 
Do you know what the best part is? 
These are just the standard features that are already included in the core product. You can add numerous other features so that it becomes less boring and more interesting.  
6. Top-notch Security
Daily, many high-ranking websites are either spammed or hacked with the virus. Though mostly high-ranking websites are targeted, other websites are also not 100% safe. There are a lot of individuals out there who can easily harm your online presence for their benefit. 
So, what can we do about this? 
We can use a very powerful and effective CMS like WordPress to provide our websites with top-notch security which safeguards our website like no other. 
WordPress has experts on their security team which helps them protect your website with great ease.
7. WordPress powers mobile-optimized sites
In this era of digitalization, it is quite obvious for every individual to own a smartphone. WordPress makes sure that all of its themes are optimized for mobile phone users as well.
Before customizing the websites, the developers examine whether it looks good on all the devices or not.
Optimizing your website for both desktop and mobile phones is considered very important because it expands the scope of the website, which brings more traffic and also increased conversion rates.
WordPress being a good SEO service provider helps businesses with everything than can rank their website, including mobile phone optimization. 
8. Social Media Integration
Nowadays, Social-Media is one of the best ways to enhance your brand's visibility. WordPress uses numerous plugins to maximize your brand's social media exposure and helps integration easier. This helps the website get higher rankings and more engagement. 
Plugins can also help automate campaigns, add some of the social media buttons on your content and even embed a social media feed on your website. 
The likes, comments, and shares the social media receive daily help the websites rank higher on search engine rankings. 
9. HTML Markup Incorporation
PHP was used to write WordPress however it also includes some of the HTML pages. 
This HTML Mark-up corporation in WordPress describes the entire structure of websites much more clearly and the search engines also get the workings of the website effortlessly.
When you are building your website using WordPress you don't have to worry much about the SEO implementation because it optimizes your website in ways you cannot even imagine. 
The effective use of HTML and PHP helps create websites that are easy to use and design and rank higher on google.
10. Freedom to Boost Your WordPress Website Speed
WordPress has everything a website owner wants from a CMS. Unlike the design and infrastructure, the speed of the website is also considered when choosing the best in class CMS for your website. 
The visitors will take into consideration your website's speed and if your website takes time to load then bounce will increase which in turn will affect your SEO rankings. 
However, WordPress solves this problem as well. It helps optimize the speed of your site so that you can easily make it to the top positions in SERPs. WordPress has some features that give you the power to manage the speed accordingly. 
It is advised to choose WordPress hosting services that are fast and secure like Kinsta, WPEngine, SiteGround, and many more. 
11. Availability of SEO-Friendly Themes
SEO-friendly themes are specifically designed to make your website optimized so that their fast-loading speed can improve your site's SEO and also provide you better support for the plugins. 
Zara, ColorMag, Flash, Spacious, and Cenote are some of the popular SEO-friendly themes of WordPress. The themes available here are of multiuse because they can be used for blogging, business, portfolio, and eCommerce as well. 
So, choose the right one as per your business requirements and boost your rankings significantly. 
12. Community Support
Always remember that WordPress is an entire community of experts, developers, designers, writers, and many more users like these who will always have your back no matter what.
Apart from these experts they also have separate support forums that can help people when they get into problems of any kind. All you have to do is fill these support forums and they will revert to you in no time. 
WordPress's website has various articles and blogs that can help you solve your problems with SEO. So, due to its immense popularity, the support of the community is massive. 
Additional Read
Conclusion 
WordPress is the best CMS platform to rank your website high on google. And now after reading the entire, you have to understand the answer of Why WordPress is best for SEO? 
We got to know that search engines are the main source of organic traffic on all websites. That is why SEO has so much importance in the market. And WordPress makes it even easier for you to be highly SEO-friendly to make an optimized site that ranks well and takes care of SEO elements.
You can reach out to the WordPress Development team for more information, and our qualified team will be happy to assist you!

We have stated all the 12 crucial elements of choosing WordPress. And we'll also love to get your opinion on the same. So, comment below on why you have chosen WordPress for your SEO needs. We'd love to hear from you.