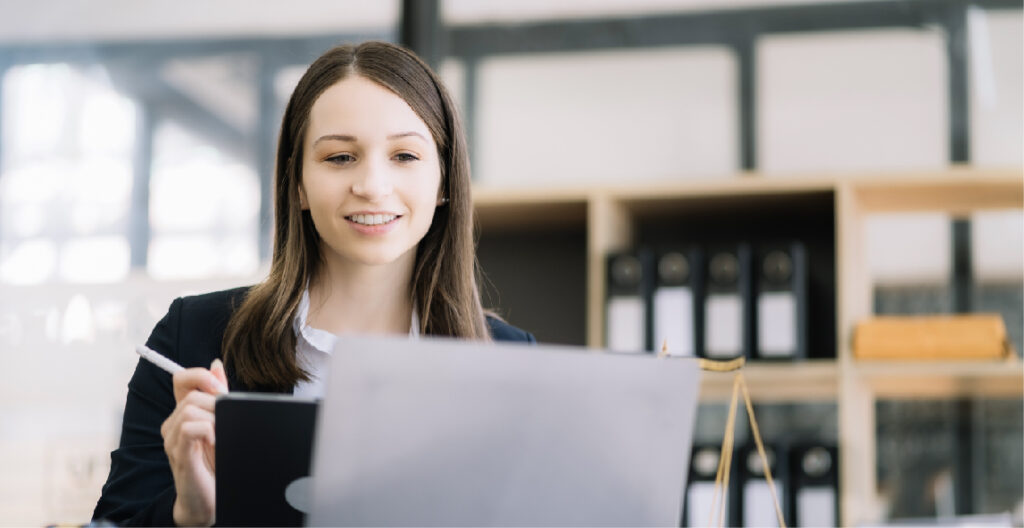 Today's digital environment makes having an appealing website essential for businesses – including law firms. But with many options out there to choose from, how can one find the best legal website designs?
Law firms recognize the growing competition within the legal industry and recognize the necessity of having an impressive online presence to attract and keep clients. A professionally designed website not only showcases expertise and professionalism but also delivers a seamless user experience.
If you are a law firm looking to revamp your website or a legal professional in search of inspiration, you've come to the right place. In this article, we'll examine 12 best legal website designs; their key features and why they stand out among their counterparts will all be covered here. Whether your preference leans more toward modern or classic aesthetics, these examples will provide invaluable inspiration in creating an effective legal site that leaves a lasting impression on its visitors.
Best Legal Website Design – Top 12 Examples
California Innocence Project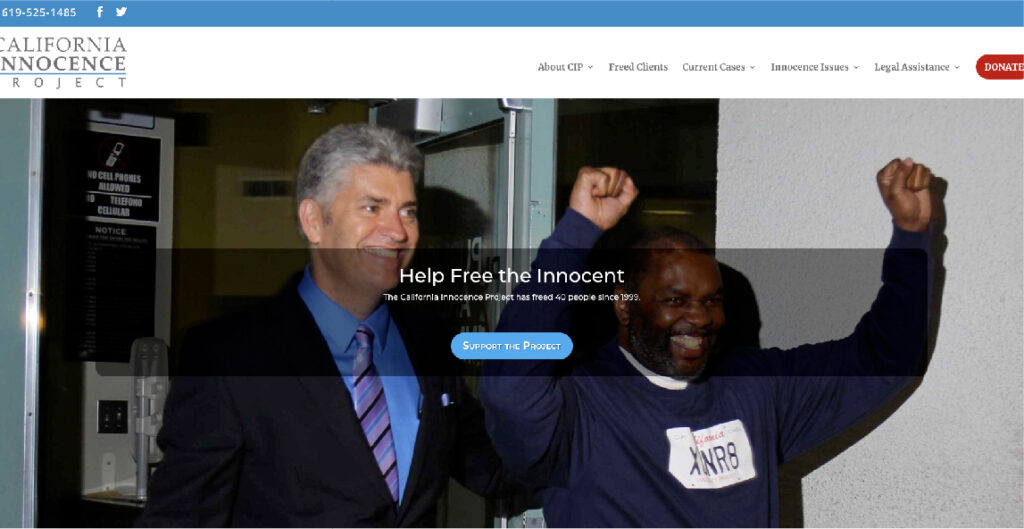 The California Innocence Project's website design is sleek, modern, and user-friendly. The homepage showcases an eye-catching image paired with an easy navigation menu that makes finding information a snap for visitors. There is also a blog, news section, and resources for those seeking legal aid as well as legal support available through this platform – overall conveying its mission and values accurately.
Fresh Legal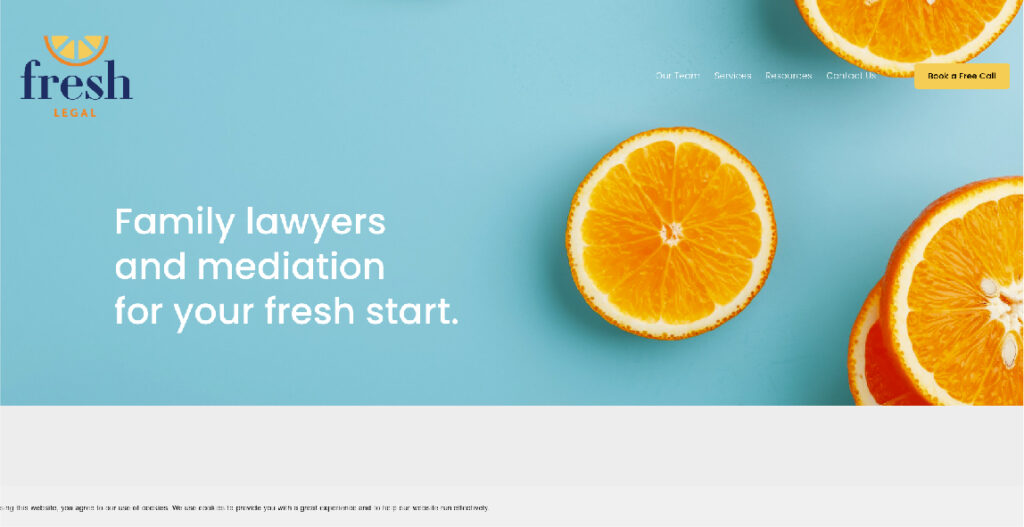 Fresh Legal's website design is vibrant and dynamic, reflecting their youthful approach to law. Their homepage showcases a dynamic layout with eye-catching graphics and captivating content such as blogs, client testimonials and practice area lists, effectively reflecting their firm's youthful yet innovative ethos. The vibrant colour scheme on their homepage further emphasizes the personality of Fresh Legal as they set themselves apart from traditional legal websites.
Hoglund, Chwialkowski & Mrozik, P.L.L.C.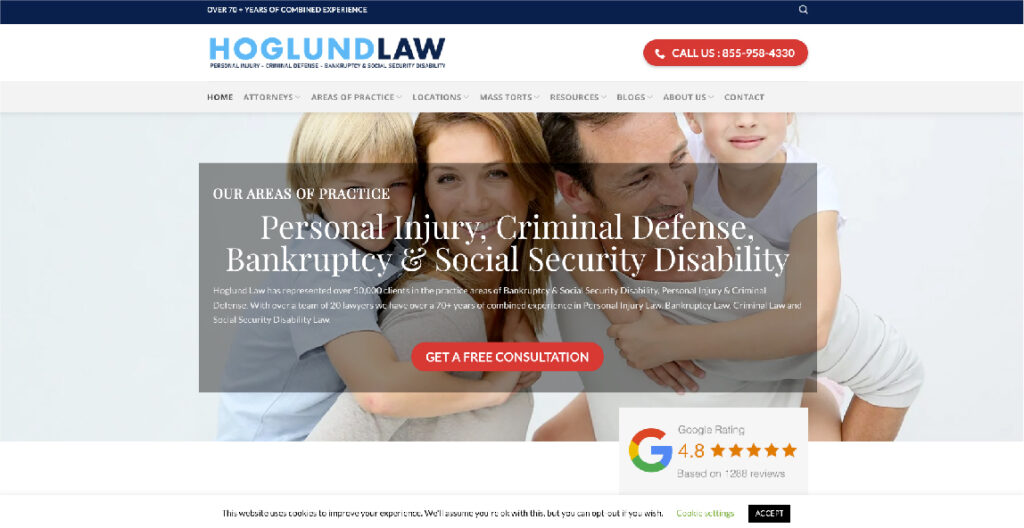 Hoglund, Chwialkowski & Mrozik plc's website design exudes professionalism. From its homepage with its large logo and clean layout to information regarding areas of practice and attorney profiles as well as client resources available, Hoglund Chwialkowski & Mrozik instil confidence among potential clients through this design that exudes professionalism and prides itself in instilling that confidence into potential clients.
Founded Legal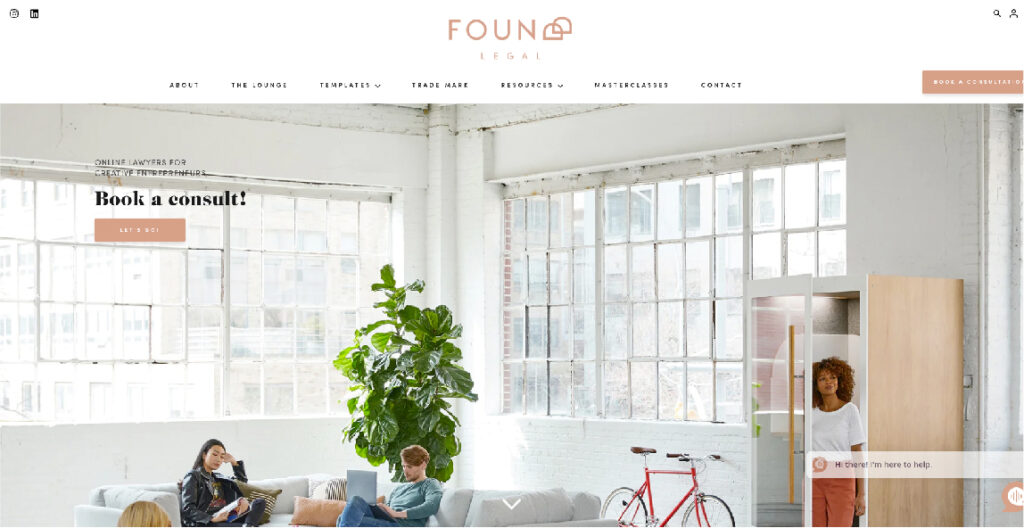 Founded Legal's website design is simplistic yet attractive, creating an appealing modern aesthetic. Their homepage stands out with an eye-catching hero image and concise messaging that captures viewers immediately, including blogs, case studies and information regarding services provided. Their design effectively conveys expertise as well as their dedication towards producing results for their client base.
Chadi & Company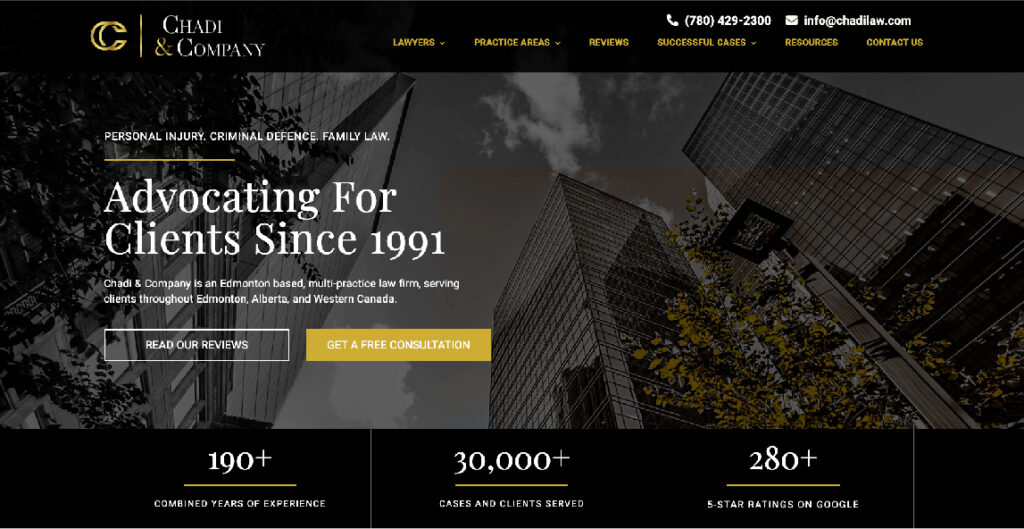 Chadi & Company stands out with its sleek and modern legal website design. Their homepage showcases their firm's areas of expertise with an image slider displaying them prominently, along with a user-friendly navigation menu and bold typography that adds polish. All in all, this legal site design makes an impressive first impression on visitors to Chadi & Company!
Robbins Firm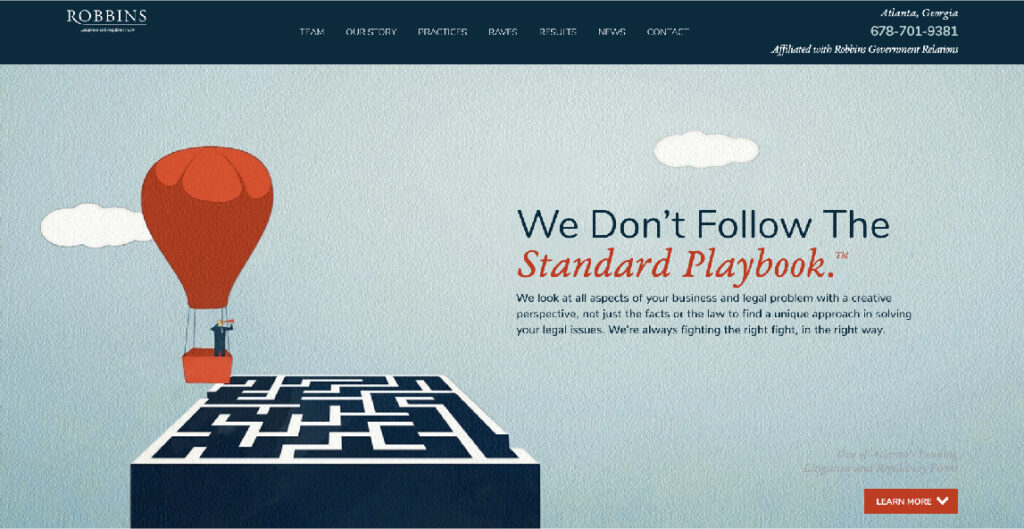 Robbins Firm website is one of the best legal website designs. Their homepage draws immediate attention with an arresting hero image and succinct tagline, which highlight their expertise, while their responsive design ensures it looks good across devices; their use of whitespace and clean lines gives off an elegant professional vibe, while client testimonials add credibility to this legal firm.
Bick Law LLP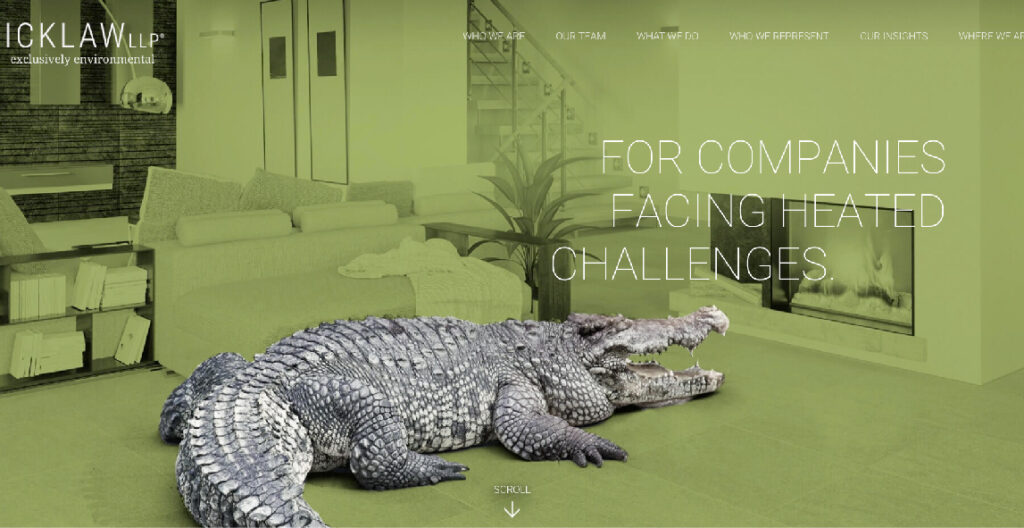 Bick Law LLP's website stands out with its visually captivating design. It boasts an eye-catching full-screen background image that immediately draws in visitors; it is modern yet minimalist in style with a focus on impactful visuals and concise content; interactive elements like hover effects and animated transitions add sophistication and increase user satisfaction.
Vogel LLP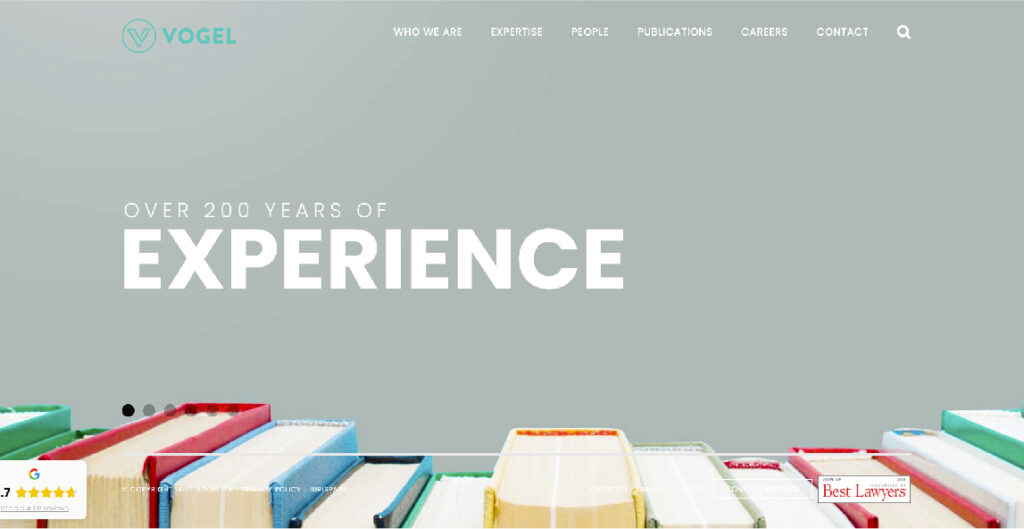 Vogel LLP's website stands as an outstanding example of legal website design that seamlessly merges professionalism with personal warmth. The homepage boasts an organized layout with clear sections outlining practice areas, team members, client testimonials and images with warm colour tones to provide an inviting yet approachable feel to its content. Furthermore, Vogel's site hosts a blog section to demonstrate its expertise while providing valuable resources for visitors.
Stracci Law Group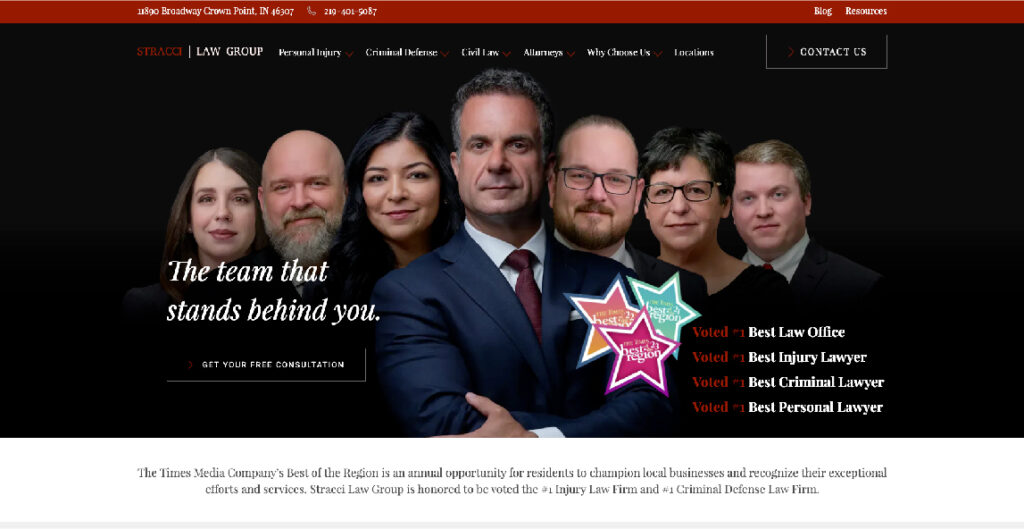 The Stracci Law Group website stands out for its simplicity and ease of navigation. The homepage showcases a clean design with clear content for maximum readability on mobile devices as well as desktop PCs. A responsive layout ensures optimal display across both. A sticky navigation menu allows visitors to quickly access different sections while client reviews enhance credibility and trustworthiness.
Litiguard Lawyers' Website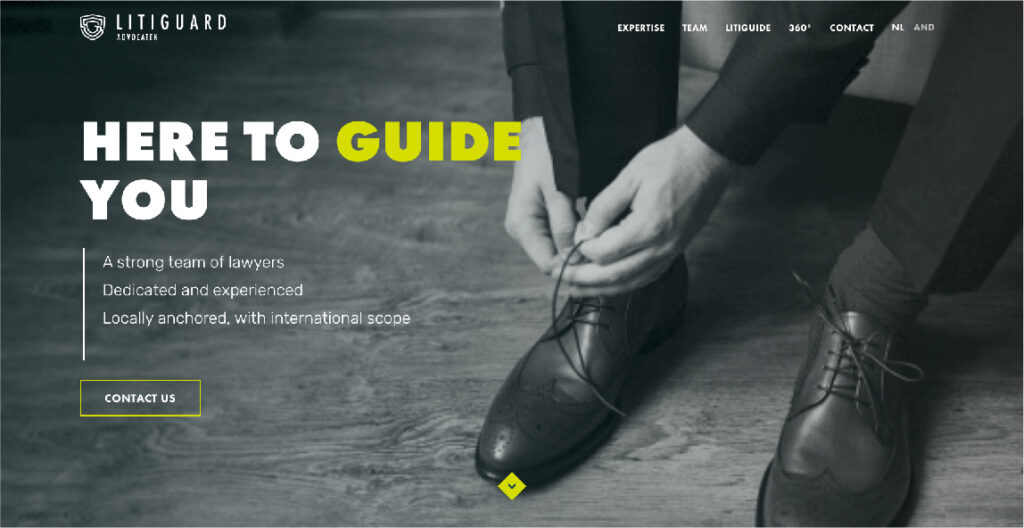 Litiguard Lawyers has developed an outstanding legal website design that effectively showcases their expertise and selling points. Their homepage showcases captivating graphics with a well-structured content hierarchy; responsive design ensures optimal viewing on any device; bold typography is used with a professional colour scheme for an outstanding look on each device – all essential qualities when looking to attract potential clients online.
Legal Web Design: Key Tips and Best Practices
Clear and Concise Navigation
One key tip for designing an effective legal website is to provide easy and concise navigation for visitors. Users should quickly be able to locate what they need without clicking through multiple pages; use an intuitive menu structure with drop-downs for menu items that allow for search bar addition for even easier user navigation.
Mobile-Friendly Design
With so many web users now accessing websites through mobile phones, it is imperative that legal websites include a responsive design that accommodates different screen sizes for optimal user experiences and search engine optimization purposes. Achieving such results may improve customer relations as well as search engine rankings.
Design that Is Reliable and Trustworthy
As a law firm, it's crucial that your website design projects a professional and trustworthy image. Use high-resolution images and fonts with professional font styles for a polished appearance; testimonials may help build trust between potential clients and yourself as an attorney. Keep the design clean; opt for an uncluttered professional layout instead.
Clear and Compelling Call-to-Action
Call-to-action (CTA) buttons and forms that make taking the next step easy are an integral element of law firm websites, with CTA buttons like "Contact Us" allowing potential clients to make contact easily and schedule consultations being two options to do this.
Useful Content Creation Projects
Content is key when it comes to website design, and law firm websites are no exception. Provide useful and relevant material that addresses common legal queries or concerns through blog articles, FAQs or educational resources – this will not only assist potential clients in finding answers quickly and establish your law firm as an expert in its field but will also create trust with prospective clients and increase business leads.
Search Engine Optimization [SEO]
SEO (search engine optimization) is essential to driving organic traffic to your website, from using relevant keywords and creating eye-catching page titles and meta descriptions all the way to hiring an SEO specialist to improve a website's visibility in search results.
Easy Contact Information
Make it simple for potential clients to reach your law firm by clearly displaying all contact information on your website, such as phone numbers, email addresses and forms for contact. Also, consider adding live chat features that offer instant support while further enriching user experiences.
Final Thoughts
Having an effective legal website design is absolutely vital for any law firm or legal professional seeking to build their online presence. The top 12 best legal website designs illustrate the value of creating user-friendly interfaces, visually attractive layouts and informative content to attract potential clients as well as provide a smooth browsing experience that builds trust and credibility in clients. By integrating modern design elements, clear navigation, and relevant content onto their legal websites, law firms can effectively communicate their expertise while standing out among the competition in an increasingly digital landscape. Thus, investing in well-designed legal websites is integral to developing an effective marketing plan for legal professionals online.