A manufacturing website is a site designed specifically to provide information about a manufacturer's products and services. Typically, these websites showcase their range of manufacturing capabilities, and provide technical resources, customer testimonials, case studies and other related content. They also provide contact information for inquiries and typically offer an e-commerce system to buy products directly.
A website with great user experience can be one of your best marketing tools helping to attract prospects, establish trust, capture leads, and ultimately win new customers for your business. The same marketing mechanism applies to all industries including the Manufacturing Industry.
A recent industrial survey shows that there is a 12% increase in website usage by manufacturers and industrial companies to connect with more buyers and customers this year. And it's necessary nowadays. Every industrial website needs to convey a strong message about its products and services at first sight without overwhelming visitors.
We usually talk about industrial firms and their turnover. But, have we ever focused on what enables them to achieve all these? Their digital presence. Yes, a digital presence with a fully functional website is a must for them to serve their audience and grow across the globe.

Let's have a look at those features which make a manufacturing website unique…
Manufacturing Website Redesign Workbook
Transform Your Manufacturing Website with a Redesign!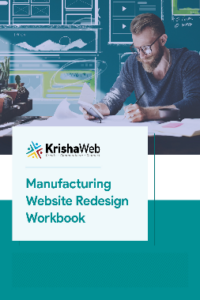 Clean and simple responsive design

Large and striking imageries

Fast loading speed

Compliance with Web Vitals

Audience targeted content

The strong value proposition with USPs

Simple navigation

Clear Call-To-Actions

A path leading to conversion

Opportunities to learn more
With each passing year, technology and eCommerce are being challenged daily. And believe it or not, creating an attractive and functional website is not a simple task. And, with rapid advancement in technology, new things are emerging every day which makes it even more complicated to tackle this internet presence.
And, among all this, – Manufacturing is an inclusive term that requires a lot of expertise and specification for any website to be great at it. But the clarity of vision, proper communication with the customers, and informative description of its product and services can help you make a stellar website that attracts visitors to stay & take a required action on your website.
Are you still confused about what a perfect and best manufacturing website looks like?
Don't worry, this blog will give you examples of the best 12 best manufacturing websites as per the statistics in 2023.
Best Manufacturing Websites Examples 2023
1. Sharretts Plating

2. Lockheed Martin

3. Lear Corporation

4. CST Tires

5. FireRock

6. TextTech Industries

7. Fairlawn tool Inc

8. Marion Body Works

9. Molecular Construction

10. Dupont

11. Caterpillar

12. Industrial Plating Company
Sharretts Plating, a leader in the plating industry provides industrial plating services to automotive, electronics, and hardware suppliers. Their website matches their level of quality and leads capturing mechanism. Their website makes it easy for visitors to become leads with prominent "contact us" and "Request a Quote" forms. A balanced combination of good design, SEO, and content marketing enables their site to gain more traffic and convert that traffic into customers.

But why is Sharretts plating?
Sharretts Plating is customers' first choice because of the various options they provide to them. Their vast array of metal plating services, including gold and silver plating, is just phenomenal.

Advanced industries like aerospace, automotive, and solar are using the electroless nickel plating process that was developed by SPC to stand out and stay ahead of the competition.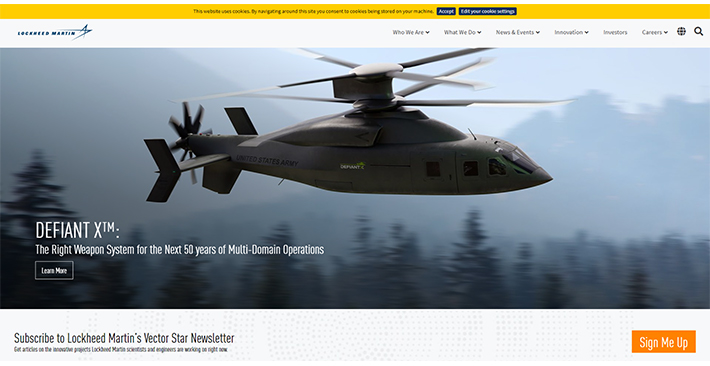 Probably, you already knew that Lockheed Martin is an aerospace, defence, security, and advanced technologies company. Along with being an expert in its offerings, they are great storytellers. Lockheed Martin leverages its content to highlight its expertise with innovations while building relationships with visitors and converting them into leads. Their website contains good usage of images with hero messages, easy navigation, and well-structured product pages. Also, it works effectively on a wide range of mobile devices.

But why Lockhead?
Lockheed's homepage is famous for its slogan that goes like… "revolutionizing hyperspace technologies".

They have used high-resolution graphics throughout their site to make their visitors believe that their work is critical and unique. The missile space-flight trajectory on the main image slider is the cherry on the top.

Lockheed has an extensive press release section to show various technological items related to its services.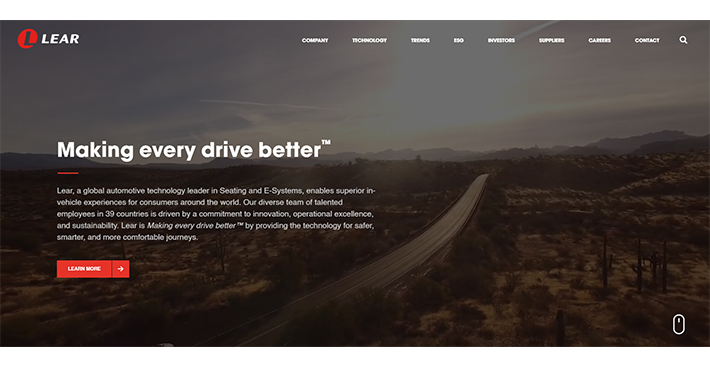 Lear Corporation's website follows all the digital presence trends for manufacturers.
As visitors land on Lear's corporate website, they can clearly see that Lear Corporation is a leader in automotive seating and electrical systems. It has content for a variety of stakeholders that keep visitors engaged thoroughly. Each item in a navigation menu has subpages organized in a good manner which encourages users to learn more.
But, why Lear corporation?
It comes under one of the best manufacturing websites because of its forward and out-of-the-box thinking.

Lear corporation has mentioned on their website how they want to create a positive impact on the world by focusing more and more on improving sustainability and being environmentally friendly.

Not only this, but they have also asked for customer feedback to improve their services and make healthy connections.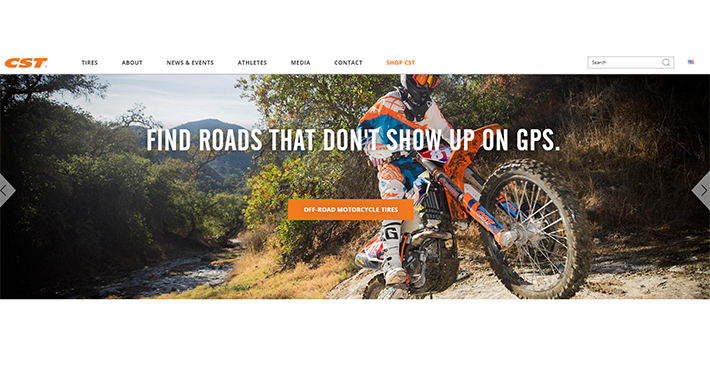 With regards to its image and messages, CST Tires takes a "rough terrain" way to deal with its site: Outside of headers, buttons, and the navigation menu, the home page has no content by any stretch of the imagination.
Inner pages give effective product details with a brilliant colourful experience. This allows you to see specs and compare configurations at a glance so you can complete your order fast.
CST tires are known to deliver maximum security at high speed, even at longer distances because they are specially designed with high-tech materials.
But why CST tires?
They have described the tires, their quality, material, use, and benefits. Turns out that this is what any visitor wants to know about the product or service.

Not only this, but they have also managed to specify what the tires are made of and what facilities they can offer to their customers on their website.

This straightforwardness of the website made it rank under the top 12 best manufacturing websites of 2023.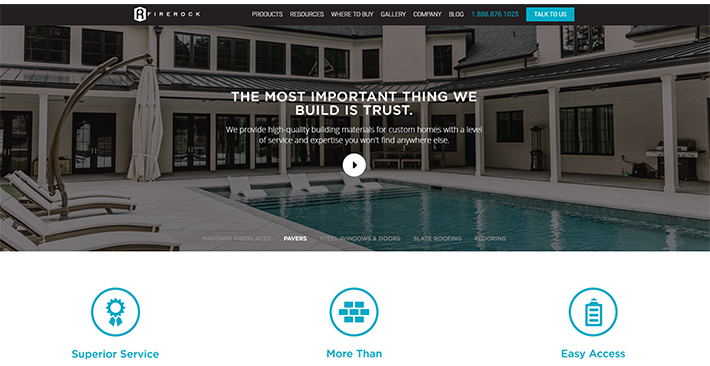 FireRock offers building solutions to contractors as well as end-users who plan their custom home projects. It's nothing unexpected, that FireRock's design incorporates some of the most inviting ideas in B2C design.
With easy navigation buttons and precise subsections, there is a slogan in the centre front – "The most important thing we build is trust."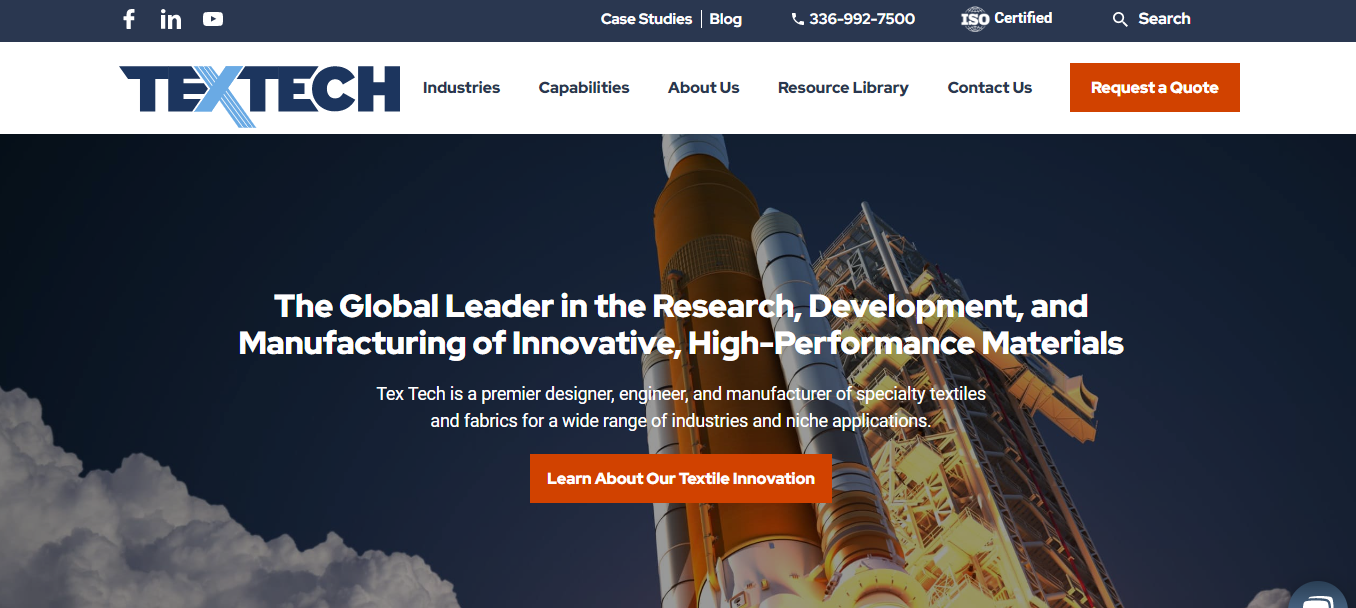 Text tech is another rapidly growing manufacturing website that can be used to take inspiration. The website has clearly described how it is one of the global leaders in the research, development, and manufacturing of innovative and high-performance textiles and fabrics on their website, which makes them stand out from their competitors.
But why TextTech Industries?
TextTech fits into all the reasons needed to be the best manufacturing website ever.

The about section perfectly describes how it can bring changes to the lives of its customers.

Plus, the utilization of an analytically driven approach combined with an innovative advanced development center is mentioned to create ideal solutions for customer-specific requirements.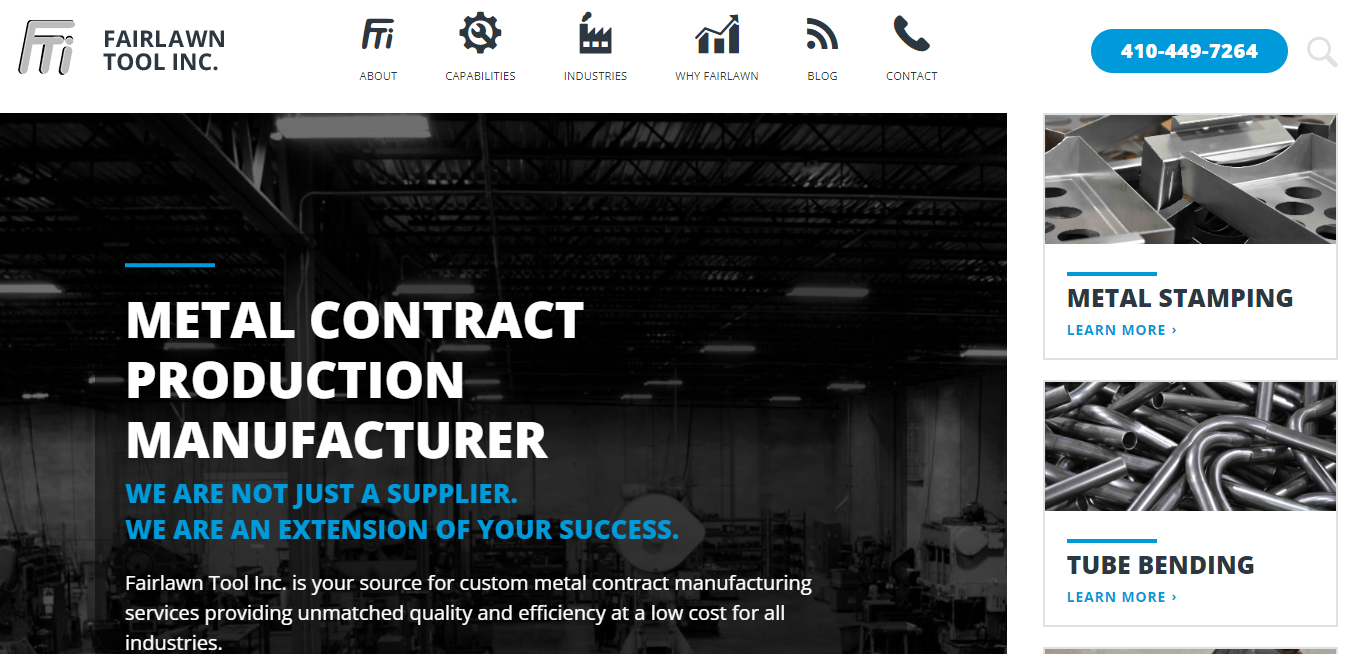 Fairlawn Tool is the world's leading provider of metal fabrication offerings. They have been helping customers in a wide range of industries for over 70 years, including agriculture production, development, accommodation, media/presentation, military and defensive performance, telecommunication services, and consumer goods.
They are an expert contract manufacturer with a wide range of metal fabrication functionalities, they can offer the customers a single-source solution that decreases production time and entire project expenses.
But why the Fairlawn tool?
One of the important reasons why Fairlawn has managed to be one of the best manufacturing websites is that its site is well designed, attractive, and looks professional.

The flow of the website is easy and scrolling feels effortless.

The overall structure of the website is user-friendly and mobile-responsive as well.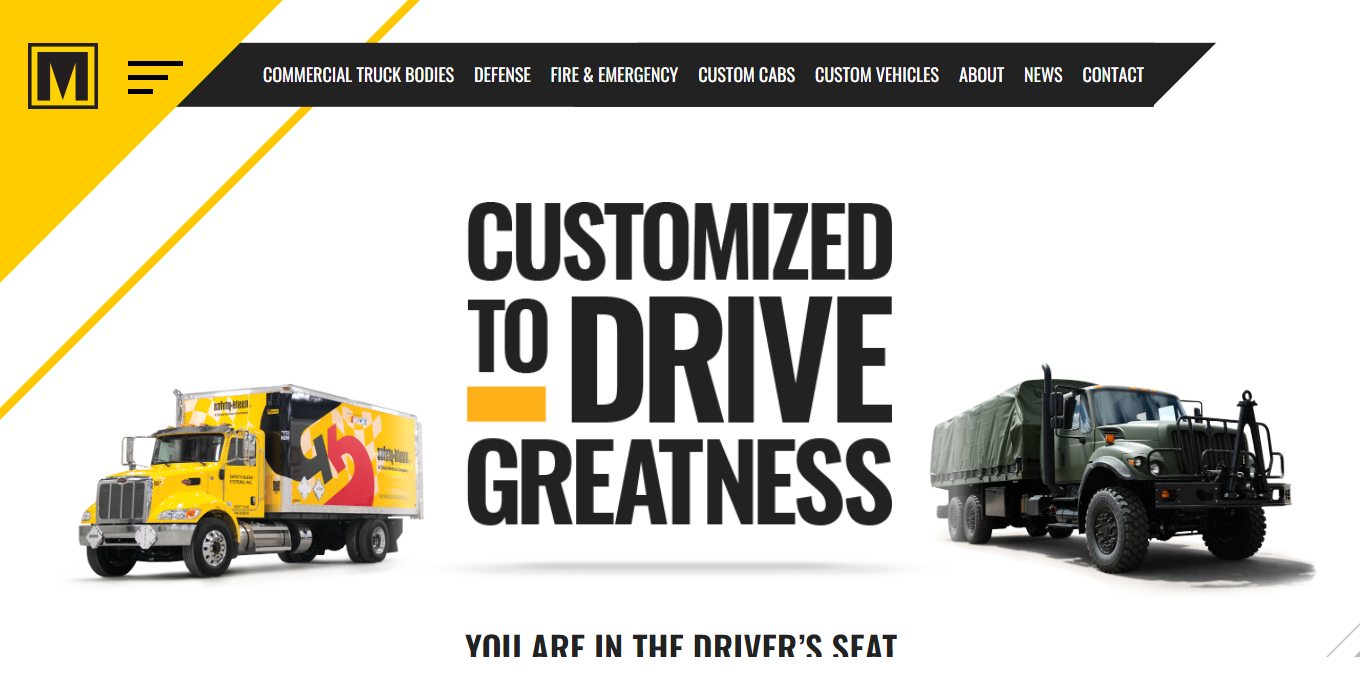 Marion Body has also been in the manufacturing business for over a century and is still going strong. Marion Body Works provides high-quality solutions ranging from commercial truck bodies and custom architected automobiles and cabs to defence and fire & emergency automobiles. All of their finished products are highly resilient and thoroughly tested to ensure that there will be no future issues.
But why Marion body work?
Some websites master the design work, whereas some are known for their user-friendliness.

Its catchy headline "Customized to drive greatness" and the fact that they have specifically mentioned why a customer should trust them for their goods and services is enough to make them the best anyone has ever had.

Marion has done a good job of placing the images and graphics throughout the website in the most strategic way possible.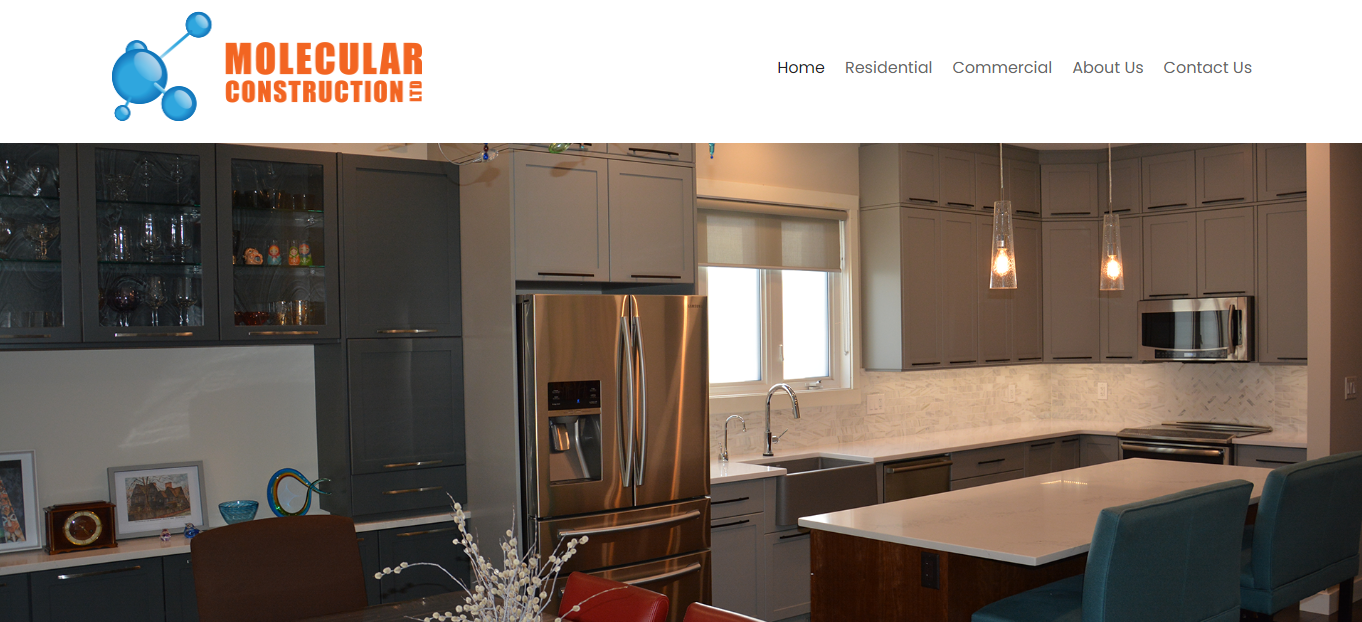 Molecular Construction is a family-owned and functioned full-service Edmonton general contractor specializing in business and residential renovation work, reconstruction, and new construction. They have over 30 years of construction experience on numerous projects.
Molecular Construction Ltd. guarantees the best quality of work, and dependability through their industry-rich expertise and a passion for excellence.
But, why Molecular?
Complications are frustrating, and nobody likes to put an extra effort while scrolling a website.

Keeping this in mind, Molecular has created a website that is simple, impressive, and provides an online presence to the company.

Images are overrated, so they have tried to advance them a bit. The homepage of the website has moving images that are successfully used to grasp the attention of the visitors.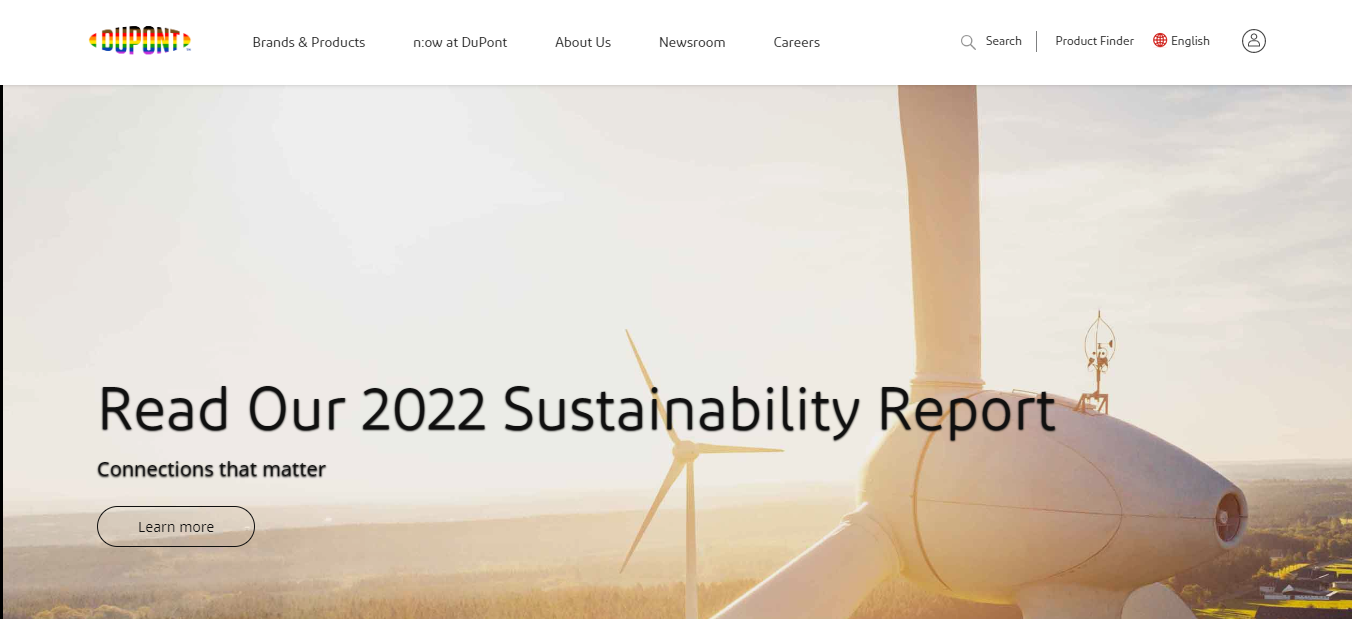 Dupont is reshaping the manufacturing industry and improving people's lives. DuPont is constantly breaking new ground after over 200 years of innovation and expertise. Every day, their community of scientists, technicians, pioneers, and all other partners work to turn opportunities into real-world solutions that help humanity prosper.
But why Dupont?
Their primary focus is on a sustainable and healthy future. Dupont has decided to help global warming and deduct the greenhouse emission caused by them.

Customers have become fans since the day they saw this statement written on their official website.

They have described how they can help change the world by providing protective equipment and clean water daily.
Caterpillar is a world-renowned brand whose online presence is under the top 12 best manufacturing websites in 2023. Caterpillar Inc. is the world's largest manufacturer of construction and mining tools, diesel – powered and natural gas engines for off-highway use, industrial gas turbines, and diesel-electric steam engines.
They have been assisting customers in building a better, more sustainable future for nearly over 100 years now.
But why caterpillars?
The fact that their homepage offers a chance to win $5,000 is enough to explain why customers love coming back to the website again and again.

Caterpillar has clearly described how a visitor can create an account or login into their already existing account to access their how-to videos, tools, tips, and tricks that are specific to your machine.

This effortlessness and user-friendliness take caterpillars to great heights of success.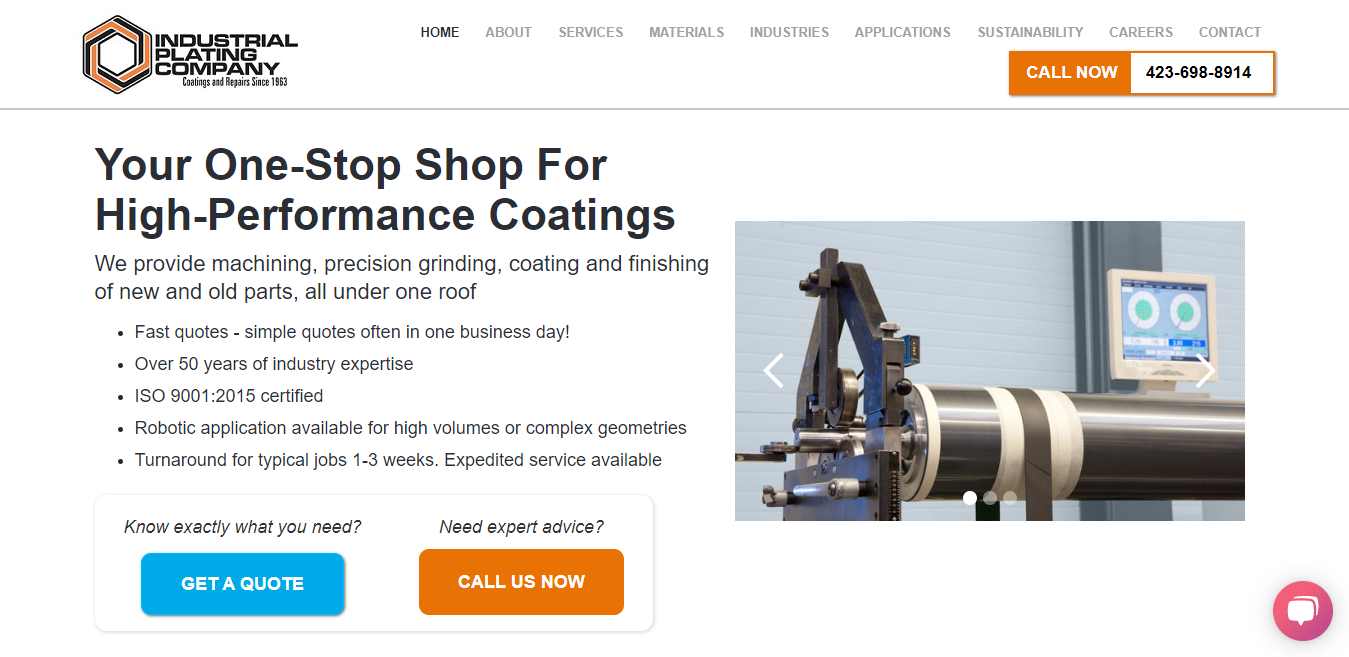 In 1963, the Industrial Plating Company was established to continue serving the synthetic fiber sector. Since then, the organization has expanded and developed solutions for consumers in a variety of industries.
It is the leader in the plating industry because it provides industrial plating services and metal plating services as well. It is easy for them to attract and retain customers because of their ability to provide both quality and quantity at affordable rates.
But, why Industrial plating company?
They have a highly user-friendly design which makes us actually scroll and go through it.

They are popular because of their user-friendly interface and easy to navigate options.

We must say that the quality of their website matches the quality of their company.
Tips to Make Manufacturing Websites Successful
Maintaining an online presence and staying ahead of the competition is one of the main reasons that make manufacturing websites successful. Apart from this, there are other things that you must do for the proper functioning of your website.
Wrapping Up
As a manufacturer, your website needs to help visitors understand the products and services you offer, as well as you just need to give them reasons why they should choose you over your competitors. Keep in mind, great websites like these don't happen overnight. To have such websites for your manufacturing company everything needs to be mapped out by a team of experts that not only understand the necessary elements of great design but know how to create a seamless user experience throughout the website.
There is no such thing as a bad website. All it needs is an effective strategy and attractive designs to win the hearts of your customers. Under the condition that your product or service should be worth the effort. A properly designed website is destined to perform well and look great.
Your website should represent a vision, it should have clear fonts and a concise description. To achieve this, you must hire developers who are experts in their field. When you do all this, your website will be the next best manufacturing website for sure.
So, Don't you want a website that may reflect your company's commitment to industrial innovation and is also optimized for inbound marketing? Just reach out to us, to learn more about how KrishaWeb can help you.