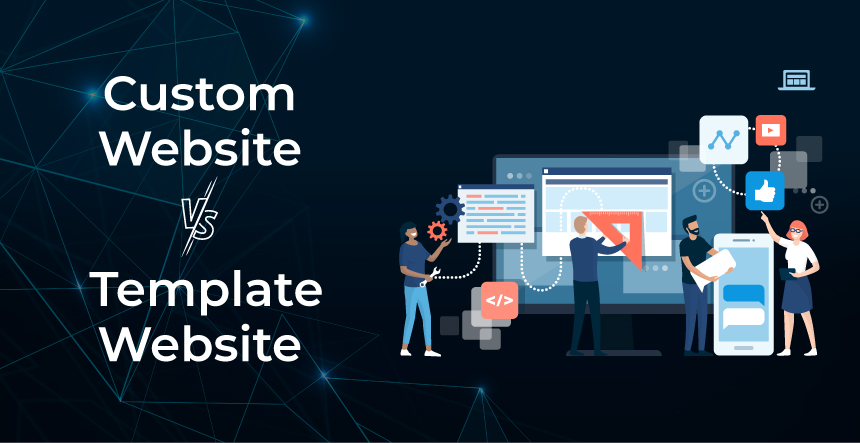 The key to solve this problem is to understand, there is no one size fits all approach to having a wonderful website in place. It all depends on your goals, budget and vision. In this article, we break down the two most popular ways that keep proving confusing for business owners – Custom vs Template Website.

In 2022, nearly every business we come across has a website. The brick-and-mortar way of doing business might decline; however, the showcase-office-products-online trend has peaked. The best way to showcase your brand, products and services is through a website.
In fact, customers have come to expect it. When you have your website live on the Internet, you control the narrative of your brand. You get to showcase what you want to best highlight about your products, services or business overall.
In addition, your visitors get to interact with your business information even when your office may be closed. It is a more effective way to build a steady sales pipeline that you can keep capitalising on, if done wisely.
However, in a world, where having a website for your business meets the bare basic criteria, there are several options. Here comes the problem of choice. It can be daunting to select the best way of going about making your own website. Let's understand…
What is a Custom Website?
As the name suggests, a custom website is a fully customised website. Let's break it down one step further. A fully customised website is a website that's entirely you – it is unique to your specific brand. A custom website has a great deal of thought in each and every aspect of the design and development of the website.
It is easier to make it stand out from competitors and features a great deal of detailing that makes it great for your team to start using the website backend with ease. Right from the UI/UX design to the copywriting to the backend functionality – everything is tailored to fit your unique needs.
In addition, it is researched carefully keeping your end customers in mind and often uses the principles of Design Thinking to start converting visitors into leads. Moreover, such a website is scalable and flexible which means you can add pages or play around with the functionality at the backend for better enhancements in the future.
Such flexibility works as a great asset when you're planning to run digital marketing initiatives, paid campaigns or carry out SEO activities for the website. If you have considered the SEO metrics at the time of design and development, chances are your website will be developed keeping an efficient UX, loading speed time and overall performance including mobile responsiveness with browser friendliness based on Google's criteria.
Well, if having a Custom Website for your brand is so lucrative, then why do we even have another option for web development such as a "Template Website." Let's understand first what a template website actually means.

What is a Template Website?
In the simplest of terms, a template website is nothing but a website based on a ready-made theme with minor customizations and edits. Templates are popularly known as "Website Themes" which are pre-designed and coded. All you need is to purchase and set up the theme on your preferred Content Management System (CMS) such WordPress, Drupal etc.
Later, add images, videos and copywriting wherever you need in the sections you already have available. The "Theme Development" industry has peaked and is currently thriving. There are several services like WordPress.Org, Wix, Squarespace and others that make it easy even for first-timers to get a hang of making a website and launching it.
There are; however, several limitations when it comes to working with templates. You cannot get the same level of flexibility and scalability that you would get for a custom developed website. You will have to make do with what you get and fit everything else in the theme. Apart from logo, colour scheme and imagery here and there, there is not much you can do.
However, an agency or a senior developer can find a way around the template and offer greater customization.
Although, it is not unheard of when a template based website has a couple of odd landing pages here and there that look nothing like the rest of the website. This primarily happens because the customization of the template is limited so there is not much room to play with design to create new landing pages and user experiences.
Which is Better Custom vs Template Website?
Both these choices depend on the individual factors at play such as the scale of the business, what competition is doing, the budget and the long term vision.
Enterprise level branding demands a Custom Website. On the other hand, if you are stuck on the budgeting side of things but still need a decent website to showcase your products and services, a Template website is a great option any day. Let's compare the two and see who wins.
| Criteria | Custom Website | Template Website |
| --- | --- | --- |
| Cost | High | Low |
| Time | Longer | Shorter |
| Brand Control | High | Low |
| Maintenance and Upkeep | Medium | Low |
| Functionality | Superior | Low |
| User Experience | Superior | Basic |
| Flexibility & Scalability | Superior | Basic |
| Layout, content & design | Superior | Basic |
| Search Engine Friendliness | High | Basic |
| Mobile & Other Devices Responsive | Yes | Basic |
| Multiple Browser Friendliness | High | Low |
| Launch time | High | Low |

Custom Website vs Template Website – which is the right choice for your brand?
Ideally, as you can see in the comparison table above, in the debate between Custom vs Template website, custom website usually wins. Not only does it rank better in search results due to a clean code, superior UX and optimised content, it is also scalable and becomes a long term asset.
However, it also proves costly and demands a certain level of patience to go live. In addition, it needs attention from senior developers who get the coding logic right and create a bug free website. A certain level of superior skill is needed for the coding of a Custom Website, which may not be every developer or agency's cup of tea.
On the other hand, Template Website works great for solopreneurs, small businesses and start-ups fresh off the boat ready to make a mark but not looking for something that is capital intensive at that stage. Even though the functionality, customization and brand control offered by a Template Website is limited, it does hold a decent value proposition for small business owners to start building their online presence.
It does fall behind when it comes to achieving superior rankings but that does not mean your entire SEO efforts will go to waste on a template website.
In either scenario, in the hands of an experienced and skilled agency, you can enjoy the maximum return on your investment. Are you considering launching your business website? Get in touch with us at KrishaWeb today.