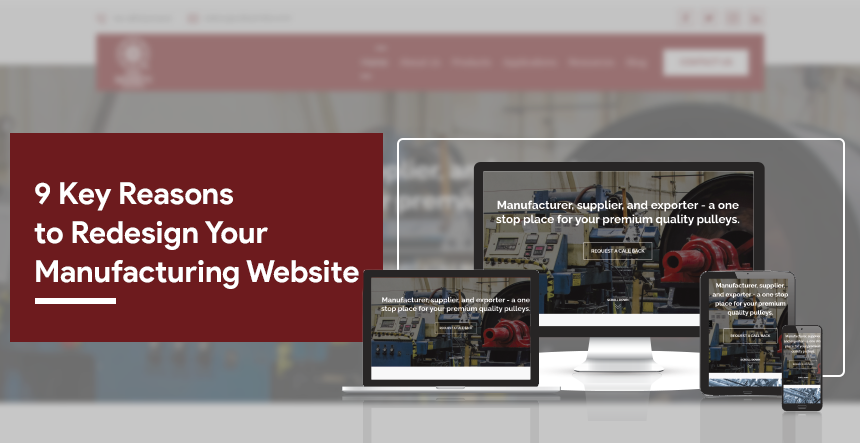 If something works great for us, we usually find it comfortable and won't even think to upgrade/replace it. Such as our old car, it gives us the same comfort but without upgrades and the latest tech, it will stay as your old car only.
The same way your old website needs that upgradation and features to compete in the market for new opportunities.
With the changing trends and generations at a rapid pace, your website must cope with the evolving times. The manufacturing business needs to stay ahead of design, development, and functionality trends. A well-designed and developed manufacturing website leaves a lasting impression on the visitor's mind.
However, all websites need redesigning with the changing trends or after a period of time and the recurrent reasons behind manufacturing website redesign are as follows.
1. Poor User Experience
User-Experience or UX is regarded as a vital factor in ensuring a website's success. It is associated with a visitor's emotional experience when navigating through a website and if a website's design and features align with their intentions.
A recent survey of online consumers revealed that 88% of consumers are unlikely to return to a website after having a dissatisfactory experience. For example, you may lose valuable leads in the following scenarios.
The website is loading slowly.
It is difficult to navigate.
Its features are unnecessarily complex.
If you want to retain visits, then you should focus on creating an enjoyable user experience through a website redesign.
The following steps can help you provide the best experience to the users.
Understand the behaviour of target users.
Think about the ultimate goal of your website.
Think about the actions that you expect the visitors to complete.
User analytics software to improve your website's UX.
2. Website is Not Functioning Properly
The following features are some of the signs of a non-functioning website.
It is almost impossible to use a website.
It takes a lot of time for a website to load.
There are broken links and outdated offers on the website.
The website's layout is not optimized for the latest browsers.
Your website may not have these issues. However, it may need redesigning if even one area of the website is outdated or have issues. For example,
The website may not be optimized for modern web browsers. or
You may be creating links to older web pages that no longer exist.
These issues may not seem to be major issues. However, it is important to resolve them in order to improve a website's effectiveness, as it may negatively impact your website's traffic or your lead-generation efforts ultimately.
3. Website is Not Mobile-Friendly
In the 3rd quarter of 2020, 50.81% of global website traffic was generated by mobile devices and this statistic does not include the web traffic generated by e-tablets. Hence, it is essential to redesign your website if it is not built on responsive web design. If your website has not been optimized for mobile devices, then you are likely to lose customers and leads.
These days, people want to have access to the necessary information at any time and from anywhere. The latest study on the satisfaction of online customers reveals that a flawless user experience across all devices is important for 83% of mobile users. Therefore, you will lose valuable leads to competitors if your website cannot fulfil this primary requirement.
You may use a Content Management System if your website has not been optimized for mobile devices. These systems enable you to create and manage the content, code, design, and graphics for your website. You may even use a 'browser-testing' software solution in order to ensure that your website looks and functions consistently across all browsers.
4. Website is Not Generating Leads
Your website may become unable to convert the prospects into leads if you cannot drive the customers deeper into the sales funnel. In this scenario, you have to find out the exact reason behind this issue. For example,
You may revisit the landing pages to find out if they are complicated.
You may check the CTA texts to find out if the language is incomprehensible.
You may check the entire conversion path to find out if the visitors cannot find what they want.
You have to make the necessary adjustments to resolve the issue if you want to generate more leads.
5. Website is Not Receiving Traffic from Google
You have to consider redesigning the website if it cannot receive sufficient web traffic from Google. In this scenario, you have to optimize the website for search and have to make blogging a part of your website's content strategy.
"A recent survey revealed that websites featuring blogs have 434% more chance of being ranked highly on popular search engines."
With the inclusion of blogs, you can also establish the credibility of your business and can generate more leads.
However, it is essential to search for the right keywords before developing a content strategy for your website. It enables you to find out the phrases or words that people commonly use when looking for something in relation to your industry. You may include these words or phrases in meta-descriptions, titles, headers, body copy, and URLs.
It is equally important to link the blog posts to the related pages and posts. It enables the visitors along with the search engine bots to find out the relevance and relationship between the content on your site.
6. The website has Security Issues
The risk of cyber-attack has increased manifold over the years with the advancement of technology. In this scenario, cybersecurity has become the biggest concern of all types of online businesses.
The websites with outdated software solutions are more at risk for cyber attacks, as hackers can easily breach the security features of outdated software using malware.
Hence, it is essential to revamp a website's design if the software is outdated or if there is an option for online payment. You may change the web hosting option to resolve common security issues and may select a web-host based upon your goal. You may even use the website security tools for improved security.
7. Website Branding is Outdated
A logo or a graphic element does not just represent your brand identity. If your branding is consistent across all aspects of your business, then it becomes easier to recognize the brand. In this scenario, people feel at ease when investing in your products or services. You may even use the branding to provide a message to the target customers regarding your business or organization. Branding also enables you to create a unique identity from the competitors.
Hence, it is essential to redesign your business website if branding seems outdated. It is also important to redesign the website if you have recently rebranded the business, as it reflects the alterations.
It is important to alter the content and language of your website alongside changing the logo or colors when rebranding. It enables you to maintain consistency between different aspects of your website.
8. Website is Extremely Slow
A recent study conducted by dotcom-tools on users' expectations regarding a website's loading speed revealed two facts.
47% of the desktop users expect a website to load in two seconds or less time.
40% of the users (irrespective of the device) abandon a website that takes more than three seconds to load.
Therefore, a website's loading speed plays an important role in keeping the visitors engaged and in lowering the bounce rate. You may even notice a dip in your website's Google ranking due to slow loading speed and the loading speed may lessen due to the following reasons.
Your website has large images.
There are numerous embedded third-party scripts.
Your website's CMS is outdated and does not use the best practices of coding.
You may use various tools, such as GTmetrix or Google's PageSpeed Insights, in order to learn about your website's loading speed and to determine if it requires optimization or an updated CMS.
9. You Have a Better Idea
You may even want to redesign the website because you need a different content layout or theme or may want to change the number of tabs. If these alterations do not prevent a website from delivering a flawless user-experience, then you may consider a website redesign.
Conclusion
Your business website is not just a space where visitors may get basic information regarding your company or your brand. It becomes an extension of your business and a useful marketing tool.
Therefore, the design of your website has to establish trust and educate the target audience alongside fulfilling the basic requirements of your business. You have to keep these points in mind for a successful manufacturing website redesign or facelift.