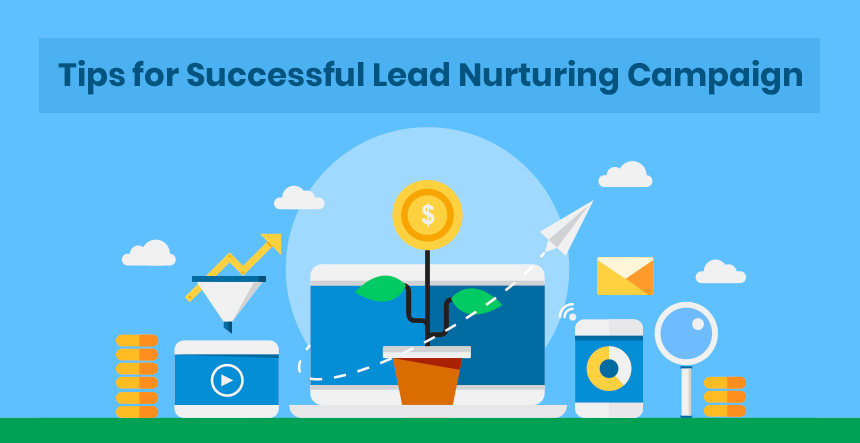 Inbound marketing has become a trusted process for generating more qualified leads and this has increased the need for using proven lead nurturing tactics. And these tips to run a successful lead nurturing campaign will definitely work for you.
Let's take a deep dive…
Since 10% of inbound leads are willing to purchase your product, you will need to nurture those leads entered into a large pipeline.
Subsequently, a successful lead nurturing strategy will have a greater impact on the results of inbound marketing campaigns including revenue generation, customer loyalty and retention.
What is Lead Nurturing and How to Do It?
The process of building relationships with the prospects through the sales funnel is known as Lead Nurturing. The purpose of lead nurturing is to pursue the prospects to select your brand over your competitors when they are ready to purchase your products/services. The process should offer value to your prospects with engaging marketing materials to educate and build brand awareness.
Through lead nurturing campaigns, you can accomplish the following goals –
Educate the leads on every dimension with your solution
Compare your products/services with your competitors'
Clearly express competitive advantage
Showcase convincing case-studies that highlights the expertise of your team
Keep potential customers in the sales funnel
Make the leads believe that your brand can provide what they need or want and that your team is the driving force
What is a Lead Nurturing Campaign?
Through lead nurturing campaigns, a set of marketing messages is sent to potential customers. This type of campaigning can be used to reconnect with potential customers (leads) who are interested in a brand or have taken some actions after visiting a brand's website. The strategy for lead nurturing campaigns can be partially or fully automated. It is also possible to manually execute this strategy. The leads may behave in the following manner.
Visit a website
Participate in in-person/online events
Download a free guide, e-book, checklist, etc.
Placed a call to the office
Apply a coupon
Made a small purchase
5 Elements of Effective Lead Nurturing Campaign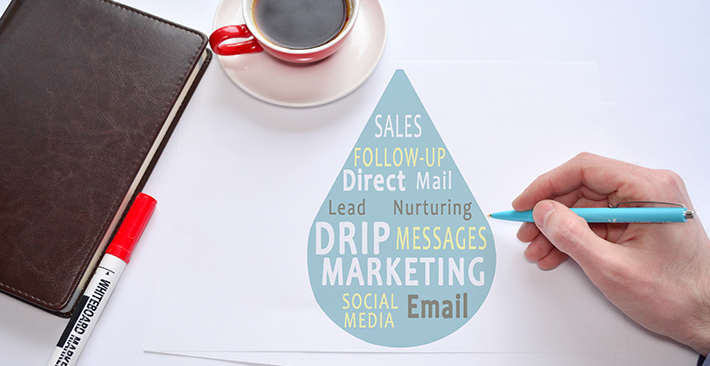 The Goal of Lead Nurturing Campaign
The goal of 'lead nurturing' campaign is the first thing to keep in mind when developing a strategy. It enables you to design a campaign that is capable of delivering relevant content to the leads (who have shown interests in your business/brand). Your business development plans may have multiple KPI and goals depending upon varying consumers' needs or lifecycle. You may use the lead nurturing campaigns to fulfil these needs using relevant and quality content.
Prospect Persona
Prospect persona is the representation of your ideal customer. It enables you to empathize with the leads and enables you to create effective and relevant content for them. The person is created based on the factors – demographics (age, interests, income, education) of prospects along with their profession, pain-points, buying behaviour, needs or challenges/obstacles experienced by them.
You may need to develop more than one type of 'prospect persona' when targeting more than one type of target customers. It depends upon the products/services available via your brand. Having a clearly defined 'prospect persona' may help you in the following manner –
You know how to reach the best prospects and about the problems that need to be resolved.
You know about the type of cases that have to be made for your products or services. For example,
If the budget of a prospect persona is limited due to cutbacks, then the focus of content may be on products' longevity, higher productivity or cost savings.
Suitable Content
It is important to remember that brands should provide suitable content to the leads once the first conversion is connected to the topic of the original download and that it progresses from general interest to a specific interest.
For example,

The original download of a lead may be related to social media marketing, such as 'Types of Social Media Content to Create Today'. In this scenario, the follow-up content has to be on the similar topic.
If you change the topic of the content, then it may confuse a recipient who may decide to unsubscribe. The appropriateness of any type of content also depends upon the leads' position at the sales funnel. For example,
Leads at the top of 'sales funnel' look for 'tip sheets' and 'how-to' guides in order to collect basic information regarding your product.
Leads at the middle of the 'sales funnel' collect and evaluate detailed information regarding a solution to a particular issue. They may prefer detailed and analytical content providing comparisons or case-studies in the form of eBooks, whitepapers and videos.
Leads at the bottom of 'sales funnel' are ready to purchase a product/service. They may appreciate webinars, demonstrations or evaluations. At this phase, the content is supposed to reassure the prospects regarding a brand's products or services.
Timeline for Lead Nurturing Campaign
A lead will share their contact information along with the e-mail address in order to get the first piece of content. You may use this e-mail address to share another piece of relevant content or to provide another reason to purchase the product/service of their choice. However, you have to understand the 'sales cycle' if you want to set the correct timeline before sending the subsequent offers.
The design of the lead nurturing campaign has to reflect on how the purchase decision is made in developing the pattern or pacing of the content. A campaign that is supposed to last for 6–12 months will follow a separate rhythm in comparison to a campaign that is likely to last for 4–6 weeks.
How to Analyze, Measure & Make Adjustments for Improvement
Through 'lead nurturing', you can learn about the interests of potential customers via the type of content viewed and downloaded by them. You can also adjust the 'lead nurturing' campaign if you can track the content performance metrics. It allows you to improve the performance of the campaign. However, you have to measure the performance of each campaign along with the types of content in order to track the performance metrics.
You may use an inbound marketing software platform to receive real-time analytics on each piece of content that is promoted by you or on every e-mail that is sent by you. For example, you will learn –
When it was viewed
Who viewed it?
What was the lead's next action or download?
The interval between each visit
Effectiveness of e-mail subject lines
The conversion rate of CTA texts
Prospects' pain points (if certain phases generate more activity)
Examples of Lead Nurturing Campaigns
E-mail newsletters or drip campaigns
Targeted and customized e-mails
Sales calls
Direct mail
Content marketing and blog posts
Social media marketing
PPC retargeting ads
Importance of Lead Nurturing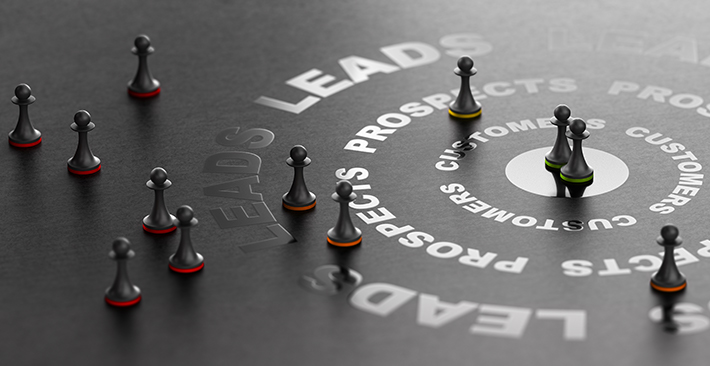 Every brand should add one specific Lead Nurturing Campaign to their marketing strategies. Want to know WHY? Here, we give you the reasons…
Not All the Prospects will be Your Customer at First Interaction: Sales Cycle varies for different industry's products and services. But the research from Demand Gen says that 51% of marketers needed to interact at least five or more times with their prospects in their lead nurturing programs. If you want your prospects to get converted into your customers, then you will need to get in front of them multiple times.
Most Leads are not Ready to Buy: When you approach your prospects you will find, most of them will not be ready to buy from you. The research from Marketo says, 50% of leads aren't ready to make a purchase. Lead Nurturing will help you to stay in touch with them when they need your products/services, you will be there.
Lead Nurturing, a Cost-effective Way to Generate Sales: Lead Nurturing process generates sales at lower costs. According to Demand Gen, companies with lead nurturing strategies witnessed an average 20% increase in sales opportunities. Lead Nurturing helps brands and businesses to build strong relationships with their prospects. The brand can continue engaging and helping their prospects until they are ready to make any decision.
10 Tried and Tested Lead Nurturing Tactics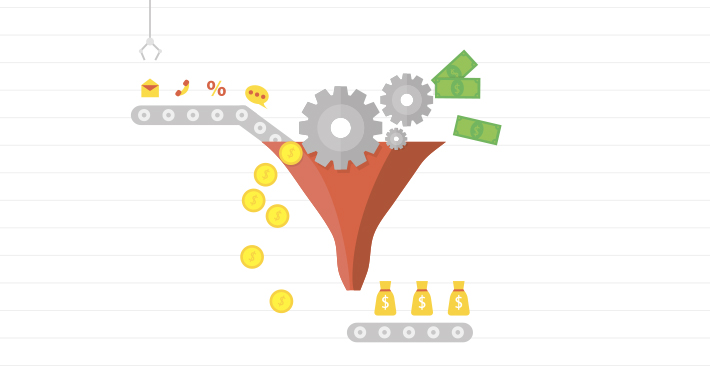 1. Understand Target Customers
If you know about the target customers or target market, then you can identify the best-qualified prospects in the sales pipeline. It also enables you to identify the most effective ways to connect to the prospects. If you learn about the needs and wants of the ideal customers, then you can lead them through the 'purchase' funnel with better efficiency.
2. Customer Journey Mapping
The mapping of customers' journey enables you to outline what potential customers ask, think or do when interacting with your brand. Hence, it is considered to be an important part of the lead nurturing process. To ensure its success, you have to know which path has been taken by the target customers when doing business. You can learn about it through a 'customer journey' map. It outlines each stage of a buyer's journey through the sales funnel. You may even create effective and targeted messages based upon the insights of this type of mapping.
3. Customer Database Creation
It is important to know your leads if you want to nurture them. You may use a CRM (Customer Relationship Management) system to collect the contact information of the prospects or to remain informed regarding the activities or interactions of the prospects with your brand. You have to use a CRM system that is capable of creating profiles for each prospect alongside including the data regarding their actions on your website. For example:
How they joined a list
Which webpages are visited?
What type of communication they have engaged with and is received from your brand?
What is the frequency of engaging with your brand?
Suggested Lead Nurturing Tools
4. Lead Scoring
After having the data on leads, you may use them to qualify each lead based upon their level of interest and you can translate the details of each lead into a number using lead-scoring. Therefore, it becomes easier for you to determine the likelihood of these leads to purchase from your brand. You can score the leads based upon
Demographics
Budget
Interests/Activity
Buying Stage
You may develop a set of qualifiers after having a score attached to each of these categories.
5. Targeted Content for Every Phase of a Buyer's Journey
You may start developing a strategy for 'lead nurturing' campaign if you create targeted content for every phase of the 'buying decision' process. You may get an outline for this process after mapping out a buyer's journey. Based upon this map, you can develop the right content for the target audience at every stage of the purchase funnel.
Top-of-Funnel Content: Informative and engaging content that educates the leads, answer their questions or resolve their problems. This type of content is used to create awareness and to support the discovery phase.
Middle-of-Funnel Content: This type of content is used to guide the prospects during the evaluation and consideration phase. It enables the prospects to learn about a brand's services and products.
Bottom-of-Funnel Content: This type of content is used to guide the prospects towards becoming customers once they enter the purchase phase of a buyer's journey.
Re-Funneling Content (Optional): You may use this type of content to develop customers' lifecycle marketing strategy. It can be used in order to re-engage the target customers, to ensure that the customers continue to return to your brand or to help them during the purchase.
6. Automated Marketing Campaigns
Using automated marketing campaigns, you can deliver targeted messages to the right prospects at the right time. The marketing automation systems use software solutions to deliver different types of content to the prospects based upon their activity, quality score or position in the marketing funnel. You may use this type of system to deliver a single message or a series of messages with numerous pieces of content over a period of time. However, you have to set up a system to automatically deliver the messages based upon some triggers, such as visiting a landing page, clicking a link embedded in an e-mail, filling out a form etc.
Suggested Marketing Automation Tools
7. Developing a Social Media Marketing Plan
You may share engaging social media posts to attract or engage the prospects who may be interested in entering the marketing funnel by following the social-media profile of your business instead of signing up for your e-mail list. You may develop a social media marketing plan for such audiences and may promote sharable and valuable content for them.
Suggested Social Media Management Tools
8. Updated & Quality Content
If you want to draw the prospects back to your website, then you have to consistently develop and publish updated content on your website capable of satisfying the visitors. This effort is equally important for SEO and may provide different types of content for sharing on social media.
9. PPC Marketing Strategy
To develop a Pay-Per-Click (PPC) marketing strategy, you have to find the search terms that can be used by your target audience to find products/services/solutions in relation to your business. You can target such keywords with the help of PPC marketing strategy in order to guide the users down the sales funnel of your website.
10. Retargeting Campaigns using Ads
Retargeting campaigns can be used to remind the visitors to your website regarding your products or services. You may use relevant and targeted advertisements (ads) for such campaigns. You may show these ads to the prospects to increase brand awareness and to ensure total conversions.
Sales Ready Leads With Lead Nurturing Tactics
With these lead nurturing tips and suggested tools, your brand can get more sales opportunities. Ultimately, you will witness an increase in revenue! Want to set up such Lead Nurturing Campaign in your Inbound Marketing Plan? Feel free to reach our team of Inbound Marketing Experts, we are more than happy to assist you.