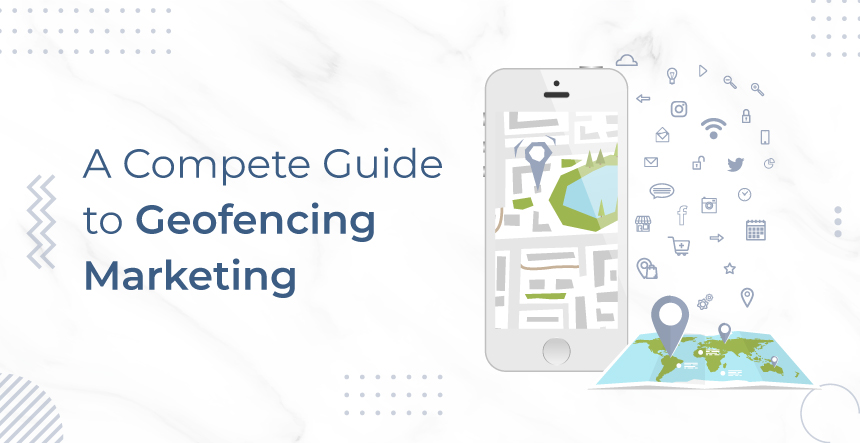 The idea of projecting your business, service and products in a geographical location that is directly reachable by the customer, is a flabbergasting one. It is like offering a lucrative product at a discounted price, especially when the potential customer is in the vicinity.
For example, a parent looking for a toy for a kid gets an instant discount on his mobile from the nearest toy store around you. The chances of the parent making a purchase are quite high compared to searching for a store located at a distance, driving there, checking items and then bargaining for the price. This is a classic example of impromptu, user-centric and result-oriented marketing. Such ideas form the basis of Geofencing Marketing.
What is Geofencing Marketing?
Geofencing Marketing is a new kind of location-based marketing, where businesses can connect with customers when they are nearby their stores or outlet. Geofencing marketing is practised through smartphones and mobile apps. In this method, when a business owner gets to know that a customer has entered their geofence, it can send a lucrative discount or perk offer through a message or their app. This allures customers to grab the offer instantly and that results in a quick conversion and immediate revenue.
What are the Benefits of Geofencing Marketing?
Improves Customer Retention
This kind of instant marketing is the easiest way to connect with a customer located in the vicinity. The approach of offering a profitable offer at the right time has more chances of conversion. Once the customer ends up at your store, you can win their loyalty by offering the best product or service. Therefore, when this advertising is followed by the best treatment and product, it creates a bond between the seller and the customer. This results in the retention of customers who would love to buy from you and remain loyal to your brand.
Real-time Generation of Data
Geofencing marketing is the best way to generate data for analytics. By using the data generated through ad campaigns, the business or store can know the habit patterns, choices and mindset of its customers. This helps them to create better, result-centric campaigns in the future.
Two of the most effective ways of gathering data are:
Checking ad impressions or views
Conversion zone visits
It also provides an immediate scope of improvement of the campaign, in case, the customer is not responding to it. Businesses can find out the loopholes and work on them during the next promotions.
Enhances Customer Engagement
The data can be used for refining campaigns and offering better perks to attract more customers in the future. Stores and companies can find out which ad copy gives max results and focus on them or similar kinds of marketing content. By comparing and contrasting the response of customers to different ads, you can figure out which ones are getting more traction. Utilize this information for improving customer engagement in the future.
What are the Technologies Used in Geofencing Marketing?
As it is structured around locations, this form of marketing uses location-based technologies like GPS, Wi-Fi, Bluetooth and Radio-Frequency Identification (RFID). So, anyone using a smartphone can access your offer in a particular location. As more and more people are using smartphones with each passing day, this method can deliver exceptional results. Businesses can target their customers within a range of 1000 square feet.
What is the Cost of Geofencing Marketing?
It is an expensive affair, but studies suggest that companies have increased 20% more customers through this method. Talking about the exact figure cost, it may vary from $1000 to $30,000 per month. The marketers may charge anything between $250 and $1500 per month. In addition, platforms sending messages to potential customers will charge their own fees. Snapchat charges $5 for targeting customers in the 20,000 square feet range.
How Geofencing Marketing Works?
To simplify the process, let us list down a few steps.
Geofencing marketing involves the creation of a virtual fence around a particular location. Anyone with a smartphone who enters this virtual fence gets added to your audience. They can then receive the ads projected by your business for around 30 days. These ads can have discounts, coupons, offers, perks, etc. and are projected in the form of notifications, in-app messages, display ads, search results etc.
The best part is this kind of fence can be generated anywhere. Around your store or company, around your competitor's space, near business associates that refer customers to your business and more.
In addition, you can create an optimum timeframe for it as well. For example, if you sense more customers strolling around your location during weekends, then you can shoot ads during weekends only. This way, you can grab customers and even cut down on the budget.
What Locations You can Target Using Geofencing Marketing?
Categorically, you can shoot ads and utilize the power of Geofencing marketing in these six locations:
Your location – It could be a store, a mall or a company
Competitor locations – nearby to your store
Events or trade shows – that showcase your products or services
Households – where you choose the method of addressable geofencing
Colleges and institutes – where there is a chance of finding a huge crowd
Nearby streets or stores – of your campaign partners
This is a common list, you can dig deeper and find more avenues for practising this form of location-based marketing.
Some Advanced Tips for Geofence Marketing
Find here the tried and tested formulas to get the best out of this form of marketing. These tips have generated good results and may help you scale your business to higher levels.
Create an Optimum-sized Geofence
Remember that your virtual location fence cannot be too big or too small, it has to have the right size. No need to get too excited and create a fence that envelops your competitor who is half an hour away from you. In such cases, the customers may not drive to you even after getting a great discount offer. So, make sure that the fence should be within a 4 to 5-minute walking distance or a 4 to 5-minute drive from your store. This way, there are more chances of drawing customers who are near your store. When you have targeted an event through a small parameter geofence, you have done the job by directing the visitors to your website. In a nutshell, decide the size of the fence wisely!
Study Your Target Audience
By knowing your target audience, you can design ad campaigns as per their taste. For example, if you have a stationery store near a college, you can create funky ads that get displayed when they search for anything related to stationery. So, if you research well about the taste and mentality of your end-users, you will be able to design ads that trigger them for a quick purchase. Also, check social media platforms for their choices that resonate with your business. It will again help to engage them in a better way.
Focus on Creating Actionable Ads
Your ad should encourage them to think about the product so, it's important to create effective CTAs. Your ad should invite them to the buying funnel so that purchase becomes an organic action. Avoid spam or self-proclaiming ads, keep them simple, to the point and attractive. Your ads should produce curiosity about the product and encourage customers to try them.
Analyse the Data
The whole motto behind this kind of marketing is to gather relevant data to process and work upon to gain desired sales. So, make sure that your team analyses the data on a frequent basis. If not, you can hire a geofencing marketing company that does this task for you. Hiring professionals will help gain better results as they are solely focused on this task. Moreover, they have the experience to deal with this kind of marketing and improve it for the best outcomes.
Club with Other Marketing Techniques
You will get optimum results by clubbing diverse marketing strategies and methods with geofencing.
Some of the most commonly used methods are:
Context targeting – Pushing an ad that contextually resembles the content of the page. Such ads are often found around an article.
Content targeting – Push your ads in areas which talk about your business or something related to your business. A Starbucks café coupon sent to students around a college will pull them to the café, in a flash.
Retargeting – Repeatedly showing products that were once visited on the website, is an easy way to allure the customer towards buying them.
Dayparting – Targeting the audience during a specific part of the day or week. Like if the customers are more likely to come near your store during weekends, then create ads that give discounts during those days and run them during that time period only.
Top Five Examples of Geofencing Marketing
Some of the most successful examples of geofencing marketing are…
The Great Rise of Taco Bell Sales
Mexican fast food giant targeted their customers, that are under the age of 30, through push notifications. These campaigns were so successful that the company made a 6% profit annually. When we talk about their collective annual revenue, they earned a giant amount of $10 billion. So, $600 million in extra income was generated through geofencing marketing.
Branding of the History Channel
The television brand called the History Channel made a special effort by partnering with Foursquare, a smartphone app giving details about hotels, museums and entertainment places. When anyone opens any historic monument or building on this app, they get additional details like the date of the building, an important historic event associated with it and more. All this information was supplied by the Historic Channel. This model turned out to be a huge success, with both parties benefiting from it.
The Burger King Way
Well, Burger King used the idea to another extreme and created geofences around its competitors, like McDonald's. When customers are found near McDonald's, they would receive a notification from the Burger King app to get a whopper at a hugely discounted price. It would even offer the location of the nearest Burger King outlet so, that customer reaches it as soon as possible. The smart method resulted in 1 million downloads of the Burger King app and definitely earned them a lot of money.
BMW Converted Marketing into a Solid Security Service
Automobile giant BMW used the geofencing method to provide additional security to its customers. Named BMW Track star and BMW Track star Advance, the service actually involves sending message or notification to Merck owners whose car moves without their keys. This method offers additional security for the car and has earned huge respect for the brand. In return, the company generates revenue as customers opt for the annual subscription fee of both services.
Apparel Giant "American Eagle" Tripled Its Sales
Geofencing marketing was effectively used by American Eagle, which pushed discount offers to customers who land up in malls with American Eagle stores. With these ads, it ruled out its competitors and customers actually ended up buying their clothes. This practice engaged the customers and even pushed the in-store revenue by three times.
Wrapping Up Here…
Geofencing marketing is useful for both offline and online stores. It is helpful in driving in-store traffic and online sales. All you need to do is analyse the data, create compelling advertisements and engage the customers.
Beyond the location, it is the ad that speaks to the customers and drives them to the store or website. Make sure that you have experts for creating these ads and strategically implementing this form of marketing.
If you are looking for geofencing marketing experts, then KrishaWeb could be the best digital agency for you. We have the right team with experience in creating location-based advertisements that deliver results.
To know more about our approach, give us a quick shoutout!