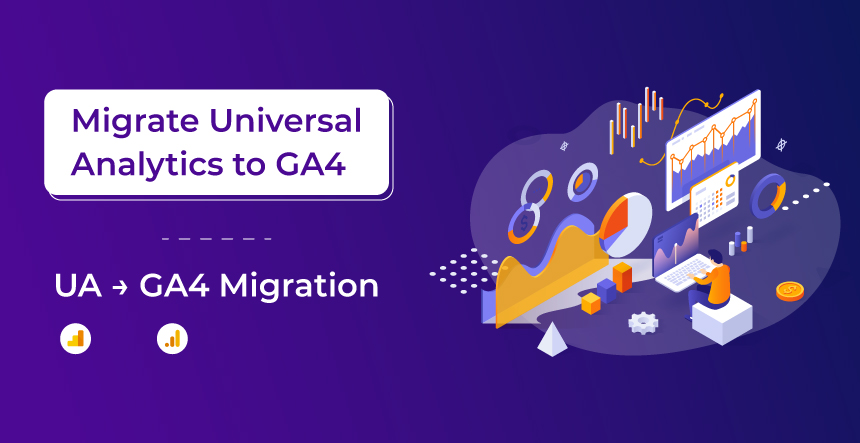 GA4 migration has become the talk of the tech town. Expert digital marketers want to switch from Universal Analytics to Google Analytics 4 and they have plenty of reasons for it. First and foremost, Google has announced that UA will not be operational from June 2023. This raises an alert that it's time to act proactively and manage UA to GA4 migration at the earliest.
This article will focus on details of GA4, the benefits achieved if you migrate Universal Analytics to GA4, and more. Let us dig deeper into it.
What is GA4 (Google Analytics 4)?
To make things really simple, Universal Analytics is the current analytics tool used by the search engine giant Google. It is often called GA3 as it is the third iteration or version of the first analytics tool launched by Google. GA3 or UA has been operational since 2012. Currently, around 73 million sites are using Universal Analytics to monitor the traffic and other aspects of their website. However, Google has announced that UA will see its last days in June 2023 and Google is in the process of launching the fourth iteration of its analytics tools called Google Analytics 4 or GA4.
The basic reason for this switch is the fast-paced evolution of the Internet and changing browsing habits of Internet users. Now, more and more companies and websites are switching to mobile apps. This makes it impossible for UA to gather data with absolute precision. Therefore, there is an ardent need for GA4. Webmasters and marketers need to consider GA4 migration to keep up with the search engines.
Why Should You Migrate from Universal Analytics to GA4 Right Now?
Well, it is the latest tool and you must use something better than an obsolete version to track data on your website. That's simple logic, but there are more reasons than one. Let us list them for you.
Reasons for UA to GA4 Migration (Limitations of Universal Analytics)
UA was meant to track websites, but as a huge section of web traffic comes through apps and as this is the onset of mobile-friendly websites or apps, UA cannot get a unified view of customer data. People are choosing mobile apps to gain business information over websites and therefore, UA faces big trouble in delivering precise information.
Data privacy laws are stricter than ever. For this reason, UA is facing huge challenges in data collection. Customers are more sensitive about their data and even exercise their right to object. This creates roadblocks for UA. In fact, it has been banned in countries like France, Italy, and Austria, all of which are keen to guard the privacy of their citizens.
UA faces other challenges in the form of ads and cookie blockers. They prevent uninterrupted data collection. As a result, it produces inaccurate reports. This makes way for the need for another stable and precise analytics tool.
These are the major reasons for UA to GA4 migration. The new analytics tool comes with many advantages over the previous version. Let us check them out now.
6 Benefits of Universal Analytics to GA4 Migration
1. Ease of tracking web and app data
Until now, marketers used UA to track websites and Firebase to track mobile apps. However, with GA4, they will be able to track both with a single tool. This is a big relief and supports the efficient collection of accurate data.
2. Automated tracking of events
The current version of Google Analytics tracks regular events automatically, but apart from that everything needs to be set manually in Google Tag Manager. This is a complex process as marketers do not get precise statistics of events. This issue gets resolved when you migrate from Universal Analytics to GA4.
In GA4, event data can be gathered by setting up custom events. Marketers can set up events without the need for developers and get details about other parameters like website searches, outbound link clicks, document link clicks, etc. Therefore, GA4 will provide more precise information than its predecessors.
3. Better gauging of the buyer journey
Another important reason for Universal to GA4 migration is that with this businesses and marketers would be able to gauge the buyer journey, with better precision. They can gauge and understand the conversion point, which will help them to create better sales strategies. In a nutshell, it will push sales and RoI.
4. Reports in the form of explorations for better data analysis
GA4 has reduced manual effort by creating different kinds of report templates. This feature helps companies to create optimized reports and use them for advanced data analysis. They can actually explore the metrics and parameters of reports like funnel exploration reports, path exploration reports, user explorers, segment overlap reports, etc.
5. Free connection to BigQuery
GA4 offers an absolutely free connection to BigQuery. Therefore, users of GA4 can access unprocessed data and process information from it through SQL queries. It supports multilevel data analysis to dig deeper into user activities. This feature was not available in UA, where BigQuery was accessible only if the customer upgraded to GA360. This proved an expensive bet for small businesses. On the contrary, GA4 offers this feature to all, so small businesses can also gain momentum.
6. Monitor the existing strategies and improve them
Naturally, when you are equipped with a better analytics tool, you have the chance to introspect and monitor the current strategies, optimize them or replace them with improved methods. GA4 migration gives businesses and marketers a chance to review their current ways and improvise them for the best results.
Major Changes You Will See After GA4 Migration
In effect, GA4 will change the dynamics of UA for the better. It will support digital marketing in the true sense. The approach is more result-oriented, information-centric, cross-device compatible, and all-encompassing. Let us check the major changes that digital marketers will notice if they migrate from Universal Analytics to GA4.
a. A new event-centric measurement model
Events consist of an array of actions on the website. These include page loads, clicks, purchases, etc. GA4 is going to be an event-based model which will automate event measurements and focus on gathering more data about diverse activities on the website or app. It offers the creation of 500 unique events, which are broadly categorized into automatic events, enhanced measurements, recommended events, and custom events. So, marketers will be able to measure activities with precision, which will help them optimize their digital marketing efforts.
b. UI-based, visually-engaging, reports
Another enhancement that is easy to observe with GA4 is the reports. There are various templates available for detailed reports with a more visual approach. Unlike UA, the reports will be Machine Learning based to deliver meaningful insights. They would be the result of a data-centric analysis of the website and application. This will help companies to notice every stage of the visitor or customer journey. Marketers will be able to find logical information about the age, interests, preferences, etc. of the visitors.
c. Multi-device and cross-platform measurement
The biggest progress is that GA4 allows businesses to track data across multiple devices and platforms. So, they will be able to get accurate information and measurements about things that happen on their website as well as mobile apps. This will play a significant role in optimizing marketing efforts, narrowing the sales funnel, and expanding the RoI.
d. Targets will now be conversions
GA4 offers an easy way to analyze multiple conditions and condense their observations to design buyer journeys. This improves the chances of converting a probable target into a customer. UA lacked the ability to create conversions based on multiple conditions.
Migrate Universal Analytics to GA4 in 10 Easy Steps
With just a quarter left for sundown of UA, it is important that marketers and businesses need to migrate Universal Analytics to GA4. Also, it should be done at the earliest as this migration is quite complex.
The main reason is that both of the tools use different data models. Also, GA4 is not retroactive so getting past data is a challenge. Therefore, migration to GA4 is the wisest decision so that you can gather data with the latest tool. It will also take time to get acquainted with the new technology, etc.
10 Detailed Steps for UA to GA4 Migration
1. First-hand Audit of the UA Property
To begin with, it's important to check your UA account, its configuration, and its properties and go for an audit to simplify the migration process. Document the details and findings of the existing UA property to transfer it in the GA4 setup.
2. Create a detailed structure of the GA4 account
As of now, GA4 does not allow views so, it is advisable to focus on creating the account structure. You need to figure out the number of properties and streams required in the new account. As GA4 facilitates data collection from websites and apps in one property, you need to be meticulous in creating an effective strategy for data collection. For example, if you have an eCommerce website and two apps, one each on iOS and Android, then you will have one property and three data streams in the GA4 account.
3. Plan for allotment of user permissions
Your GA4 tool should be used by authenticated users only. Decide the team that will access the analytics department and allot roles as per the need of the business. Depending on the roles, you will be able to give user permissions to selected team members. This filters the process and pushes the project on a smooth roadmap.
4. Document your UA property settings
During the UA audit, you should list down the various settings parameters including time zone, currency, etc. In addition, make a referral exclusion list to filter out unwanted referrals from UA and use only relevant property in GA4.
Think about the implementation of cross-domain tracking in GA4 property. Whether it exists or not in UA and whether you would like to use the same tracking in GA4, is the question. Check for filters in UA, as GA4 has limited filters. This way, check for the property settings of UA and what to take forward in the GA4 setup.
5. Spot down the events that need to migrate
Next in line is to list down the UA events that are necessary for the business. GA4 has a different event model so, make sure you plan event migration with absolute precision. Unlike regular parameters like category, action, label, etc., GA4 allows you to create custom parameters. So, set up your events from scratch to protect the data and match the new event model and event types of GA4. Google has introduced a tool that will support the automatic migration of UA events to GA4.
6. Set up custom dimensions and metrics
While dealing with custom dimensions, you need to consider the scope. In simple terms, scope determines whether a dimension belongs to a particular event or not. UA offers four kinds of scope – Session, Hit, Product, and User. In GA4, custom dimensions are either event-scoped or User scoped. This means that the dimension represents either an event or a user. The custom parameters should be registered as custom dimensions or metrics in GA4.
7. Focus on the need of recreating the conversions
List down the UA goals that you want as conversions in the GA4 property. GA4 facilitates more conversions i.e. 30 conversions per GA4 property. If you have multiple goals, you can devise a new measurement strategy. Also, there is no provision for smart goals, so create a strategy to create other goal types.
8. Apply eCommerce tracking
Implementing eCommerce tracking in GA4 property is a challenging task. You may not get precise data in the reports. Only some of the events and parameters get translated in the new tool so, it could lead to errors in the reports.
The primary difference is that parameters in GA4 are implanted in an item array. So, think along those lines while rewriting the data layer objects. It is advisable to go for a new implementation that matches the event model of the new tool.
9. Link the GA4 to other relevant tools
List down the software integrations of the existing UA tool and link the GA4 tool to them and other additional tools, if required. GA4 property can be linked to BigQuery as well. This is the biggest advantage as you can move data to a serverless, cloud setup.
10. Moving the historical data
Well, the fact is that you cannot move your historical data from UA to GA4. Both the analytics versions have different data models. A workaround is to export the data to BigQuery and use it for further analysis through use cases.
There are three ways to manage this:
Using UA's in-built option for exporting reports in the form of PDF, CSV, Excel files, and Google Sheets.
Choosing a third-party data pipeline provider.
Using native UA connection from Google Analytics360.
It's Time to Upgrade the Skills of the Team
GA4 is fast evolving and therefore, it needs a team that is ready to upgrade itself for exploring the new avenues, the tool, and the challenges.
The Conclusion
Experts suggest that GA4 migration is an inevitable step that must be taken by all companies, the sooner the better. It is wise to be proactive about it as planning the migration itself will take considerable time. The actual process is also not simple so, the decision to switch to GA4 should be made asap.
Companies that want assistance on how to migrate to GA4, should consult our team of digital marketing experts. KrishaWeb can help you with everything that deals with digital marketing services.
Feel free to connect and discuss!