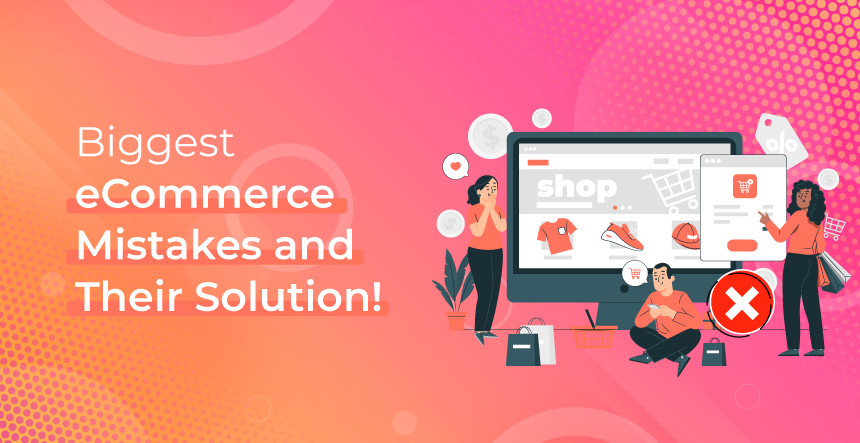 Developing and maintaining an eCommerce site is not an easy feat. It takes a lot of time and effort to build a business and get desirable results over eCommerce mistakes. 
You can create a successful eCommerce store with advanced functionality, great usability, and attention-grabbing designs. But they are not enough to measure your capability as a business owner. 
Let us suppose you have a big eCommerce store with an attractive layout and tons of features. But for some reason, your store is not ranking much in search engine rankings which can't attract frequent buyers. Here, the growth of your business will be very slow and you will be easily demotivated. 
There are various other challenges that eCommerce business owners have to face daily. This blog will deal with some of the biggest mistakes of eCommerce website development and will provide some solutions as well. 
So, let's get started! 
15 Biggest eCommerce Mistakes That You Should Avoid and Their Solution!
1. Choosing the wrong platform:
Flexible and scalable eCommerce platforms give the user a better experience and increase their chance of being regular customers. 
But if someone has chosen the wrong eCommerce platform for their business, then their site may face issues like instability, lack of attractive features, less user-friendliness, less traffic, no mobile responsiveness and other factors which contribute to the failure of your eCommerce store and it will consider as a eCommerce mistakes. 
So, to solve this problem, choosing the right eCommerce platforms is very crucial. You need to analyze your business requirements, target audience and budget to come to a conclusion and then decide the ideal platform for the same.

2. A website that isn't optimized for mobile:
This is one of the major eCommerce mistakes of any eCommerce website that is available out there. In this era of digitalization, almost every person owns a mobile phone and they are most likely to browse through their mobile phone instead of a PC or laptop. 
And, if you do not optimize your website for mobile devices, then you will lose a lot of your potential customers, resulting in decreased customer, sales and revenues altogether. That is why it is recommended to opt for a responsive website that operates on different platforms seamlessly. 
3. Adding frustrating banners, ads, and pop-ups:
Let us suppose a customer visited your website to buy something. But their experience was disrupted as soon as they opened the page because of the continuous ads, pop-ups, and banners that were appearing on the screen. 
Because of this, the visitor got so frustrated that they left the site without buying anything, and this way your store lost another customer. 
Frequent ads and banners are a major Mistake of eCommerce businesses, So next time you decide to add too many pop-ups to your website, remember that your visitors are not a big fan of those and it might negatively affect your eCommerce store. 
4. Relying on dishonest advertising:
Many eCommerce store owners believe they can fool their customers through dishonest advertising. Little do they know is that this trick will only work for once, but they will be screwed for life.
Business is based on trust, honesty, truth, and understanding. All these things are a solid base of business. 
And when you rely on dishonesty and bluffing, your customers lose their trust, which will cost you your business's success. This thought alone is enough to make people feel frustrated and never return to your store again. 
5. Lack of Social media presence:
In this digital world, having a solid social media presence is a must. Running an eCommerce store is a huge responsibility that requires consistent branding and an amazing social media presence for a higher lead-to-customer ratio. 
But if you don't have a social media account for your store, there are chances that your visitors may question if your business is legitimate or not. 
Being active on all social media platforms requires a lot of time and effort and it's not even that important. You can start with one platform, build your community there and then keep on gradually levelling up. 
6. Using low-quality media:
Everything you put out there on your website should be your best work – be it text, designs, images, graphics, or videos. Compromising with the quality or quantity in any way will eventually disappoint you with the results. Your website media should be of high quality and interesting enough for your customers to buy from you. 
Using rich media always goes a long way and gives your customers a better idea of what they'll get! Customizations and company branding plays a vital role in building your credibility, so should avoid stocking your site with local media.  
7. Not enough customer support:
When you run a business, your only intention should be to provide value to your customers. 
Getting in touch with your audiences through social media and live chats provides assistance to improve the overall performance of the company.
AI chatbots are becoming more popular because of their successful incorporation in website design and other functionalities. 
8. Boring visual design and branding:
You have the freedom to make your website fun and creative, so don't ruin your user experience with boring visual designs and branding. 
In this ever-changing market, the customer would love to see something creative, unique and fun. 
Remember that you don't have to make something ground-breaking, just do simple and compelling changes to make your user experience highly effective, but be consistent with it.  
9. Not putting enough customer retention effort:
The importance of getting a higher engagement level and attracting new customers is understandable, but you know what's more valuable than that? 
Retaining your existing customers and maintaining a loyal and healthy relationship with them. 
Focusing on increasing your customer retention rate will bring a lot of worth to your business. Retaining customers are meant to repeat purchases and will also spread word of mouth among their friends and family 
This is a win-win situation because this way you will get both free advertising and a higher lead-to-customer conversion ratio.
10. Having a lack of advanced search options:
Many people are browsing your website, but they are not sure of what they are looking for. They are randomly browsing and this is where advanced search options come into play. 
Advanced search options are nothing but tools that show the product based on the size, color, price, range, and more. Once the customer has logged into your site, now it becomes your responsibility to retain them. Even if they don't know what to look for, you show them something better which appeals to them to make a purchase and come again. 
11. Adding complicated checkout process:
Nobody likes complications, Right? 
You must always try to keep the processes of your website as simple as possible. So, if the customer finds it frustrating or difficult to understand, they can easily abandon their carts without any hesitation and this is what your competitors want!
So, to solve this problem, you can use the KISS (Keep it simple, stupid) approach to simplify your checkout processes. 

Avoid unnecessary design elements that prevent your customers from buying.  

Add a dynamic visual indicator and keep the dynamics simple; you will be good to go.
12. Missing trust signals:
Missing trust signals of your eCommerce store are something you shouldn't do and are a major Mistake. So, for that, you need to make sure that your site appears legal and trustworthy to your customers. 
But, how to do it? 
Don't post or add anything that seems suspicious to your customers. If your business is legit, then make it seem like it. 
Installing an SSL certificate on your eCommerce website is proof that your business is professional and legitimate. It will allow you to use the HTTPS protocol that will keep all your data and transactions safe and encrypted. 
13. Security is another crucial element of your eCommerce store:


Apart from building and maintaining, it's also important to secure your website from malicious software and other viruses. If your website is not secure, the customer's trust decreases, which affects your eCommerce store's success and longevity. 
So, what to do? 
For better security, the first thing to do after buying a domain name is to install an SSL certificate.  

Always put strong passwords and make sure you have a two-step authentication process for your website. 

Do not allow random social logins without two-step authentication. 

Keep looking for new security protocols to enhance the features and make your website more credible. 
14. Lack of detailed description on product pages:
When you are selling products or services in your online eCommerce store, it becomes important for you to describe them properly on the product pages. 
Product pages are the lifeblood of online stores because they provide the use cases and benefits of the product. It tells customers why they should opt for this particular product and help you in increasing your sales and eventually gain more customers. 
And filling product pages is no rocket science, all you have to do is list the benefits, use case, how to process, ingredients and other related details with high-resolution photos and even add a 360 view(If needed). 
15. No Up-Sell opportunities:
There are times when every business owner thinks about why they are not getting enough engagement or conversions on their website. The simple answer to this question is that they are not up-selling enough, and cross-selling their products is not giving the desired results. 
Upselling is one of the most important factors in the digital world because it provides a tremendous opportunity to dramatically increase your transaction rates and average revenue earned per year. And when eCommerce businesses do not get enough up-selling opportunities, it becomes one of their major Mistakes. 
How to Get Started with eCommerce Development? 
When you first think of starting your eCommerce business, getting overwhelmed with tons of questions and doubts is pretty normal. But having an excellent strategy and long-term vision for your company makes things easier along the way. 
A pro tip – You should invest in the functionality, accessibility, and reliability of your eCommerce platform and other things will take care of themselves. 
Here are some tips that will give your business a great start and help you reach greater heights of success –  
Get to know more about eCommerce and find your niche: 
Proper investigation and research are important before putting your heart and soul into growing a business. You must find out the area that interests you and then make some decisions based on that. 
But just don't stop at that because there is still so much left to figure out. You can enhance your scope and think of ways that will help you get more sales of your product or service. 
Plan an efficient strategy: 
Once you have researched everything, it's time for you to make an efficient strategy and work on it consistently. Solidify your business, choose a name and make a legal structure to make it official. 
Select a domain name for your website but don't rust it, see whether potential and attention-grabbing names are available or not. Once you are done with all the financial and legal implications, you are set to opt to push off your eCommerce store. 
Selecting your target audience is a must: 
Your niche plays a very important role in deciding your target audience because it will help you provide solutions to a common pain point in the market. 
You can browse e-commerce websites and your competitors' sites to find out who your target audience engages with and then provide similar content to scale your business. 
You cannot be 100% sure who your ideal customer is, but you can always predict, through some research, tricks and advanced technologies. 
Analyse your product and services thoroughly:

 
You can think of all the ideas in the world, but those won't matter a thing if they are not viable enough to bring in the desired results. That is why it is important to evaluate your product's viability through two factors: the first one is market-based and the second is product-based criteria. 
After evaluating the product, it is important to analyse the results. Once you have thoroughly gone through these factors, you are ready to launch and grow your retail business now. 
Get the required permits and licenses to avoid legal complications: 
Getting your business license and another important permit is important to officially launch an eCommerce store. But if your e-Commerce business is home-based, you don't have to apply for these. 
It is not compulsory for home-based businesses, but if you are curious enough to know the requirements, then you can easily search your local or state government website for the same. 
Opt for an eCommerce platform to build your website from scratch: 
Now you are at a point where you have selected a niche, developed a strategy, analyzed your product, and even got a license for your business. So, all you need now is a website and online store to continue growing your company. 
Find the domain of your website and choose an efficient platform for your business. You can opt from various open-source eCommerce platforms like WooCommerce, Shopify, Magento & others because they will act as a base for your online ecommerce store. 
Conclusion
So, here's to everyone who is involved in making their eCommerce more unique and compelling – these are the tips you should surely keep in mind. These are among the most common and major Mistakes that most eCommerce store owners will face – which will cost them their business. 
We hope you have found this information helpful and contribute to growing and nurturing your Commerce store.  And if you have done these blunders, you shouldn't worry because after all we learn from the mistakes and prevent similar mistakes in the future.

KrishaWeb offers 360 degrees in eCommerce website development with some of the best technologies like Shopify, Magento, WooCommerce, and more. We are experts at creating an online store, be it a small one or a fully-fledged webstore that attracts customers and boosts sales. Along with that, we have a marketing team that ensures that your fully functional store hits the right audience and reaches the target customers. We make sure that your store is up and running as well as performing at its peak.
Whether it's development, marketing, or maintenance, we ace it all! For any queries, just give us a quick shoutout!