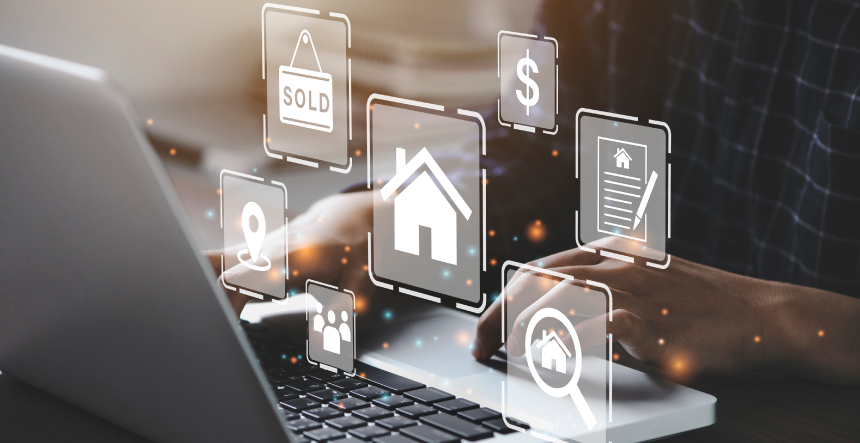 As businesses increasingly rely on digital channels, real estate websites are an essential element. Serving as virtual storefronts to highlight properties and inform potential clients. Yet the costs involved with creating one can differ widely depending on various factors.
In order to accurately ascertain the cost of building a real estate website, it's crucial that you consider factors like design complexity, functionality customization, and ongoing maintenance costs. By understanding these elements, you can make informed decisions aligning with your business goals. In this post, we explore each aspect contributing to building costs, offering valuable insights so you can make decisions for an impactful online presence.
Real Estate Market Overview
It is important to have a clear idea of the real estate industry before exploring the pricing of building a real estate website. This industry faces fierce competition within an ever-evolving landscape of rapidly shifting trends and demands. This is the reason, it is essential that they maintain an effective online presence. It allows them to stay ahead of competitors.
As per the latest studies, over 90% of homebuyers now turn directly to search engines when looking for properties. So, highlights the significance of having a well-crafted yet easily navigable real estate website.
Key Web Development Costs Associated with Real Estate Website
Building a real estate website involves several significant web development costs that should be carefully considered when planning and making informed decisions. Here are the main elements contributing to its cost:
Real Estate Website Design and Development
Designing and developing a real estate website is integral to its overall cost, as its aesthetic appeal and usability play an essential part. An appealing, user-friendly site attracts and engages potential buyers or tenants; costs associated with website creation depend on factors like complexity, functionality, and customization requirements.
Content Management System (CMS)
CMSs are essential tools for updating and managing the content on real estate websites, with popular options like WordPress or Drupal offering various features and customization features that help keep content fresh and accurate. Cost depends upon whether or not an open-source or proprietary system is chosen, plus any required plugins or extensions.
Property Listings and Search Functionality
Real estate websites should feature robust property listing features and efficient search functionality that meet customization and complexity needs, with costs related to implementation varying depending on complexity/customization needs; integration with Multiple Listing Service databases may incur further expenses.
Mobile Responsiveness
As mobile device usage rises exponentially, having a responsive website design that caters to different devices and screen sizes becomes essential. Creating such sites may incur costs depending on their complexity as well as any optimization needs for individual devices or screen sizes required by users.
Integration With CRM Systems
Integrating real estate businesses with CRM (Customer Relationship Management) systems allows real estate firms to manage leads, track customer interactions, and streamline sales processes more easily. The cost for CRM integration varies based on which CRM system and level of customization required – therefore, pricing varies as well.
SEO (Search Engine Optimization)
SEO services can improve the visibility of your real estate website within search engine results pages, increasing traffic from organic search results. Their costs vary based on factors like keyword research, content optimization, link building, and maintenance requirements.
Hosting and Domain
Real estate websites require both reliable hosting providers and domain registration costs that differ according to server resources, bandwidth usage, and security features, with registration costs depending on both extension type and registrar selection.
Ongoing Maintenance and Support
Once your real estate website is in operation, ongoing maintenance and support are critical for its smooth running. The cost of such support varies based on factors like the level of support required, updates required for security measures or bug fixes, as well as the level of expertise necessary.
So, understanding the costs involved with real estate website design involves several key web development costs and their significance, which will help you make informed decisions and budget accordingly. A well-designed, user-friendly real estate website can have a substantial effect on the success of your business by drawing potential buyers/tenants to you while increasing online exposure in highly competitive markets. By considering all the above-listed factors and working with an acclaimed web development agency, your real estate website will meet both its business needs and goals more easily than ever before.
6 Key Factors to Consider While Developing a Real Estate Website
When creating a real estate website, many key aspects should be kept in mind. Not only can these determine cost implications and effectiveness. However, some important criteria to keep in mind may also affect the success of this endeavour.
Some key items for consideration…
Design and User Experience
For any website to succeed, user experience and aesthetic appeal are of equal importance – especially real estate websites. Investing in professional web design services will guarantee an appealing yet functional site design.
Property Listing and Search Functionality
Listing and searching properties is one of the core capabilities of real estate websites, with implementation costs depending on complexity and customization needs.
Integration With Multiple Listing Services (MLS)
Real estate websites often need integration with Multiple Listing Services (MLS) in order to provide accurate property listings that stay up-to-date and accurate. However, this integration process can be intricate, often necessitating developers experienced in this particular form of integration.
Mobile Responsiveness
With smartphones and tablets becoming ever more prevalent in our lives, having a responsive website design that caters to them is now essential. A responsive site ensures its appearance is the same across different devices while offering users a positive user experience.
Lead Generation and CRM Integration
Real estate websites typically include lead-generating forms integrated with Customer Relationship Management (CRM) systems to assist real estate professionals in efficiently collecting leads while managing customer relationships effectively. These features allow real estate professionals to capture more prospects while better fulfilling customer commitment.
SEO and Digital Marketing
SEO and digital marketing services can be instrumental in driving organic traffic and attracting potential buyers or renters, increasing website exposure while driving organic growth. Investing in these strategies will boost the visibility, reach, and performance of any given website.
Prioritizing these key considerations when creating a real estate website will help ensure it satisfies both business needs and its target audience.
How Hiring Model Affects Real Estate Website Cost
Hiring models used to develop real estate websites have an enormous effect on costs; agencies, freelancers, and website-building tools should all be taken into consideration before selecting one for development purposes.
Agency: Hiring a web development agency offers numerous advantages, such as accessing an experienced team with diverse skill sets and receiving comprehensive support and customization of services at higher costs than with alternative hiring models. However, agency services tend to be more costly.
Freelancing: When hiring freelance web developers or designers for smaller projects, hiring them as freelancers may prove cost-effective, and personal attention is often available at more reasonable rates than with traditional agencies or firms. Before making your choice, though, be sure to assess both their capabilities and portfolio before forming an opinion of one particular freelancer over another.
Website Building Tools: There are various website-building tools available that make creating websites with little coding knowledge easier for individuals without spending too much money or being overly complex for users. Although such options are often cost-effective and user-friendly, they may, however, come with certain limitations with regard to customization or functionality.
Selecting an optimal hiring model depends upon factors like budget, project complexity, customization requirements, and desired level of support.
Real Estate Website Cost
Cost estimates for real estate websites vary significantly based on size and complexity; here is an estimated breakdown based on website size:
Small Real Estate Website (1-10 Pages): For those just getting into real estate investing, creating and running their own small website with basic functionalities could cost anywhere between $1,000 and $5,000, such as providing property listings, search functionality, and SEO optimization features.
Medium Size Real Estate Website (10-50 Pages): For medium-sized real estate websites featuring features like MLS integration, lead generation forms, and mobile responsiveness, it will cost between $5,000 to $15,000.
Large Real Estate Website (50+ Pages): An in-depth real estate website featuring advanced features, custom design elements, CRM integration, and robust SEO can cost upwards of $15,000.
Notable here are estimated costs; actual charges could differ based on multiple variables like the complexity of customization, additional features selected, and the model chosen as rental.
Cost estimates of real estate websites depend on various elements such as design, functionality integration, and hiring models. By taking these into consideration carefully and taking them into account when budgeting, the expense for such an endeavour will become clear.
Final Thoughts
Overall, the cost of real estate websites varies based on several factors, including the complexity of design and functionality requirements as well as customization needs. When creating their budget for website expenses, real estate businesses should take into account specific goals for their investment – this investment may provide numerous benefits such as increased visibility, lead generation, better user experience, and the capability of effectively showcasing properties or services. Ultimately, real estate website expenses should be seen as long-term investments toward successful and sustained business operations.