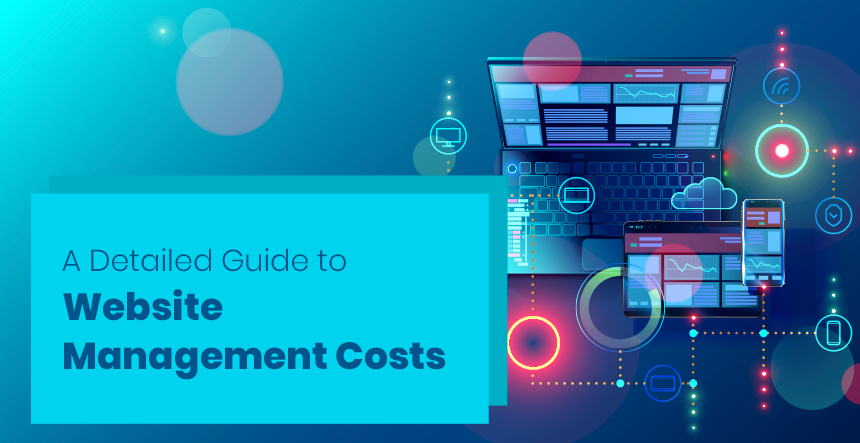 Are you planning to redesign or revamp your website? Or you have any website project in mind but with a limited budget?
Well, if you are lost wondering, "How much does it cost to design and manage a website?" It is a billion-dollar question that most business owners are seeking an answer to.
Our Web Development Experts at KrishaWeb have dug deeper and prepared a detailed analysis to answer your question.
On average it can be $12,000 to $150,000 to create and design a website, and maintaining the website can range from $400 to $60,000 per year approx.
Are you wondering why this range is so large? The website design and management price depend on the type of website and the route taken to build the website. The best cost also depends on the following factors, such as –
Time and energy are required to build the website.
Design and technical skills put into while developing a website.
Size and style of the website.
Hosting and domain services.
And the extensions you add to your website.
If you decide to build your website using DIY website builders like Wix and Squarespace the cost starts from $12 per month and can range up to $500 per month. On average the cost is $200 to build a website and $50 per month to maintain it. But, each of the free plans of these website builders is ad-supported and requires you to use a sub-domain. Thus, to remove the third-party ads you will have to upgrade to premium plans.
This estimate is a little higher if you hire a freelance developer – the expected charge can be around $6000 to create the website and $1000 per year to maintain the website. Or you can hire a web development agency for the task, which can cost you $100,000 per year plus the maintenance charges.
Content management systems give you more control over the content and design. The cost of creating and maintaining a CMS largely depends on open-source or proprietary software.
This article will help you understand the pros and cons of various website development and management alternatives. Check out this table that outlines the major investments required for a website.
| Website Feature | Cost |
| --- | --- |
| Software | $0 to $25,000 per month |
| Web Hosting | $3 to $400 per month |
| Domain Registration | $3 to $25 per year |
| SSL Certificate | $0 to $250 per year |
| Design | $0 to $200 |
| Extensions | $0 to $200 per extension |
| Maintenance | $400 to $60,000 per year |
| Total | $439 to $365,475 per year |
Software Costs ($0 to $25,000 per year)
Software is the first and foremost choice that you will have to make before building any website. You can choose from open-source software like WordPress or proprietary software, like CMS Hub.
Open-Source Software
They are completely free to download. You need to take care of other costs like hosting and SSL certificates. If you choose to opt for open-source software you'll have to purchase additional tools to secure, update and maintain your website. Some popular free content management systems are – WordPress, Joomla, Drupal, etc. For an enterprise website, you might require custom CMS to build your website which will cost you around $10,000 to $35,000 to develop.
Proprietary Software
Proprietary software like CMS Hub often takes care of your website hosting, security, and update of your site. All you must do is pay monthly fees for the same. A proprietary website builder like Wix offers plans starting from $14 per month and CMS Hub Professional plans start from $300 per month. The enterprise plans are expensive, example the CMS Hub Enterprise plan starts from $900 per month and Contently ranges from $3,000 to $25,000 per month.
To sum up, depending on the software type (open-source or proprietary software) the total cost of software can start from as low as $0 and range up to $25000 per month.
Web Hosting Cost ($3 to $400 per month)
The web hosting costs are included with proprietary software but, you'll have to manage the web hosting costs when you opt for an open-source solution, or you decide to build a website from scratch. Different types of hosting services provided are –
Shared hosting: Beginner-level hosting which is ideally suited for blogs and low traffic websites with a static page. It is the cheapest hosting where your website shares the server with multiple websites.
VPS: Virtual private hosting is the next step from shared hosting, with all the indents and purposes it seems that you are running your website from your server. But, your website is still hosted on a server shared with several websites, but they are few – thus your site performance is better.
Dedicated hosting: In this case, you pay for your server. Based on the power these services are tiered, as well as whether the web host manages the services or business manages it in-house. Hostgator provides an impressive, uptime and unmetered bandwidth in all its dedicated hosting plans. The prices start from $119 to $149 per month.
Cloud Hosting: Cloud hosting is a group of servers working together for your website, if one goes down then another takes up. It is an optimal option for large-scale businesses because they are not cheap.
These services can range from $3 to $400 per month. However, shared hosting is the cheapest and the affordable one, as your website shares the server with multiple websites.
So, now if you are a small business and have created your site on WordPress.org, then you might sign up with Bluehost's Starter plan for $2.95 a month. The plan comes up with 24/7 tele-support, a free SSL certificate, and a domain name included for a year.
Domain Registration Cost ($0 to $ 25-year average)
The URL is your website's address on the internet. It is quite important for your web presence. A good domain name reflects your brand identity and makes the site looks professional.
All the hosted and self-hosted platforms include the domain name with their plans. Some website-building platforms like Squarespace and third-party hosting providers like Bluehost include free domain registration for a year with their plans. Other platforms like CMS Hub and SiteGround require a purchase of domain from a third-party vendor like GoDaddy or Namecheap.
Cost of a Domain Name
Buying a new domain and renewing one can cost you $12 per year – but there can be a slight variation in the prices depending on factors such as –
Domain Registrar: Various domain registrars charge differently depending on available domain names, privacy, and expiration fees. There are several domain registrars such as GoDaddy, Namecheap, Domain.com, Hover, and Google Domains.

Domain.com offers domains for as low as $2.99 annually and most .com domains are available for $9.99 annually.

Domain extensions: The real game in buying the domain name relies on the extensions. The most favourite extension is the .com, it is the most popular and expensive one. The cost of a .com domain typically ranges from $12 to $15. Other less popular and less expensive extensions are .org, .site and .biz. Their prices range between $7 to $11.
Domain privacy and protection: These features will add protection and privacy to your domain. All the domain-related data, personal information like name, address, phone number, and email are listed in the public WHOIS database and are available to everyone to search. Data protection will prevent data from being publicly displayed and save you from threats and attacks on your website. For domain privacy and protection, you'll have to pay $10 per year but it will be worth it in long run.
Terms of registration: Why buying a domain name, you'll have the option to choose the tenure of your purchase. Purchasing for a year will allow you to pay the least amount upfront, but you'll have to renew it every year. Several domain registrars offer discounts for multi-year purchases, which is appealing as you'll not have to worry about the renewal process.
So, keeping in mind all the factors, the cost for your domain can be as little as $10 for a year or $0 if you get it from your hosting provider or website builder.
SSL Certificates
An SSL certificate provides an extra layer of security to your website. A padlock and a secure (green) indication will make the customer/user will feel safe while browsing your site. SSL is a standard security technology that secures sensitive customer data such as payment details, and passwords.
SSL certificate includes – a domain name that the certificate was issued for, name of person or organization, name of certificate authority, the digital signature of certificate authority, associated sub-domain (if-any), expiration date, and the public key.
Some of the web hosting providers like CMS include SSL certificates with their plans. For Example, Hostinger and Bluehost include SSL certificates with their plans. If your hosting provider does not give free SSL certificates with their plans then, you need to purchase one from SSL certificate providers such as – DigiCert, Comodo SSL, GeoTrust, GoDaddy, etc. Most of these certificates range from $10 to $300, depending on the provider, plans, and services.
Design Costs
Many content management systems, especially WordPress, provide free templates and themes that allow you to change the look and feel of your website instantaneously.
Several website builders like Wix and Shopify provide DIY tools where you can choose from a variety of templates for each theme/industry and later customize using the drag and drop editor.
These methods will help you quickly redesign a theme according to your business without needing to start from scratch.
These platforms offer a few free templates, for a more unique and premium look, you'll need to buy the themes. And later hire a designer to customize it. For example, out of the total 72 themes offered by Shopify, only eight are free and the price range for others can be $140 to $180.
For a more customized look, you may look to hire a UI/UX Designer for a website for your brand. The designer's cost will depend on the number of pages and the complexity of the design. The cost can be anywhere from $5,000 to $25,000.
Extensions Costs
Once your website gears up, you don't want it to be confined by limited features. You can buy or download out-of-the-box extensions to add features to your website.
With the plugins, you can add forms, live chat to your website. You can also add and optimize a blog page, or add an event listing directly to your site. All platforms offer a plethora of extensions, such as –
WordPress has over 58,000 free plugins available.
Joomla has around 6,100 extensions and plugins.
Magneto offers over 1,000 free extensions.
Once you start your website, you'll need visitors, increase your traffic, and raise your website ranking. So, you can explore SEO or social media tools.
SEO: Search engine optimization is a series of tasks that determine your website ranking. You can sign-up with Semrush a premium keyword magic tool with plans starting from $99.95 per month. Also, you can hire a digital marketing firm with incredible numbers. The more credible a marketing firm is the more money they'll charge, but the results will be incredible. SEO is an ongoing battle and your website needs to stand a step ahead of its competitors.
Social Media: Social platforms are one of the most efficient platforms to promote your business. With video, graphics, memes, statistical information, etc. you can creatively promote your offerings. For social sharing and posting you can signup with Hootsuite to schedule your posts on several social media platforms such as Facebook, Twitter, Instagram, etc. The plans start from $29 for a single under the account. You can also, hire a social media marketing agency to take care of your social presence. Depending on the agency an estimated cost can be $250 to $2,500 per month.
You might also need other features and tools for lead generation, content marketing, copywriting, PPC, reporting, and more.
Website Maintenance
After designing, developing, and hosting, you'll need to timely maintain your website. The amount of maintenance required depends on the website complexity, the number of plug-ins, and the custom-made code used.
Domain name and SSL certificate renewal will cost you an annual fee. For the software and web hosting plans, you can decide the tenure of your plan. These sites give the option to play for the plan upfront or break into monthly/yearly instalments.
Your biggest expenditure in maintaining the website can be a website redesign. The cost of redesigning a website typically ranges from $1,000 to $20,000 depending on the platform you are running the website, the CMS you are using, and how much customization is required. There are a few website builders that allow you to add custom CSS and HTML to the template and even build new website pages from scratch. But, if the website builders don't have such features then you can hire a web design agency.
If you are looking for additional features then you'll have to download or purchase additional extensions or plugins. For example, if you feel your website has become slow with time, then you can use a caching plugin. If this plugin is not available with your CMS platform or website-building platform then you'll require to hire someone for the job. This can cost you a few hundred or thousand dollars.
To sum up, the total cost of maintaining a website can cost you $400 to $60,000 per year.
Conclusion
With hundreds of combinations and options to build a website, predicting the exact cost of the website will be difficult. But, we have added the minimum and maximum cost that you'll have to spend is $439 to $365,475 per year for building, designing, hosting, and maintaining a website.
To sum up, you'll have three basic options for your website design –
Using a website builder like Wix or Squarespace
Using CMS like WordPress
Hire a web development agency.
If you have a fair budget and need an expert hand in creating your business website then we'll recommend you hire a web development agency. These agencies have dedicated developers, designers, copywriters, etc working on your project. Most of the agencies have hands-on experience in managing complex or custom designs and handling the website like a professional.
Building a website is not expensive, you just need to figure out your needs and then decide on a platform. If you pick the right method, you'll add great value to your business and your website.
Happy Website Designing!