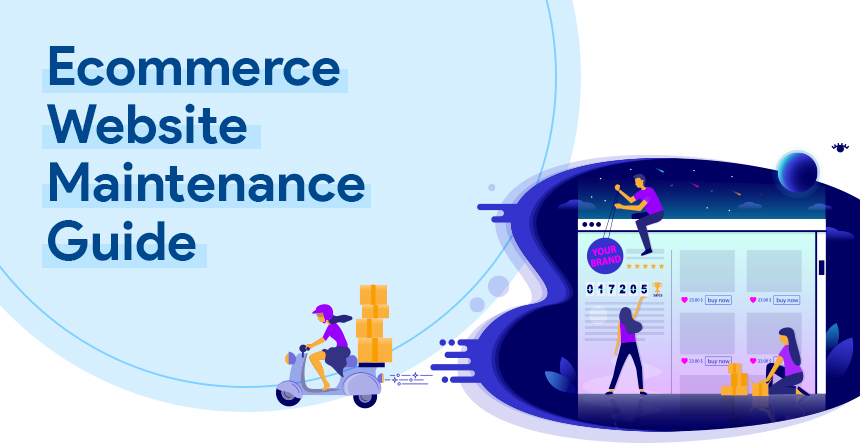 According to Forbes, online store spending has increased by 77% in May 2020 and this trend is supposed to continue in the upcoming years. The number of digital shoppers in the USA is likely to reach more than 230 million by 2021. However, there are thousands of e-commerce websites and all of them are trying to attract the target customers. Thus, creating a responsive and user-friendly shopping portal that is filled with the latest products is not enough. These websites need routine maintenance in order to deliver the best possible user experience.
Benefits of Ecommerce Website Maintenance
Reduced Cart Abandonment
Abandonment is a term that is commonly used in e-commerce in order to describe a particular behaviour of a website user in which the user abandons a webpage without finishing the desired task.
For example, a visitor may add items to the shopping cart, however, may leave the website without making any purchase. This type of behaviour is known as the shopping-cart abandonment.
It is possible to reduce the frequency of shopping-cart abandonment through proper maintenance of an e-commerce website. It enables you to notice and fix the technical glitches before it is noticed by a visitor.
Improved User Experience
If you want to provide the best experience to the users, then you have to examine the usefulness of every feature on the e-commerce portal from their point of view. You may ask yourself the following questions.
Can you effortlessly navigate around the e-commerce portal?
Are new products being shown on the landing page?
It is possible to find the contact details, easily?
It is important to keep everything organized on an e-commerce portal so that users can easily find the products of their choice. It is equally important to ensure that navigation remains straightforward. You can guarantee smooth user experience as well as the shopping journey at every point of the e-commerce shopping portal through proper maintenance. You may use the 'Product Mapping' to learn where to put the products on a website and how to link all products.
Software Updates
It is essential to routinely update the software program (used to build an e-commerce portal) in order to ensure maximum online security and smooth performance. For example,
If the e-commerce website has been built on WordPress, then you have to update the main software, themes and plugins routinely (WordPress releases at least one official update per month).
You have to keep the software program updated at routine interval irrespective of its type. However, it is important to maintain a back-up of every essential feature before updating the software.
Fresh Content
To ensure better user experience, you have to keep updated content on the e-commerce portal. You may lose the viewers if they have no updated information to read or to watch on a video when visiting the website. It sends a wrong message to the potential as well as current customers. They may think that the business is not running successfully, or it does not get your attention. You can keep updated content through routine maintenance of an e-commerce website.
Advantage of Using Latest Features
Website technology is advancing at a rapid pace and you may take advantage of the latest technology through website maintenance. For example,
More than 4 billion people around the world or 53% of the global population use social media. It has been found that social media drives 31% of the referral traffic. You may add some latest features to your website in order to integrate the e-commerce platform to social media and to have a slice of the aforementioned referral traffic.
You may even add new technological features to tighten the security of e-commerce platforms. You may invest in SSL certificate to improve a website's security, as it can encrypt the communications and guarantee the security of the customers' personal details.
What Happens If You Don't Maintain Your Ecommerce Website?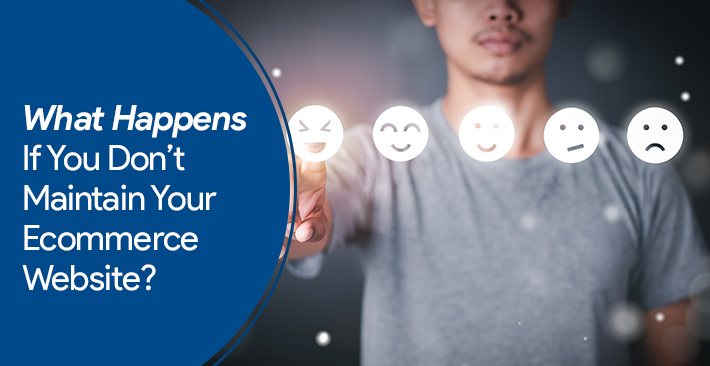 Websites with Inadequate Security are Prone to Hackers
Website hackers are expert computer programmers and have advanced technical skills. They can steal valuable data from your website if there is inadequate security. This type of breach in security may hurt your business alongside damaging the brand's reputation. You can keep the security features updated through routine eCommerce website maintenance and can avoid security breaches.
Website May Fail to Future Updates
All types of websites need to remain updated with respect to the basic web standards, coding and languages; otherwise, a website may fail when being updated in the future. For example,
The HTML and CSS codes change each year. In this scenario, your e-commerce platform may carry around a lot of codes if it were developed a few years ago and has not been maintained properly. A website may slow down due to this reason.
May Become Suspicious to Web Browsers
Phishing websites are deceptive websites capable of collecting the personal information of the users. The web-browsers may consider your website to be a suspicious website if it has not been properly built or maintained and has inadequate security features. In this scenario, your e-commerce platform will receive less online traffic and will have fewer sales.
Irregular Updates may Decrease Rankings
Google keyword ranking is a website's position on Google when someone searches using a particular phrase or keyword that may relate to the website in any way. This rank is provided by Google and you have to use unique content on the website if you want to avoid falling down the Google ranks. Using updated and unique content, you can have improved SERP. On the other hand, the SERP may dip in the absence of routine website maintenance.
May Decrease the Traffic Flow
Webpages, links and other elements of your website may not work properly due to lack of maintenance. If the visitors to your website notice this issue, they will avoid your website. If Google notices this issue, then your website will notice a dip in SERP ranking and will receive less online traffic. This decline cannot be easily arrested. However, it is possible to prevent this issue through routine maintenance.
Types of Ecommerce Website Maintenance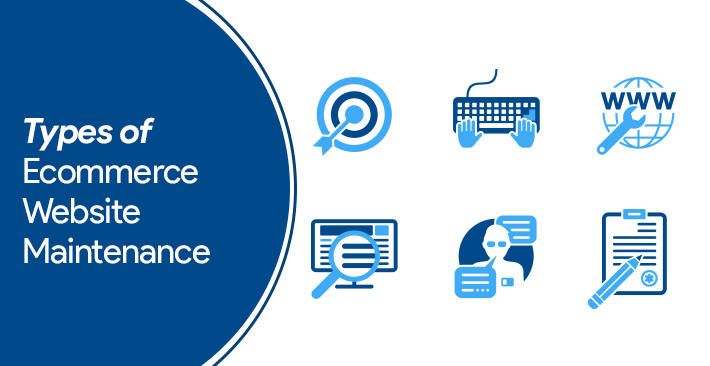 Security Maintenance
Website hackers always search for vulnerabilities in order to breach the security features of a company's website. Therefore, the primary reason for the maintenance of an e-commerce website is to provide it with improved security. If hackers can break into an e-commerce website, then it may become possible to access the details of customers along with their financial information.
Therefore, routine maintenance scans are paramount to ensure the security of a website irrespective of the type of CMS that was used during the development of an e-commerce platform. It enables you to find out the vulnerabilities of your website's security and fix them before being found by the hackers.
Marketing Maintenance
Marketing maintenance is another type of e-commerce website maintenance, as digital marketing can increase online traffic by driving people to a website whilst improving a website's SERP. Through marketing maintenance, your e-commerce website will have updated content in different forms (products, blogs, SEO articles, social media posts, e-mails, GIF, messaging, videos etc.).
You may use a web analytics service, such as Google Analytics, to understand the nature and demands of the target customers. This type of web-analytics service enables you to discover the elements of your website that work and the elements that do not work. You can also explore the behaviour of the visitors to your e-commerce platform using a web-analytics service and will find out what is missing on an e-commerce platform.
Storefront Maintenance
The success of your e-commerce website largely depends upon a good first impression and you can accomplish this goal through storefront maintenance. The visitors to your website may leave the website without looking at the products if they are dissatisfied with the first impression. Hence, you will lose prospective customers and you can avoid this risk through storefront maintenance.
What About Website Maintenance Costs?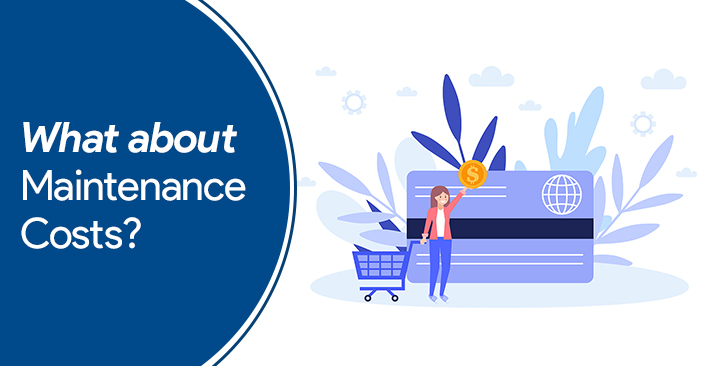 The cost of properly maintaining an e-commerce website depends upon various factors such as business' size, type of platform, conversion rate, back-up and migration services etc. The average cost of maintenance for the e-commerce websites of varying sizes is as follows.
Small-Size E-Commerce Website (Around $4k-$50k sale per year)
Backups/Migrations – free (based upon the platform's type)
SSL certificates – free
Security – free
The hosting costs $11.95
Domain registration and renewal – $1.25 per month (based upon the selected site)
Additional plugins – $10
Medium-Size E-Commerce Website (Around $10k-$120k sale per year)
SSL certificates – free
Domain registration/renewal cost -$1.25
Hosting costs – $19.95
Cost of backups/migrations – $7.40
Website plugins – $20
Security – $17
Large E-Commerce Website (around $40k-$500k sale per year)
SSL certificates – free
Domain registration/renewal cost-$1.25
Hosting costs – $200
Cost of backups/migrations – free (based upon the platform)
Security – $25
Website plugins – $40
Options for Website Maintenance
You may retain the service of a freelancer or hire a team of e-commerce professionals or consultants for this task. You may even use the in-house marketing team for the eCommerce website maintenance. The best option for the maintenance of your e-commerce website depends upon your unique requirements.
Conclusion
Ecommerce website development and website maintenance are two completely separate tasks. However, both of these processes entail a lot of tasks and have to be performed by a web-expert. If you continuously update an e-commerce website with routine maintenance, then you can stay ahead of the competitors, by offering the best user experience to your target customers. The task of maintaining a website also becomes simpler with routine maintenance.