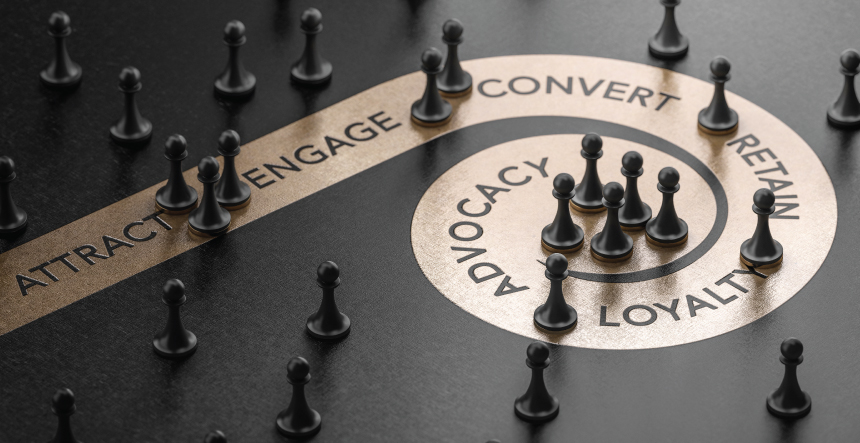 Each customer has a story – every interaction they do with your brand becomes a part of their story and a step ahead in the Customer Lifecycle Journey.
A whip-smart marketer understands the gravitas of the first encounter between the customer and their brand. Understanding potential customers and winning over them takes time. Marketers invest a lot of money and energy to build trust and loyalty.
Companies need a long-term view to build a strong relationship with their customers and understand the Customer Lifecycle marketing; this will make their existing customers come back again and again for purchases.
Customer lifecycle marketing helps marketers to attract, engage, and retain customers. This helps them to increase their revenue, flourish profits and grow their brands. The focus of customer lifecycle marketing is to bring in customers and turn them into brand promoters. This improves the overall Net Promoter Score of a company.
This guide will cover the following aspects of Customer Lifecycle Marketing –
What makes lifecycle marketing effective?
How can businesses apply marketing strategies to retain customers?
What are the various stages of customer lifestyle marketing?
Let's dig in…
What is Customer Lifecycle Marketing?
A buyer's journey starts as they buy from a brand, become a loyal customer, and stop buying/using the product or services. This unfortunate exit has become a common part of the customer lifecycle.
Lifecycle marketing attempts to influence customers and stop them from reaching that dead end. It makes sure the customer continues its buying journey and makes them an active consumer i.e., gets them to circle back.
Understanding 6 Stages of Customer Lifecycle Marketing
A customer's lifecycle is the buyers' journey until they make a purchase. A customer passes through different stages whilst creating a relationship with your brand and making the final purchase.
As a marketer it is important to understand the customer lifecycle, plan your strategies and fit your promotions in the purchase funnel. 6 Stages of Lifecycle Marketing are –
Awareness
This is the stage where you can target new customers and expand your customer base to increase awareness. The goal of this stage is to increase brand awareness and bring in potential customers on board.
Engagement
This is one of the most active stages of the marketing funnel. At this stage, you can engage with your audience, interact, and create an engagement about your product. You can use the website, blog content to drive traffic or rely on another call to action to draw a deeper connection with your customers.
Evaluation
This is the closest phrase that addresses any questions, queries, or roadblocks hindering the purchase. At this phase, customers compare and evaluate your products to confirm that your brand is the best. This stage involves niche marketing, and it is important to provide details such as features, pricing, and value to your customers.
Purchase
Yaay! Any potential customer making to this stage is regarded as your customer. Your customer has made up their mind on what they want to buy. This is the time where you help them while completing the purchase. Provide a simple call-to-action button and remove any friction that might hinder the purchase process.
Support
This is where you must provide post-purchase service to your customers. These services hold utmost importance as people tend to leave after their first purchases and post-purchase support moves customers back into the sales funnel. Marketers need to make sure people are satisfied with their purchase; position your brand to sell again and retain customers with the lowest churn around percentage.
Advocacy
Only happy customers tend to reach this stage. At this stage of the marketing, funnel customers have created brand loyalty. Marketers' ideal goal at this stage is to turn loyal customers into brand advocates. This will help your business get more buyers by word of mouth and increase your net promoter score.
The customer lifecycle is linear, and it should continue repeating itself. Customer retention can stimulate brand advocacy and create a stronger relationship. You can remain connected with your customers via loyalty programs, exclusive offers, rewards, and cashback, referral programs, etc.
Best Examples of Effective Lifecycle Marketing 360 (drift)
Customer lifecycle marketing is just like any other marketing strategy. We have curated a list of strategies followed by various businesses during their customer lifecycle.
Overstock
It is very important to greet your customers when they come onboard. Overstock connected with the people during the awareness stage. A welcome email is sent to all the users who signed up via a new account. The email contained information about discounts, the perks, and the benefits of joining the company's loyalty program.
HotJar
Check out this example of HotJar. They addressed the evaluation stage with a blog post. They openly compared their product with their competitor – Fullstory.
The blog post was not one-sided, instead, it gave some clear insights and an in-depth breakdown of which services the customer should choose. Marketers can use such techniques with social ads to target potential customers.
Vircom
Vircom an anti-spam software company presented a great example of the consumer engagement stage. They prepared a white paper called "Why Spammers Spam". The paper explained the motives and the methods used by the spammers. The marketing team strategically used the white paper and successfully bought leads down the funnel. The goal of the paper was to increase engagement and increase awareness about spam practices.
The results were surprisingly good, the paper got more than 2,200 downloads, got news coverage, and generated more than 21 sales of a total of $95,000. This successful story describes the importance of engagement via content, which can create buying awareness.
Mattress Firm
Look at an excellent example of post-purchase support. Mattress Firm knows that a customer is very unlikely to come after 6 months of making a purchase. People tend to change their mattress in 15-20 years, so to reconnect with their customer's Mattress Firm started a campaign – "Replace Every 8". This campaign informed customers about changing mattresses every 8 years.
With this campaign, customers moved to the top of the lifecycle funnel. The customer might not be visiting the store every month or year, but this campaign will remind them that it is time to buy again.
Instagram
Instagram is doing well in the advocacy stage. The platform heavily relies on brand advocates. The influencers drive sales via promotions, but they also help Instagram get more sign-ups and allow users to stay on the platform.
The popular photo-sharing platform listens to its user; its recent change in the "popular post" algorithm was not accepted well, and people complained of missing the updates. Instagram switched the algorithm and made the newer posts appear at the top. The platform is known to cater to the needs of its influencers, for example, the recently introduced Reels. The social media platform understands the value of its loyal customers and influencers.
Starbucks
Another great example of keeping the audience engaged with offers and personalization can be seen with Starbucks. The famous coffee retailer provides gold standard loyalty programs to its customers.
They provide their customers with a mixed experience of personal email and free offers on both online and offline platforms.
Final Words on Customer Lifecycle Marketing
To increase ROI, the marketers need to leave behind the linear buying funnel and focus on the cynical customer lifecycle marketing strategies. Customer lifecycle marketing is not new, all the strategies discussed such as email marketing, newsletters, social media campaigns are familiar ones. Thus, it comes crucial as a marketer to align the content type, and message with the consumer and brand goals. This process will save money on acquiring new customers, you can retain the existing customers with minimum churn time and spend less on marketing tactics.