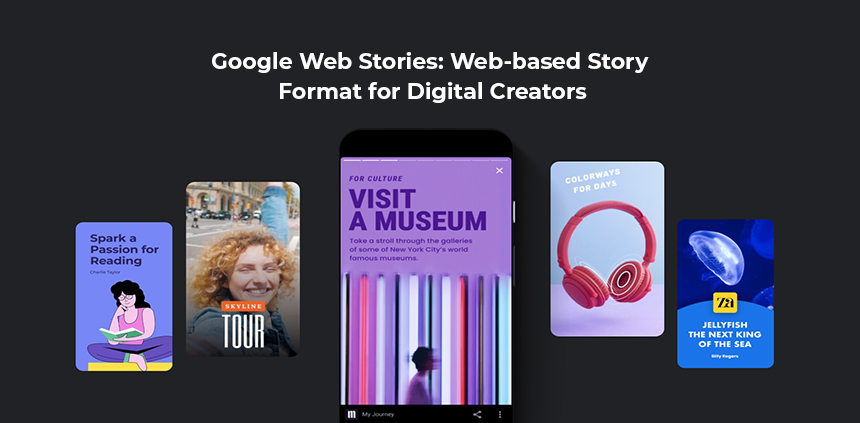 We all know, the audience loves to engage and interact with stories. The tappable story format is more accessible now – to creators and audiences alike. Many social media platforms have already been using these tappable stories and our very own tech giant – Google has its own version.
So, let's go through it…
What are Google Web Stories?
Web stories are visual slideshows. They became popular with Facebook Stories and Instagram Stories. The web stories are powered by AMP technology and are now owned by Google.
Web stories give the user a fast-loading full screen, dynamic consumption experience. A typical web story can contain engaging animations and tappable interactions. Creators can use visual narratives in the stories with a combination of video, audio, images, animation, text.
The advantage of Google Web Stories over Instagram or Facebook stories is that you can host them on your website. You can also add a call to action to encourage the audience to visit your website. Along with CTAs, you can also include links and Google AdWords.
Apart from your website, the Google Web stories can appear across Google Searches, in Google Discover, and also through Google Images. Read along this guide to understand how to enable their appearances. As a creator, you can use the resources on creating stories, without any coding involved.
What do Google Stories do?
Google Web Stories allows content creators to host and own their content across the internet. A web story is a succession of images, videos, text, audio, or a beautiful combination of all and unlike Instagram or Facebook stories, they don't disappear!
Google has described its version of web stories as 'Fully Immersive', 'Best in class' and 'amazingly engaging'.
Several brands have incorporated Google Web Stories to engage with their audiences, to list a few –
Vice
NDTV
Bustle.com
Vogue
USA Today
Gannett
Forbes
Group Nine
The Times of India
Where do Google Stories Appear?
Google Web Stories can appear anywhere across the web – this is one of their most special features. This is what makes Google web stories unique from their competitors.
On Your Website
The Instagram Stories and Facebook stories need to be viewed on the respective platforms, but the Google Web Stories can be hosted on the creator's own website.
The publisher can create stories for any website, animate any element and make the overall experience of their audience richer, as there is no limitation put around content, unlike other competitors' apps.
Google Discover
It is a very recent update (in October 2020) when Google bought web stories to Discover. The google web stories will now appear in Android and iOS in the form of a carousel near the top of the feed, available in the USA, India, and Brazil. They can also appear as a single card, available in the USA.
It is very simple for viewers to browse through stories, tap on the story and get a full screen and immersive experience. Tap to move forward to the next slides and swipe to see the next story.
Google Search
Google web stories also appear in the search results like a web page. Marketers can use the web stories above competitors, this will increase your website's accessibility and credibility from the SERPs.
They appear in grid view and single search results in the Google Searches. The grid view shows multiple web stories from various publishers and is available in the USA. The single result is available in all regions and languages where Google Search is available.
Google Images
Google web stories also appear in the Google Images with a web story icon and are available across all languages and regions where Google Search is available.
In Your Publications
Google web stories can be practically used everywhere, as they are hosted on your servers. The web stores can be embedded across various digital communication channels such as – emails, and digital brochures.
They do Appear on Multiple Devices!
Marketers can render their web stories to appear on various devices such as mobile, tablet, and desktop browsers. The AMP technology will stimulate your stories in different device sizes and formats.
How to Create Web Stories?
Under the hood, web stories are just web pages with images, animations, videos, and text and should follow all the necessary guidelines that apply while publishing regular web pages.
There are two ways to get started…
Third-party Tools
You can use several story editor tools and start creating stories with no coding involved. Several tools are available, such as Newsroom AI, Web Stories for WordPress Plugin, Make Stories and more. Check the full list and proceed with the one most suited for you.
A disclaimer by Google regarding the tools – "Tools listed here are for informational purposes only. By listing tools, Google does not endorse these partners or make any representations about their quality."
Get Started with AMP!
Web stories are basically in accelerated marketed page format. You can go to the Google stories website and click on the link to Developer Docs. You'll be redirected to the "AMP Stories Guides & Tutorials", here you can get started by creating your first AMP story, design layout, and features, optimize your web stories or acquire the fundamentals of how AMP works.
AMPs are beneficial when –
You are looking for a custom design.
You have engineering resources.
You have hands-on coding experience and look to explore the developer's tool.
Check for valid AMP Stories –
For your web stories to yield the best performance and experience make sure the story you developed is a valid AMP. A valid AMP passes various AMP specifications. You can also use the following tools to check for a valid AMP –
Web stories Google Test Tool to check if the web story is valid.
URL inspection tool checks if the web story is valid AMP and the Google Indexing status of the URL.
AMP linter validates the AMP pages.
Check Metadata
For the stories to appear on searches and discover, input the necessary metadata for your Web Story. You can use the full list of metadata and verify that your Web Story preview is apt via Web Stories Google Test Tool.
Following fields are required on every web story – publisher-logo-src, poster-portrait-src, title, and publisher (refer to the image below) –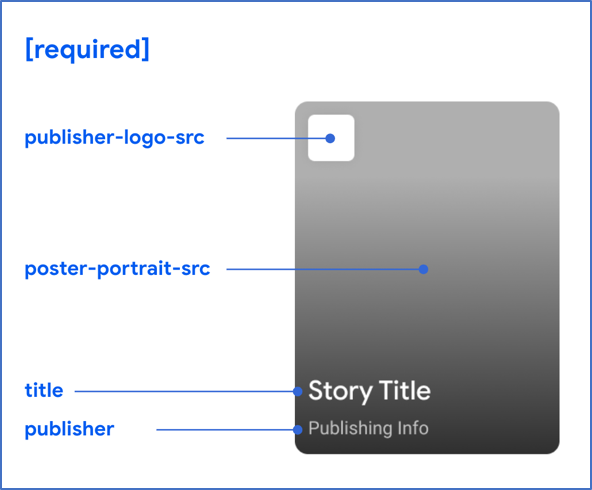 Image Source: Enable Google Web Stories
Make sure your web story is indexed, use URL inspection tool, or review index using Index Coverage Report or Sitemap report.
WordPress Integration
WordPress and Google have partnered to create a plugin, which will allow the creators to create and publish stories directly to their WordPress site. The benefits of this plugin are –
The web stories get included in the site's XML sitemap.
Creators can get their metadata for the web story.
How Google Web Stories Helps Marketers?
With google web stories will look more visually appealing, thus they enhance and add value to the overall look and feel of your website. Ultimately, it will act to drive more traffic to your site.
There are several other benefits of Google Web Stories such as –
Integrate with the Website!
Marketers can showcase their stories on their website itself. This means all the traffic can be pulled at your website itself, and not be confined to the walls of social media sites. Unlike Instagram and Facebook stories, Google Web Stories can be published and found anywhere on the web such as Google Search Results, Google Discover, Google Images, various communication channels like email. Any click on the story will be converted into website traffic, thus increasing the overall creditability of your brand.

Include Ads
This is one of the major benefits of Google Web Stories. The publisher controls all the ads that appear in their Google Web Stories. Extend your stories to your YouTube videos, blogs, articles and even monetize affiliate links. As a marketer, you can integrate ads in your web stories, including both direct-sold (affiliate links) and programmatic ads. Programmatic ads are available to all publishers using Ad Manager and AdSense. They can be configured using <amp-story-auto-ads> tag.
For any ad posted by the publisher. This will help publishers to start earning via their web stories. Thus, the monetization benefit i.e., 100% ad revenue entirely goes to the publisher.

Enjoy Complete Control
Enjoy complete control and freedom over the Google Web Stories. As the stories are posted on your website, the copyright of the content is yours.

Content creators can choose a topic at their own discretion.
Unlike social media sites, there is no limitation in choosing the type of content.
Google holds no right over your content.
However, Google has posted some guidelines in their Web Story Content Policies and warns against the violation of the Web Stories Content Policies which can lead to permanent damage to your site.
Fit Your Brand with interactive elements!
Google Web Stories give their publisher full command on every pixel. Every pixel, every element of the story can be curated to fit the style of the brand. There are no design restrictions imposed on Google Web Stories, a publisher is free to choose font, colours, images, videos, animations, text, audio. Stories allow you to feature all the elements seamlessly. A publisher can design and customize the stories according to their brand's style. Web stories can also include interactive elements such as quizzes and polls, however, this is not supported by all story creation tools. Given the flexible nature of web stories, markets can easily play with functionalities and add an extra level of audience interaction to make engaging content.

Responsiveness
Stories allow you to feature full-screen video seamlessly on any device. The web stories are powered by AMP technology, yet they can be responsive and are not designed specifically for mobile devices. The web stories are made responsive, they fit any screen. There is no need for the creators to design separate pages to display on the desktop or suffer a loss on the mobile screen.
CTAs
Not only content, you can share and embed, and also link to your other content. Marketers can make their content more engaging by adding external call-to-actions and links to web stories. A lot of social media sites restrict creators from adding external links or CTAs to some extent. While there are no such restrictions in linking out in a web story. Not only are stories easy to share and embed, but you can also link out to your other content.

Start Your Web Stories on Google…
Narrate your story via Google Web Stories with your audiences and increase your brand's reputation. Google web stories are rich in content and available in an engaging format.
Unlike its competitors the Google Web Stories are not time-bound, they can be displayed anywhere, anytime without any limitations.
You can create a web story on any topic, they can be an extension to any of your current articles or new product release announcement. There are many ways to create web stories for your brand, use plug-ins or AMP. The web stories can benefit your brand and the exposure is worth exploring.