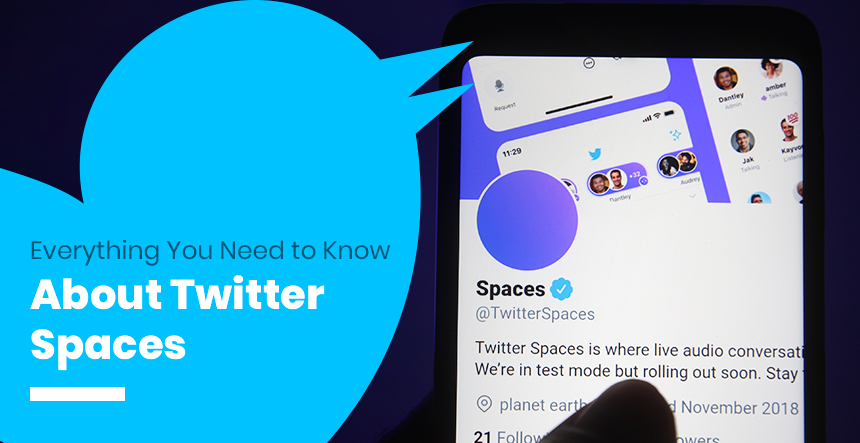 We all are spending our major routine on social media to just browse the news stuff and sometimes to know the current affairs. Engagement purpose varies person-by-person. And on the other side, social media platforms are also busy updating their apps with a better user experience and new features. Alike all other social platforms, this time Twitter has launched a new feature called "Twitter Spaces".
FYI,

This feature is available to all Twitter users having more than 600 followers.
With the Twitter Spaces feature, Twitter allows users to listen and participate in public audio conversations. As per this feature, we can say now Twitter will compete with the "100 million valuation app Clubhouse" which offers a similar audio chatroom experience.
What is Twitter Spaces?
Twitter Spaces is a newly introduced feature within the Twitter app that allows users (with more than 600 followers) to launch, host, and participate in audio chat rooms, similar to Clubhouse offers.
Why is "Twitter Spaces" Gaining the Attention of Marketers?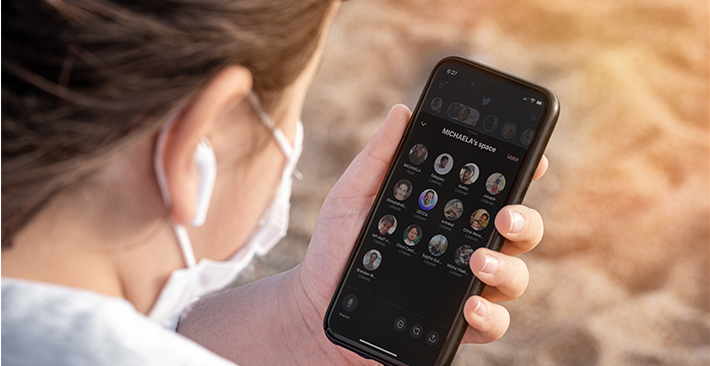 With the launch of Twitter Spaces, marketers are learning that if it could offer brand opportunities that Clubhouse hasn't enabled yet. As both platforms are still evolving, we should keep both of them focused on discovering the best marketing opportunities as they are being better gradually.
Here are the few strengths Twitter Spaces already has over its competition – Clubhouse:
Twitter is having a Huge Audience
Twitter has approx. 330 million monthly active users which includes users from different demographics all over the world. And thus, brands can target and reach audience from different industries and backgrounds. While Clubhouse is still in the quickly growing phase that's why it can't offer that much considerable huge audience base as Twitter does. Apart from this, Clubhouse was initially designed to be "invite-only" and started with a particular small user list of celebrities and influencers. As Clubhouse operates using the "invite-only" interaction feature it is available only on iOS devices for now, while Twitter has announced that it will roll out "Spaces" to Android-based beta testers.
Twitter Spaces would have a Shorter Learning Curve than Clubhouse
Learning how to use and experiment with the new social media app can be a little time-consuming. Not only you need to learn how to navigate it, but also you need to research its top users, brands and trends to learn how to maximize your audience reach. So, keeping the learning curves in mind, the marketers who are experienced Twitter users would not feel that much unfamiliarity with Twitter's new feature. Thus, those active Twitter users will turn to "Spaces" fast and get habituated with it fast compared to Clubhouse.
"Twitter Spaces" seems more inviting to Brands
As Clubhouse's live audio social platform has pulled in users looking for more authentic interpersonal communication rather than brand information, Twitter's audience is more open to seeing the content and advertisements from the brands in the form of Ads, promotional videos and fleets.
Twitter Spaces feature is Visually More Interactive
Clubhouse and other audio apps show listeners just a listener list while Twitter has added more features to make "Spaces" more appealing visually. For example, Spaces listener can react to speaker comment.
How to Use "Twitter Spaces"?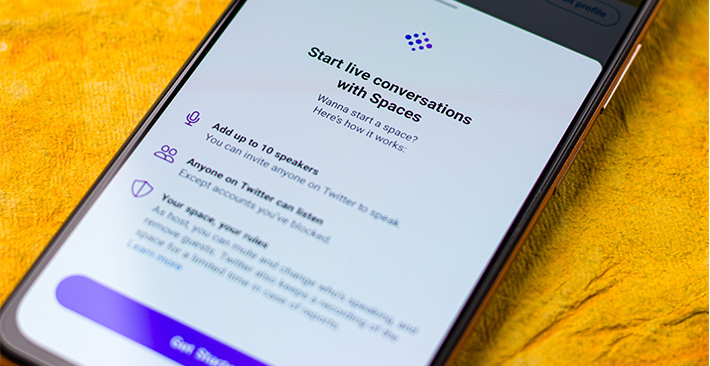 As we know, Twitter Spaces lets you join, listen, and speak. These Spaces can be joined by anyone as a listener, even those who don't follow you. You can invite up to 10 listeners to your Space by sending them a link, Tweeting out a link, or sharing a link elsewhere.
While starting a Space, a host can choose who will speak from everyone, people you follow, or only people you invite to speak, which allows you to send DM invites. After Space has started, the host can grant and revoke speaking permissions to participants in the Space. Listeners can request to speak from the host by tapping on the 'request' icon below the microphone.
Learn how to start a Space in the below-mentioned step-by-step process.
Creating Twitter Spaces
The creator of a Space is the Host. On an iOS device, the host can begin a Space in two ways:
Just long-press on the 'Tweet compose' icon on your timeline and then tap the new Spaces icon (multiple circles forming a diamond shape) on the far left.
Or, tap on your profile image in Fleets, scroll to the far right, and tap 'Spaces'.
Step 1: Your mic will be off when you are creating Space. Tap 'start your Space'.
Step 2: Allow mic access to speakers by toggling 'allow mic access' to on.
Step 3: Choose if you want to see captions or not by tapping the 'view captions button' on or off in your 'Spaces' settings.
You also have the option to add a description or name to your Space. You can modify it at any point while your Space is active.
How to Join Twitter Spaces
Learn to join Twitter Space from your iPhone and Android device.
Step 1: You will be able to see if someone has started a Space at the top of your timeline, next to Fleets when you open your Twitter.
Step 2: Go and tap on the profile of the user.
Step 3: Then, tap 'join this Space'.
Step 4: You will get added to Space.
Step 5: Whenever you want to speak, you can request mic access from the host.
Step 6: After the host accepts your request, your mic will be turned on.
The host of a Space has control over who can speak. The host can also remove, report, and block others in the Space.
Twitter Spaces vs Clubhouse
If you strongly follow communities for your marketing campaigns then Twitter Spaces or Clubhouse could be worth experimenting with and a very effective to reach your target audience on a more conversational level.
If you are willing to use Twitter Spaces, you should also continue to follow Clubhouse. Twitter might have competitive advantages, but Clubhouse is still evolving, quickly growing its audience, and could continue to evolve in the audio-social space.
Ultimately, if you decide audio social media is right for your brand, you'll want to look at each platform's pros, cons, and audience to determine which fits with your best targets. But we would say, right now "Twitter Spaces" dominates among audio social apps.