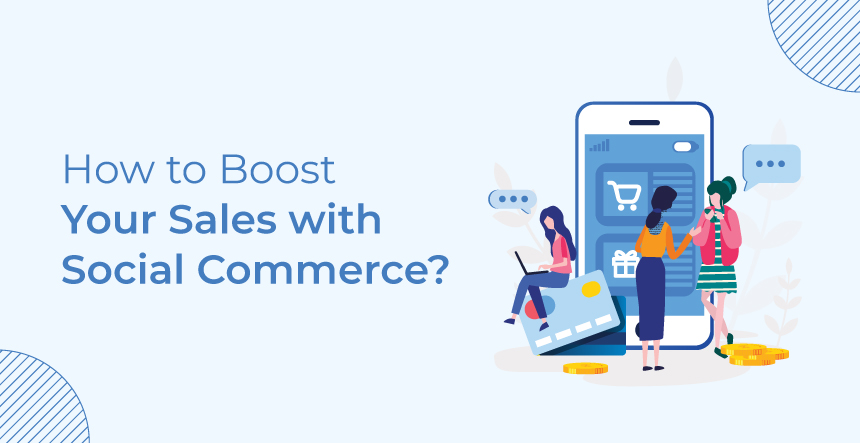 The term social commerce has come into the business in recent years, more so, after the advent of eCommerce stores. This is an evolutionary process in the business where people like to buy from the sites that they explore on a daily basis. Social media platforms are a meeting point for real and virtual friends who share their experiences and feedback on travel, products, and lifestyle. Therefore, the social commerce business is profitable as you already have an audience right there. 
According to the Social Commerce Survey, this sector is growing at the rate of 35.1% annually and the average worldwide sale will amount to $714400.7 million in 2022. It is predicted to grow at a CAGR of 3.3% between 2022 and 2028 with worldwide sales reaching up to $37,55,589.3 million by 2028. Wow, the numbers are overwhelming! Businesses should certainly leverage this digital boom to earn more revenue from these traffic-driven sources. 
Tips to Boost Revenue with a Strong Social Media Presence:
1. Shoppable posts are the key!
What if your customers buy from the place where they are checking products on? If they can buy from social media posts then it simplifies the buying process and makes it hassle-free. Use top social media platforms like Instagram, Pinterest, Facebook, and more, to create shoppable posts that convert to sales.
2. Ride on the Facebook Shops!
Facebook has become the latest business platform for small business owners. All you need to do is generate a Facebook Shop through your Facebook Business Page. These pages are an alternative to online stores and give excellent revenue. Sync your eCommerce store, if you have one, with this page to assure that anything purchased from Facebook reflects in the online inventory of your eCommerce store. 
3. The Instagram method!
Instagram drives nearly 44% of its visitors to make purchases using tags and the Shop tab. Also, the shoppable posts and small videos drive 28% more customers to plan their shopping on this platform. Instagram Shops with an elaborate product catalog work wonders. Also, existing online stores or websites can be seamlessly integrated with this platform to get customers through posts, reels, and stories. 
4. Pinning the products on Pinterest!
Pinterest is the best platform to gain brand recognition. As per statistics, 80% of the visitors tend to check out a new product or brand every week on Pinterest. Social commerce business owners can create product pins on the Shop tab and link them directly to their eCommerce websites to trigger quick purchases. Again, the platform offers features that display product descriptions, prices, and other details straight from the website. 
5. Shoppable TikTok Videos are a rage!
Well, this highly entertaining app can actually generate huge traffic, boost sales and drive heavy RoI. As per the reports from Adweek, 49% of TikTok users have bought products through interactive videos that give product details and reviews. This platform is currently available for Shopify stores only but will soon expand to other technologies. TikTok Business accounts can be linked with product pages to display more details. 
6. Twitter Shopping is the way to go!
Twitter Shops are established for merchants who can display a View Shop button above tweets showing products. When you click the button, it will redirect to the respective eCommerce store. Twitter is expected to launch a checkout feature to enable visitors to make purchases straight from Twitter. 
Top Five Benefits of Social Commerce Business:
There are very many benefits of social commerce especially when it's about brand establishment. Let us check out the top five. 
1. Seamless Customer Engagement
Social media platforms are a gateway to customer interaction. They provide a podium where visitors find a certain level of relativity about their choices, preferences, and opinions. Therefore, they are excellent ways to engage visitors and convert them into a long-term customer. With most platforms offering Shops and Shoppable pages, customers can make an instant purchase without checking a company's website. 
2. Steadily Increasing Audience Base
Social media platforms are the easiest way to launch marketing campaigns and experiment with the choices of the audience. They provide a platform to create interesting marketing jigs that engage the visitors. They are a way to increase your audience base manifold and consistently do so with creative campaigns. These channels should be utilized to build a customer base that remains loyal to a brand forever. 
3. Boost Search Engine Rankings
An average user spends more time on social media channels than on search engines. It relies on these networks to search for products and even buy them. The frequency of using these channels creates a strong digital footprint. Organic posts and product redirections are also the best source of link build-up, customer reviews, feedback, and comments and collectively push a company's search engine rankings. 
4. Customer Loyalty and Retention
Social commerce businesses can essentially leverage social media platforms to build good relationships with their customers. By engaging the visitors and offering the best products or services, companies can build a rapport with their customers. A happy customer is a repeat customer so, these channels are the easiest way to retain customers. 
5. To Offer a Matchless Shopping Experience
With these apps, buyers can simply make a purchase without logging into an eCommerce store and filling up detailed forms. This makes it more attractive as well as simple for anyone to buy online. Therefore, social media business facilitates shopping in a few clicks without any hassles. 
Social Media Trends for this Year
2022 is going to be a great year for social commerce business owners. Experts predict certain behaviors to look forward to in order to optimize sales and revenue. 
Increase in impulse buying
This year will witness an increase in impulse buying as most of the social media audience is young and Gen Z. Small business owners should strategize to attract these customers who are expected to buy from the social media pages of their favorite brands. 
Be at the place where your customers hang out
Social commerce business owners should grab opportunities for instant sales by designing ads, campaigns, and marketing jigs to tap into more customers. A cut-throat marketing strategy involving social networks is the best way to beat your competitors. 
Rapidly changing social media scenario
Trends and viral content are changing the scene of social media platforms. By creating the right ad and keeping up with the trends will help to succeed this year. Unleash creative advertisements to create a buzz about the brand. 
Mobile-friendly strategies
Mobile optimized websites giving exceptional customer experience are a way to go this year. Small business owners should invest in creating mobile-friendly websites to redirect their customers for quick purchases. 
The Final Word!
To sum it all up, social commerce business owners should be optimistic about 2022. This year promises great business provided they know the nerve of the customers. If they are good at analyzing customer behavior and improving their marketing tactics then success is sure to hit their doorstep.

To have an innovative and highly responsive website, hire qualified and skilled eCommerce experts from a top-notch eCommerce website development company.
They will aid you with any business-related challenges by creating cutting-edge eCommerce solutions.