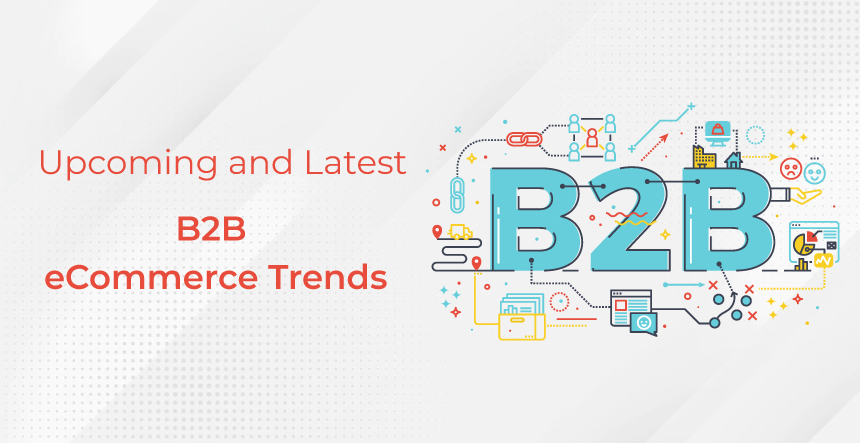 The pandemic has altered every segment of business including the B2B segment which has switched to virtual methods of functioning to connect to their consumers, business associates, and partners. In fact, B2B eCommerce trends of 2022 suggest that B2B commerce is growing at an 18% growth rate while B2C is climbing at 14% every year. 
As per statistics, 93% of customers buy online, and therefore, mobile-friendly eCommerce websites, omnichannel selling, and other ad-hoc ways are coming into the picture. 
What is B2B eCommerce?
Simply put, B2B eCommerce involves transactions including sales of products and services between two business entities through an online podium. The different types of B2B eCommerce include companies having wholesale methods, direct manufacturers, and distributors. 
How is B2B eCommerce evolving?
B2B eCommerce is evolving like never before, perhaps the only positive side effect of the pandemic. If we consider the manufacturing sector then it's recorded that 70% of shipments occur through eCommerce channels. Even the wholesale sector performs exceedingly well as the revenue of wholesale trade was recorded at $350 billion in the U.S. As per Statista, 17% of B2B sales will happen through digital podiums in 2023 and an estimated B2B online sales in the U.S. itself will reach to a whopping $1.8 trillion in 2023. 
Latest B2B eCommerce Trends
Glance through the latest trends in B2B eCommerce sector and how they can be used by companies to get overwhelming success. 
B2B companies are emphasizing direct customer interaction!
Well, the pandemic taught businesses how to function in a virtual environment. Now, B2B companies are launching their customer portals while slashing down the limited results achieved through phones, emails, and fax. In 2022, companies focus on building high-tech portals where dealers and distributors interact seamlessly with the customers and track their orders without any hassles. These portals are designed to create a real-time inventory and offer personalized pricing. Such portals dedicated solely to business are expected to give great results in 2022. 
Efficient monitoring of chatbots to deliver precise answers!
Until now businesses used to have AI-guided chatbots to answer customer queries but, the bots lack precision and empathy. This year, businesses are focusing on delivering more specific answers to their customers. Therefore, human monitored bots will be in trend as they can give more calculated, logical answers that drive the customer to make a quick purchase. If any company does not have this feature, then it's high time to rethink and optimize the website or customer portal with this functionality. 
Manufacturers will offer personalization through ERP logic!
While we consider personalization to the level of showing product recommendations and contextual messages, B2B companies will dig deeper by creating techno-savvy portals. They will offer ERP-based features that are more logical, result-oriented, and foolproof. These features include: 
Customer portals with real-time, personalized inventory

Customer-specific, real-time prices offered through ERP logic

Instant display of credit status 

Instant order checking as per ERP guidelines and display of error messages 

Immediate display of order history and status for customers logged in the ERP
Delivering extra-ordinary B2B eCommerce experience to the millennials!
The fundamental change in B2B businesses will be brought by their millennial business partners. While they prioritize ease of doing business, they are served the same by the manufacturers. Nowadays, companies are choosing foolproof ERP solutions that give actual information and data on their website or portal rather than on phone. This is a comfortable way to deal with millennials who avoid picking up calls so, B2B eCommerce development Company makes all arrangements to deliver solutions on their screens. 
Digital Personalization is certainly trending!
Well, apart from giving personalized answers or chatbot responses that address customers by their names, this year B2B companies would focus on offering better customer experiences. It would be all about understanding their customers and building a solid sales and marketing strategy that is totally customer-centric in approach. It's a way to engage the buyer through creative marketing, on-site content, cross-selling and more. Forbes has predicted that personalization with a rational approach is the best way to reach out to the target audience and sideline competitors. 
Digital transformation through the best eCommerce technology!
Investing in an eCommerce technology is the best way to reach out to B2B customers in this year. In fact, 35% of U.S. B2B businesses consider it on their priority list. This year will witness high-end online solutions that bridge the gap between distributors, customers, and businesses. More and more companies are working on developing online marketplaces through SaaS eCommerce solutions like BigCommerce, WooCommerce, Shopify, Magento, and other technologies. If B2B companies want to grow then they should invest in the latest technology to get manifold results.
Generate more sales with third-party B2B marketplaces!
Amazon has been a classic example of a thriving marketplace where B2B companies find customers who need their products. Such third-party marketplaces would be utilized more in this year to grab a good share of the target customers. They are also used to do market research to know the interests and choices of the customers. Many B2B businesses rely on these sources to attract more customers. Statistics suggest that 15% of U.S. buyers and 20% of U.K. buyers prefer Amazon Business over other portals. Therefore, this year B2B businesses will leverage on these marketplaces as well. 
Contextualized real-time pricing!
B2B businesses will gain more customers by offering competitive, real-time prices to their customers. This will be a game-changing strategy as customers rely on competitive prices, which is the easiest way to retain them and win their loyalty. Adjusting pricing as per the customer's buying journey and eCommerce analytics is going to be the latest B2B eCommerce trend of 2022 and will be polished further in the coming years. 
Whether it's a B2C platform or B2B portal, companies will gain more customers by reducing the click-to-customer cycle. By facilitating a smooth, hassle-free buying process, companies can gain more customers. Therefore, quick order processing will be trending this year and in the future. 
How to know if the upcoming trend works for your B2B company or not?
It does not make sense to ride on every upcoming trend as each B2B business is unique with its individual characteristics. However, the best way is to check research reports and data of your specific industry. Moreover, they should have a keen eye on their customer's behavior and back it up through a data-driven method. Quantitative data analysis from onsite surveys and customer feedback will help. Competitor analysis will also work to know whether a particular trend works for your company or not.
The Conclusion!
To sum it all up, B2B companies are inclined to choose the best eCommerce technologies to create better customer portals and even mark their presence on third-party marketplaces. Companies will be riding high on technology, personalization, and virtual markets. In a nutshell, 2022 will be a rewarding year for companies that choose digital transformation!
If you looking for a trusted eCommerce company with a highly skilled developer, you are at the right place. Speak with our eCommerce expert – Don't waste your time filling up the form, OR just call on +1 310-606-2426 and we are ready to discuss your project…