What is eCommerce?
The term eCommerce or electronic commerce is a method of doing business online, which precisely involves selling goods and services over the Internet. With the advent of smartphones, this sector has expanded its reach to business transactions over mobile phones. The process involves high-tech websites, customer data, encrypted payment options, and everything that facilitates online purchases without disturbing the privacy of customers.

Types of eCommerce Businesses
Categorically, there are seven eCommerce models:
Business-to-Customer (B2C)
Business-to-Business (B2B)
Business-to-Administration (B2A)
Consumer-to-Consumer (C2C)
Consumer-to-Business (C2B)
Consumer-to-Administration (C2A)
Direct-to-Customer (D2C)
eCommerce has been showing a positive growth curve over the years. People wanting to explore this domain should know all aspects of this platform. Moreover, they should be ready to take risks, work on pitfalls, rise up, and pick up from their mistakes. As per statistics, worldwide eCommerce businesses were predicted to show a 265% growth rate and earn a gigantic amount of $1.3 trillion in 2014 to $4.9 trillion in 2021.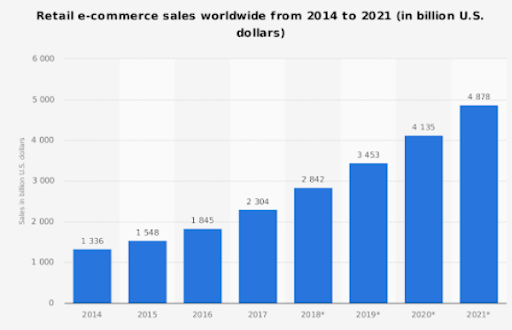 Image source: emarketer.com
Let us explore things from scratch, starting with the domain name.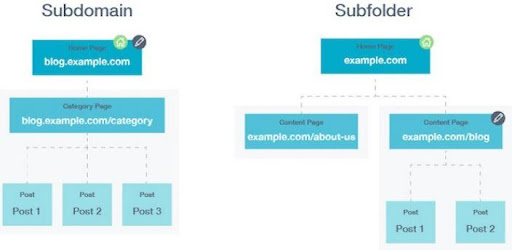 Which Type of Domain Is Best for an eCommerce Store?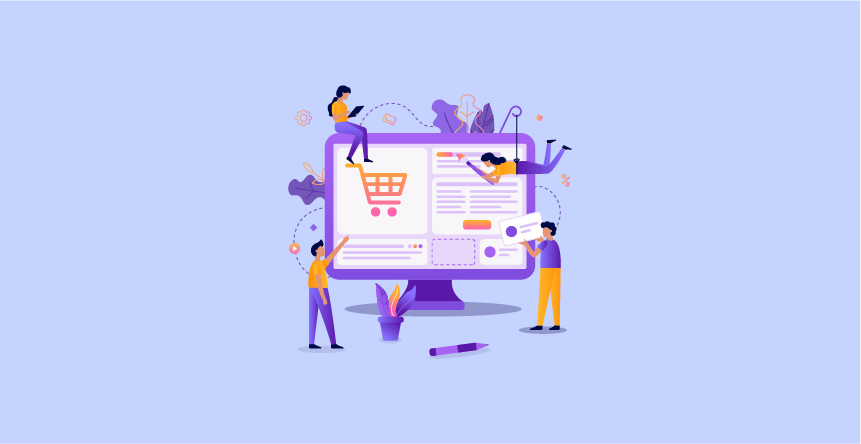 Once you have figured out what products and services to sell, the next thing is to find a domain name. A name that resonates with your brand and represents the company to the world. As per the famous quote by Jeff Bezos, the domain name should be the entry point for your invited guests or customers. If chosen wisely, it has a solid effect on the business and even impresses a customer.
The domain name consists of a server name, a second-level domain, and a top-level domain extension. For example, www.google.com is the URL. In this, www is the server name, google is the second-level domain (SLD) and com is the top-level domain (TLD). Experts say "Choose a domain that helps your SEO"
As online traffic which consists of probable customers comes through high-ranking websites, it's important to choose a domain name that amplifies SEO. Keep these things in mind to create an SEO-specific domain name.
Relevancy: When a domain name addresses a certain search query, it makes your business relevant to what people are searching for. For example, if you offer yoga mats then a domain name like yogamats.com will be easily crawled by anyone searching for yoga mats. Therefore, keep your domain name relevant to the business.
Keywords: If you are offering goods or products for a niche market then it is best to have that keyword in your domain name. As said earlier, the term yoga mat should be included in the domain of a company selling these mats. You may not get the same name for the domain but try your best to get it or its relative keywords in the domain name. It certainly helps!
Subfolder, not sub-domain: Let us carry on with the same example. The subdomain of a yoga mat-selling company would be blog.yogamats.com while the subfolder is www.yogamats.com/blog
While the two appear similar, Google considers the first as a separate site while the subfolder is an extension to the original site yogamats.com. By using a subfolder, you give an impression to search engines that your company is adding a library or information to the existing site. This creates more value for the leading site and a higher ranking on the search engines. Therefore, choose subfolder over sub-domain.
Tips to Choose the Best Technology for Your eCommerce Website
Security – The technology should offer absolute security in the store. It helps to retain customers and build a trustworthy environment.
Flexibility – The technology should offer the flexibility of customizing the website as per the business model and customer preferences.
Reliability – Best eCommerce technology is reliable enough to create feature-rich websites, and customer-centric results and stands tall from an SEO perspective as well.
Scalability – A platform that offers great results when the demand for products is at its peak and subsides when the demand subsides. One can also create multi-brand eCommerce stores.
Which Technology is Best for eCommerce Website Development?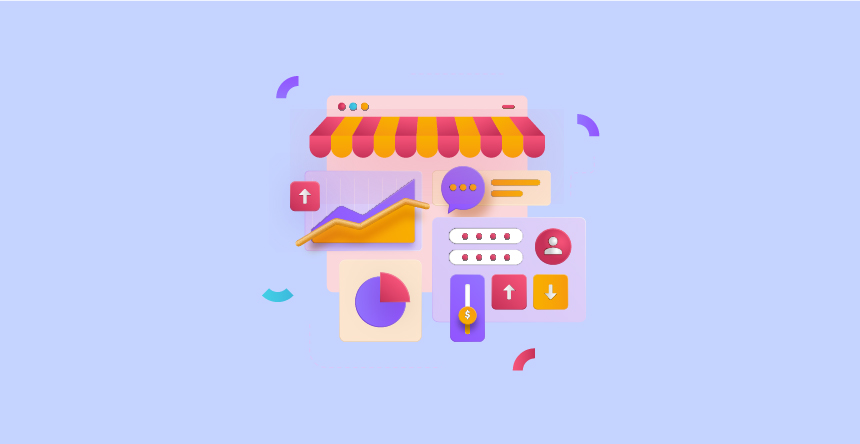 As your whole store will exist and operate online, it is significant to choose the right technology to build it.
1. Magento
Again, an open-source eCommerce platform, Magento has 200,000 eCommerce sites to its credit. It is a highly reliable, scalable, and evolved platform that delivers extraordinary user experiences.
>> Benefits of Magento:
It can easily manage millions of customers with a flexible architecture, secure payment options, and a 50% quicker loading speed.
It is widely popular for developing B2B and B2C eCommerce stores.
It has many of its own extensions and supports the integration of third-party products and services.
You can find Magento extensions for everything related to online stores including customer service, payment, marketing, accounting, shipping, site optimization, and more.
2. WooCommerce
It is the best open-source eCommerce plugin for WordPress sites. By installing WooCommerce on your existing WordPress store, you can get the benefits of both platforms.
>> Benefits of WooCommerce:
It can be auto-installed and easy to integrate with the existing backend system.
You can easily add customers, products, descriptions, categories, tags, images, and more. Integrating other things like payment gateways and extensions is also quite easy with WooCommerce.
You can customize the web store without any hassles.
It supports Zapier to connect with other apps and even offers email marketing.
The best part is that it is free for standard WordPress sites and charges a nominal amount of $29 for extensions with variable charges for different payment gateways.
Overall, it is an affordable platform for WordPress-hosted sites.
3. Drupal Commerce
Drupal is the second most chosen Content Management System, next to WordPress. Drupal Commerce is designed to leverage the features of Drupal CMS to create a fully-fledged eCommerce store.
>> Benefits of Drupal Commerce:
It is open-source software that performs at its peak for all activities related to eCommerce.
Starting from adding products to order tracking, it does it all with finesse.
Technically rich, this platform delivers exceptional customer experience with a solid CMS as its foundation.
It is easy to customize and offers a customer-centric online marketing platform.
4. Shopify
Undoubtedly the most successful eCommerce platform, Shopify has more than 2 million online stores to its credit. It works best for small businesses that need quick website development.
>> Benefits of Shopify:
You can choose a 14-day credit-card-free trial and create a website within minutes. Or, choose a monthly subscription, which is a nominal amount, and get going.
It has more than 1300 themes for the design. Its onboarding wizard elucidates the quick addition of products, customizes the look, joins the domain, and supports payment setup.
Most importantly, Shopify supports the integration of external modules that are not offered by it.
You can easily add third-party plug-ins, apps, extensions, or services to any Shopify-based store.
It also supports email marketing with the help of Zapier, which is the best tool to add new customers, track orders, and connect to other apps.
How Much Does It Cost to Develop an eCommerce Website?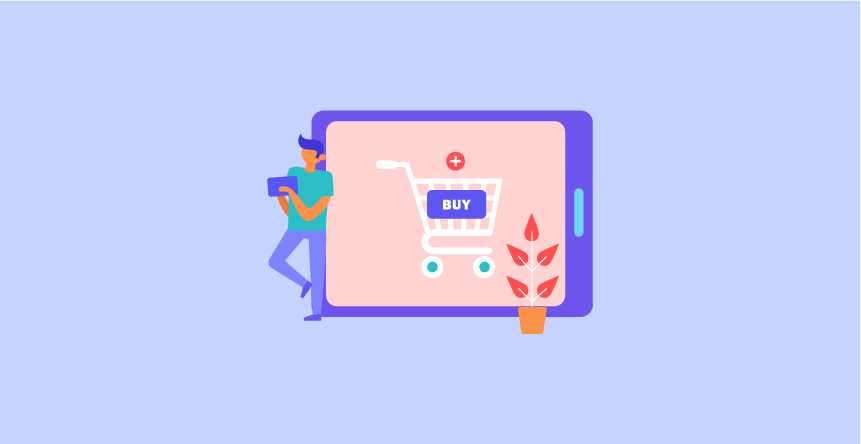 The cost of Developing an eCommerce Website can be divided into the following categories:
Hosting Costs
>> For self-hosted eCommerce websites
The cost may range anywhere between $2.75 and $241.67/month. These include platforms like WooCommerce, which is free to install but charges for web hosting accounts. The plan starts with a nominal $2.75 but needs to get upgraded to higher plans as per an increase in traffic, products, and sales.
The benefit of the self-hosted website is to create a site as per your vision, save development costs, add infinite products, and more.
>> For SaaS-based eCommerce websites
This setup works for non-tech people who can leverage a fully-fledged online store. Shopify and WooCommerce are the most sought-after SaaS-based eCommerce platforms. The cost of these ranges between $29 and $299/month.
You can choose the features, the number of sales per year, third-party payment gateway costs, and more. Both platforms offer ease of operation, scalability, flexibility, security, data encryption, and other relevant features.
Payment Processing Costs
It is broadly defined as the fees charged by vendors for processing a transaction involving online payment including credit card payment. It depends on the pricing model chosen for an eCommerce store as well as varies with the chances of risk involved in the transaction.
For example, any site using the WooCommerce platform can choose any payment gateway. By default, it supports PayPal and Stripe. It also depends on currency and region. So, think over it before jumping into the sea.
Website Design Cost
Your online store should reflect your business, vision, and philosophy. It starts from the design as the look and feel of the website are central to customer conversion. You can even hire a website designer to make the store from scratch. Mind it, this may cost a huge amount. Otherwise, choose from ready-made design templates offered by eCommerce platforms like WooCommerce and Shopify.
While these platforms offer numerous free themes, some are charged at a nominal cost of $30. There is also an option to choose WordPress page builder plugins for designing product pages and landing pages.
Shopify also offers similar templates and extensions. So, do your research to calculate the total design cost.
Add-ons and Extension Cost
It is difficult to create an all-encompassing eCommerce website from scratch. Therefore, software developers have come up with extensions, which are plugins that serve a specific purpose. The development cost of each plugin would cost you the earth but, a simple method is to get free extensions offered by platforms like WooCommerce or buy the paid ones from them. Paid WooCommerce plugins start from $19 to $299. If you still want something precise and customized then the cost may rise up from anywhere between $500 to $10000.
Total Cost of an eCommerce Website [Precise Analysis!]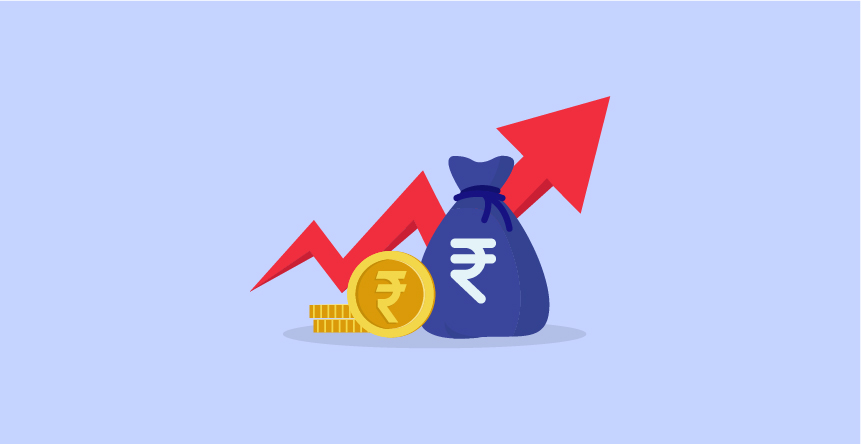 When we talk about the overall cost of eCommerce website development, it can start from a couple of hundreds to thousands of dollars. Depending upon the features, customization, extensions, and framework, the cost may vary. It is advisable to contact a good website designer and plan the budget in accordance with the business model.
Cost of Growing Business
The main part of an online business begins after it is actually made and launched. Basically, the site needs to reach the right audience to begin sales and earn revenue. You need to do the right kind of marketing to grow an eCommerce business.
Some of The Best Marketing Tools Are
OptinMonster – for converting visitors into leads
Constant Contact – Best for email marketing
SEMRush – For keyword research and optimization ideas
Nextiva – To use one phone number on multiple devices
PushEngage – For push notification service
PPC Marketing – To showcase ads designed for target keywords
Let us Calculate the Actual Cost of eCommerce Website Development
1. eCommerce Website Design
The look and feel of an online store are the first parameters to attract and retain the customer. A cluttered website will put off a customer who may never return back. So, make sure that your site is nicely designed with easy navigation and fully functional features. Website design is normally categorized as simple, somewhat stylized, high-end, and world-class.
Marketplaces like Amazon have a world-class design while a small retail-to-online store can do with a somewhat stylized design. You should choose a design that justifies your business model to the core. The design cost will include all these things along with the cost to hire UI/UX developers. It may range anywhere between $0 and $10000.
2. Cost of plugins and extensions
An eCommerce store may need some add-ons for a particular functionality. These extensions and plugins are pieces of software that should be integrated with the main website. They facilitate certain features and have a certain cost. The cost of these extensions should be included in the overall cost of eCommerce website development. It normally ranges between $20 and $500.
3. eCommerce website hosting
You need to host the website on the internet, from where people can access it. This domain hosting cost will add to the total cost. For this, it is advisable to own an SEO-specific domain name that attracts traffic. Invest in a quality hosting service to get desired results, traffic, and value for money. Hosting cost ranges between $20 and $500.
4. Content Copywriting
Your website needs to have the right content to address the visitors, attract them, retain them, and prompt them to purchase. The word length of eCommerce site pages can be anywhere from 300 to 600 words. Some long pages may have 1500 to 2000 words. The overall cost includes the cost of writing both types of pages. The average copywriting cost ranges between $50 and $5000.
5. Payment Processing Charges
The charges incurred by vendors to process an online payment including that made through credit card. Different platforms charge different prices for this.
WooCommerce normally charges a $2.9 + $0.30 processing fee for PayPal and Stripe.
Shopify charges $2.9 + 30% more and an extra 2% for third-party payment networks
BigCommerce charges 2.9% + $0.30
6. Miscellaneous costs of eCommerce website development
Other costs associated are website maintenance, which needs to be done on a regular basis for the site to perform at its peak. You cannot afford downtime especially when it is an eCommerce store as it may result in a loss of sales.
Inventory management and shipping or delivery costs need to be paid to the third party. Another important factor is the security and privacy of the customers. For this, you need to buy an SSL certificate and software that safely keeps the data of an eCommerce website.
How Long Does It Take to Build an eCommerce Website?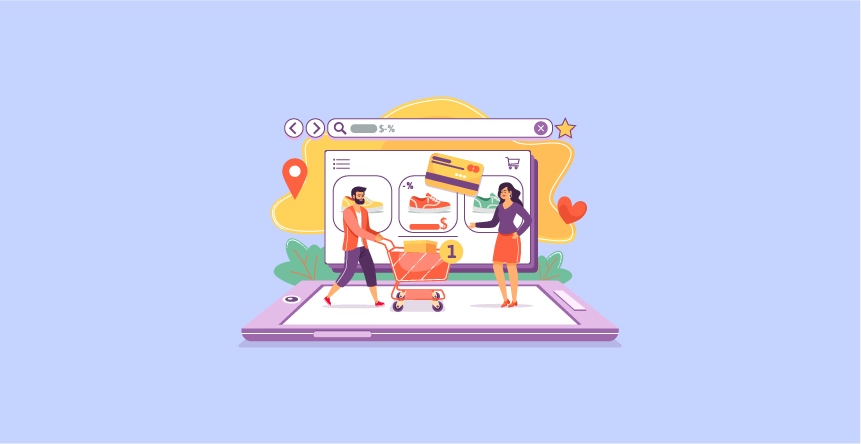 Well, anywhere between 30 minutes and 12 months. It all depends on the number of products, business model, design element, customization, and other ad hoc factors. You can have a website with few products or a webstore with hundreds of products.
It will take time for customizing product themes, apply the logic to display AR-VR, incorporate third-party payment gateways, and a lot more. Even a website redesign will take 2 to 12 months to get done from scratch. In a nutshell, the price and time depend on the complexity of the business.
How Does eCommerce Reduce the Costs of Running a Business?

There are a lot of areas in which eCommerce websites support cost-saving. A few of them are as follows:
Electronic invoices, emails, and e-documents save stationery costs.
Warehouse cost is saved by big marketplaces like Amazon which are intermediaries between vendor and customer.
Transaction costs can be diminished by aligning supply-chain management.
Sourcing from actual manufacturers reduces the supply cost
As you don't need a brick-and-mortar store, the overheads like electricity bills, store maintenance costs, and staff salary, are easily cut down. All you need is to maintain the online store.
Essential Areas to Optimize Your Ecommerce Websites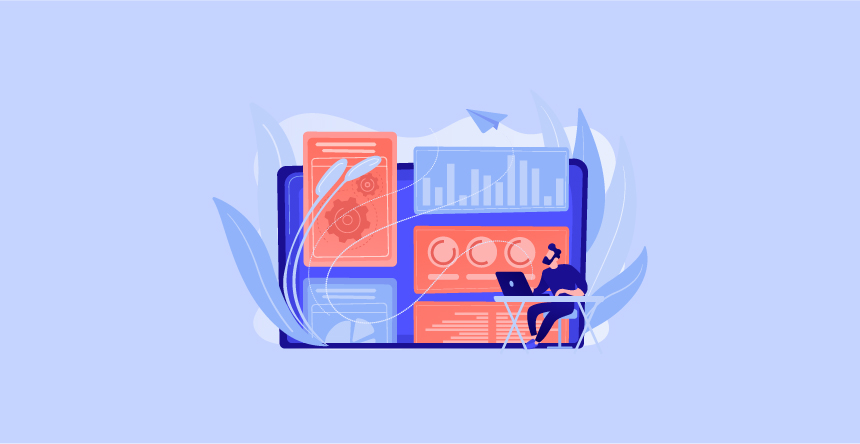 A famous quote by Joel Anderson, CEO of Walmart says "You can't just open a website and expect people to flood in. If you really want to succeed you have to create traffic."
This is absolutely true! You need to create a store that runs at full speed and draws in customers with its design, products, purchase process, and shipping simplicity. Let us check out what it takes for an online store to flourish at its peak.
SEO – Optimize the website for higher rankings
Just like any other website, your online store needs to rank high to get traffic and direct click visitors. This is possible only through SEO techniques that emphasize organic content with high-volume keywords for on-page optimization. Off-page optimization like creating transparent URLs is extremely important.
Make sure to remove any redundant data including duplicate content on the site. Canonical URLs can be used to update search engines about the preferred URL of similar products. WordPress SEO plugin works well for sites based on WordPress. Image optimization and semantic markup are used to optimize mobile pages. Therefore, make sure that your website and mobile app are SEO optimized to increase traffic and boost sales volume.
Trust and Conversions
One of the biggest challenges of an online store is to build and retain the trust of its customers. This is directly proportional to the number of sales. Customers who trust your store for keeping their data private and offering them better discounts will surely come back to your store.
As an eCommerce store is not a run-and-visit place, which could be checked out personally, it needs to create a trustful environment through design, reviews, descriptions, secure payment gateways, etc. The webstore should represent all the positive aspects of the business.
This can be done by creating a brand reputation through social media platforms. You can also check customer preferences and opinions from these platforms and improve your business.
Analytics software will help in all this. Customer testimonials and reviews are significant to winning the trust of new visitors. All these factors contribute to higher conversion.
The Design element
A shabby-looking website has no chance to retain customers. Similarly, sites that take ages to load will clearly put off the visitor. Ease of navigation is vital to give an excellent end-user experience. Well-charted product pages with precise content will grab any visitor's attention. Categorizing product pages and displaying them in an eye-pleasing and easy-to-spot manner is the key to retaining customers. Therefore, invest in a design that generates a pleasant shopping experience. Work on UI and UX both to keep customers glued to your online store.
The Overall Shopping Experience
First of all, your site should have a search option that works fantastically well to help people make a quick search. This will result in quick shopping as well. Improve upon that functionality to gain additional benefits.
Create attractive product descriptions that answer search queries. This has more chances of purchase than anything else. Refrain from displaying generic content. Long-form, in-depth content with AR-VR methods to show a small video of the product, is the ideal way.
Optimize the check-out process
A fussy and long checkout process is sure to put off customers. You will miss out on a big mass of customers by keeping a complicated checkout process. Simplify it to the extent that checkout becomes a matter of a few clicks. As per research, 70% of online shopping processes are rejected during the final checkout. So, do make it simple to shop!
Future of eCommerce – What's in store for online stores?
1. Drones for order delivery!
Well, robots are expected to rule our lives in the future. They will be helpful in the eCommerce setup as well. Experts predict that in the future, drones will be used to deliver products to your doorstep. This is certainly fascinating and expected to minimize delivery time. So, be ready for the machines to maneuver your shopping experience. For the companies, this facility will reduce delivery costs and will help in some quick savings.
2. Sell through Social Media
Social media sites have been the best marketing platform of late. Now, they have become the prime selling points. In fact, many companies and small businesses create shoppable pages on Instagram, Twitter, Pinterest, and Facebook to push shopping through these sites. These sites will gain more importance in the future and eCommerce companies will rely on them for big-time sales.
3. eCommerce tracking
Small-time businesses can create mobile apps to sell products from their brick-and-mortar shops directly to the customers. Customizing this experience through online tracking systems is going to be an 'in-thing' in the future. Apps like Swydo, and Megalytic are helpful in online tracking.
You can't just open a website and expect people to flood in. If you really want to succeed you have to create traffic. – Joel Anderson, CEO, Walmart
4. Voice search will rule in the future!
Make sure that your online store has a voice search functionality. As per statistics, 50% of people used online search through voice-enabled options. For eCommerce shop owners, their product pages should be optimized for voice search to make it big in the future.
5. AI-assisted eCommerce stores
Just like AI robots help to answer customer queries and give chat responses on a website, they will be assisting online stores to create more orders, answer search queries, manage inventory, etc., in the future. AI will be the future of eCommerce!
How KrishaWeb Helps You with eCommerce Website Development Service?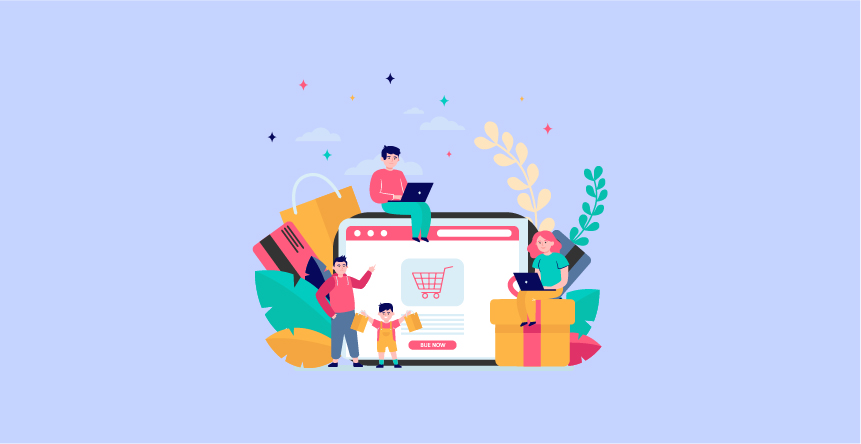 KrishaWeb offers 360 degrees in eCommerce website development with some of the best technologies like Shopify, Magento, WooCommerce, and more. We are experts at creating an online store, be it a small one or a fully-fledged website that attracts customers and boosts sales. Along with that, we have a marketing team that ensures that your fully functional store hits the right audience and reaches the target customers. We make sure that your store is up and running as well as performing at its peak.
Whether it's development, marketing, or maintenance, we ace it all! For any queries, just give us a quick shoutout!