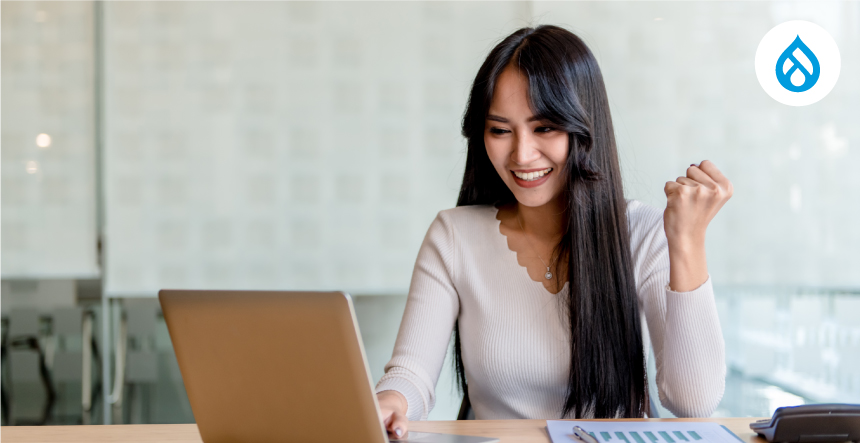 Drupal is a great CMS for creating business websites. It enables businesses to launch rapidly, create solid merchandise, and improve gradually to market demands. With its excellent built-in modules and functions, Drupal shortens the time required for development and helps in the quick development of websites. Drupal is one of the most appreciated and dependable CMSs we have in the market, with many satisfied customers all around the world. But do you know how much it can cost if you wish to create a website with Drupal?
Read on to learn more about Drupal website development costs. First, let's see what are the factors that may influence the Drupal website development cost.
Do You Know Why Drupal is Considered as the Most Secure CMS?
Factors That Influence the Cost of Developing a Drupal Website
Level of Website Customization
Drupal website development cost depends on how customized it is to meet your company's objectives. You may decide what connections your Drupal website needs, the UI/UX it needs, and the features or functions you want to add or delete. However, there is no need to purchase additional APIs, Drupal's core modules eventually cut down on development costs.
Website Size
The cost of Drupal website development depends on the size of the website. The more sections, functionalities, pages, and features, you will add to your website creation, the more it will cost you. Thus, Website size is one of the significant aspects to impact its development cost.
Project Complexity
A website's technical complexity is determined by such nuances. The complexity of every website is determined by its level of dynamism, extensions, etc., which ultimately determines the development cost. Although Drupal's built-in APIs are fantastic, you have to configure and set up them.
Multilingual System
You may now develop multilingual sites and expand your business more easily using Drupal 9. Four modules are already integrated into it to provide multilingual features. The only thing you need to do is enable them, which is a quick procedure. However, you might want expert assistance to effectively activate this function.
Quality of Web Development
Are you trying to find a reliable solution with little to no downtime? Some factors that lower the quality of your website and consequently decrease conversion rates include visual flaws and data loss. A dedicated team is required for maintenance to operate continuously to preserve the quality of your Drupal website.
Drupal Website Development Stages
Stage #1: Analysis and Planning
The first step whenever you feel the need for a website or a new company website is planning and requires analysis. Designing the project's boundaries and layout, thinking about modules and expansions, talking about deadlines, etc. are some of the critical steps in developing a business website.
Stage #2: Design and Development of Drupal
The next stage is to begin developing the layout, followed by customer approval, the website's final UI/UX design, and then website development. You try to develop a business website that meets your business goals by implementing best practices.
Stage #3: Deployment and Testing
Testing is required when the design and development phases are finished. Before the real deployment, you should verify everything on a test server and resolve any problems that arise.
These stages directly impact Drupal website development costs. The cost of developing a website depends on the level of development, the time required for every stage, and the amount of resources.
Stage #4: Cost of Custom Drupal Website
Thus, here is a solution to your query, how much does it cost to construct a Drupal website? Well, it depends on the kind of website you want to design and how complicated it will be.
Basic Corporate Website Built Using Drupal
A standard business website with pages like "About Us," "News," "Blogs," "Services," and "Contact Us" cannot be too pricey. However, the cost of development varies depending on the location.
The normal costs for a basic website are as follows:
America: $4000 to $10000
Asia & Pacific: $1000 to $5000
Europe: $1000 to $8000.
However, charges might change depending on emerging demands and the current market scenario.
A Large-scale Business Website with Several User Roles
Drupal is a fantastic platform that can be used to create a corporate website. The somewhat more expensive version, which will run you between $15,000 to $18,000 (at a minimum) and as much as $45,000, combines various user roles and everything a corporate website requires.
Charges for a large, complicated website or business website are as follows:
America: $15000 to $42000
Asia and the Pacific: from $8000 to $20000
Europe: from $10000 to $25000.
Charges, however, may vary based on additional needs and the current market scenario.
Final Words
Drupal has a lot to offer. Additionally, an abundance of contributed modules expands its functionality and helps you develop an advanced website. Due to the factors that go into building it, it is difficult to estimate the Drupal Website Development Cost. Further, the cost changes during the development, design, customization, and installation stages. Only once you've narrowed down your selection of web development service providers and spoken with them about your needs will you know the actual cost of developing a fully working Drupal website.