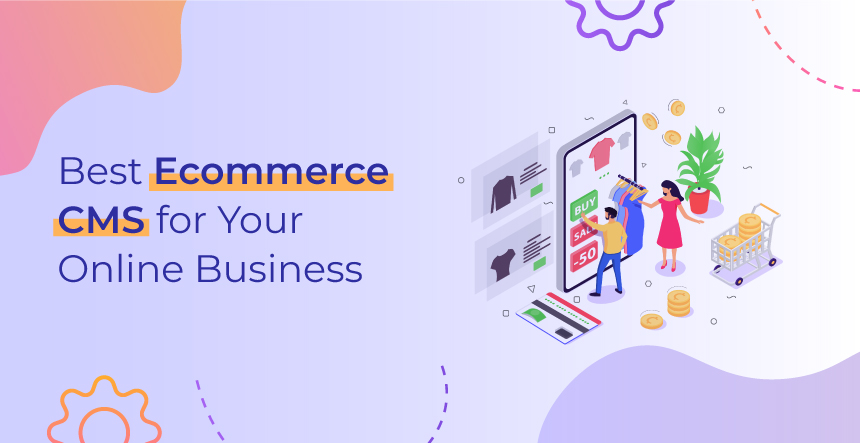 Despite the prevailing global recession, eCommerce sales are steadily increasing, which currently represent 14.3% of all retail sales worldwide.
Moreover, eMarketer predicts that the eCommerce market will continue to expand and reach 23% of total global retail sales by 2023.

In 2021, retail eCommerce sales amounted to approximately 5.2 trillion U.S. dollars worldwide. This figure is forecast to grow by 56 percent over the next years, reaching about 8.1 trillion dollars by 2026.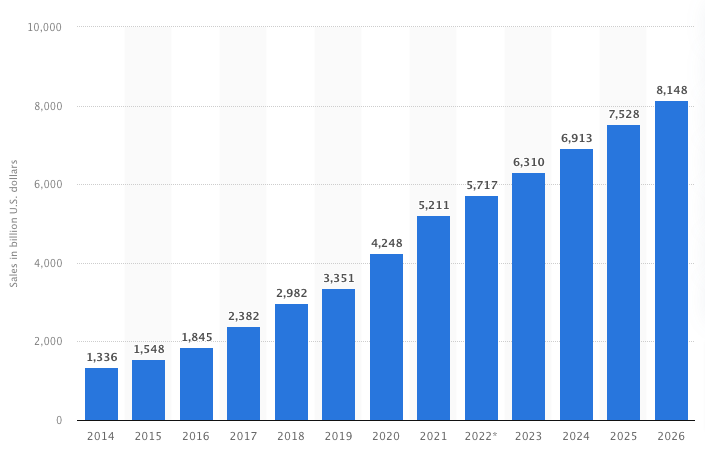 Source: statista.com
This presents a golden opportunity for businesses seeking to establish or expand their online presence.
Admittedly, the thriving eCommerce industry attracts numerous entrepreneurs, which leads to higher competition in the eCommerce market. However, if you're considering venturing into eCommerce entrepreneurship, your best starting point is to explore the eCommerce CMS (content management systems) landscape.
In this article, we'll take a drive to the realm of eCommerce CMS, exploring their functions, their relevance to your online store, and the best eCommerce CMS options for your business.
What do You Mean by an Ecommerce CMS?
An eCommerce CMS, or eCommerce Content Management System, is a software platform that allows you to create, manage and publish digital content, specifically for an online store. It provides a centralized location to manage your online store's products, orders, customer data, content, and other crucial aspects of your eCommerce store.
With an eCommerce CMS, you can easily create and manage product pages, categories, and collections, upload images and videos track inventory, manage pricing and promotions, and process payments securely. It also enables you to design and customize your store's look and feel, as well as optimize your store for search engines and improve your store's overall performance.
Overall, the eCommerce CMS is an essential tool for any online business struggling to establish itself. It simplifies the process of building and maintaining an eCommerce store, allowing you to focus on what matters most – growing your business.
Let's try to categorize the eCommerce CMS platforms according to their technical behaviour…
1. SaaS CMS
SaaS, or Software as a Service CMS, is a cloud-based platform that allows users to create, manage and publish digital content without having to install any software on their local computers. It is a subscription-based model, where users pay a monthly or yearly fee to access the CMS and its features.
One of the primary benefits of using a SaaS CMS is that it eliminates the need for businesses to manage their own servers and IT infrastructure. This makes it an attractive option for small and medium-sized businesses that may not have the resources to manage an in-house IT team.
Even SaaS CMS platforms are highly scalable, making it easy to add or remove features as needed. They also typically offer built-in security features, such as regular software updates and data backups, to protect user data.
Another advantage of SaaS CMS is that they are designed to be user-friendly and easy to use, with many offering drag-and-drop interfaces and customizable templates. This makes it easier for non-technical users to create and manage digital content without needing to know how to code or program.
2. Open-Source CMS
Open-source Content Management Systems (CMS) are software platforms that are freely available and can be modified, shared, and distributed by anyone. These CMS platforms are typically developed by a community of developers and enthusiasts who contribute to the code and documentation.
One of the primary benefits of using an open-source CMS is that it is highly customizable and can be tailored to meet the specific needs of the business or organization. Users can modify the source code, add new features and functionality, and integrate with other tools and software.
Open-source CMS platforms are also cost-effective, as there is no need to pay licensing fees or subscription fees. However, there may be costs associated with the development, customization, and maintenance of the CMS.
Another advantage of open-source CMS is the large community of developers and users who contribute to the platform's development and support. This means that there is a wealth of knowledge, resources, and support available for users who are new to the platform or need help with customization or troubleshooting.
Overall, open-source CMS platforms offer a high degree of flexibility, customization, and cost-effectiveness, making them an attractive option for businesses and organizations that require a customized digital content management solution.
Does an Ecommerce Store Need a Separate CMS?
Yes, an eCommerce store may need a separate CMS, specifically designed for eCommerce, to effectively manage and publish digital content related to the products, services and seasonal offers being offered on the store. An eCommerce CMS provides specific features and functionality that cater to the unique needs of an online store, such as managing product catalogues, inventory, customer data, payment processing, and shipping.
While it is possible to use a general-purpose CMS platform, such as WordPress or Drupal, to create an eCommerce store, it may not be the most effective solution. These platforms may not have the specific features required to manage an eCommerce store effectively, and they may require additional plugins or customization to handle eCommerce functionality, which can increase the complexity of the website.
As a solution to that, the eCommerce CMS is designed to handle the specific needs of an online store, including product management, order processing, and payment gateway integration. It typically offers built-in templates, design tools, and product catalogue management features, making it easier for businesses to create and manage an online store with digital content.
So, technically, we can say it is not possible to use a general-purpose CMS platform for eCommerce. And it is recommended to use a dedicated eCommerce CMS to ensure that the website has the specific features and functionality needed to manage an online store with content effectively.
Must-Have Features of Ecommerce CMS Platform
Now, it's a main discussion of eCommerce CMS that what kind of featured the eCommerce CMS should have. Let's figure out the core features required in eCommerce CMS which will help your eCommerce store to grow exponentially…
1. SEO-Friendly
One of the most important aspects of SEO for eCommerce sites is keyword placement. A good eCommerce CMS can help you optimize your product pages and implement the best SEO practices. When selecting an eCommerce CMS, look for features that focus more on descriptive page URLs, well-optimized page titles, and meta descriptions.
Your page URLs should be short and include the primary keyword to improve your search rankings. Additionally, page titles should contain your primary keyword and appear at the beginning of the title. Meta descriptions, which show up under the page title in search listings, don't directly impact page rankings but can increase your click-through rate.
2. Easy-to-Optimize User Experience
A good eCommerce CMS should also offer easy-to-use options for designing your store and managing your content. This includes flexible design options, mobile optimization, and integrations with other tools and plugins for enhanced customer experience. With mobile shopping expected to dominate eCommerce, optimization for mobile should be a top priority.
3. Easy to Operate
Lastly, an eCommerce CMS should be easy to use or operate and not require a lengthy onboarding process. It should also offer seamless integration with existing tools and plugins, giving you the flexibility to try new things and improve your store's UX. By selecting an eCommerce CMS that meets these criteria, you can set your online store up for success.
Best Examples of Ecommerce CMS Platforms
12 Best Ecommerce CMS to Use in 2023
WordPress
Magento
Drupal
Joomla
BigCommerce
Sitecore
Shopify
OpenCart
Wix
HubSpot
PrestaShop
SQUARESPACE
While WordPress is the leading CMS in the industry, it is not a dedicated eCommerce platform. However, you can easily turn your WordPress site into an online store by using the WooCommerce plugin.
WooCommerce is a widely-used open-source platform that is popular for its vast selection of free extensions and themes. These plugins can be easily installed to add missing features and functionality to the core WooCommerce product with just a few clicks. However, it's important to note that using too many plugins can increase complexity and negatively impact site performance.
As an open-source CMS for eCommerce, Magento has earned a strong reputation and is a popular choice for businesses worldwide, supporting over 260,000 online stores. Acquired by Adobe, Magento offers extensive functionality and a wide range of extensions, including integrations with enterprise-level software such as CRM, ERP, and chatbots. While it caters to merchants of all sizes, Magento is especially favoured by larger and fast-growing businesses due to its robust features, pricing options, and development requirements.
Drupal, a popular open-source content management system, can be paired with various plugins and frameworks to enable eCommerce functionality, despite not being designed for it specifically. In fact, Drupal is nearly as widely used as other CMS giants like WordPress or Joomla. However, it is worth noting that Drupal can be challenging for those without substantial development knowledge, although efforts are being made to improve its user-friendliness.
Drupal commerce is highly flexible as a CMS. By combining it with the BigCommerce plugin, you can enjoy the benefits of both worlds: a fully customizable front-end and a fully hosted backend.
Joomla is another open-source content management platform that empowers users to create websites and publish content online. Although eCommerce is not a primary focus of Joomla's core functionality, there are various free extensions available that can help you transform a Joomla site into a fully functional eCommerce store.
BigCommerce is one of the top eCommerce platforms available today, serving over 60,000 merchants of all sizes and types. This powerful platform offers a range of built-in features and CMS capabilities, making it an ideal choice for both fast-growing eCommerce businesses and those just starting out. It caters to the full spectrum of the eCommerce sector.
BigCommerce is particularly renowned for its advanced SEO integration and flexible APIs, which allow merchants to connect to leading software and other CMS solutions while leveraging the platform's shopping cart in the backend. Additionally, BigCommerce is fully hosted, Level 1 PCI compliant, and available via a monthly subscription model.
Sitecore is a top-tier digital experience platform that integrates content management, eCommerce, marketing automation, and personalization with design and editing tools. The platform empowers merchants to create and customize digital storefront experiences, and deliver personalized commerce journeys. By using the BigCommerce plugin for Sitefront, you can merge headless commerce capabilities with Sitecore's robust, built-in content experiences.
As one of the leading SaaS eCommerce platforms, Shopify has gained worldwide recognition. With its user-friendly interface and cost-effective pricing, it has become a popular choice among startup merchants and small businesses. However, that doesn't mean the CMS isn't suitable for bigger brands. The range of features available varies depending on the plan you select, so it's important to review the feature list before subscribing. In addition to offering free 24/7 support and a wide selection of free store templates, Shopify also provides a separate POS system. However, it's worth noting that Shopify charges transaction fees for using payment providers outside of its own platform.
OpenCart is another free and versatile open-source content management system for eCommerce. It provides a variety of templates for easy setup and has a thriving marketplace for plugins. OpenCart also integrates with more than 20 payment gateways and eight shipping methods. As an eCommerce CMS with no recurring fees, it's a preferred choice among beginners with limited budgets.
Wix is a renowned website builder that offers drag-and-drop functionality to create online businesses. Though it's not primarily an eCommerce CMS, Wix provides a commerce module that allows website owners to sell products. It features a wide range of templates, built-in capabilities, and a no-code approach, making it an attractive choice for non-technical beginners. Wix can be a suitable option for those with a small range of products looking for a quick setup. However, note that once you select a template for your store, you can't change it later.
HubSpot is an innovative marketing automation and CMS platform that doesn't have built-in eCommerce features. However, it seamlessly integrates with leading eCommerce platforms like BigCommerce and Shopify. When connected to your eCommerce store, HubSpot enables you to analyze customer behaviour, automate marketing campaigns, and monitor and report on revenue streams with tailored reports.
Prestashop is an open-source platform that utilizes MySQL data management and offers extensive customization of backend code. With its wide range of add-ons and themes, even those with limited technical expertise can create a web store from scratch. However, it's important to be mindful of the total cost, as some extensions can be expensive.
Prestashop's user-friendly interface makes it an excellent option for startups and medium-sized stores, as you don't need to be a developer to build a website on it. Nonetheless, the platform's lack of free support may cause businesses to overlook it.
For those starting their own online stores, Squarespace is a fantastic option. Like Wix, it provides a plethora of templates that can be customized with simple drag-and-drop actions. Additionally, Squarespace includes a mobile commerce shopping cart that enhances the browsing, shopping, and payment experience on a phone or tablet. However, Squarespace is limited in terms of customization and eCommerce functionality.
How to Use an Ecommerce CMS?
As you have gone through the above eCommerce CMS platforms list provided above, you may have observed that eCommerce CMS options can be broadly categorized into two groups:
Pure content management systems and all-in-one eCommerce platforms that also offer CMS functionality.
Selecting the most suitable solution for your business depends on a range of factors, including the size and maturity of your business, the number of products you offer, your sales volume, and your content strategy. If your sales predominantly come from Amazon and you don't frequently update your website, your choice will differ from that of a business actively investing in driving traffic to their eCommerce store.
There are 2 ways to consider using eCommerce CMS for your business.
1. Ecommerce First
To start with, choosing an eCommerce-first doesn't mean that your website won't benefit from content marketing. As the connection between content and eCommerce success grows stronger, eCommerce platforms are enhancing their content-first features by providing tools that allow store owners to generate original content that drives traffic.
Ecommerce-first solutions offer various features, from on-page SEO management to user-friendly visual builders and attractive blog designs. By choosing a content-first CMS, store owners can effortlessly integrate with eCommerce platforms, resulting in a well-rounded and efficient setup. One significant advantage of this approach is the ability to combine both sales and storytelling features on a single backend platform.
2. Content First
The CMS is a crucial factor in the growth of eCommerce businesses that prioritize content. Such content-driven eCommerce brands place a high emphasis on educating and engaging their customers through content to establish interest, trust, and loyalty. The eCommerce functionality is usually integrated as an add-on in the backend.
This approach is suitable for brands that possess robust marketing and design teams capable of creating content-rich digital experiences that position their products within a relevant context and stimulate demand.
Pairing Ecommerce with CMS Platforms offers Six Key Benefits
Content management: A CMS provides a centralized platform for managing all types of content, including product descriptions, images, videos, and blog posts. This streamlines content creation and management, making it easier to maintain a consistent brand image and messaging across all channels.
Personalization: A CMS can be used to personalize the customer experience by displaying tailored content and recommendations based on browsing and purchasing history. This can improve customer engagement and loyalty.
Search engine optimization (SEO): A CMS can help improve search engine rankings by enabling the use of SEO-friendly URLs, meta tags, and other optimization techniques. This can increase website traffic and drive more sales.
Integration with third-party tools: Many CMS platforms offer integration with third-party tools such as email marketing software, social media platforms, and analytics tools. This can improve marketing effectiveness and provide valuable insights into customer behaviour.
Scalability: A CMS can easily scale to accommodate growing eCommerce needs, such as adding new products, launching new campaigns, and expanding to new markets.
Cost-effectiveness: Using a CMS for eCommerce can be cost-effective compared to building a custom eCommerce platform from scratch. This is particularly true for small to medium-sized businesses that may not have the resources to build and maintain their own eCommerce solution.
Some Few Words in the Last
The benefits of using a CMS align well with the preferences of modern online shoppers and sellers. Rather than performing tasks manually or learning as you go, a dedicated eCommerce CMS can handle all of these functions for you.
By adopting a CMS early on, you can save time, minimize losses, and position your business for long-term growth. However, since each CMS solution has unique features, it's important to choose one that suits your business's specific nature and requirements. This can be the key to driving your eCommerce store to success.
If you're seeking favourable resources for managing or expanding your eCommerce business, KrishaWeb is a perfect match to start! Feel free to schedule a FaceTime with us…