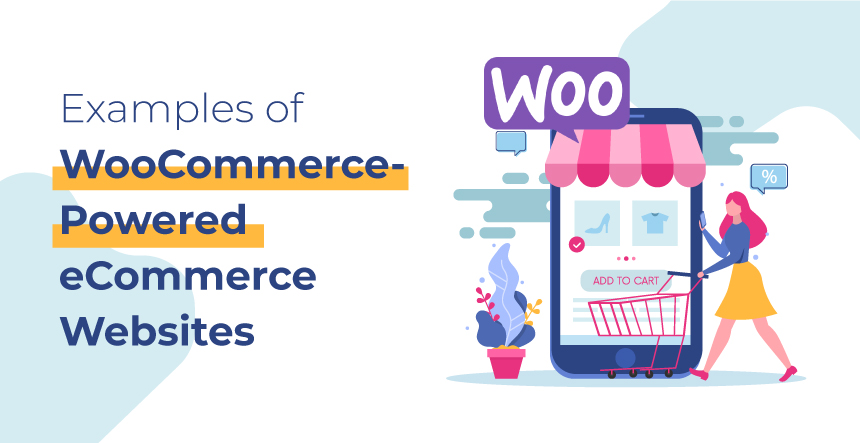 WooCommerce eCommerce website is a sure shot way to a successful online store as the platform offers bountiful benefits. As per Statista, WooCommerce platform occupied 36.68 percent of the global eCommerce market in July 2022. Woo Themes alone contributed to 14.42 percent and therefore, it is certainly a bet to put your money on. The eCommerce software application market is expected to earn $7.4 billion by 2023. This clearly suggests that eCommerce stores will be in high demand in the coming years. Therefore, it is wise to invest in a powerful platform that offers robust, scalable websites.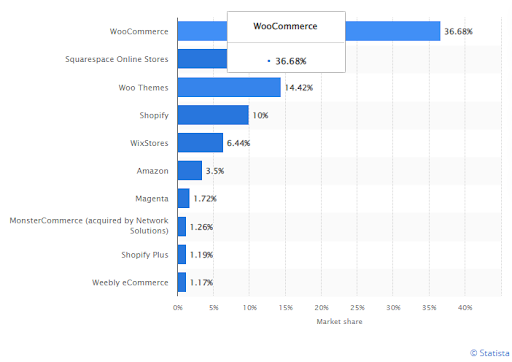 Image Source: statista.com
Small and large scale businesses can build custom eCommerce websites to increase sales and revenue. Although companies want to build exceptional online stores, they do lack the vision to create stunning, functional, secure and user-centric websites. Let us check out some WooCommerce eCommerce websites that are truly inspiring in terms of design, features and conversion. Companies can study them to create either similar or best-of-the-lot websites. 
22 Best WooCommerce Powered Websites: 
1. Wild Souls
URL: https://www.wildsouls.gr/en
A highly creative website with easy-to-navigate design, this one has an excellent color scheme. It has an uncomplicated yet operative structure that promises amazing UX. There are clear CTAs (Call to Action) links and buttons to drive traffic to the website. It is laid with meaningful content to attract customers. 
2. Blovd
The website offers cookies and gourmet food in an alluring manner. Whether it's the design, color, images or approach, everything creates an inviting vibe so that visitors are driven to make a purchase. With subtle colors, playful design and precise CTAs, this WooCommerce eCommerce website certainly pushes for sale. 
3. Essential Gourmet
URL: https://www.essentialgourmet.com.au/ 
With an aesthetic design that speaks about the highest quality of food, this website is a visual delight. The color scheme is gorgeous with geometric patterns and tasteful design elements. WooCommerce themes are working well for this site and the images are distinctive due to the white space. Simple design with little content makes the web page look precise and informative. 
4. Little Giants | Giant Stories
URL: https://wearelittlegiants.com/
Incorporated with the amazing Zyra theme from ThemeForest, the products get an instant focus. With precise product categories, the site is easy to browse. Mainly it addresses kids and therefore, makes way for a cool, trendy store for fashionable kids. 
5. Redd Superfood Energy Bars
Made with a minimalist approach, the site has a clean layout. A result of an understated yet imaginative ProShop WooCommerce theme, the site looks neat and tidy. Navigational ease and underlining of products makes way for higher sales. 
6. Yubico
Made from the HomeStore theme of WooCommerce, the site creates an engaging UI. With a nice blend of texts and images, this pro app provides significant display elements to the visitors. Best for small businesses and ventures, this one has all the fundamentals required to convert a visitor into a customer. 
7. Sodashi
URL: https://www.sodashi.com.au/
The site creates an easy to follow brand story by blending images, texts and content. There is a smooth transition between company info, products and vision. With engaging visuals and sections depicting banners, CTAs and content that rolls into a story; this site definitely pulls the attention of the visitor. Made from Vani Theme from ThemeForest, this WooCommerce store is again a piece of art. 
8.Caesar's Ice Cream
With a wonderful sectional design, this site is a nice blend of colors, content and products. With smartly placed CTAs, this ice cream brand creates opportunities for quick purchase. A simple yet effective design, this one is easy to navigate and made from the Ordo theme of WooCommerce. Again, a nice way for small businesses to use WooCommerce eCommerce website. 
9. Custom Seafoods
URL: https://customseafoods.com/
Made from the Deli theme of ThemeForest, this attractive site makes you drool for seafood. The idea is to enchant the visitor with striking images of delicious food. Loaded with high quality product images that are easy to navigate, the site succeeds in creating a reputation of this small scale yet seasoned business. 
10. Root Science
URL: https://www.shoprootscience.com/
With banners, content, product images and sectional design, this site is informative and appealing at the same time. With ample space for content and nicely placed CTAs, this website creates well renowned brands. 
11. Printing New York
URL: https://www.printingnewyork.com/
The website uses The BigShop theme of WooCommerce and instantly grabs user attention with a fine play of images and graphics. Wonderfully highlighting products and offering discount deals and other perks, the site is eye catchy, pleasant and definitely user-centric. 
12. Magna Tiles
URL: https://www.magnatiles.com/
Popped up colors are the best way to engage children into playful and educational activities. This website does that with complete conviction. It has a section for products that are scrollable. Very attractive design that gently pushes visitors to buy products, this WooCommerce eCommerce website is truly inspiring. 
13. The Good Batch
URL: https://thegoodbatch.com/
Made from the Organico theme of WooCommerce, this neat and clean website displays products in a convincing manner. It encourages the visitor to make purchases or order bakery items which can be shipped across the country. With an easy payment gateway, this WooCommerce site is perfect for small scale businesses. 
14. Balancing Motions
The website is a fine mix of content and images with nicely sectioned information. Loaded with high quality product images, this appealing design triggers instant sale. Made from the Undu theme of WooCommerce. 
15. Disruptive Youth
URL: https://www.disruptiveyouth.com/
Made from Kodo from ThemeForest, the website extensively displays product images. Clean, easy to navigate, the site offers minimalist design and pushes quick sales. 
16. Blue Star Coffee Roasters 
URL: https://bluestarcoffeeroasters.com/
Enriched with high quality images, this website looks stunning. Endorsed with CTAs and easy to scroll product images, this one creates marketing all by itself. With sectional banners and right information, the site is an example of how to emphasize products. 
17. Henry J Socks
URL: https://www.henryjsocks.co.uk/
The appealing design of the site captivates visitor's attention in a jiffy. Attractive design, immediate call to action, content that conveys discount and subscription details; makes it a self-explanatory, charming and user-centric website. 
18. ChargeCase
Filled with high end graphics, crystal clear images and relevant text, this Fluent themed WooCommerce eCommerce website is bespoke to the core. An effortless presentation of product images is the USP of this website. 
19. Ally's Bar
The site is simple, minimalist, informative, image oriented and easy to navigate. Made of the Colora theme from ThemeForest, the site pushes visitors to make a prompt purchase. Definitely a selling point in itself, the website is best for small scale businesses. 
20. Mini Learners
URL: https://www.minilearners.com/
Made from the Galleria theme of WooCommerce storefront, this uncluttered site simply speaks business. Smooth navigation, amusing images and fascinating color combinations are the highlights of the website. 
21 Kawaii Box
URL: https://www.kawaiibox.com/
The site uses the Larix theme from ThemeForest. A fine blend of product displays with color pop-ups; this Japanese site is a selling point in action. The products are the highlight, which drives visitors into making a purchase. 
22. Wool Couture
URL: https://www.woolcouturecompany.com/
The soothing, easy to scroll design with a combination of banners and product images makes way for an eye-catching website. It uses Juston theme from ThemeForest and is a perfect example of customization done to shoot business. 
These sites are just a few examples of how WooCommerce eCommerce websites are making their mark. The design element, hassle-free navigation and product oriented displays are some of the characteristic features of WooCommerce themes. Study and analyse them for design inspiration and incorporate the best of everything in your website. 
If you have an interesting concept that needs WooCommerce development, then KrishaWeb could be your technological partner. Let us connect for best quality web development.