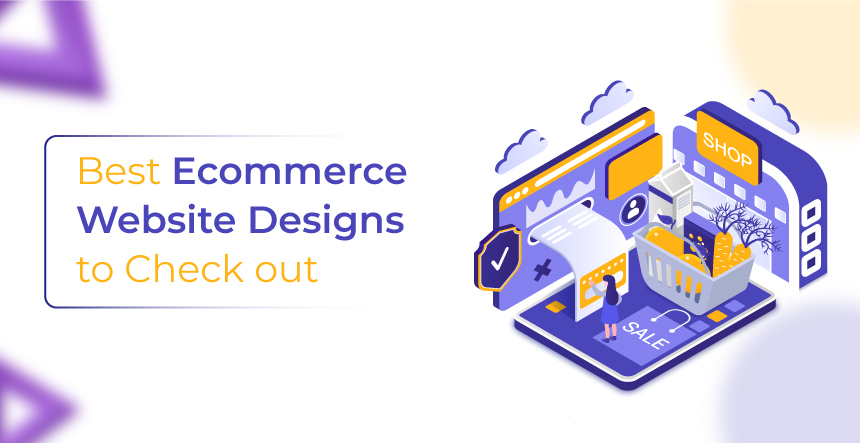 Selling online is a lucrative opportunity, but it takes effort to establish the brand/company's presence on the Web. For starters, your website represents your business model and offerings to your audience, and thus, it should compel them to engage with you, and eventually buy. However, with a plethora of e-commerce stores offering tough competition in the marketplace, how can your store stand out? Here is a list of the 12 Best eCommerce Website Designs that will inspire you and educate you on the essential requirements for online growth in 2023.
To design a striking eCommerce website, the valuable design elements include UX design, aesthetics, navigation, and SEO-optimized content for increasing sales!
Based on these factors, we have identified the following 12 examples of the best eCommerce website designs for you…
12 Best Ecommerce Website Designs to Check out in 2023
1. Nike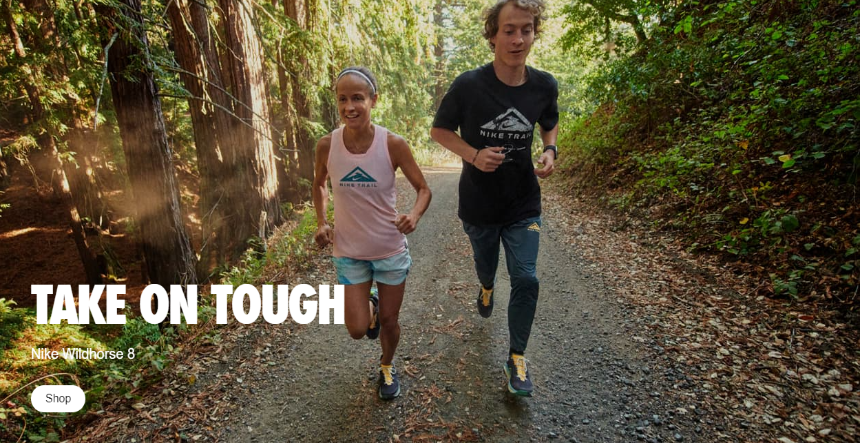 From filtering options to navigation, Nike's eCommerce portal proves the principle of "less is more" quite well. It uses image blocks and white space with a plain background to allow its products to be show-stealers.
Key Design Elements
Minimalist look – focuses on large product images on a black-and-white background.
Guest checkout option – it enables shoppers to purchase quickly without creating their profiles or log in.
All-inclusive helpdesk – it facilitates smooth information flow; thus customers can quickly and easily find relevant information without having to wait for customer support.
Key Takeaways
Do you know? 23% of customers abandon their shopping cart due to the cumbersome checkout process that demands creating a user account.
To maintain a lower cart abandonment rate, enabling guest checkout on your eCommerce store will offer a faster shopping experience, as your customers do not require login credentials.
2. AYO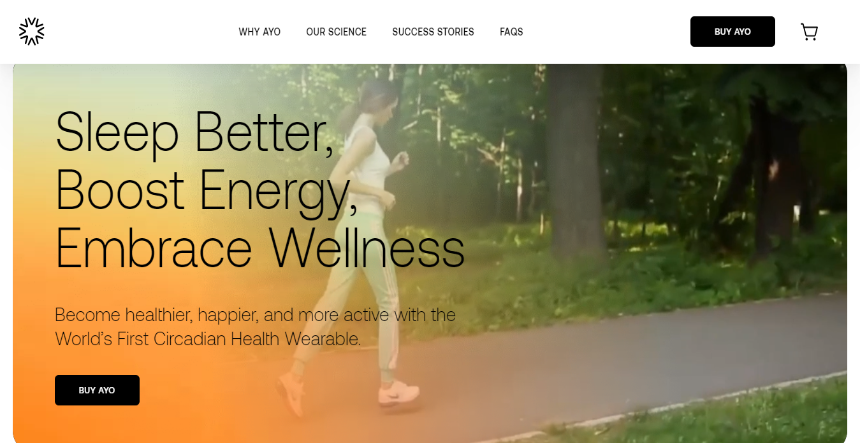 AYO is a health and technology company that focuses on sharing the advantages of its science-driven products on a modern website design.
Key Design Elements
Gradient – Colour gradients that include fonts, backgrounds and icons are a popular web design trend. It adds depth and style to a webpage that attracts more web traffic.
Background – To show the benefits of circadian health, AYO website uses both dark and light backgrounds that highlight product usage and value for nights and days.\
CTAs – Engaging CTAs like "Discover AYO Science" is used that compel the audience to explore the website further.
Key Takeaways
Improve browsing experience and time by introducing brand value through custom copy.
3. Flyers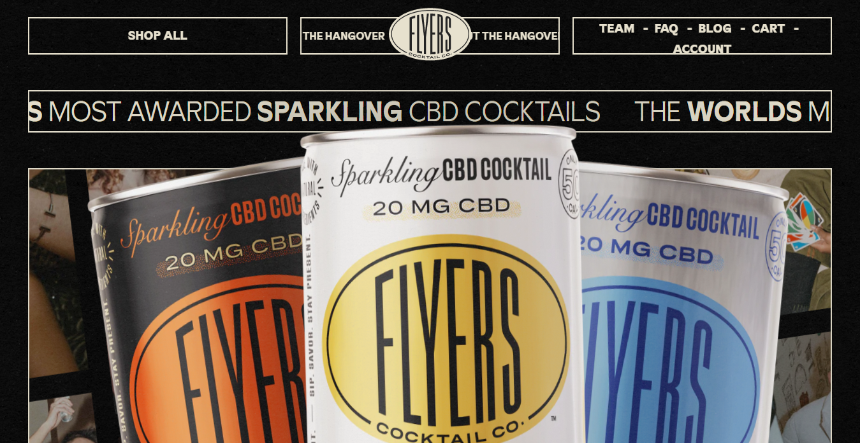 Nominated for Awwwards, Flyers is an eCommerce store that sells three CBD cocktails. It displays its products directly on the homepage. Its landing page with animation impressed the Awwwards panelists.
Key Design Elements
Retro style – The web design evokes memories of a summer holiday that perfectly complements the target audience.
Interactive CTAs – Engaging CTAs like "Shop Now buttons" and "Try a Sample Pack" trails user cursors across the page.
Moving text – Product features are listed horizontally as moving text to capture visitors' attention.
Key Takeaways
Create a unique branding strategy that offers a saleable customer experience.
4. Bliss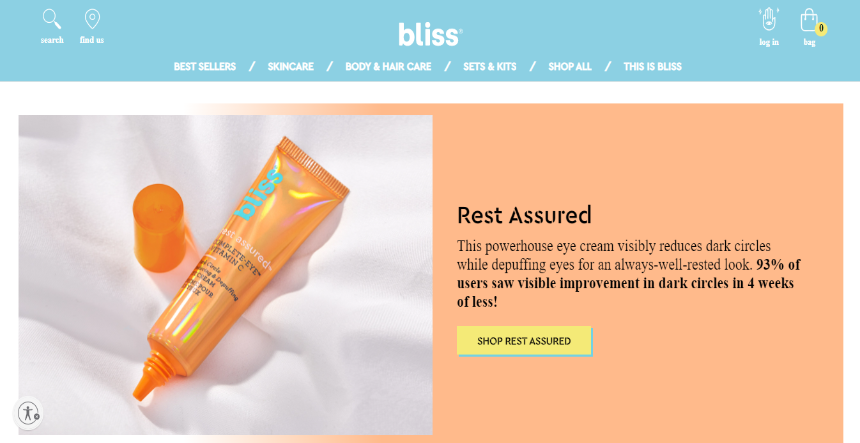 Bliss is a skincare products company. It was among the finalists in 2020 for Best Overall Design. The e-store uses bright colors to create joyful energy. With easy-to-use navigation, interaction on the site becomes fun and easy which demands customer attention and nudges them to make purchases.
5. Frank Body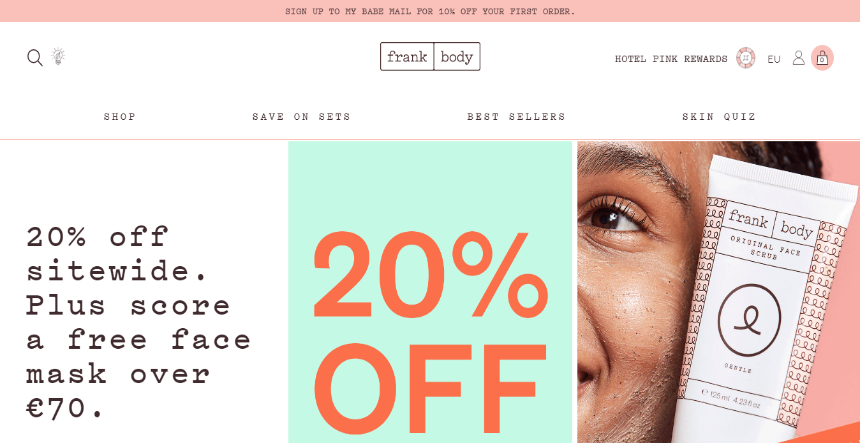 With its pastel colors and monotype font, Frank Body eCommerce store is designed for the youthful audience.
6. Boost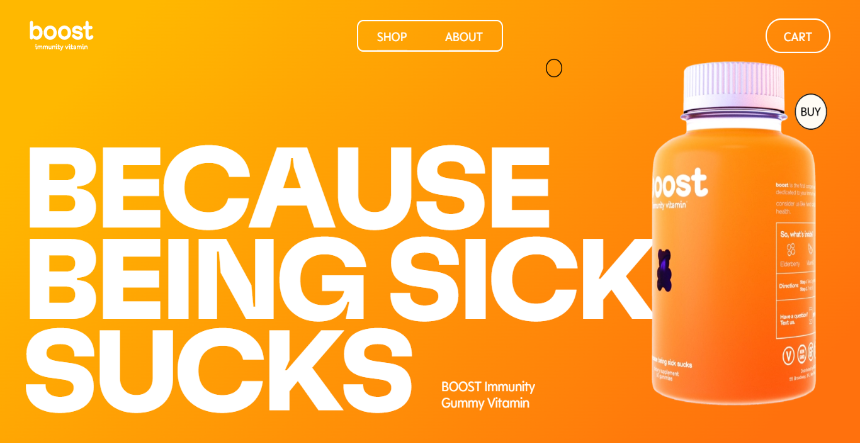 A multivitamin product that aims to improve the immune system strongly represents its brand from the well-crafted and articulated website. Boost online store uses a punchy copy and bright orange background that reflects the energy and compels visitors to buy the product.
Key Design Elements
Hero typography – Latest trend in 2023, the website displays its bold marketing approach via the typographic hero image.
Dynamic copy and vibrant color – Crisp and concise content, against a vibrant background, robustly displays the company's motto – 'boosting immunity.'
Animations – With each scroll up/down, the animated vitamin bottle comes to the centre and rotates to display the product information. This constitutes an engaging UX.
Key Takeaways
To sell online, your store must always be updated with the latest design trends that attract more web traffic.
7. Verve Coffee Roasters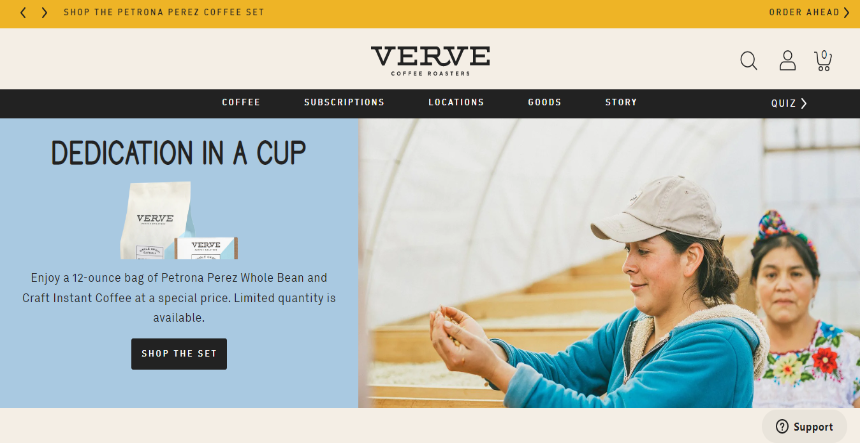 Verve Coffee Roasters, the 5-star-rated online coffee retailer uses stylish photography and expressive language to hook their audience. For example, the brand promises "delicious and classic" products and delivers this expectation through vivid content such as, "the sweetness of golden marmalade."
Moreover, a free shipping offer on adding more products to the cart encourages customers to shop from this site.
8. Allbirds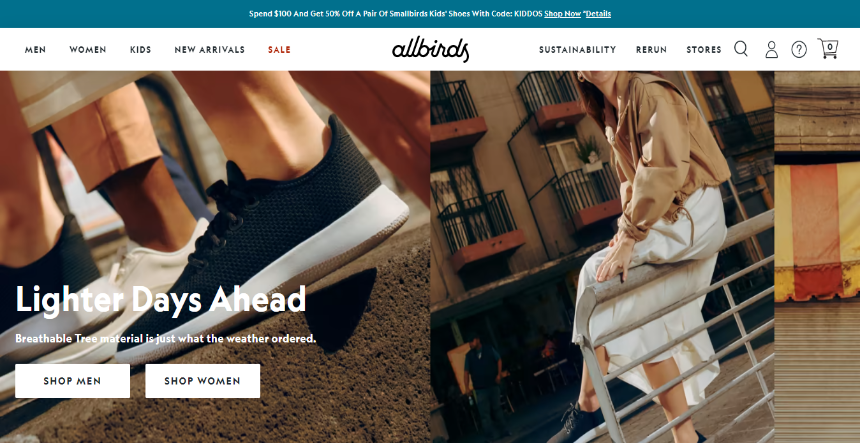 Allbirds, this eCommerce store for shoes and clothing offers warm-toned content and images to reflect its simple and sustainable fashion. Customers can quickly browse the company's main product categories, newest collections, sustainable business practices and collaborations.
Key Design Elements
Informative product page – With close-up photos and videos, customers can easily visualize products, and the supporting text adds to the experience.
Advanced review system – Users' reviews are available below the product descriptions; thus, users can make quick and informative purchase decisions.
Product recommendations – It displays recommended items across the site based on the visitor's browsing history. Further, it displays product category pages and checkout processes to interest customers and boosts conversions.
Key Takeaways
By using targeted keywords and vivid language and tone, you can improve the web traffic on your site.
9. Subtle Asian Treats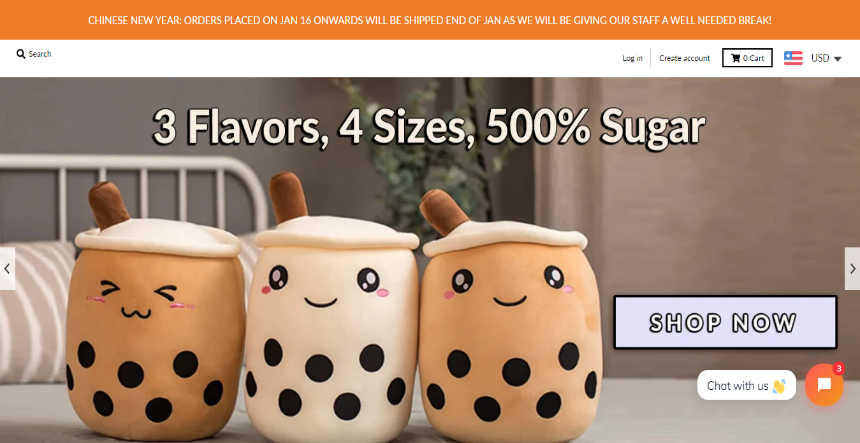 Subtle Asian Treats, a popular drop-shipping eCommerce store on Shopify sells exclusive kawaii merchandise and plushies, other products include iPhone cases and Air Pod. It offers a seamless navigation that allows customers to gain quick access to customer reviews, pricing and discounts, and FAQs.
This store builds customer trust by displaying a personal note from Laura Chang (the company's founder), and from their Instagram feed. Further, it recommends a sign-up for the VIP club to receive exclusive discounts and deals instead of regular e-mail marketing.
10. Kylie Cosmetics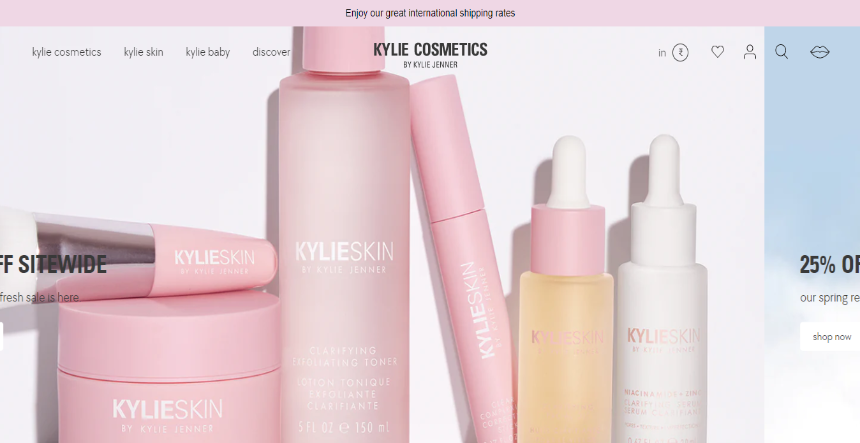 As the beauty icon for youth, Kylie Jenner's name is enough to sell. But her website, Kylie Cosmetics works equally hard. The home page contains her endorsement, which instantly boosts credibility and trust. All products are displayed neatly on a white background. Interestingly, upon hovering over a product image, a woman using it can be seen.
11. Vitra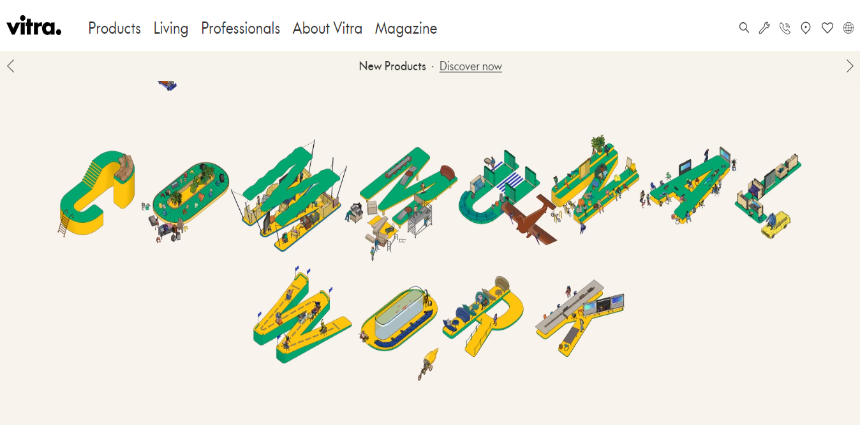 This Swiss company, Vitra designs furniture for homes and offices. Its menu is segregated into homeowners and professionals for the visitors to directly browse the product catalogue as per their requirements. The images on the home page are clickable, hence visitors can view how a specific furniture piece would look in their space.
Key Design Elements
Quiz – To help customers discover the perfect piece of furniture for their residential or office space, a tool "Find My Vitra" is hosted on the homepage. This tool asks a few questions to recommend the perfect piece for the visitor.
Shoppable photographs – By clicking on "Shop the Look" visitors can easily add to their wishlist a product from the editorial photographs.
Engaging loading page – Often, visitors leave a website as the page loading time is killing their patience. To combat this challenge, Vitra displays an illustration on page progress, which hooks the visitors.
Key Takeaways
By creating features like shoppable images and product quizzes, you can ease the browsing and shopping pain of your audience, and encourage them to become loyal customers.
12. Grainne Morton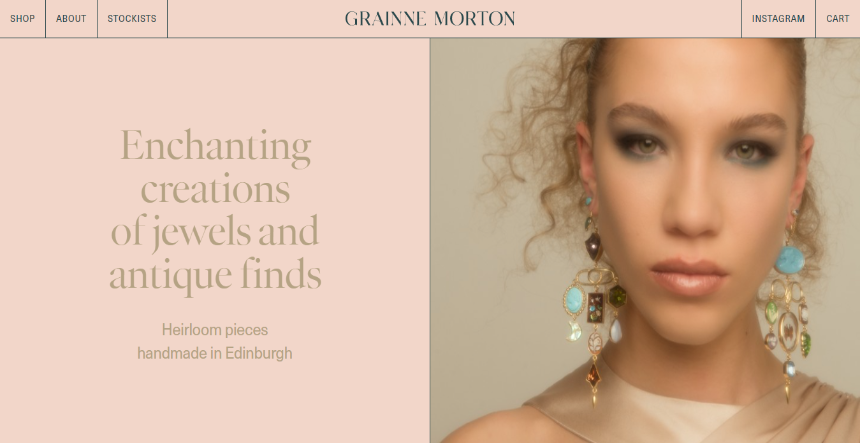 Grainne Morton, a Jewellery store supports a website that uses an earth-toned palette to highlight product photographs.
Key Design Elements
Linework – It uses prominent grids to segregate sections and make the content scannable. The text and images are put in rectangular boxes to separate product photos, menu items, and headlines.
Instagram feed – To build engagement and attract visitors, it displays an Instagram feed on the homepage.
Sidebar shopping cart – Upon adding a product, the virtual shopping cart appears as a sidebar. It allows customers to review their purchases quickly without navigating to another page.
Key Takeaways
For offering an effortless shopping experience integrate a pop-up shopping cart.
7 Ecommerce Website Best Practices
1. Avoid Clutter
Ecommerce stores that support simple design enjoy higher conversion rates. To achieve this, your website should have a minimalistic design with a focus on CTA or product offerings.
As per market research, visitors take three seconds to locate CTA on 53% of eCommerce stores. Your website should aim for lesser time.
To achieve this, do not clutter your website with product information or images, instead, keep the design simple and CTAs well-placed for your audience to take the required action of purchasing.
2. Build Trust with Your Audience
Often, small businesses struggle to get customers. Trust is a key factor in winning customers; thus, your eCommerce store should reflect that you are dependable.
Use credibility icons like verification checkmark
Use third-party (Yelp & Zomato) reviews on your website
Support your product quality with a "money-back guarantee"
Show the security seal in the footer
Show your team members their photographs in the "About Us" section
If you operate a retail store, a physical address adds a trustable signal.
3. Simplify Website Menu
The menu allows the website to remain organized. Focus on creating a simple menu that showcases your product catalogue by specific groups such as type of product (chair, clothes), age or gender.
4. Recognize Customer Experience
Focusing only on delighted customers won't keep you in business for long. Listen to the grievances and resolve them on priority. Customer feedback is valuable for the success of an eCommerce store. Thus, you should ensure that all your customers feel valued and heard.
5. User-Friendly and Accessible Website
A robust website design contains easy navigation with two CTAs on any webpage. This design element can convert customers because they can quickly act. Keep the menu organized and simplified for your customers to find the products easily.
6. Use Social Media For Promoting Your E-Store
People regularly visit social media (Instagram, Facebook, LinkedIn, etc.) to discover new services and products, and what could be better than adverting your store on such platforms?
Further, use the customer reviews on your website and post them on your social media handles to gain recognition, build trust and gain more traffic to your eCommerce store. After all, you want to increase your sales, isn't it?
Always promote your products and services and host content and giveaways to increase traffic.
7. Regular Blog Posting
Running a blog site along with your social media handles and website will garner audience attention and propel your store to new heights.
Regular blog posting enables you to develop a robust fan following, and potential customers would be compelled to check your eCommerce store on a weekly or daily basis. Once they visit, they will buy!
Conclusion
Building a successful ecommerce business requires a sleek, stylish, easy-to-navigate website/e-store that promotes a hassle-free shopping experience for customers. This article aims to inspire your creative juices for your e-store design because "first impression" always matters, just like the book covers.
We hope this article has added value to your business ideas. If you need experts to assist, just schedule a virtual meeting with us, we would be glad to help!