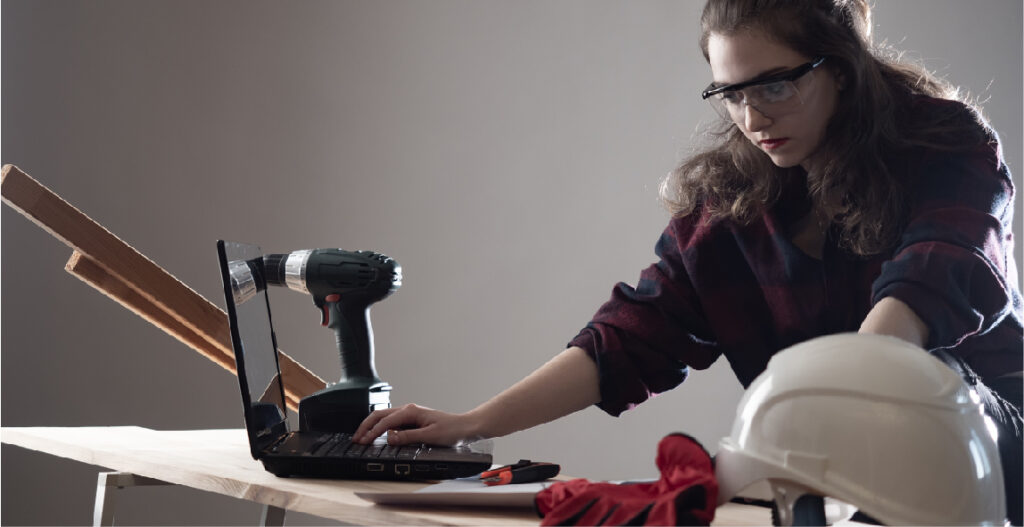 With millions of people owning smartphones, your website may be more crucial than business cards. Today, most consumers use search engines to discover the names of reliable handymen in their neighbourhoods. You want them to come across you instead of one of your rivals.
It allows you to showcase your abilities and services and is an excellent approach to interacting with clients.
You also want to retain them and book your services with them. You require a user-friendly and appealing website to make it possible. All you need is an appealing, essential, professional website promoting your brand, services, and why you are the finest in the field!
Consider our list of the best handyman websites for 2023 and the great tips to keep in mind while developing an intuitive handyman website to assist you in designing a website that produces leads and informs existing clients.
Let's get started by looking at the 17 incredible examples and a few pointers for creating a fantastic handyman website.
17 Examples of Best Handyman Website Designs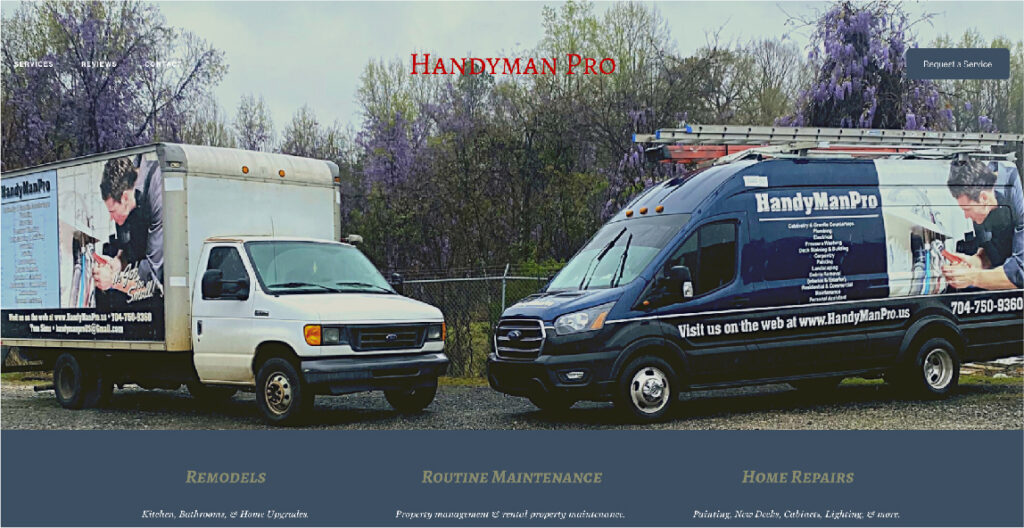 Pro Handyman Leads takes the lead with 24-hour support, demonstrating that they are prepared to respond to inquiries as soon as they are received. All the services are very nicely structured, with separators, explanations, and connections for each one.
The links they have added show more information and media, which helps you better understand their services and bring you more information and images to help you understand the service. They have even added many testimonials from their previous clients in video formats (highly recommended), which further adds to the trust.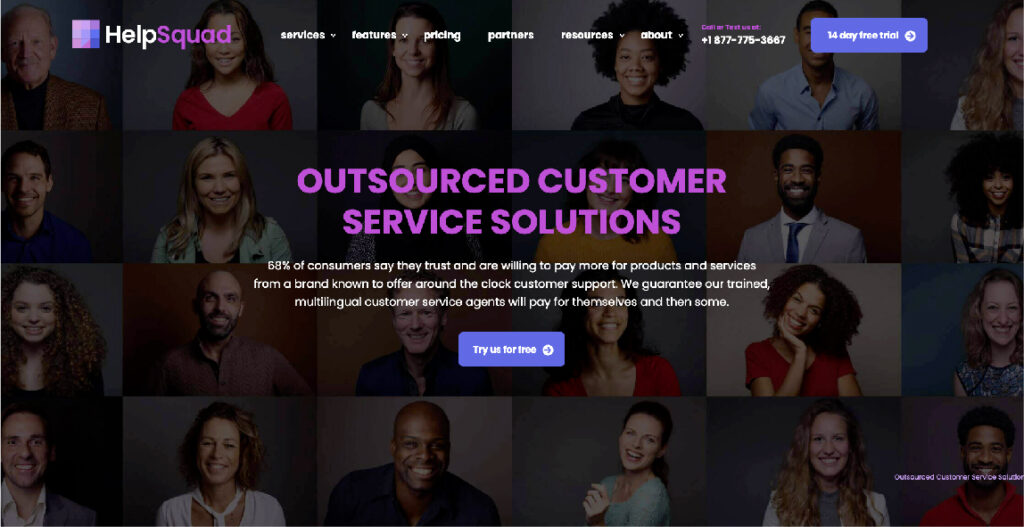 When you contact Help Squad, a highly qualified expert is sent right to your door. This best handyman website has a good color scheme that has been assembled in a pleasing way. We adore the 'Call Now' button on the homepage hero slider, which compels users to act immediately. It will be the first thing a user sees.
This website provides live chat help, which is fantastic and demonstrates to users your concern for them and desire to provide the assistance they require.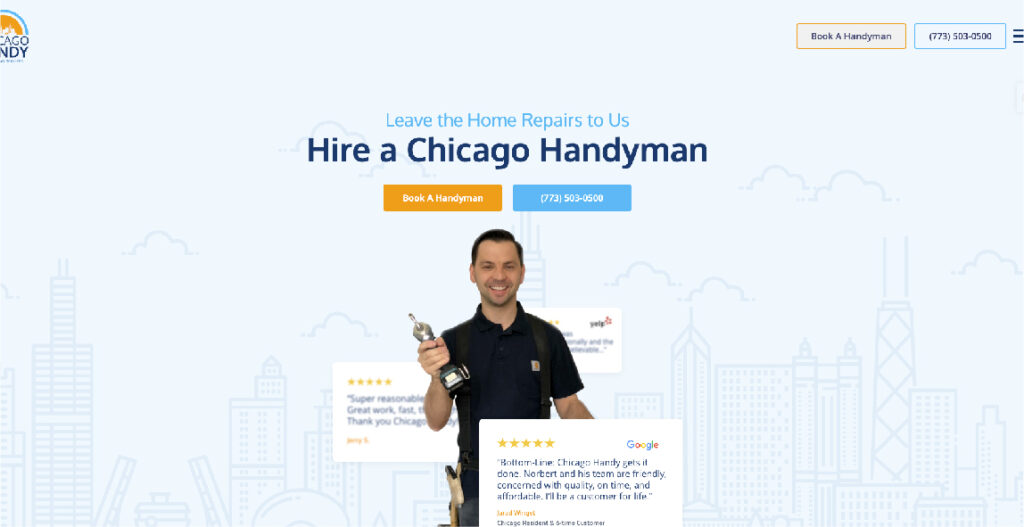 This handyman website gives users the option to browse through finished tasks directly from the homepage, which is a terrific approach to show them your work and encourage them to take quick action.
They have added extremely easy symbols to explain the services and a beautifully organized section listing some extra services. The business's contact details, services, prior work, reviews, and more are all located at the page's top. The footer incorporates social media links, providing clients with yet another option to stay engaged.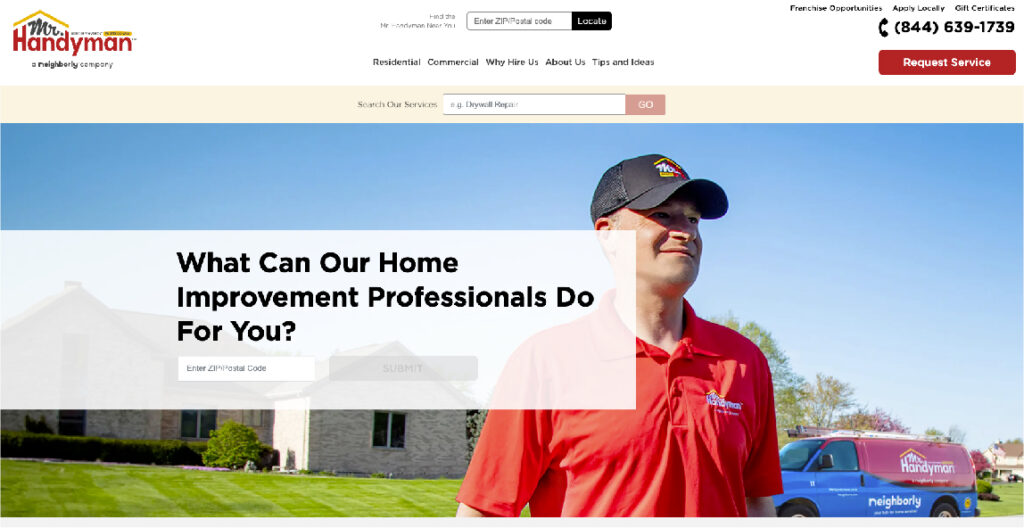 Mr Handyman is a business that stands out from its rivals thanks to its extensive service area, knowledgeable technicians, and stellar track record of providing excellent customer service.
Similar to their physical presence, they even created one of the most appealing handyman service websites, detailing all of their services, providing several customer support methods, and having a powerful CTA that encourages users to take action right away and drive the desired results.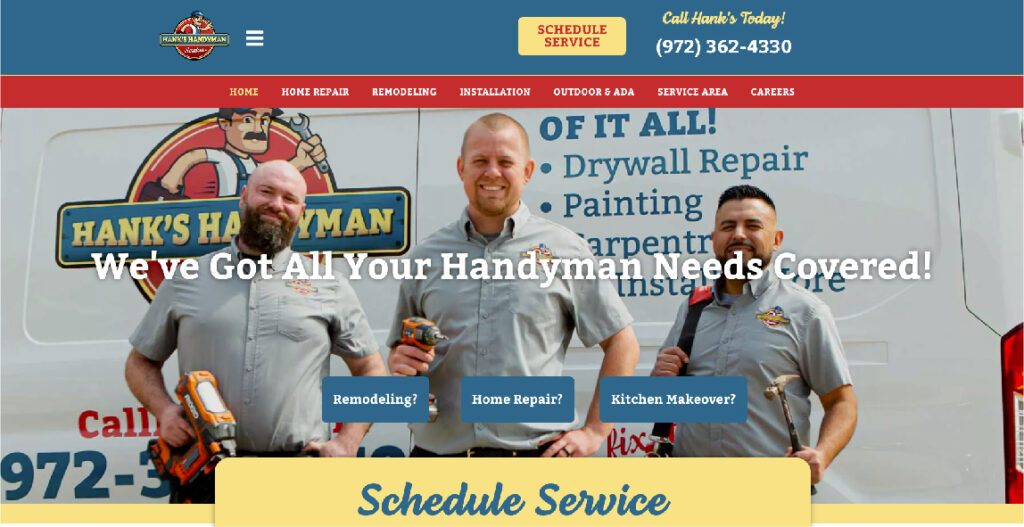 Hank's Handyman is a Texas-based handyman company. This website has a decently well-designed, user-friendly layout with original fonts. This website's call to action is appealing to us. It's right in your face, and getting in touch with it is really simple.
At the bottom of the page, they have added floating Google reviews which we surely approve of because it instantly generates credibility among the audience.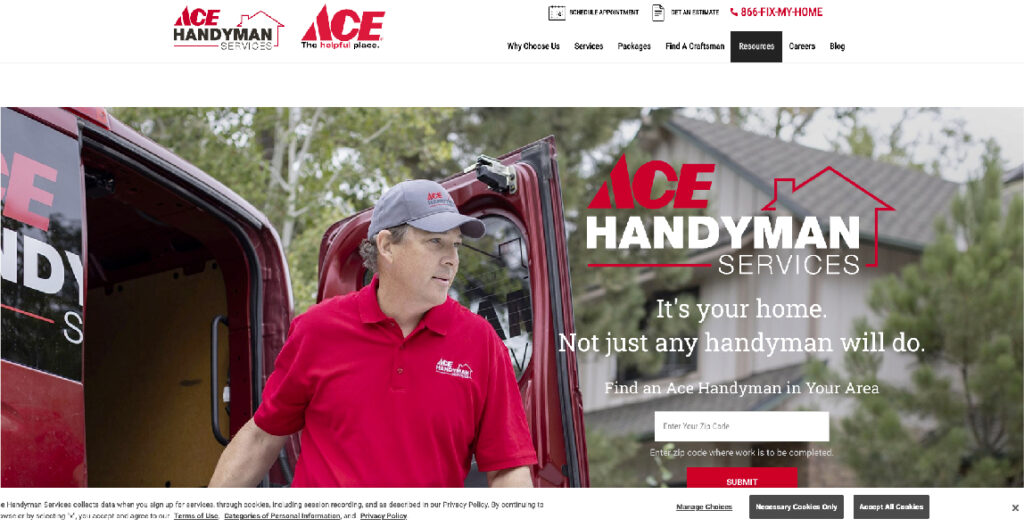 Ace Handyman Services provides a broad range of home repair, improvement, and maintenance services. The ACE handyman literally nails the branding with black and red, which immediately gets your users' attention! This website's content is well-written, and some of the section titles are interesting.
It's fantastic that the main navigation has three calls to action. They cover all of them because you never know when someone might wish to contact you, fill out a form, or make an appointment.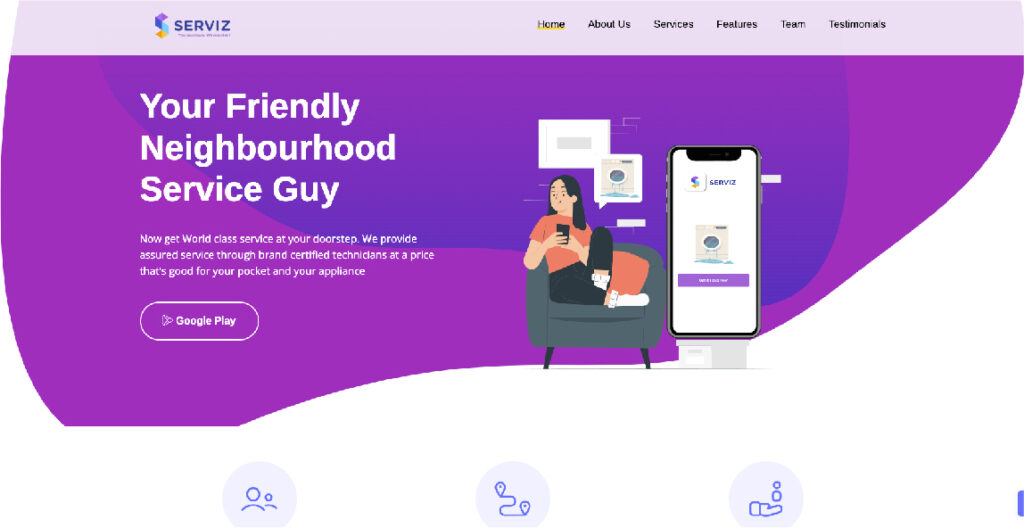 Serviz is yet another best handyman website, which explains everything about their business and services to their customers. Above the fold, they have a quick overview of how it works, making it easier for the customers to get started. They have added various customer testimonials, which further add to the trust and credibility of the website.
All in all, this handyman site has a professional yet simple design with an approachable tone for the customers.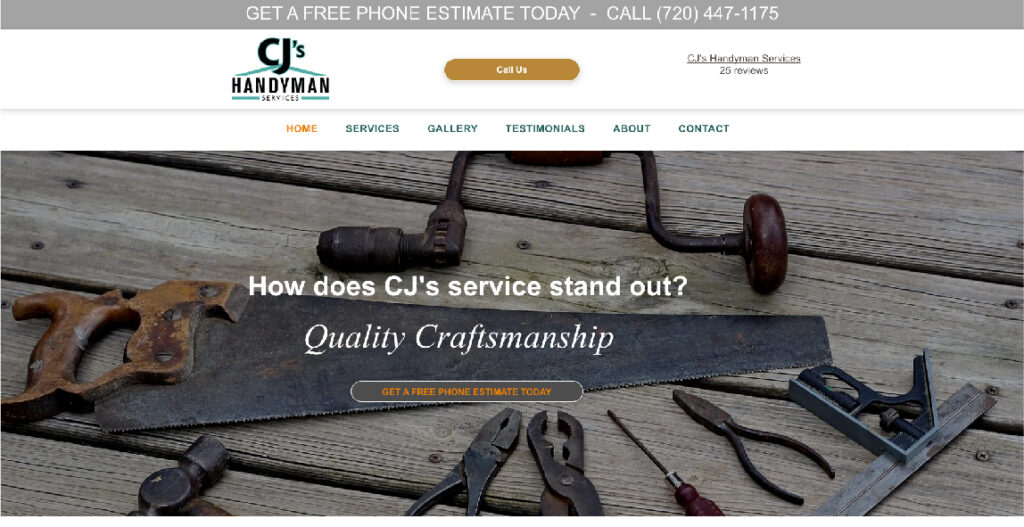 To emphasize the services they are providing to their clients, CJ's Handyman Services uses rounded images. Although the homepage is extremely straightforward, there are numerous links to further content, including photographs and reviews.
A section about the owner is included on the homepage, which adds to the legitimacy of the company and the idea driving it. Additionally, there is a "Learn More" option that visitors can use to get in touch with for more details and an in-depth explanation of the services and other things around.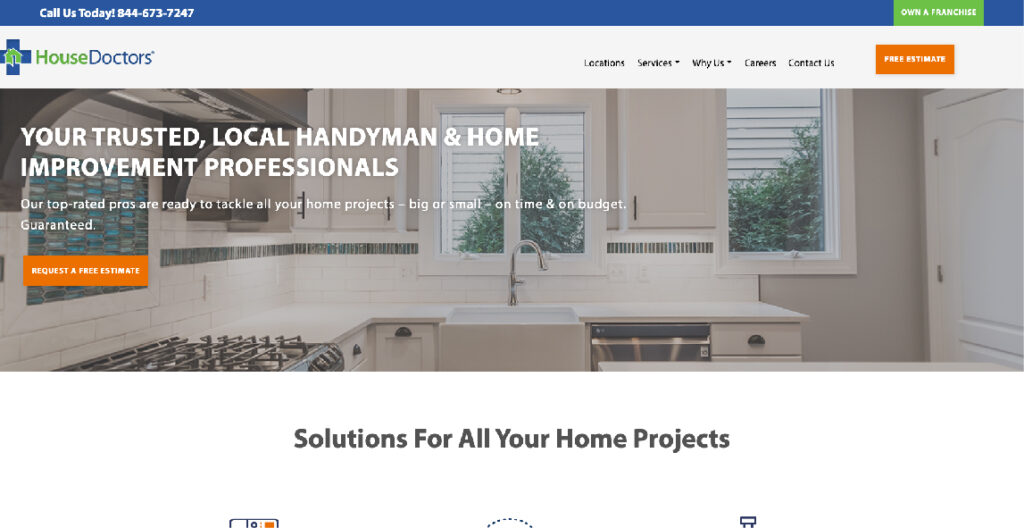 Around the United States, House Doctors provide qualified handymen and home renovation services. Their website has a polished, uncluttered style. The white background aids in focusing attention on the key components and all action buttons are highlighted in vivid orange.
Their services are briefly described on the home page, and there is a link to learn more and read in-depth content. The sticky top menu allows prospective clients to check their locations or request a free estimate.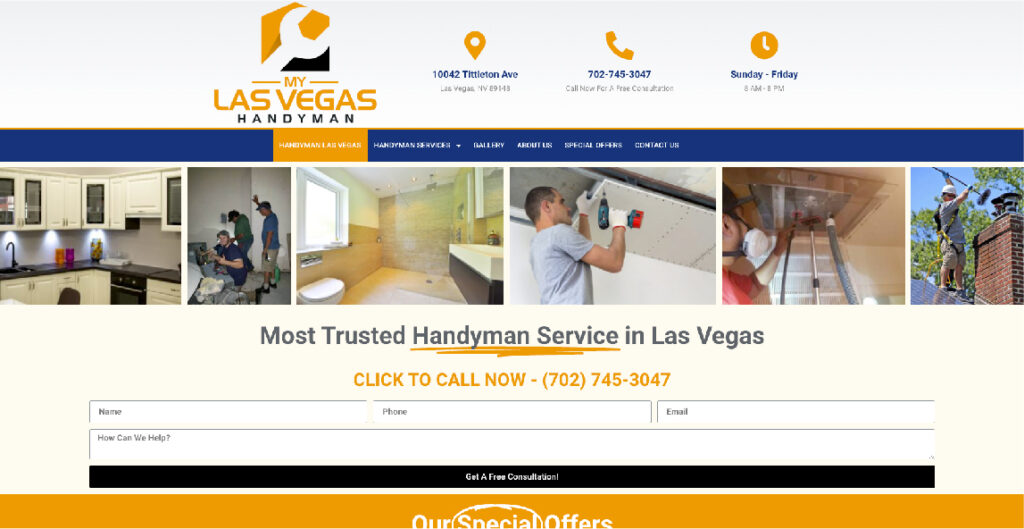 If you want to develop a website that speaks precisely what your customers want to see without any bluff, check out My Las Vegas Handyman's website. The company's offerings, location, and phone number are all briefly described at the top section of the homepage. The bottom half of the website has a quote form, social media links, and other crucial information about the company.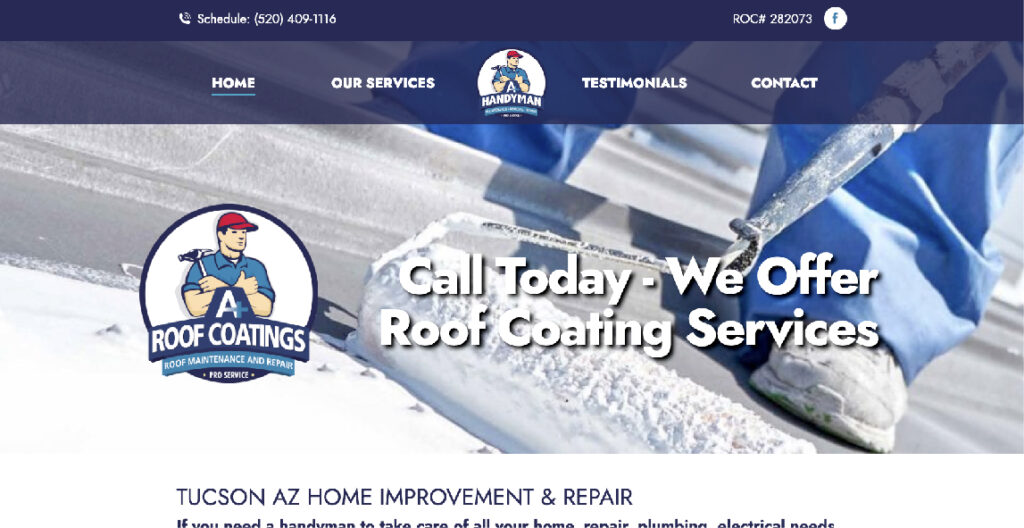 Yet another example of a good website design for a handyman business is A+ Handyman Services. They have added a slider at the top of the home page, which helps the company communicate with their customers about their services.
If a customer is looking for more in-depth information regarding the company or their services, they can easily click on the link given and access it from there. They have designed a clean and minimal home page with beautiful images and relevant text, Along with links at the top for potential customers to easily find more in-depth content.
So, all in all – they are providing all the information but through links – keeping the website less cluttered yet informational.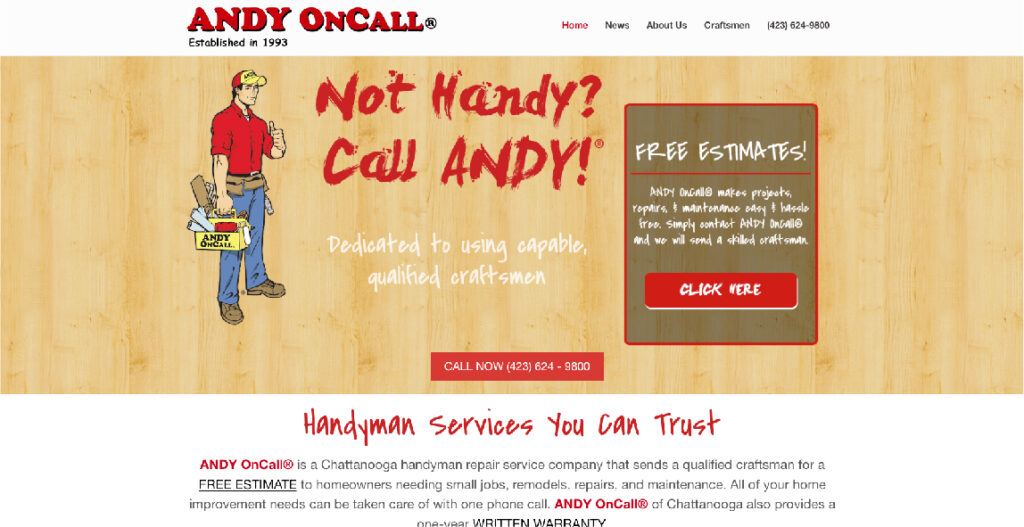 Andy on Call is among the most unique and impressive websites on the complete list. Firstly, they killed with their name and did even better with their slogan, which says, "If not handy, then all andy." It's a little funny but helpful for the customers.
If you want to build something extraordinary, this website is your go-to inspiration. They have even used some creative fonts and an attractive red-coloured CTA button. They have added many ways throughout the website for customers to reach out to this company. So, their overall website is so interactive and out-of-the-box, which instantly appeals to customers to take action.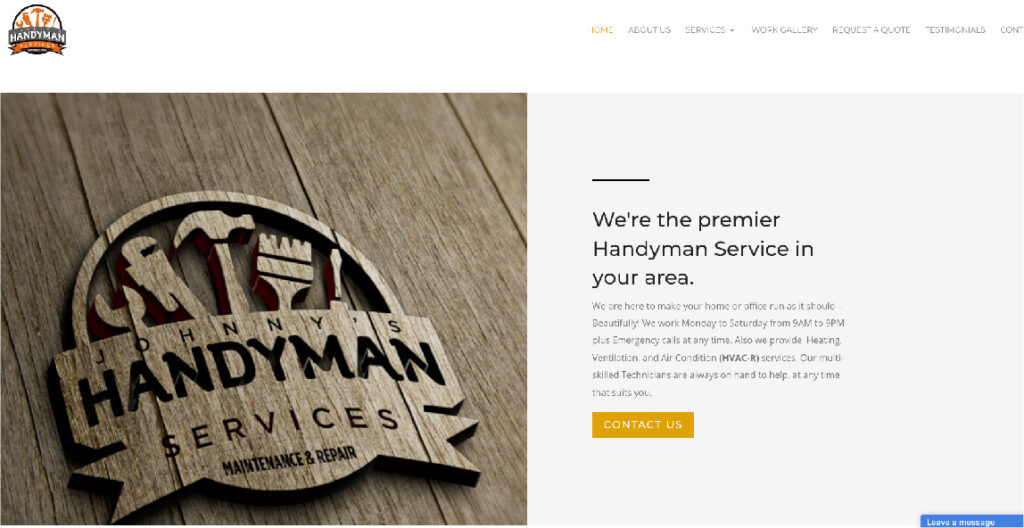 Johnny's Handyman Services provides end-to-end common handyman services to its customers and much more than that. They have added a beautiful gallery to their website, showcasing images of their past work, and even added live chat options to communicate anytime and every time with their customers.
Another out-of-the-box feature they have added is direct linking of their customer testimonials to the Google reviews page, which further adds to the credibility and trust among the audience.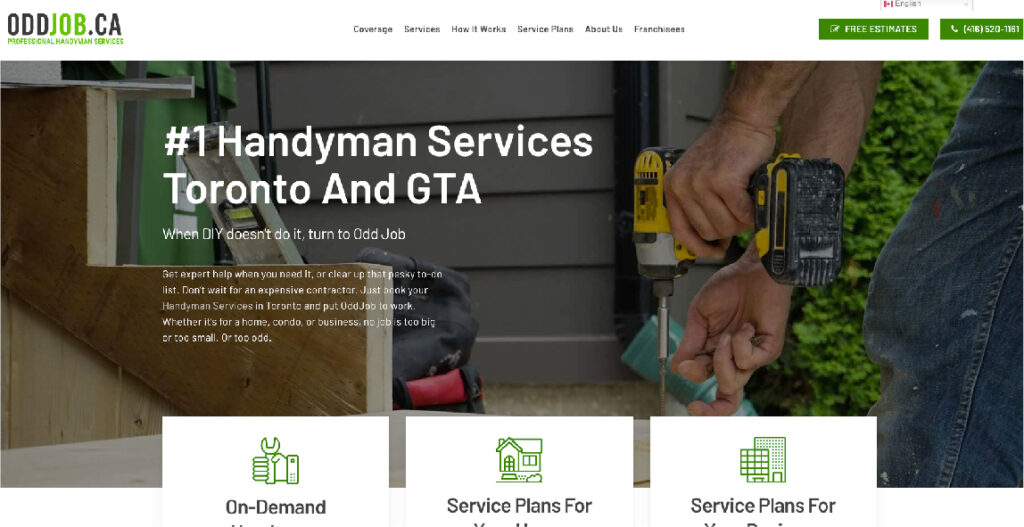 Odd Job is among the popular handyman services company in Toronto. They cater to the handyman needs of both residential and commercial areas.
They have designed a beautiful template for their website, blacked by some fantastic photos of their work(all professional), good yet relevant income, followed by an aligned colour scheme. All these features connect with their overall brand and make their company stand out from the market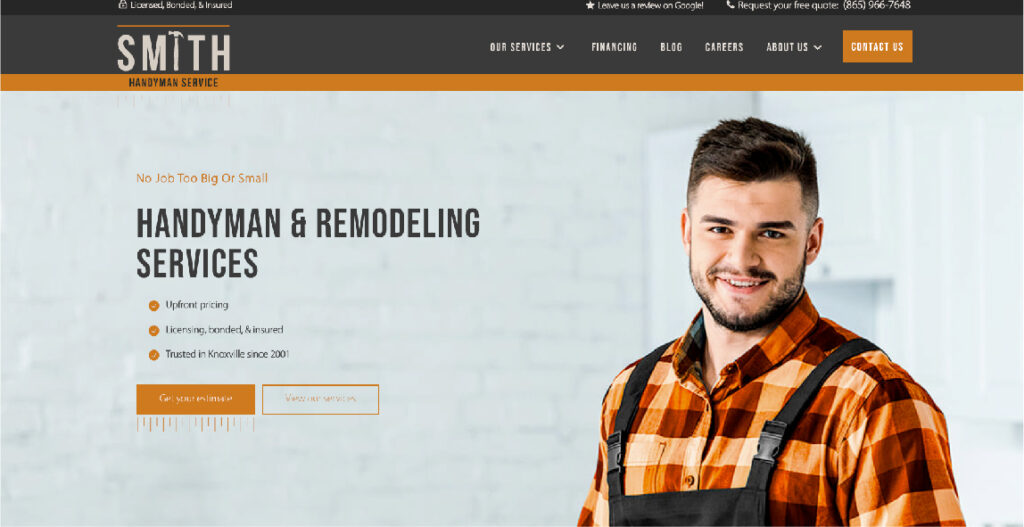 Smith Handyman offers its customers a wide range of handyman services, such as Carpentry, gutter installation & repair, drywall repair, Junk removal, flooring, electrical, plumbing, and more. And they have shown each of their services beautifully on their website.
Customers love watching interactive media, so they are exactly the same. They have added some best photos with minimal content above the fold at the start.
They even added a value-driven blog section, which is an excellent resource for customers. And with this section – they can also showcase their expertise and knowledge in the field. They have backed the website with some testimonials from their customers, adding the trust of your customers.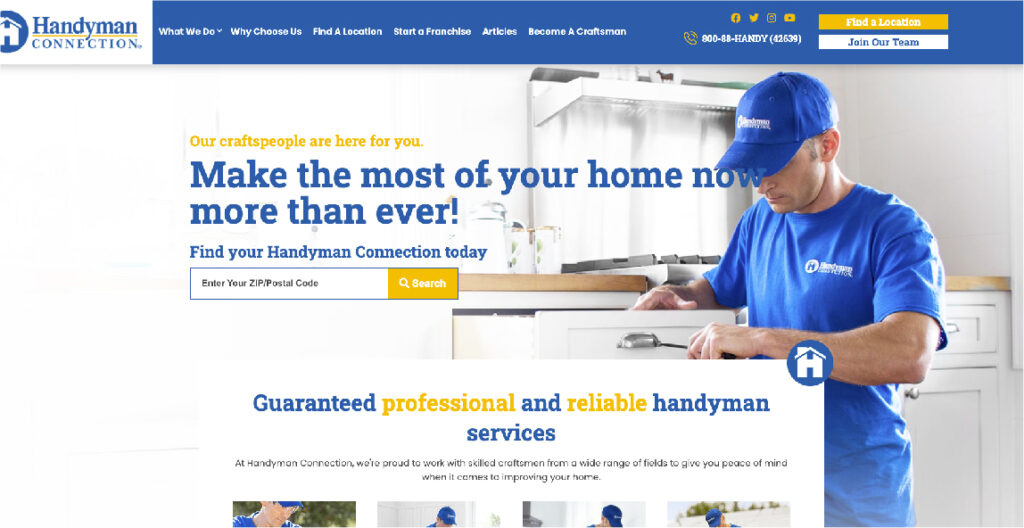 Handyman Connection has established a strong identity and presence among its customers across North America. They offer everything from carpentry and remodelling to painting and plumbing services.
When we talk about their website, they have used a lot of white spaces, along with some beautiful colour combinations and strong CTAs – which helps customers better understand their business and expertise and take the desired action within no time. It is the perfect example of when the right content and CTA meet minimalist design.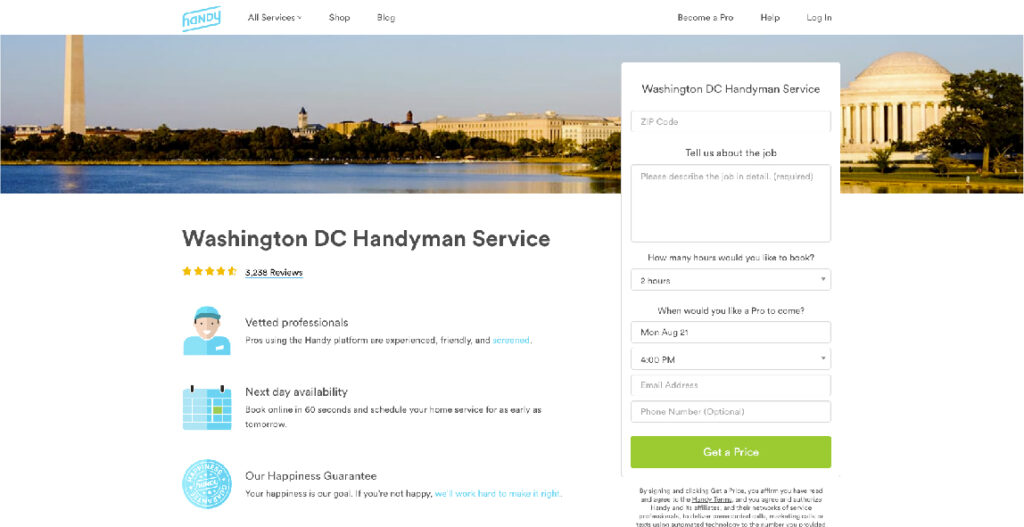 Handyman Services DC's website believes in offering more information to its customers. They have detailed everything about their company and services in an informational and decluttered manner with smaller and more subtle information. It catches the audience's eye while still providing all the information.
This enhanced focus on providing head-to-toe details to their customers helps them in building enhanced trust and credibility in the market.
5 Tips to Create the Best Handyman Website
1. Add all your services
One of the most important things you should include on your handyman's website is your services. It's essential that both your current and prospective customers are aware of the services you provide. Don't forget to add a particular area on your website that emphasizes your services.
A website's content is more significant than its aesthetic appeal. All the handyman services you offer should be listed on your website, along with appropriate descriptions for each.
2. Adding portfolio
Adding a portfolio to your handyman's website is among the most efficient methods for potential clients to assess your skills and experience. If you have a collection of before-and-after images from past projects, they will blend well with your website's information.
An extensive project portfolio is evidence in and of itself of the kind of work that you have completed as a contractor. Your customers can better understand the quality and type of services you provide by adding a portfolio of your previous work.
3. Testimonials
The easiest way to show your skills is by getting testimonials from former customers (video testimonials are preferable). Get positive feedback from your previous customers regarding the work you've done so far for them and post it on your handyman's website. It is the most effective advertising you might get for your company.
No matter how good things you have mentioned about yourself and your services on your website if it's not backed by social proof. Then, not many people will believe you. Your customers connect with other customers who have taken your services and shared their experiences about the same.
4. Contact information is a must!
Don't forget to include your contact information on your website. Include your name, company name, contact information (phone, email, and physical address), and more. You might include a contact form that potential clients can use to contact you.
Make it simple for them to reach you with questions. People contact handyman services when they urgently need them, so be sure to include contact information on every page and in an appealing manner.
5. Social media links
You can establish a unified online presence by integrating your social media accounts with your handyman website. People in your network can be redirected to your website if they have questions, want to see your portfolio, or want to contact you directly. Conversely, with the social media links on your website, website visitors can join your social network as well.
Most people include links to their social media accounts in the footer. If you have any intriguing content on your social media networks, you can add it to your website gallery to entice visitors.
Conclusion
To sum it up, having a great website is crucial for handyman businesses today. In this article, we talked about the 17 best handyman websites and some excellent tips and tricks to help you make your own fantastic website.
These 17 websites are examples of what others are doing, what you should do, and what you shouldn't. They look different from each other, but they all show how to make a website look nice and work well. Depending on business requirements and target audience, you can choose what you want from your own website. The tips and tricks we discussed are like little secrets to improve your website.
We hope that with the example and ideas we've shared, you've got a handy guide to creating a website that shows off your handyman services in the best possible way.
If you still need assistance from a Web Design Professional to build a fantastic website for your handyman business, then look no further than KrishaWeb. We are a leading website development professional with years of experience to offer you the best of everything!