Best cleaning service websites are those that attract customers online and actually get work from them. Let's get realistic about it. If you have a small or medium-scale cleaning business with highly trained staff, you must advertise it on search engines to get more customers. A stunning site showcasing how good the services are is not enough to grab actual cleaning projects. You need a website that engages potential customers and converts them into business offering clients.
Top 10 Tips for the Best Cleaning Service Websites
1. Must-Have Mobile-friendly Website
Have a mobile-friendly website, as 90% of people search for things on mobile or tablet. A responsive website will draw more customers as modern-day people order things more through mobile than desktops. Also, top search engines like Google penalizes non-mobile-friendly sites so, you lose their rank on Google.
2. Visible Contact Info on the Website
Wisely, put a Click-to-Call button that is nicely visible on the site. This will help you get more customers than the Contact Us page. People don't have to note down your number to connect, instead, the Click-to-Call button will do that for them. It facilitates the customers and your business, both in one shot.
3. Customer Feedback/Reviews
Add reviews on the website. Please make sure they are fresh and nicely placed on the home page. A small business like a cleaning service needs customer validation to sound authentic to the online crowd. The latest reviews with date will help customers gauge that your cleaning company is active and up-and-running.
4. Image of the Original Team
A bespoke image on the website helps the customers to connect with you. If your team has a dress code, then keep a picture where the team is dressed in uniform and carrying some of the cleaning tools. This helps them know that you are a genuine company that offers professional services.
5. Highlight Local Business
Display a map or something that hints that you are a local cleaning business. Best cleaning service websites have a map of their exact location to grab the customers that are in their vicinity. Fetching far-living customers will add to the commutation charges and overall billing, so, why not create a champion cleaner's position in your local area?
6. The Sitemap for Authentication
Add a sitemap on the webpage, as sitemaps are the easiest things crawled by search engines. Also, sitemaps tell Google that you are a well-updated, active site, which is important for the business. It is important that Google caches your webpage, and it will do that only for active websites. So, sitemaps will indirectly help to bring in more customers.
7. Multimedia Site
Instead of plain text, make sure that your website has more images, small videos, and other forms of multimedia. This will have all kinds of people become your customers. Many gauge businesses from pictures, images, videos, and reviews displayed on them. Therefore, create an interesting and engaging site, not just a static plain text website.
8. Link Your Social Media Profiles
Link your social media profiles on the site. Most customers like to listen to what people say about particular services and check them on Instagram, Pinterest, and other platforms. So, make sure that the web design team incorporates all these pages on your website.
9. Non-distracting Contact Form
Add a contact form on the main page so that people who are busy making a call will contact you through the form. Make sure that the web development team does that with astuteness. A Click-to-Call button or Contact Form should not be distracting, but support instant connection.
10. SEO-friendly Website
Invest in an SEO-friendly website. Some of the best cleaning service websites are those that get good ranks on search engines. Having a strong online presence is the easiest way to get more business. So, do invest in a digital marketing agency that teams with web designers to create a high-ranking site, from scratch.
Let us help you out with visualizing the finest website for your business. We would like to share some examples that best fit a cleaning services business.
10 Best Cleaning Service Websites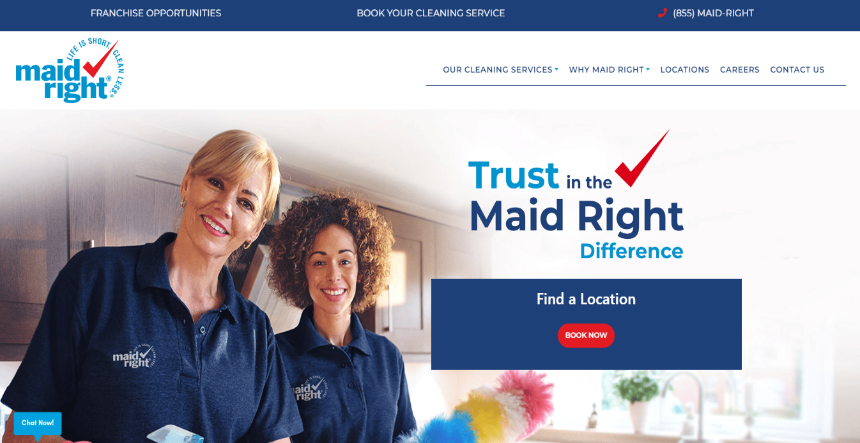 The website design is neat with no clutter. It has authentic images of the company, a quick chat icon, creative caption, social media connections, videos, reviews, and a 'Find Your Local Maid Right' button for instant contact. Everything is working well for this site.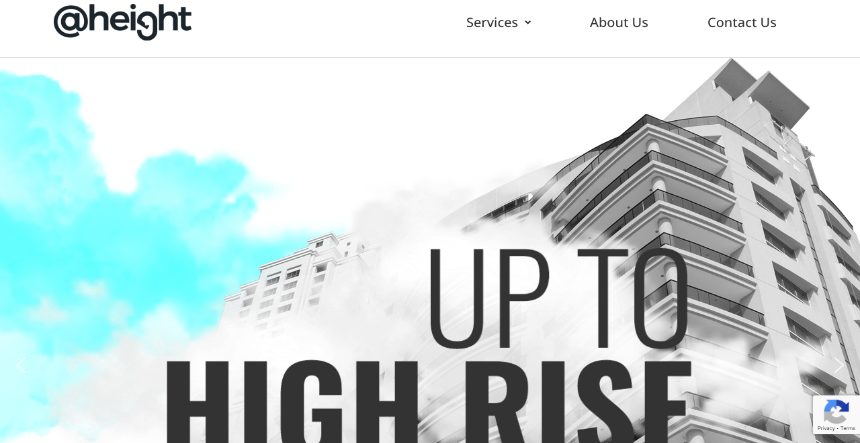 The banner exhibits a professional cleaning window of a heightened building. The domain name, the image, the caption, everything goes hand-in-hand to project what they do. They are professionals offering cleaning services for corporates and residents living in high-rise buildings. The website conveys its services without loud text. Simple yet creative!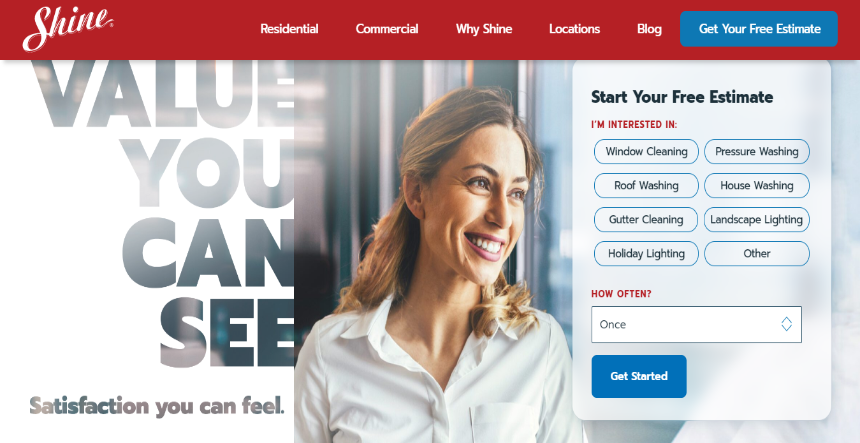 The colour contrast makes the site appealing. Bold fonts and a nicely presented menu on the banner give a list of all services. It also asks how often would you like the service to provide the best quote. This is an attractive feature.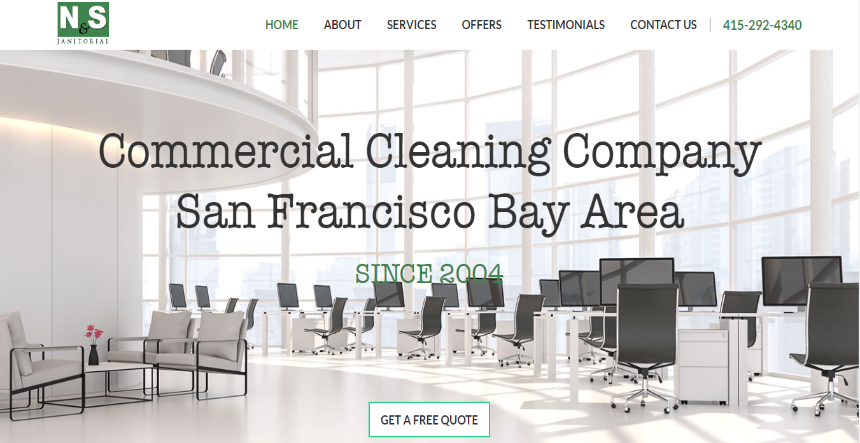 Neat web design with a clear message of what service they offer is the highlight of the site. The banner says it all, including their local area. They are professional cleaning service providers for corporates located in San Francisco. Any company around this area can avail of their services through the 'Get a Free Quote' button.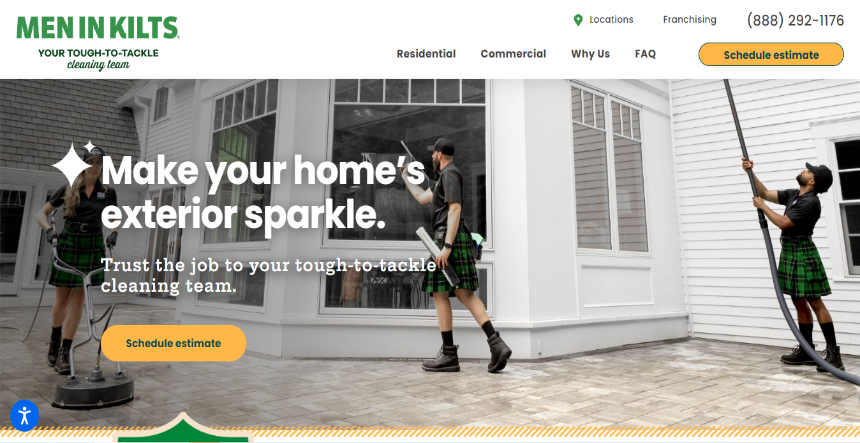 The company deals with the cleaning of exterior spaces. Wonderfully depicted on the website with a banner image of professionals wearing their uniform and working with cleaning tools to scrap off dirt on outside spaces. The website nails it – the caption, the image, the 'Schedule Now' button, the creative element, everything.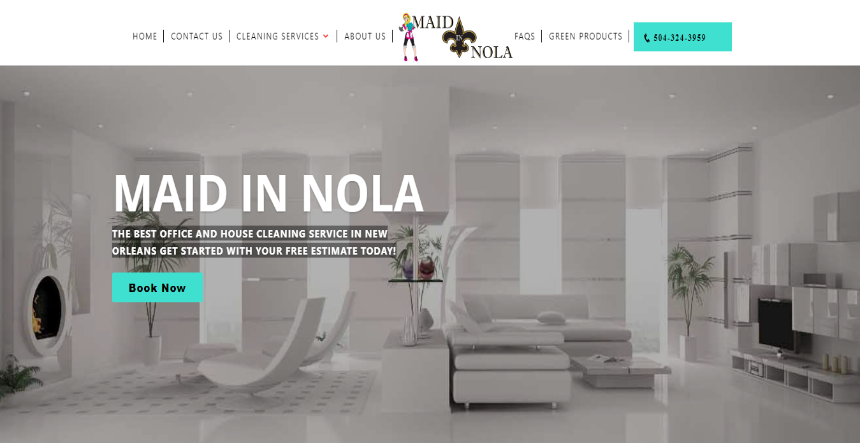 It is one of the best cleaning service websites. It gives a clear message about its services in one single line. It cleans offices and homes and lists other services in an image menu underneath the main banner. They have used the visual element to the core. The 'Book Now' button is well-placed to get an instant call from the customer.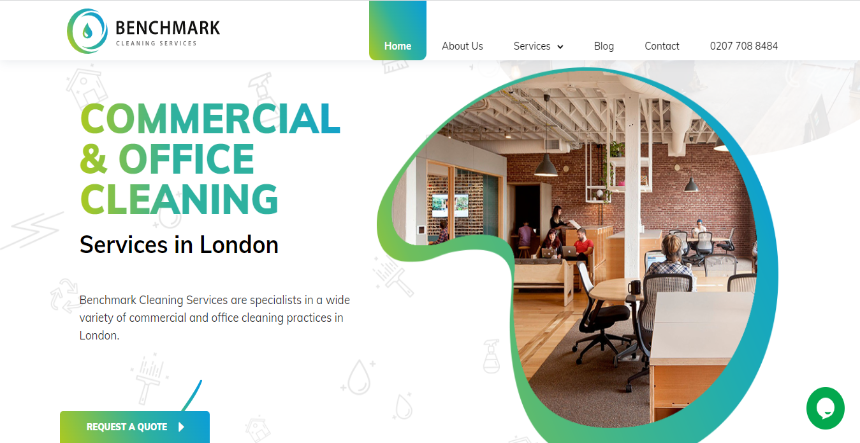 With an artistic website design, bold fonts, crisp banner text, an effective logo, an arrow pointing to 'Request a Quote', highlighted web pages for ease of browsing, London is mentioned as their domain city, and attractively placed contact number, this website design is simply perfect!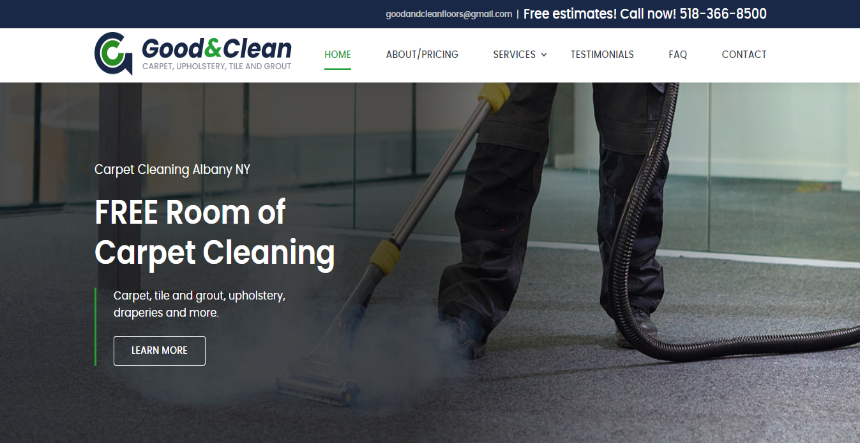 A statement colour combination, catchy banner text saying '1 Room Cleaned Free', 'How can we help' dropdown menu and a smartly placed testimonial page are some of the highlights. They have mentioned that they clean carpets, Tiles, Grouts, Upholstery, etc. to clearly define their services. An interactive, engaging site that conveys everything without much ado!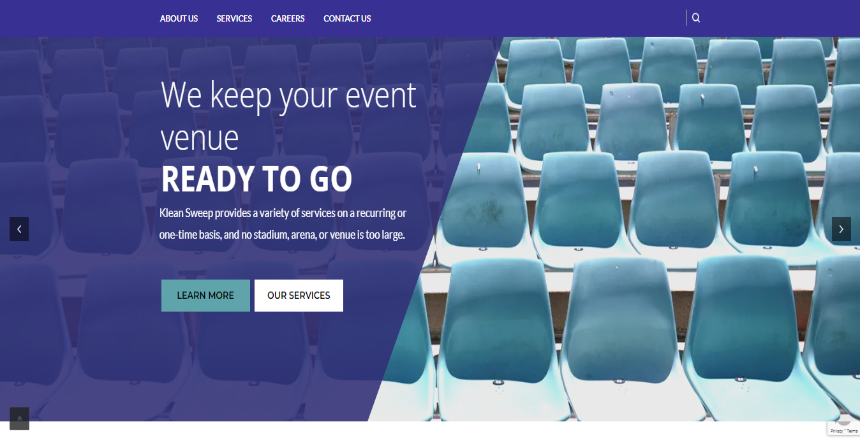 A sophisticated website design with a banner saying it offers cleaning services for business houses. The banner text reads that they exist since 1969, a subtle way of showcasing their experience in this profession. The 'Learn More' and 'Our Services' buttons are easy to spot and click. The location map on the top, contact number, email, and 'Request a Quote' button, all help customers to easily contact them. The site gives an impression of a highly reliable business.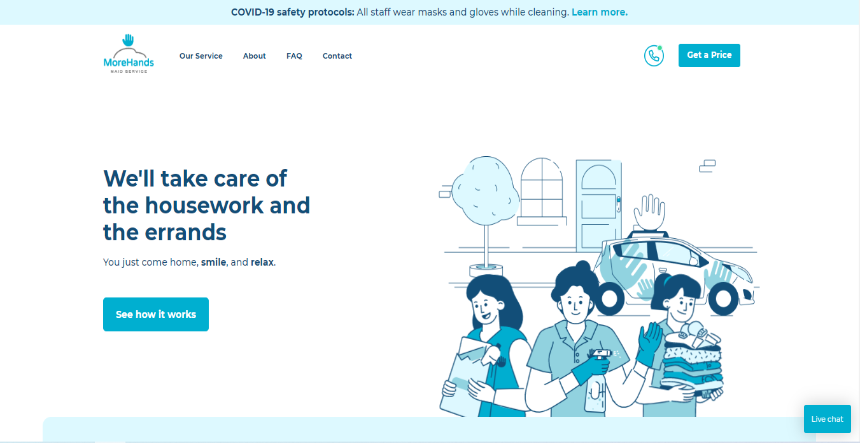 A pleasing web design with cute illustrations, a gentle message about their practice of all Covid safety norms, a friendly banner text in pretty fonts, a 'See how it works' button for details and banner text that says you relax and smile. All these elements create a warm feeling of how a cleaning services company cares for its customers. Such a site is sure to create more loyal customers than those with loud designs and top-of-the-voice messages.
Final Words
These are the top ten websites in the cleaning services domain. As a website design and development company, we have ranked them with respect to their appeal, business-centric approach, customer-friendly design, and overall ambience.
If you are into professional cleaning services and need a mobile-friendly website to represent your business on the Internet, then KrishaWeb can help you. We offer website development services for all industries. As a digital marketing agency, we have the right teams to collaborate and create websites that get higher ranks on Google.
Feel free to connect with us for a detailed discussion and a quick quote.