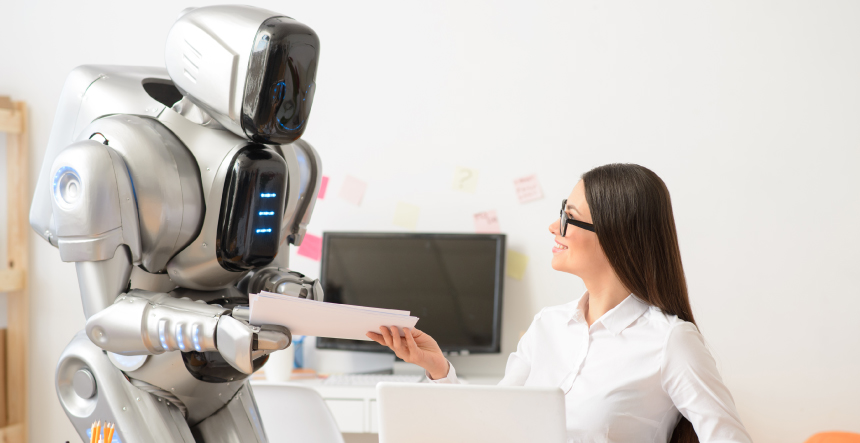 Artificial Intelligence is improving the execution process in every sphere of technology including content creation, data collection, web design, and development. The main advantage of AI is that it automates many tasks. This reduces the effort of web designers and developers as well as minimizes the overall development time. When AI is combined with web development, it opens avenues to personalize user experience and therefore, has a straight impact on the sales. The next obvious question that arises is whether will AI replace web development in the coming decade. Well, that depends on many factors, but first, let's see the power of AI in realistic figures.
Market Position of AI in Web Development
As per statistics, the AI market predicts a 37.3% annual growth from the period of 2023 and 2030.
Figures suggest that by 2025, it will scale up to a whopping revenue of $126 billion. Talking about the penetration of AI in the web design and development realm, the reports of HubSpot declare that
58% of designers use AI tools for imagery
50% use AI for web page designs
49% check their design strategies with these tools
43% for design optimization
40% checks design quality with AI tools and
20% analyze the user experience through AI
This makes it clear that AI tools are excessively used for web design and development.
Will AI Replace Web Development Entirely?
The startling figures suggest a strong domination of AI in the web development market. The AI can automate many design and development tasks. This points to the extensive use of AI in the coming years. However, it cannot replace the human skills required to build complex web applications through unusual problem-solving techniques and unseen creativity. Therefore, developers should leverage the potential of AI to reduce their tasks and increase their efficiency.
How can AI Help You in Web Development?
Websites are mandatory for businesses that need a digital presence. If you want a global presence, the website is the gateway for it. AI can simplify web development in many ways.
6 Ways AI Can Help You in Web Development
1. Website Optimization
Developers can use AI algorithms to minimize page load times and improve the performance of websites. The algorithms can also decrease bounce rates.
2. Chatbots for Customer Support
Virtual assistant tools are integrated with websites to deliver personalized experiences to the visitors on the site.
3. Testing tools
AI-based tools can pace up the testing of websites. This creates better websites with higher performance and security.
4. Image & Video Optimization
AI can augment videos and images to create a streamlined effect on the website.
5. Content creation
There are many online tools that create content without the need for manual intervention. This cuts down the effort of the content team by a huge margin.
6. Personalization
AI tools can be integrated with websites and apps to analyze user data and predict the behaviour of visitors. This helps to study the buyer's journey and personalize their experience.
The Potential of AI in Web Design and Development
More than 50% of web designers use AI tools to create web pages, and imagery and to streamline the overall design process. Even developers use AI tools to devise development strategies, automate coding, test modules and boost site performance.
How AI Supports Web Design and Development?
1. AI Automates Automate Web Design
AI can cut short the web development process through various means. The AI algorithms can recommend development strategies for websites. It can then be refined by developers to devise a customized process. AI offers personalized designs to increase visitor engagement, which eventually boost sales and revenue.
2. Quick Content Creation
AI-based content creation tools can generate instant content based on the visitor history and preferences of the visitor. This retains customers and increases sales by leaps and bounds.
3. Reduced Coding Efforts
AI-powered automated programming methods reduce the coding efforts of developers. They create quick code which can be optimized by developers. This reduces the development time of sites and apps.
4. Predictive Analysis of Visitor Preferences
AI tools can study the behaviour of visitors, their preferences and the products that they are likely to purchase. This helps to design interactive, intuitive, sales-oriented web pages and layouts.
5. Customization
User experience is a priority for digital businesses. AI tools and algorithms can design personalized content, search results and sales pages to create custom user experiences.
6. Accessibility and Viewership
AI can generate alt tags for images and improve the accessibility of websites. It also develops captions for video content to make it accessible to a wider audience.
7. A/B Testing
Designers can check which layout performs better through A/B testing by AI tools. This helps to create customer-centric website designs for the business.
8. Quality Control
AI systems can improve the speed and functionality of websites. This reduces the tedious task of quality checks and minimizes the efforts of the QA team. With AI, they can reduce the time taken to test websites.
9. AI Research for Enhanced Products and Services
The research done by AI helps businesses to design better products and services. With better products, companies can attract more customers and build a brand image.
Should Web Developers Adopt AI?
AI is the next-age tool to simplify a hell lot of technological tasks. It is always beneficial for web designers and developers to learn AI and improve their skills to build websites and apps. Customer engagement is important and AI supports that to the core. With a combination of AI and web development technologies, developers can create futuristic applications in the shortest possible time.
Businesses will be looking for developers who can integrate AI with web development technologies to create customer-centric sites and apps. So, it is important for web developers to adopt AI.
Final Thoughts
AI is playing a significant role in taking technology forward, especially web development. When combined, AI and web development technologies can build remarkable apps. Atypical concepts can be converted into fine applications with the help of AI. Although AI can never replace the human touch, it still has a huge impact on web design and development. Leveraging the positive aspects of AI can considerably help to build innovative apps.
KrishaWeb is a leading web development company with a global client base. With a high success ratio, it claims expertise in building all kinds of websites. If you are looking for web design and development, feel free to get in touch with us!