The technology landscape is evolving with every passing year and so, does web development methods. The greed to create astonishing websites and user-centric applications push technical evolution to higher scales. With New Year knocking on the door, let us check out some web development trends 2023. These are expert predictions that should be taken as a guiding light. Considering them for better innovation will help web developers to expand their vision of products and services.
To keep it more technical, we have categorized them into front-end development trends and back-end development trends. Since the advent of the first web page in 1991, web designers and developers have surpassed great heights to build complex, interactive and mobile-friendly websites that actually sell. 2023 is going to be a year when the user interface and the background logic will see tremendous change, which would be for the better.
Frontend Development Trends of 2023
When we talk about realistic figures and statistics,
Report of kinesis suggests that 75% of users gauge a company's authenticity based on the design of its website.

As per Inside Design, slow-loading websites are the reason for losing an overall revenue of $2.6 billion.

Curatti's report says that 47% of users lose interest in websites if they take more than 2 seconds to load.
This shows the importance of a faultless front end. The user interface is the first point of contact with customers, so, it needs to hook them up in the first go.
To create a solid front end that engages the visitor, the upcoming year will focus on refining technologies like JavaScript, JAMstack, mobile technologies, headless CMS, cloud integration, and foolproof hosting service. Web developers should focus on all these aspects to create better UI.
Backend Development Trends of 2023
Irrespective of the year, the main requirement is a safe, secure, quick responding, scalable, supporting backend. Whether it's a Startup or enterprise, every company focuses on safety as the prime measure. The coming year will focus on developing secure backend architecture, enhanced cybersecurity, data confidentiality, and compatibility with AI, IoT, and other emerging technologies.
A report by Gartner Inc. says that the cybersecurity market boomed to earn $170 billion in 2022.
Technologies like Ruby on Rails, Django would be used extensively to block XSS and DOM XSS attacks. Better encryption policies would be designed to safeguard plastic money transfers. Cloud-native databases like Google's BigQuery or DynamoDB, by AWS would be trending. Databases will see a transformation to create flawless backend systems in 2023.
Top 10 Web Development Trends for 2023
1) No-Code and Low-Code would be Raging
2023 will see a happy change where people with creative, innovative ideas but no coding background, will be benefited from the low-code or no-code tools. These tools will be adopted by IT companies to empower their web developers and save them time. Non-technical teams will be given No-code tools to help them generate creative elements without any hard-core efforts. By using these methods, companies would reduce their product development lifecycle and cut short the development time. Web development companies should check out these tools and adopt them to outpace their competitors.
2) Artificial Intelligence and Machine Language will Rule 2023!
It is going to be a year of progressive automation and therefore, AI and ML technologies will be used exhaustively. Incorporating AI/ML into the workflow will reduce manual efforts and add more flexibility to the tasks. AI-driven analytics tools will be used by digital marketing agencies to find better business opportunities. AI-incorporated chatbots would dominate the customer service departments and generate first-hand data for companies.
In fact, technocrats predict that the global chatbots market will earn more than $1.25 billion by 2025. So, AI/ML technologies and chatbots will display a strong presence on websites in the coming year.
3) IoT and Voice Search will be Game Changers!
IoT has crept into our lives like never before. Devices fitted with chips to receive human instructions, even from distance, make our life much simpler. IoT will remain dominant this year as well.
Statista predicts that the number of IoT-connected devices will cross 29 billion by 2030. More web development products will use IoT and other technologies like Voice search to skyrocket innovation.

Experts predict that 8 billion voice assistants would be used by diverse industries to keep up with voice search queries.

Currently, 51% of customers use voice-enabled devices and the voice assistant market is expected to reach 11.2 billion by 2026.
FAQs will be in trend to resolve all kinds of customer questions. Content would be presented with a more conversational tone.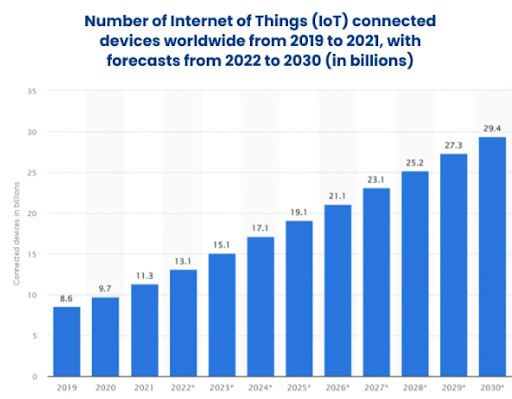 Image Source: Statista.com
4) It would be the Season of Progressive Web Apps
Mobile-friendly web development trends of 2023 include the emergence of Progressive Web Apps. The mobile crowd will be served by these apps, which blur the lines between desktop and mobile apps. Moreover, these apps offer faster-loading websites with the optimum in-app browsing experience. They also give an enhanced offline working experience to the user. Mobile app developers will be using Service Worker for running the app without a network. HTTPS will provide higher cyber safety. App Shell, Web App Manifest, and Push Notifications are expected to govern the mobile app development sector. The comprehensive task is to convert any visitor into a potential customer through PWAs.
5) Single Page Applications would be the Goal
Customers' preference for fast-loading websites is the main reason for tech giants like Google and Facebook switching to Single Page Applications. Even smaller companies are choosing SPAs as they offer zero navigational hassles, infinite scrolling, reduced load time, and uninterrupted content flow. SPAs would be preferred over multipage websites in 2023.
6) Motion UI – a Delightful Web Development Trend for 2023
Gestures have tickled human emotions for ages. Whether you prod a baby through facial gestures or prompt a customer with a gesture-based application, it is certain to receive a response. Experts predict that motion UIs will be hot in the upcoming year. Imagine websites welcoming their users with a moving handshake logo, which will create better waiting time for users than a loading symbol. Websites and apps would be using these fun elements, visual cues, friendly animations, and motion UI components to engage visitors. We have to wait and watch for the level of innovation web developers will bring into the motion UI technology.
7) The Use of Cloud Technology would be at Its Peak
Post-pandemic, cloud technology is the flavor of the tech world. Cloud storage facilitates corporate companies to create a remote work infrastructure. This is going to be carried forward in the next year.
A report by Gartner suggests that public cloud services will earn a global revenue of $307 billion in 2023.
More companies would choose private cloud or multi-cloud infrastructure to execute and enhance their business operations. Web developers should brush up their cloud computing skills or develop separate teams for dealing with cloud-based websites and products.
8) Custom Software Suites and Solutions will Trend
Personalized web solutions have brought a refreshing change in the way businesses present themselves. This approach of giving a personal touch to websites and apps is going to continue, in fact, to revolutionize the market in 2023.
As per a report by Twilio, 62% of the users hinted that businesses will lose out on their customers if they don't offer personalized experiences.
Engaging user is a propelling factor so, user-centric web development will be prioritized in the coming year. Along with this, companies show an inclination towards giving a subtle personal touch to every element of websites and applications. Web development companies will witness more customers that will demand custom websites, irrespective of Startups, SMEs, or enterprises.
9) Augmented Reality to Burst into Ecommerce Websites!
Augmented Reality, Virtual Reality, and Mixed Reality are going to burst into eCommerce markets. These technologies will be prevalently used in industries like healthcare, education, sports, gaming sites, and more.
Statista predicts that the AR/VR/MR market will witness an upsurge from $28 billion to $250 billion in the next five years.
Top brands like Amazon, IKEA, and MOSCOT are already gaining huge revenue by incorporating AR in their eCommerce sites. So, will be the rest of the world in 2023.
10) Serverless Architecture to Lead 2023!
Serverless computing has manifold benefits like higher scalability, rapid marketing, reduced maintenance, and minimized development costs. When clubbed with cloud computing, this technology is going to transform the web development market. With the right cloud platform at their end, web developers can design attractive, secure applications without worrying about servers. Many SaaS-based solutions are excellent examples of using serverless architecture. It is going to be a foremost web development trend in 2023 and developers should watch out for it.
Conclusion – 2023, a Startling Year for Web Developers…
2023 is going to be a year of digital transformation, in terms of technology, approach, user-friendliness, design, and development. Web development trends of 2023 are a few predictions, but we may see groundbreaking technical upheaval as well. Web development companies should brace up for a challenging year and prepare their teams to create path-breaking web solutions.
If you are looking forward to building technically rich websites, KrishaWeb is the right tech partner. We build all types of web solutions and have numerous technically complex websites to our credit. Feel free to connect with us, we will convert your concept into a refined web application!